Name: Narita City
Kind: Town
Location: 35°46'35.97″ N 140°19'07.47″ E
Station: JR Narita or Keisei Narita Sta.
Updated 7/26/2020!
©2019-2020 tenmintokyo.com
If you're flying to Nartia Airport in Japan, you may want to consider staying over a few nights in Narita City just southwest of the airport.
Take the Keisei Line from the airport to Narita Station and get off.
There are 2 different lines + stations in Narita – the Keisei Line + the JR lines at the JR station. Both stations are within a few blocks of each other near the town square. Don't get these confused with the stations at the airport. Narita City is actually a few miles southwest of the airport.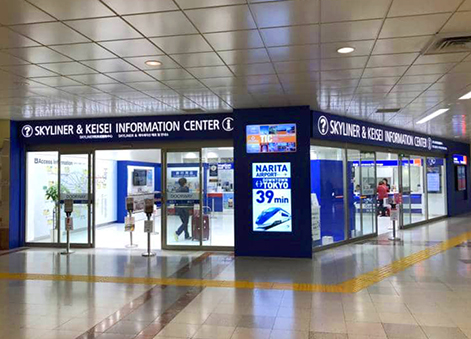 Skyliner Info Desk @ Narita International.
There are many good hotels in Narita City but we recommend APA Narita Ekimae – it's 1 block from the station, very clean, quiet, and reasonably priced at around $65/night. You'll see the word Ekimae at many hotels in Japan. It means "At the station".
Just north of the airport is also the Narita View Hotel at around $50-60/night. Well worth the money and closer to the airport. Just keep in mind this option is outside the town of Narita itself so you'll have to take the train into town to sightsee.
If you take the Skyliner to/from the airport to Keisei Ueno station, there's a very good luggage forwarding service at that station which will forward your bags the next day for $9/bag. This works in both directions – to/from the airport to your hotel.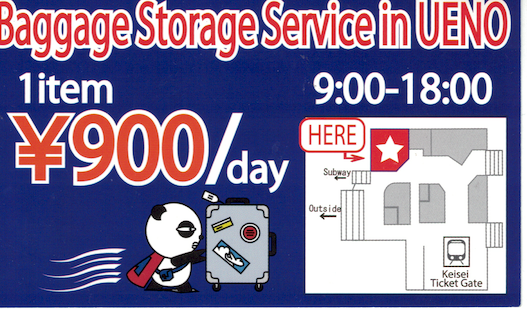 Narita City itself is a charming old small town with lots to do.
There are stations for both JR trains and Keisei lines in the same block in the town square.
Step off the train from the aiport onto a local street and you're instanly in small town Japan.
Unless you're flying in from Asia, it's likely your flight was long. You can rest in Narita City overnight, before heading back to the airport to catch the NE'X or Skyliner into Tokyo.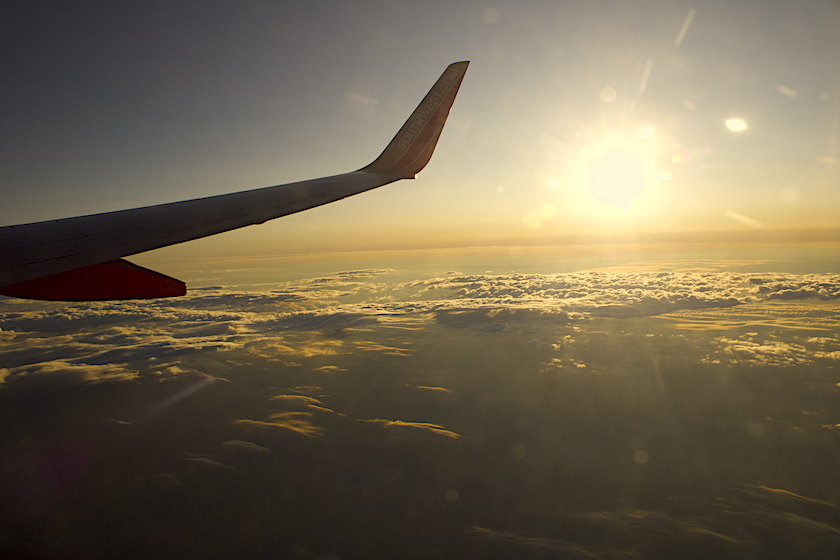 If you're feeling adventurous, walk one mile from Narita City's center on backstreets to get to a large AEON shopping mall. There is also a street called Narita Omotesando on the way lined with lots of traditional shops + restaurants.
Just to the left of the JR Narita Station in the city square is the Narita City Tourist Information Office. There's actually a lot to do in Narita City – including a nice museum. Also be sure to check out the impressive Narita City Hall.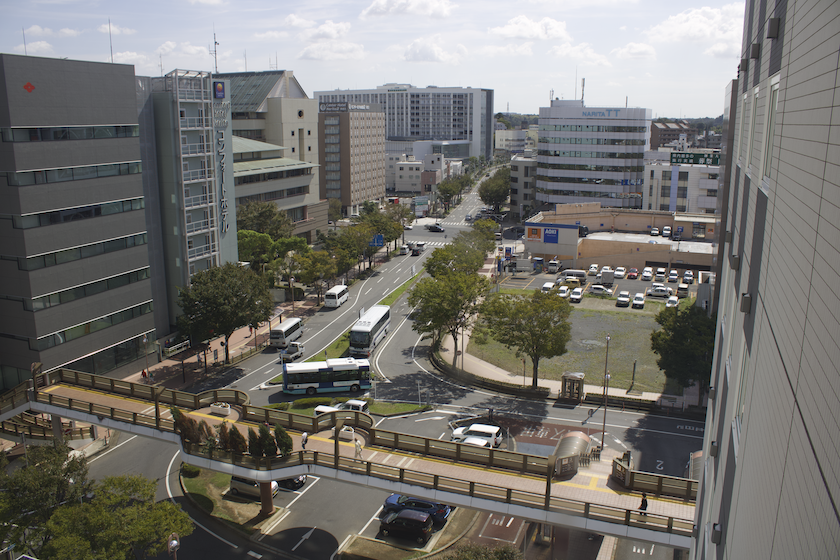 View of business district in Narita City. The edge of the city hall is the sloped green-roofed bldg. on the left center in this photo. You can also walk a few miles down the main street shown above to the south and back for some nice exercise.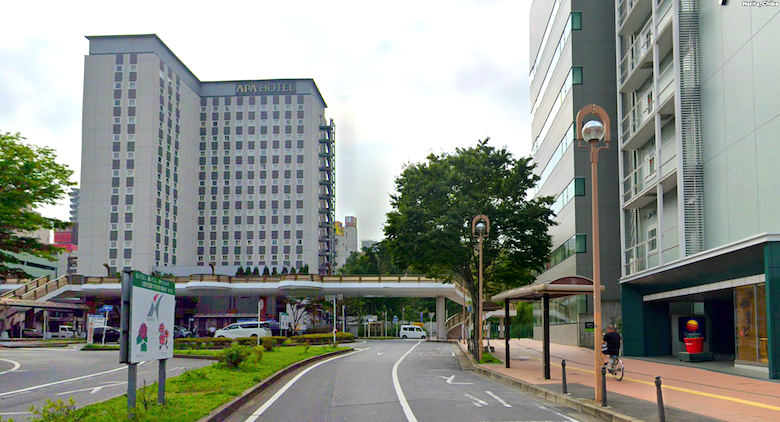 Looking back north along the same street. The APA hotel is on the left.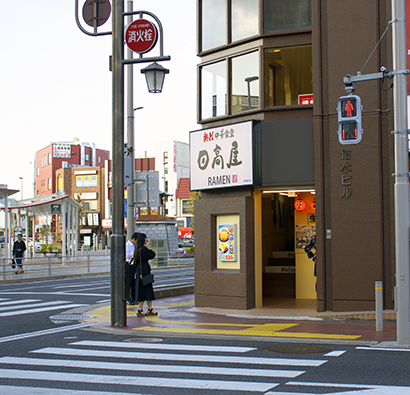 Entering Narita City Square from the south. Turn right here for Narita Omotosando. The JR Narita Station is out of frame to the left.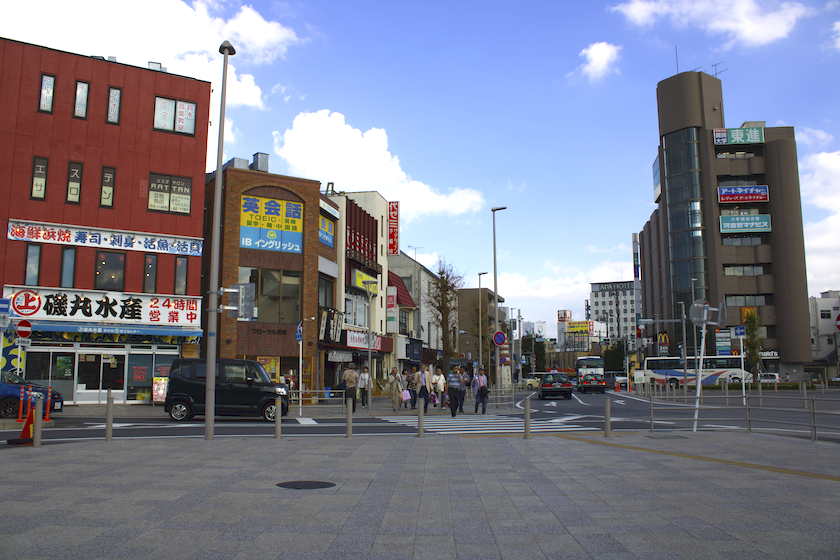 Narita City Square. APA Hotel is the small white bldg. in the distance to the left of the tall brown bldg. on the right.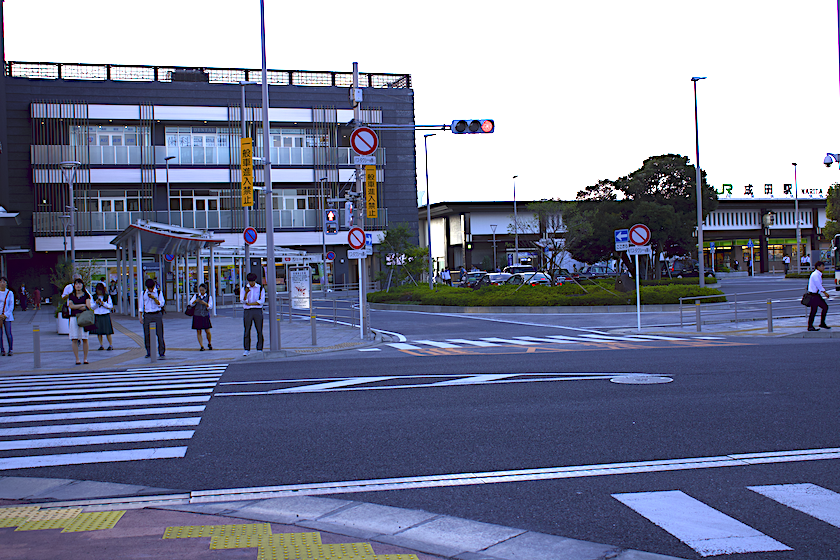 JR Narita Station, right. The Narita Tourism Office is just to the left in the same building. Turn right at this light and go north here to get to the main shopping area. In the 3-story bldg. on the left there is a very nice and large Family Mart.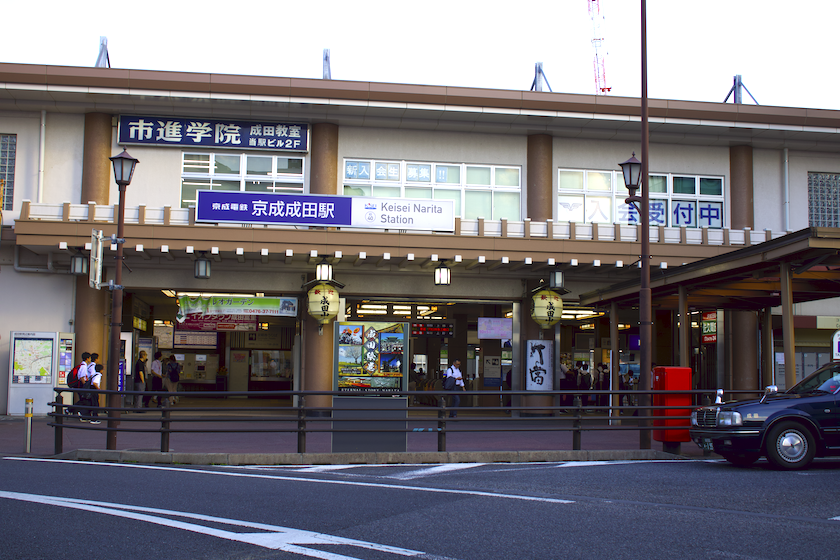 Keisei Narita Station – take the Keisei Skyliner out of Narita International Airport and get off here. This is just across from the town square.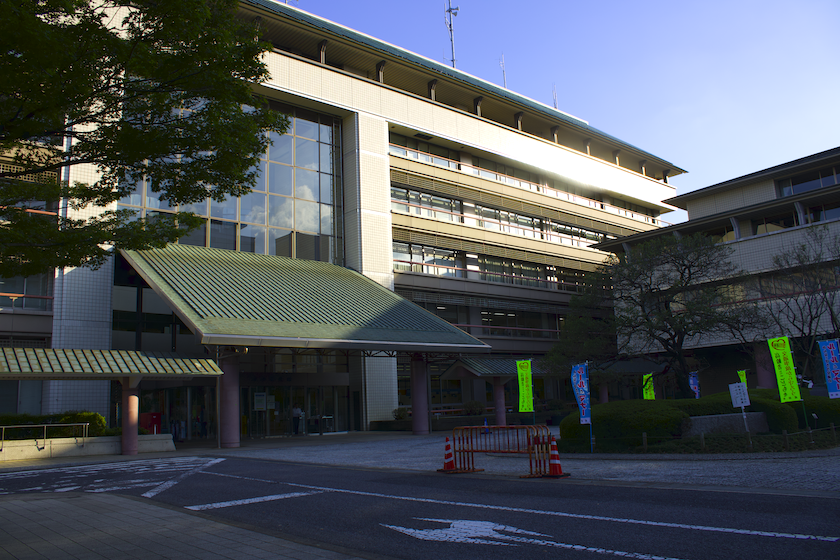 Narita City Hall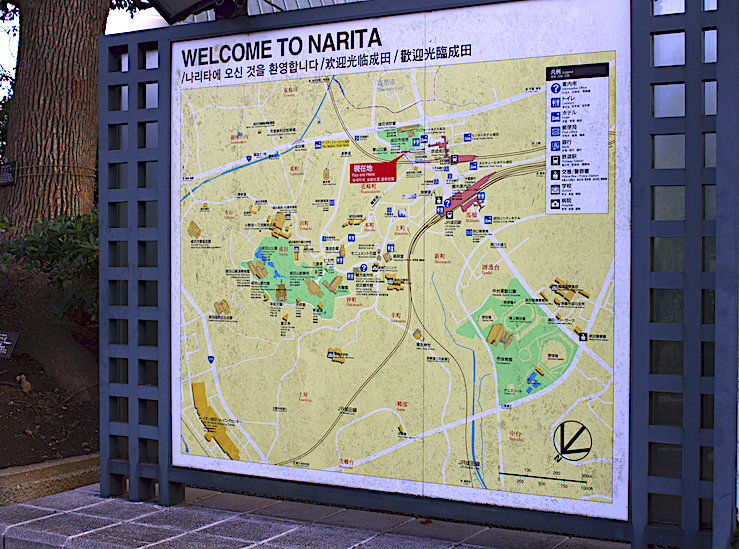 There's a huge map of Narita City just next to the city hall.
Just to the northeast of Narita City Hall under the elevated Keisei tracks is Kuriyama Neighborhood Park – a very nice verdant park with benches and lots of room for kids to play. There's also an old steam locomotive here. Well worth a look. It's around 35°46'42.67″ N 140°19'08.71″ E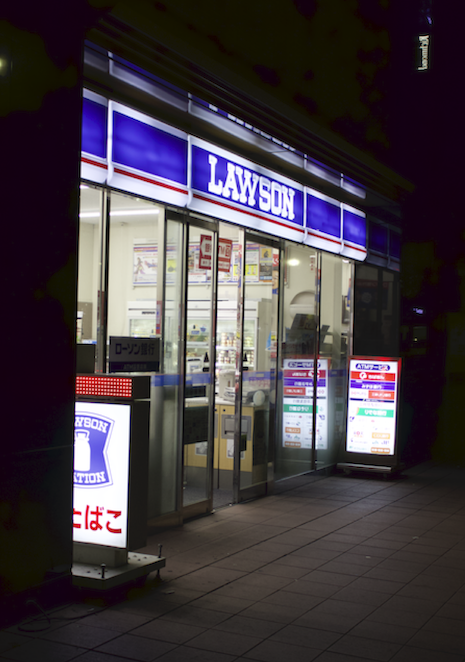 Most hotels in Narita City are conveniently located. Easy to use convenience stores (conbini) and parking abound.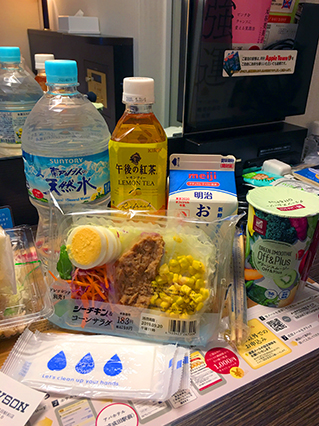 Eat like a king cheap out of conbini (convenience stores). A lot of the food is quite healthy such as cheap pre-made salads, lemon tea, and vegetable drinks. This entire meal only cost around 600¥ (about $6).
Wandering Around
You can actaully have a great time in Narita City just walking around. Pick a street and just start walking to see what you'll discover. If you're up for getting a Japanese Driver's License, you can even buy a brand new Honda scooter at local dealers for as little as $900, like the one shown below.
The real attraction in Narita is the long shopping street just to the north of the town square. Nippon Wandering TV covered this street in the video shown at the end of this post. To get there go west from either station, into the city square, then turn right (north) immediately. There are all kinds of nice little shops along this street which are well worth a stroll.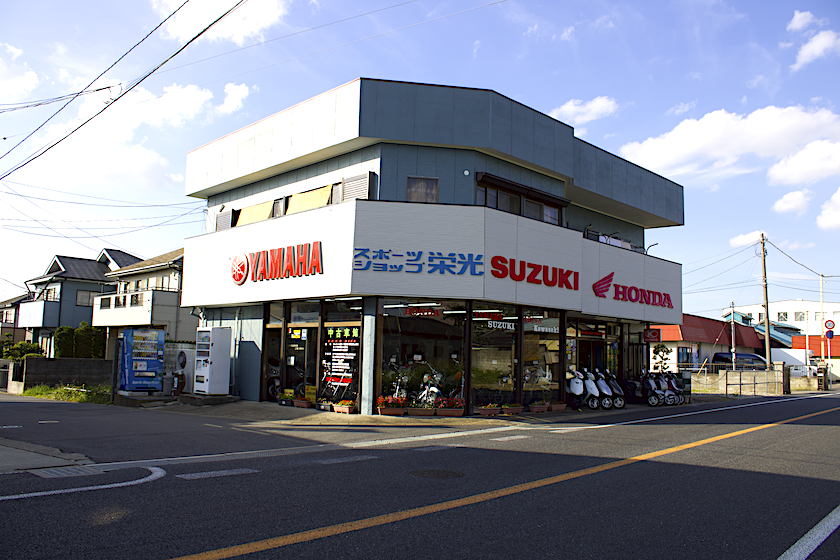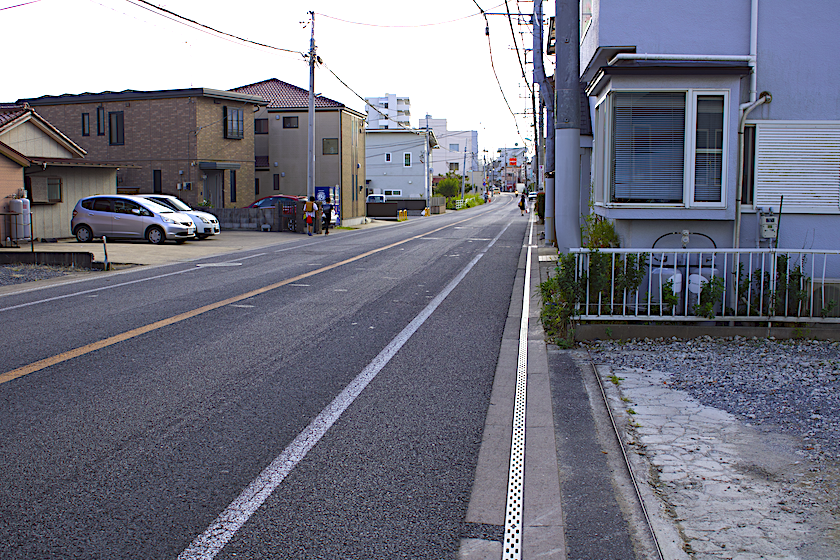 Wander around.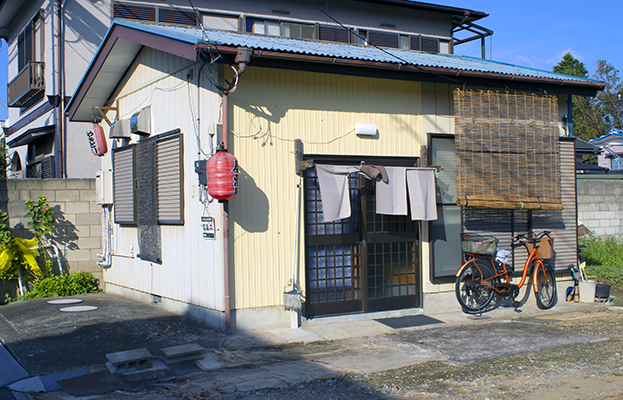 Narita is full of simple + charming small homes such as this one. Note the typhoon shutters on the left side.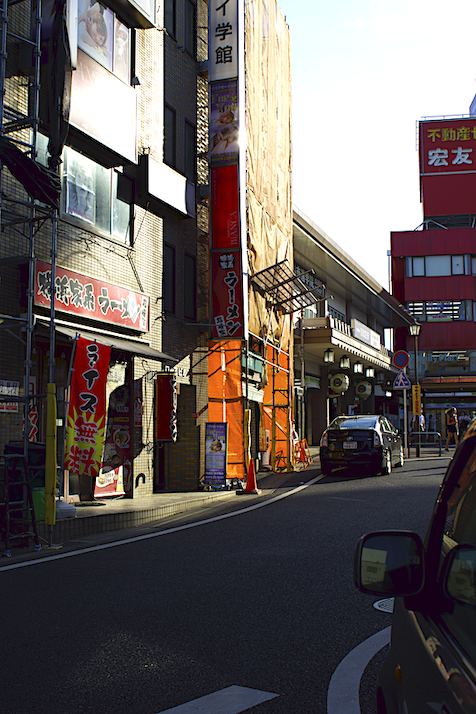 Narita City has plenty of old-school charm to keep you occupied – well worth a few days exploring.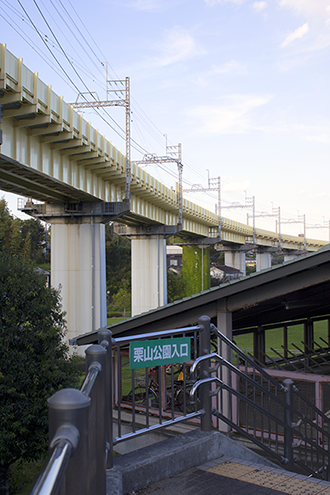 Epic train tracks heading back to Narita International. Narita City Hall is just across the street to the right, out of frame.
More Narita International Resources
Narita to Tokyo: Late-Night Transfer Options
https://tokyocheapo.com/travel/narita-to-tokyo-late-night-transfer/

While trains are one of the easiest ways of getting from Narita during the day, they aren't really an option late at night. The N'EX is $36, last leaves Terminal 1 at 9:44pm depositing you at Tokyo Station just under 60 min, and Ikebukuro at 11:09pm (which should give you enough time to transfer to a connecting train for you area, if it isn't one of those).
https://www.jreast.co.jp/e/nex/

https://www.jreast.co.jp/e/pass/nex_round.html

N'EX Round Trip can be purchased from JR EAST Service Centers + JR Ticket Offices at Narita Terminals 1, 2·3. Purchase is not available outside Japan, we recommend buying the ticket immediately on arrival.

Note several JR Service Centers also offer hotel reservations + luggage services.
https://www.jreast.co.jp/e/customer_support/service_center_tokyo.html

Adults $60-$70. Tickets are valid 14 days. Trains operate every 30 mins + take about an hour from Narita to Tokyo station. Use Ordinary Car reserved seats on Narita Express. A one-way ticket is valid for use on one limited express.

Tokyo Station
Shinjuku Station
Shibuya Station
Ikebukuro Station
Ueno Station
Hamamatsucho Station
Narita Airport
Haneda Airport
Sendai Station
Shinkansen and limited express ticket sales
Suica sales
Various other tickets
Currency exchange window/Foreign currency exchange ATMs
http://www.travelex.co.jp/JP/For-Individuals/Products-and-Services/Products-and-Services-for-Individuals/

7 Bank
https://www.sevenbank.co.jp/intlcard/index2.html
Footnote: T-CAT As a Cheap Return Alternative
Here's a cheap travel hack for the return trip to Narita when you're ready to leave Japan: Use the Tokyo City Air Terminal (aka T-CAT) bus service. This little known bus service is way out on the east side of Tokyo right in the Metro Hanzomon Line's Suitengumae (pronounced Sweet-ten-goo-may) Station. There is also First Cabin Suitengumae capsule hotel just 3 blocks down the street from T-CAT @ around $42/night. When you're ready to return to Narita you could take the NE'X or Skyliner back, but the T-CAT bus service will shoot you there in silent comfort for a mere $9. It also has busses to Haneda Airport.
To get to T-CAT, jump on the Metro Hanzomon Line down to Suitengumae Station, and take the City Air Terminal District Gate exit. You can also enter the station from the street. In fact, it's only a few miles from Tokyo Station itself so you can even walk there from Tokyo Sta. – and see some sights along the way. You can also make reservations on T-CAT's website in advance.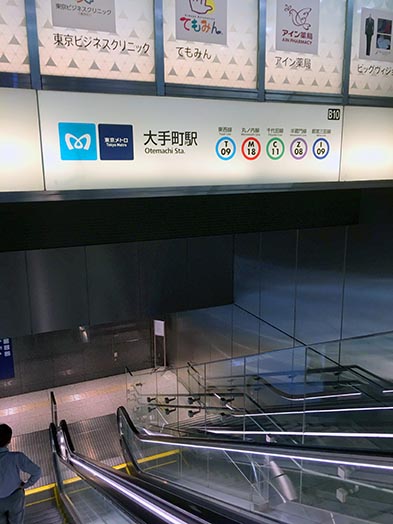 Hanzomon Line is indicated by the purple circle and "Z", in this case at Otemachi Sta. just north of Tokyo Sta. Suitengumae is Hanzomon Z10 – just 2 stops east. The blue Metro system symbol is on the left.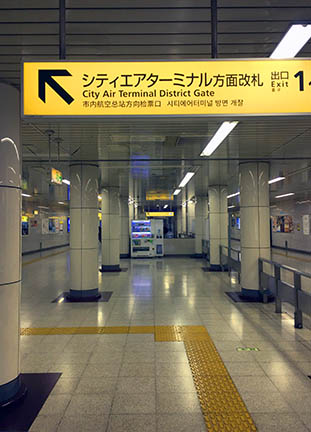 For T-CAT exit City Air Terminal District Gate.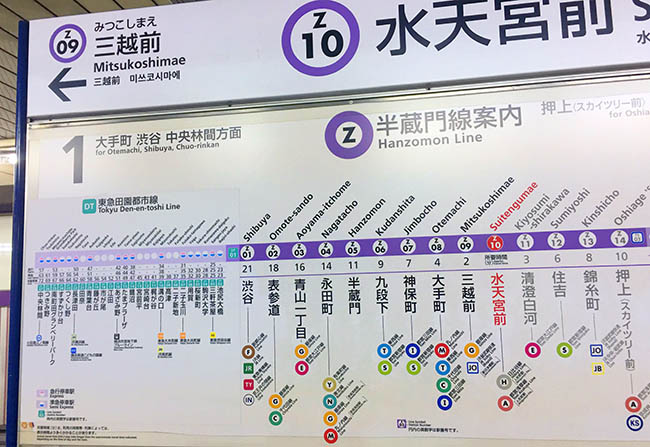 Metro Hanzomon Line map. Suitengumae is roughly in the center (Z10), shown in red, and Otemachi Sta. is just 2 stops to the east at Z08. You can also take the line all the way to its western terminus @ Shibuya, shown on the far left, or Oshiagé/SKYTREE, its eastern terminus, shown on the far right. The Mitsukoshimae stop (Z09) is in Nihombashii just to the north + stops in the basement of the Mitsukoshi Depato (department store), which is well worth a look.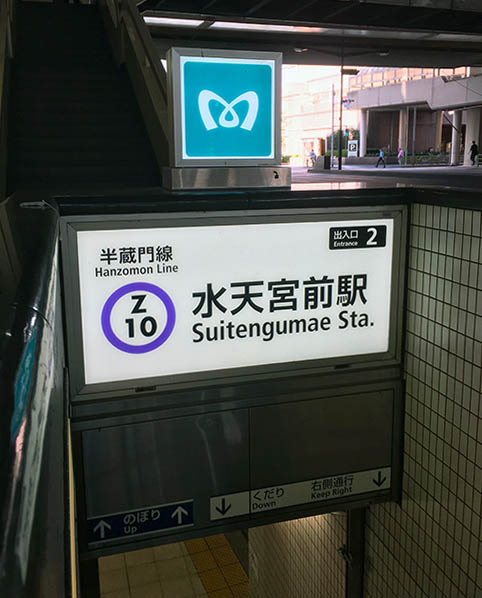 Metro Hanzomon Line's Suitengumae entrance on Etai-Dori Ave. The Royal Park Hotel bike parking lot described below is in the upper right corner.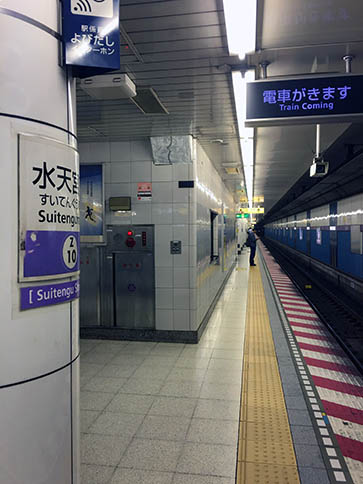 Metro Hanzomon Line's Suitengumae platform.
Bike Access to T-CAT
If you are on bike you can park your bike for up to 24 hrs. at the very nice Royal Park Hotel Nihonbashii just down the street for a few ¥. The lockers are outside on the east side, but the place is very safe + the hotel staff will even be willing to help you if you're not staying there since it's their bike park. You can lock your bike, jump a bus, or train, go where you need + return later for your bike. The hotel is at 35°40'54.88″ N 139°47'13.24″ E (2-1-1 Nihonbashi-Kakigara-cho, Chuo-ku, Tokyo). This here map shows roughly the relationship between all 3 places: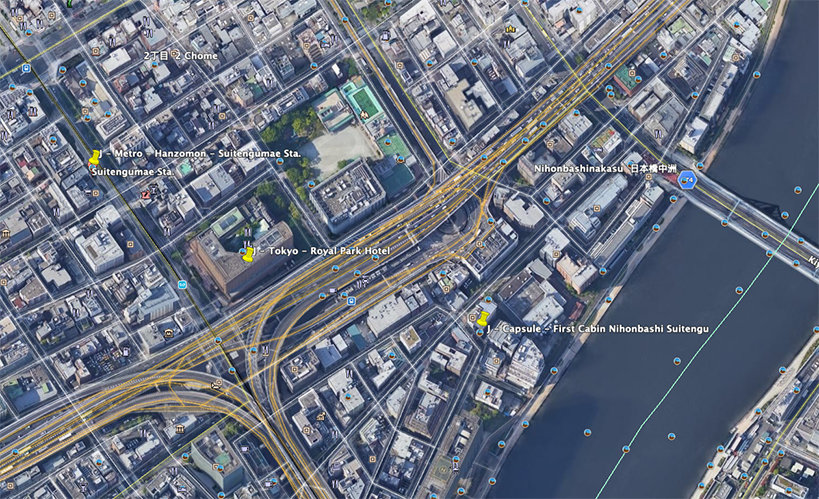 Suitengumae Station is the leftmost pin, Royal Park Hotel the center one, First Cabin Suitengumae the right one. T-CAT is in the station. Sumida River is just to the right. To the east (right) of this is Asakusa, and a little further east, Sky Tree. There is also another Royal Park Hotel in Shiodome.
Suitengumae Area Photo Enjoyment
Here are a few more photos from the area for your enjoyment + reference: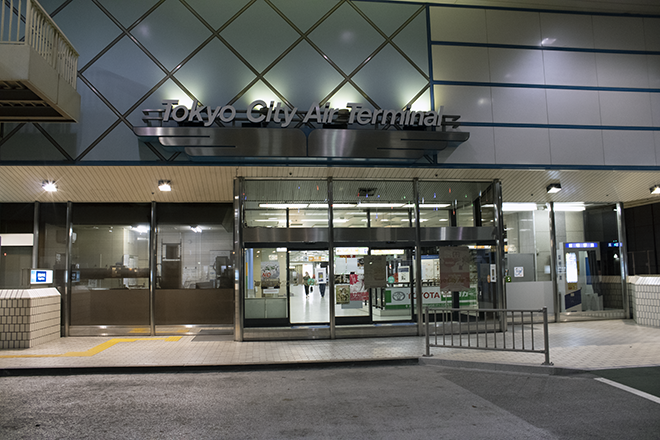 2 more views of T-CAT @ Suitengumae Station.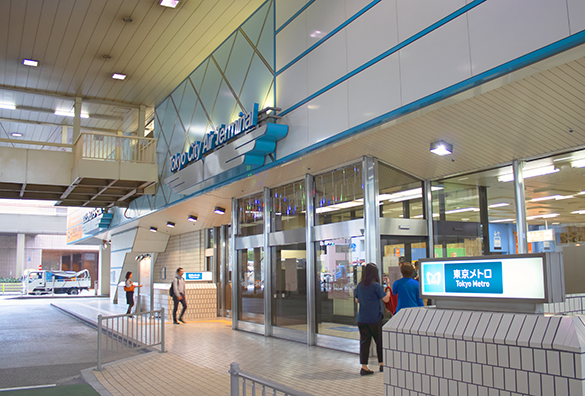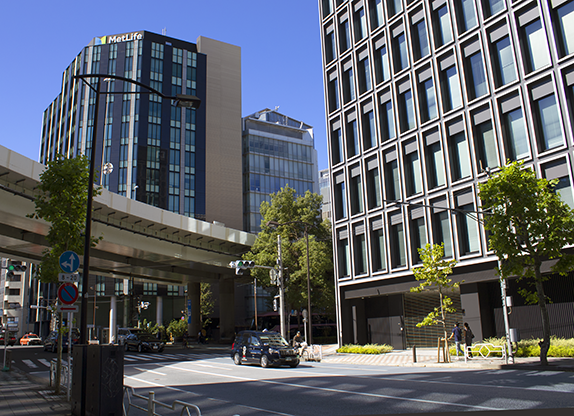 Walking from Suitengumae Sta. to Tokyo Sta.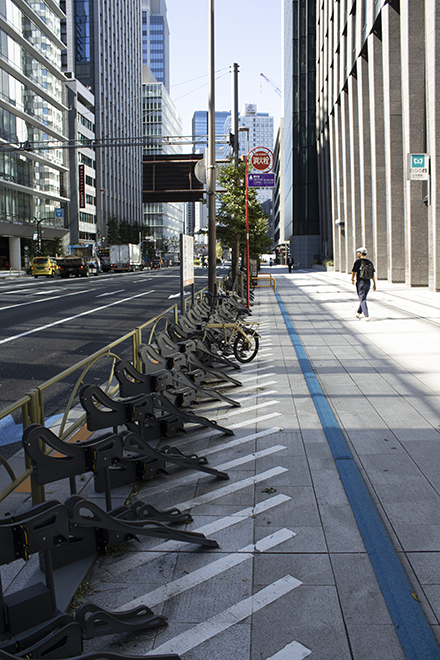 There is also another public outdoor bike locker on this route.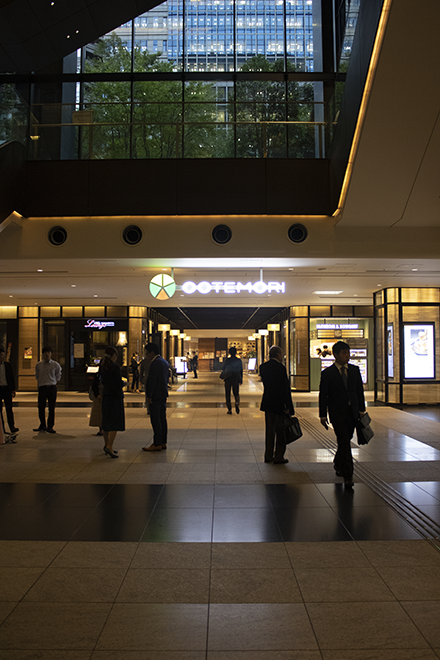 Be careful with Otemachi Sta. – it's easy to get sucked into its labyrinth shopping malls + corridors which go on for miles inside + underground.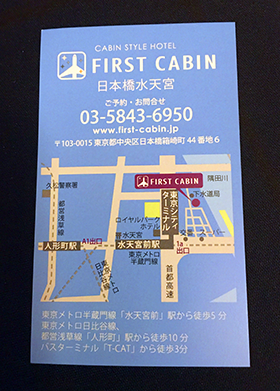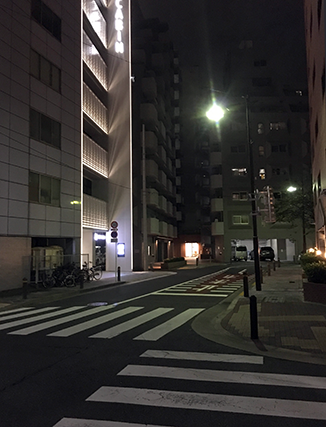 First Cabin Suitengumae is on the left tucked down this quiet residential side street. The main street, Etai-Dori is just to the right out of frame. Turn right on Etai-Dori and head a few blocks west to get to T-CAT.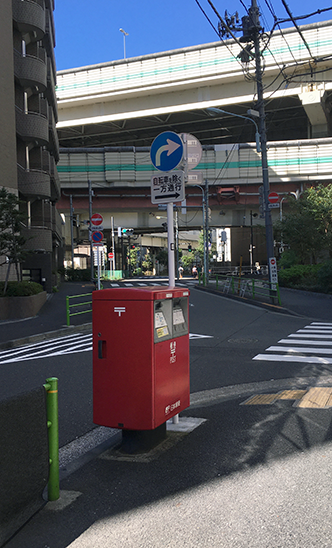 First Cabin Suitengumae has a nice Lawson conbini just up the street. Step outside and turn right and you'll be facing the street that takes you to T-CAT . There's also a postal drop box here.
Welcome, dear traveler, to First Cabin's futuristic sleeping pods: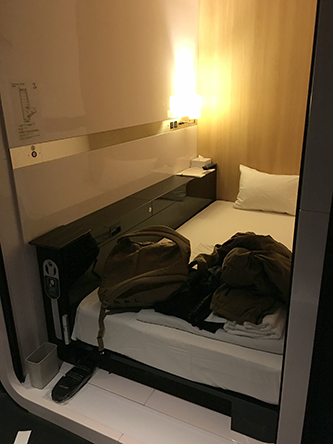 First Cabin Suitengumae's facilities are quite nice: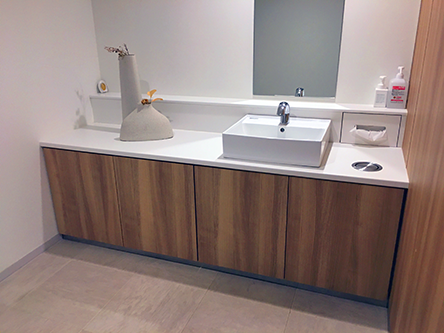 If you walk just a bit east on Etai-Dori Ave you cross Etai Bridge over the Sumida River, from which you can gaze at this famous view of Toyko known as Ookawabata River City: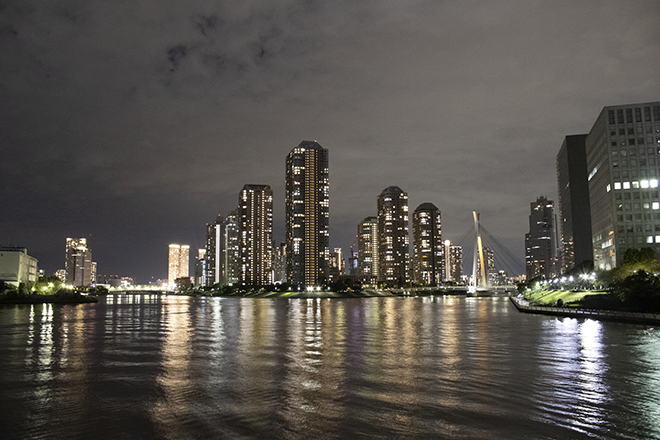 Etai Bridge is roughly at 35°40'33.40″ N 139°47'17.99″ E and you can walk or ride a bike across it. You can enter Ookawabata River City by crossing the Chuo-ohashi Bridge shown on the right in the distance. But to do that, you must first cross an intermediate bridge on the Nihonbashi River @ roughly 35°40'45.91″ N 139°47'02.25″ E first to get to it.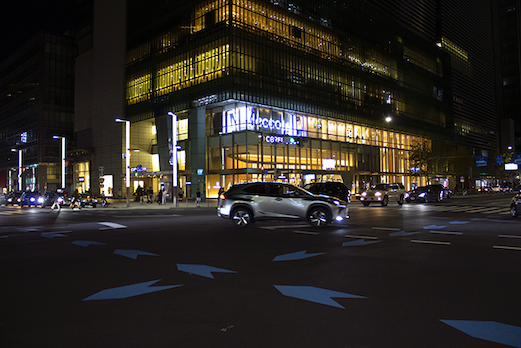 Nihonbashi is just to the northeast of Otemachi Sta. + features the excellent Coredo multi-use complex.
Well, that's it for now. Enjoy your trip to Narita International + Narita City!
A few more photos of Narita International: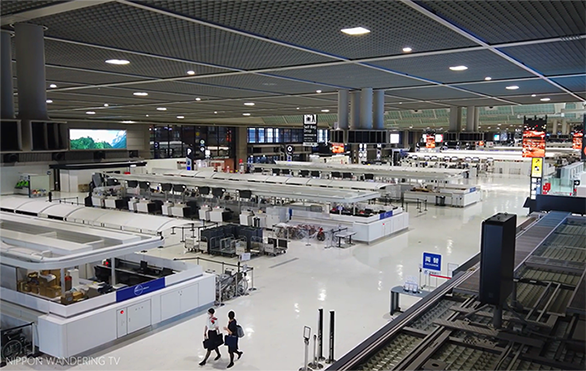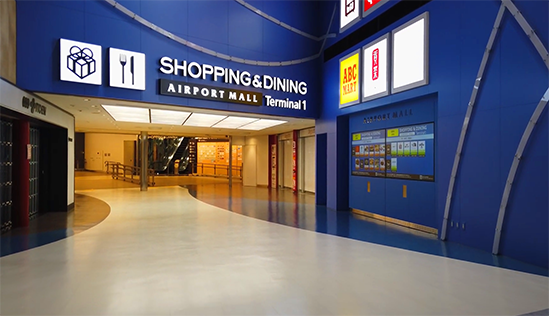 Links
https://www.narita-airport.jp/en/
The Keisei Skyliner for Narita Airport
Take the Keisei Line from Narita
Narita Travel Guide @ japan-guide.com
Narita Day Trip Itinerary @ Truly Tokyo
Narita Airport to Tokyo | Tokyo Cheapo
Narita City – A stopover to discover traditional Japan @ Kanpai!
Be Strategic About Getting to Tokyo From Narita and Haneda
Things to do in Narita @ Trip Advisor
Find the Cheapest Transport from Narita Airport to Tokyo @ Tokyo Cheapo
Tokyo Sta. -> Suitengumae Sta. Walking Route Map
Royal Park Hotel (agoda.com)
Private Narita Layover Tour including Sake Tasting
https://www.agoda.com/narita-view-hotel/hotel/tokyo-jp.html?checkin=2020-05-01&los=3&adults=1&rooms=1&cid=1720055&searchrequestid=f7e751a1-1f69-4eeb-9f65-7fcba116e2f8&travellerType=0&tspTypes=8,16
VIDS