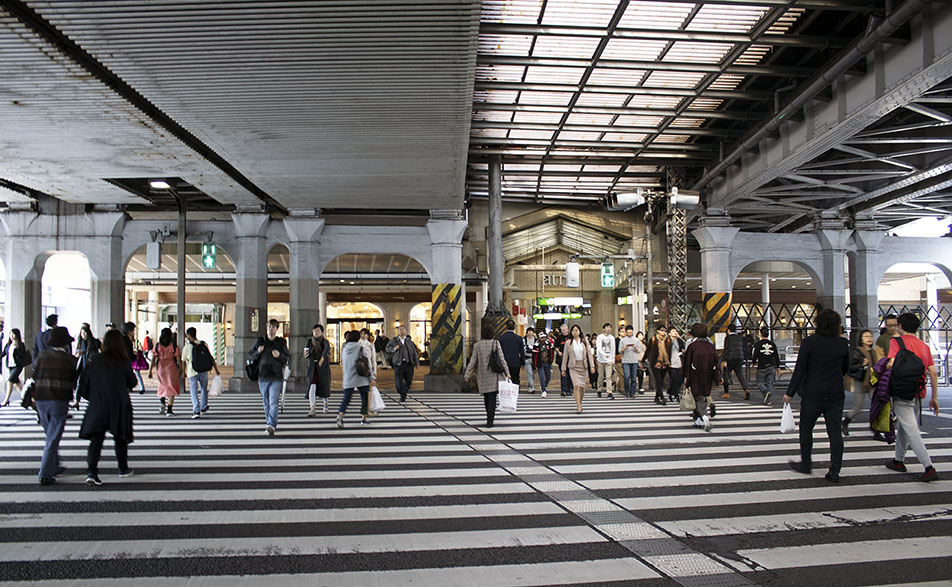 ©2019-2020 tenmintokyo.com
Name: Ueno
Kind: Town
Location: 35°42'31.43″ N 139°46'26.95″ E
Last updated 7/12/2020
Page takes some time to load due to photos.
Ueno (pronounced "Uh-way-no") is a small town in northeastern Tokyo to the northeast of Tokyo Station, and just south of Nippori.
It features a famous backstreet shopping area called Ameyokocho, and is the first transit point to Narita Airport on the Keisei Skyliner. Skyliner also stops at Nippori to the north.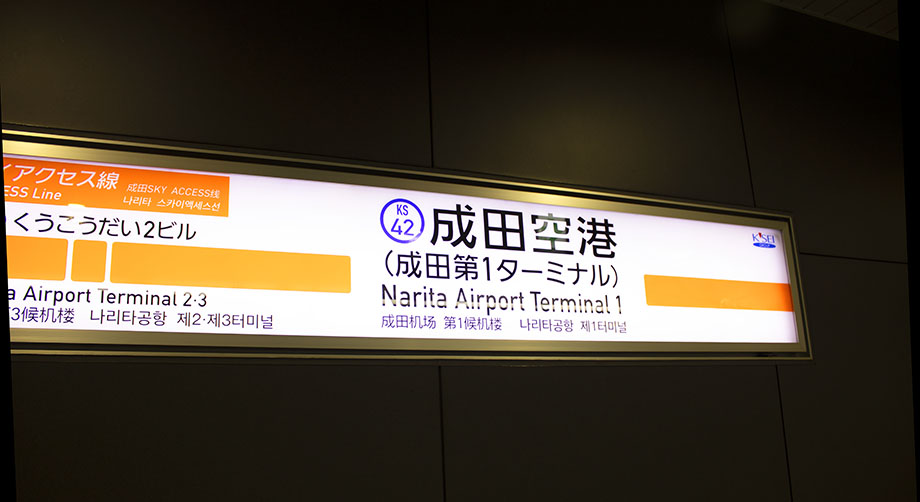 Skyliner stop @ Narita.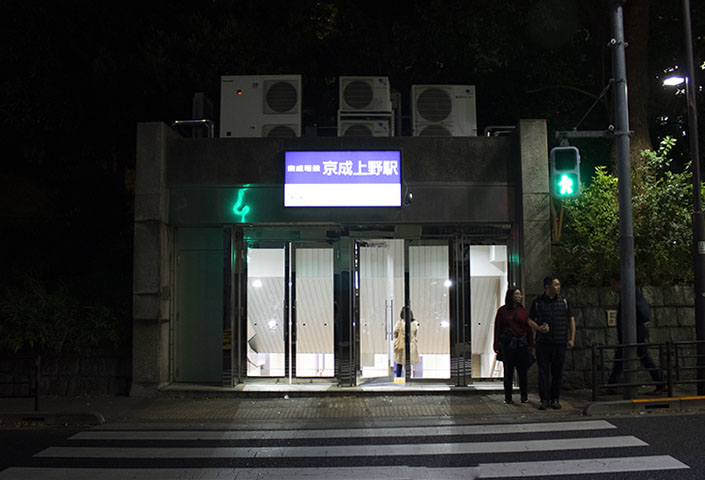 Entrance to the Skyliner station in Ueno, across the street from the APA Hotel.
The town is also famous for its huge Ueno Park and zoo, which has dozens of museums, and Shinobazu Pond – which features prominently in many works of ancient Japanese literature. There are nice gardens and a temple near the pond, and a walking path circling it.
The city area itself is rather small, but interesting and is a short 2 mile walk north of Akihabara just to the south. There are 2 major department store complexes to the southwest of the station – Matsuzakaya and PARCO. Just behind those and a little further to the south is JR Okachimachi Station. Between these two points there are all kinds of backstreets with endless shopping + restaurants.
Ueno has a bit of an older shitamachi ("old downtown") feel to it, but is still well worth a look.
Ueno Station
JR Ueno Station is one of the earliest JR stations built in Japan. It was built in 1883 and rebuilt in 1938 just after the Great Kanto Earthquake of 1932. You can still see its early 1930's architecture in the station's exterior and in the steel beams inside in its roof. A few years earlier what is now Tokyo Station was built along with Shimbashi Station further to the south. Ueno Station is a major transit hub on the JR Yamanote Line – the main central line that rings Tokyo. On the JR Yamanote Line you can shoot south to Akihabara in 2 stops, Tokyo Station 2 stops south of that, and Ginza 2 stops south of that at Yurakucho Station.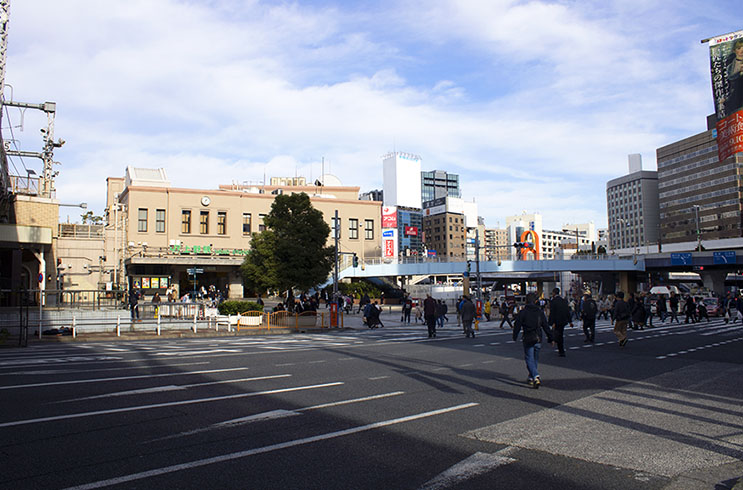 Ueno Station looking east.
Ueno Station is also a key interchange point for the Metro Ginza Line, which is one of the key subway lines in Tokyo. Although there is a Yurakucho Line which also stops at Yurakucho, most travellers to Ginza take the JR line or Ginza Line to Yurakucho station, which is just west of Ginza. There is also another JR Line called Ueno-Tokyo Line which heads south to Shinagawa and Yokohama. The Kehin-Tohoku Line will shoot you north to Itabashi and Ochai. Most of the other main JR lines also interchange at Ueno Station.
The Ginza Line is critical because it can shoot you to its eastern terminus, Asakusa, to the central gov't at Akasaka-mitsuke, and all the way to the west side of the city at Shibuya, its western terminus.
Ueno Station is a little unusal in that it is a bit sprawling. The main central building is just to the east of the city center, but via a network of pedestrian walkways and overpasses, it has 5 main entrances, and several smaller street-level exits around the town's main center.
Tokyo Drew covered the area in a video (see the bottom of this page), in which the walkways, and Ameyokocho are visible.
Apart from the original main building, there are also long ramps and walkways spreading out on 5 different sides like an octopus. There are also large banks of coin lockers throughout the station as well as a small shopping arcade called atré shown below: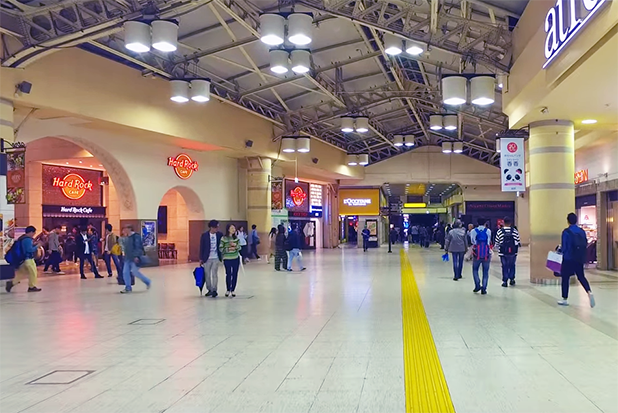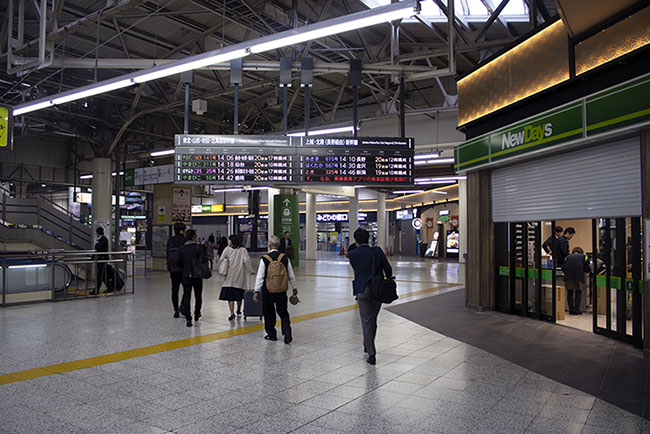 There is also a brand new NewDays conbini (shown right here) built in 2019 just outside the main gate on the Grand Concourse.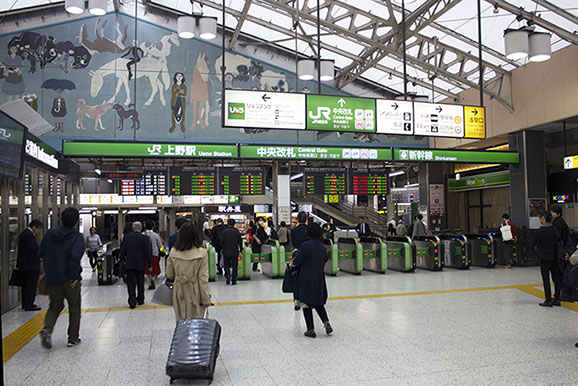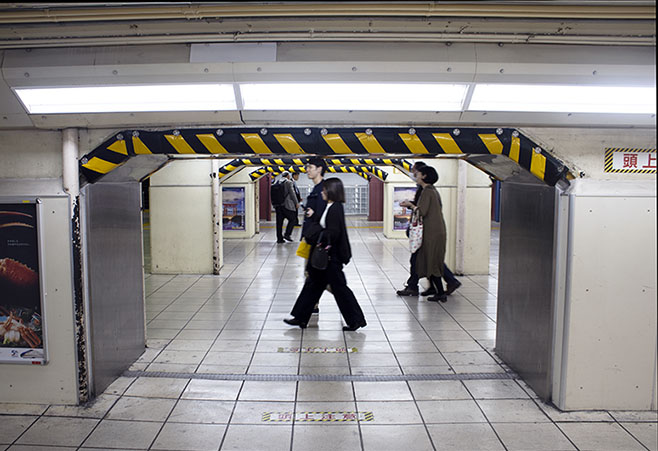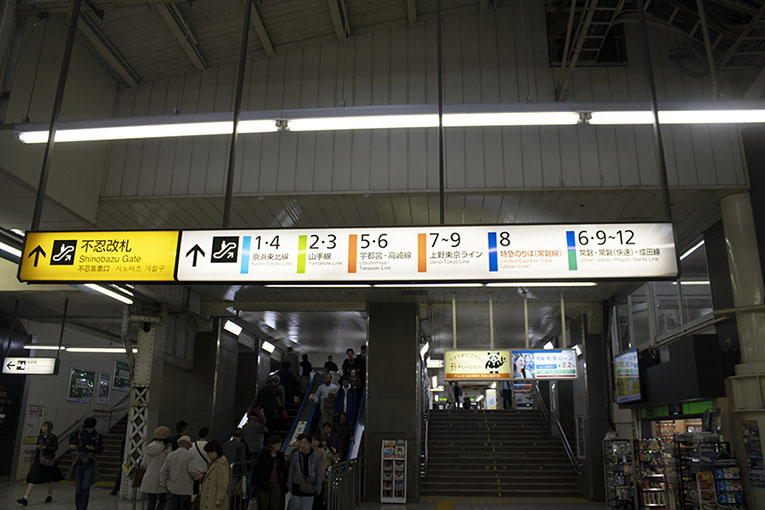 JR Line connections @ Ueno Station
Tourist info offices in the station
Travel Service Center close to the Central Ticket Gate on the main level (Grand Concourse), The JR East Information Center right next to it. You can also pick up a Japan Rail Pass you ordered previously here, Information Desk just inside Park Gate on the 3rd floor, and Gurunavi Tourist Information Office just inside the Asakusa Entrance on the 1st floor. Many of them have English-speaking staff.
There is also a lost and found on the 2nd floor inside the Higashi-Ueno Entrance in a long hallway. It's a little hard to find but is clearly marked.
There is also a currency exchange on the 2nd floor, but you might want to use an exchange office in Tokyo or Akihabara which will give you a much better rate. In general exchange offices inside transport areas are not as good a value as those in the city itself.
Food
There are 2 main shopping areas inside then station: atré and Ecute. Ecute is near the Higashi-Ueno entrance. atré is near the main level. There are also a lot of good smaller restaurants on the outside of the Yamashita Entrance on the west side of the station. There are also some on the 2nd floor of the station. As shown above, there are also a variety of conbini scattered around the station with good quick conbini food in them. You can get a sandwhich and drink for a few dollars.
Lockers
There are several paid lockers in the station. The largest is in a large room just inside the Asakusa Exit. These lockers also accept Suica and other electronic IC cards. But be aware that it has a large steel door and closes after the last train runs so if you miss the closing time, your belongings will be stuck in the station overnight. There are also more lockers scattered around the station. There are also banks of lockers inside Skyliner Station.
But a better locker deal are some of the hidden lockers around Ueno itself. There is a large bank of them in a covered arcade around Ameyokocho's backstreets. There is also a very nice bank of ¥200 coin lockers hidden away on a side street just south of Ueno Park. These are far cheaper options and are perfectly safe. Plus since they are outside you can access your belongings 24/7. See our article on Hidden Ueno Coin Locker Hacks. uenostation.com also has a good article on lockers in Ueno.
Renovations
In 2019 the lower floor was renovated for the 2020 Summer Games in Tokyo, so that floor is all brand new and easy to navigate: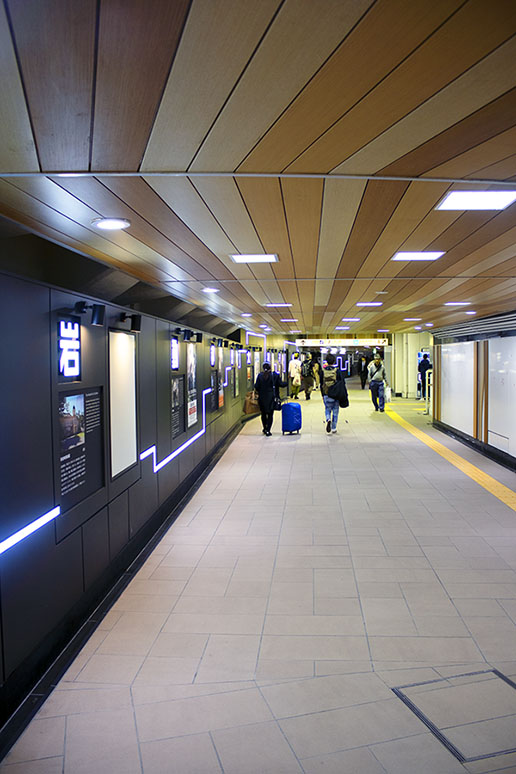 Renovated lower floor of Ueno Station. Note the purple color-coded line on the wall on the left. These indicators in renovated stations lead to Metro subway lines, which have the same color. In this case (purple), the Hanzomon Line.
The station can be confusing at first because of its sprawl – and it is large enough that you could easily spend a whole day inside and around it exploring. The various exits allow you to get to different sides of the town quickly. The main part of the town is to the west, but there is another older area to the east as well.
The Panda entrance to the station has a huge vast open elevated walkway where people collect at night. The escaltor down to the Ginza Line subway is also here. You may have to walk a bit.
There is an excellent site with detailed maps + layouts of the station at uenostation.com
Note that the Skyliner Station mentioned above is not in the main station building – it's across the street in a smaller underground station to the northwest just across from the pond. There is also a baggage service in the Skyliner Station.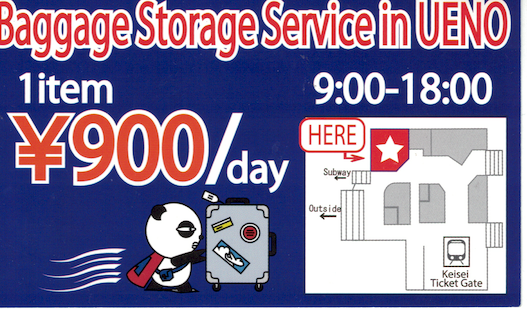 There is also a private luggage storage service @ Studio Passella just to the south of Ueno Park on the west side of the street @ 35°42'38.26″ N 139°46'23.29″ E. Costs are $10/day per bag.
Town Layout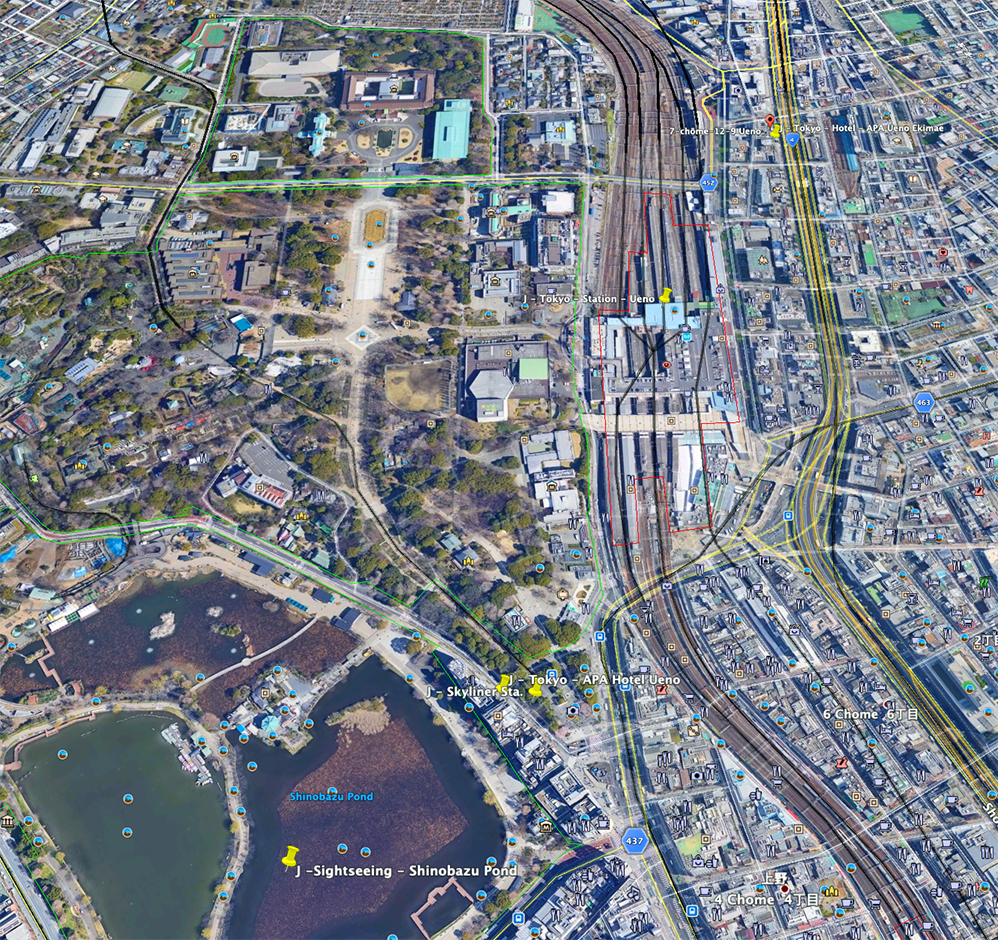 The town is laid out around the station, shown in the upper right center in this aerial view. To the southwest of the station is the main street with a Yodobashii Camera, the PARCO shopping complex and all kinds of shops and restaurants. At the start of this street from the station (to the west) is a small triangular concrete park. This is where the Skyliner Station is. Ueno Park is just to the north, shown on the center left (west) in this photo. Shinobazu Pond is to the south west, shown in the lower left corner of the photo.
Back behind the pond is the University of Tokyo Medical Center. At the southeast corner of the station is a huge network of pedestrian walkways. If you head east from these down Rt. 463 (Asakusa Dori), you'll eventually come to the Sumida River, and after crossing it, to Sky Tree. Ameyokocho is the area at the bottom right of the photo to the right of the tracks. It's squeezed in behind Yodobashi Camera. Ueno Park is sort of up on a raised hill so one way or the other you'll need to climb stairs to get to it from the south. The park is huge and you can easily spend one full day or two in it alone. Note the walkways around and through the pond. There are also small boats you can use to paddle out onto the lake.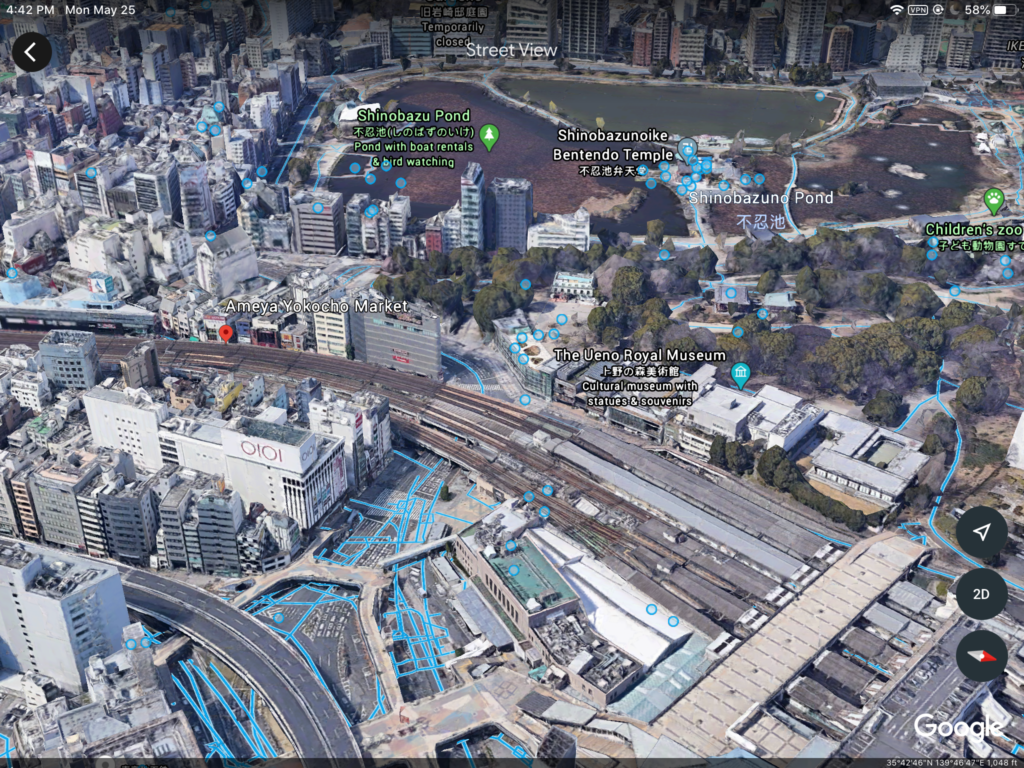 Overhead of town layout – the station is center bottom, park is center right above it, Shinobazu Pond is at the top, Marui and Yodobashii Camera is to the left of the station. Further to the left, out of view is the large PARCO depato store complex. Ameyokocho is just above the tracks on the left behind the long grey bldg.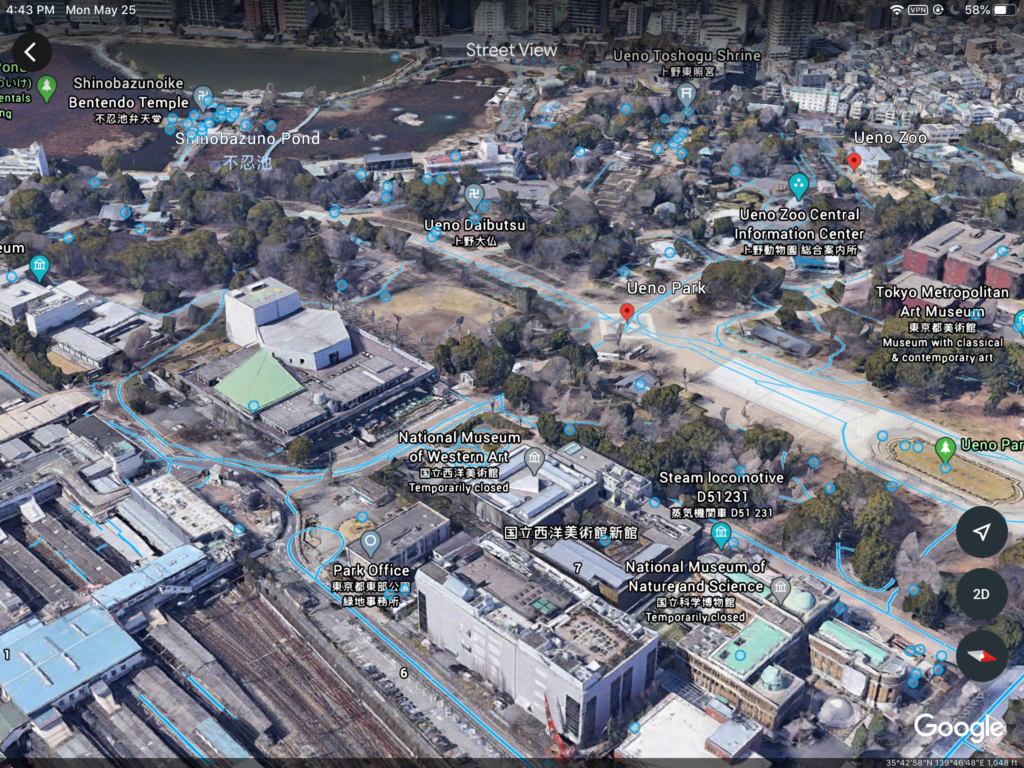 Ueno Park area with various museums and attractions.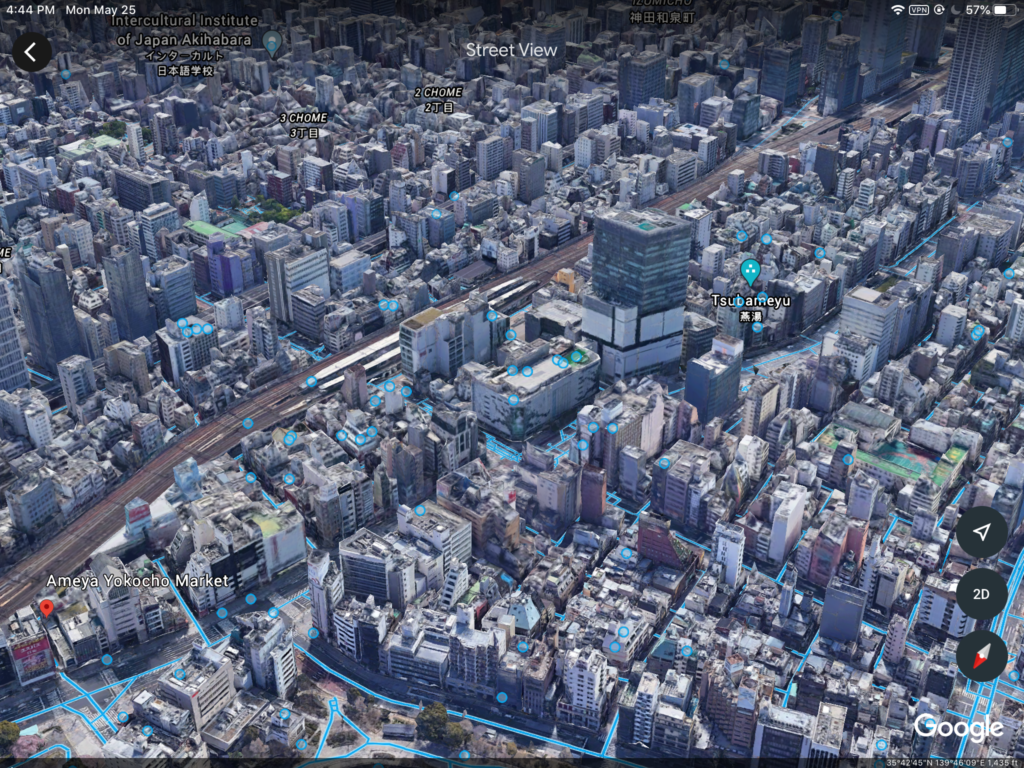 Facing southwest – Ueno is to the left and Okachimachi Station is the long white area, center left. The Parco/Matsuzakaya complex is the tall bldg. center right. One more stop south (to the right) on the JR line is Akihabara Station, and beyond that, Tokyo.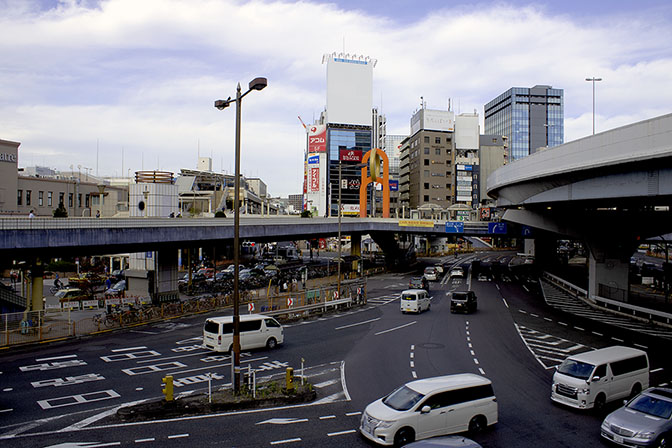 Walkway system to the south of Ueno Station which is just to the left. Rt. 463 is off to the right.

To the south of the pond is an area known as Inakacho – you can enter it down a side street right across the street from the Yodobashii Annex building.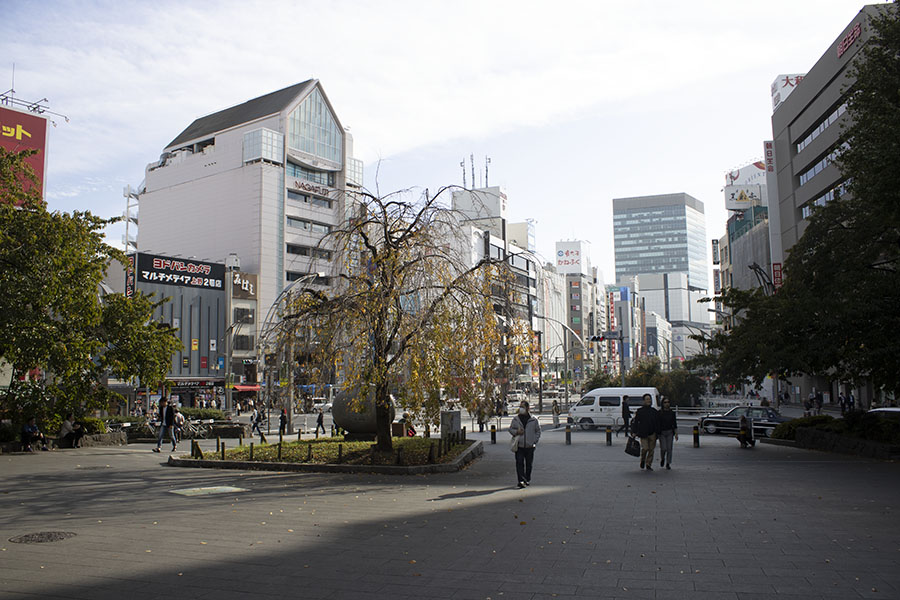 Small concrete park just west of Ueno Station and south of Ueno Park. Yodobashii Camera Annex is the small grey bldg. on the left, the large PARCO complex is the tall bldg. in the distance. Inakacho is a few blocks down on the right. To the immediate right (west) behind 1 side street is Shinobazu Pond.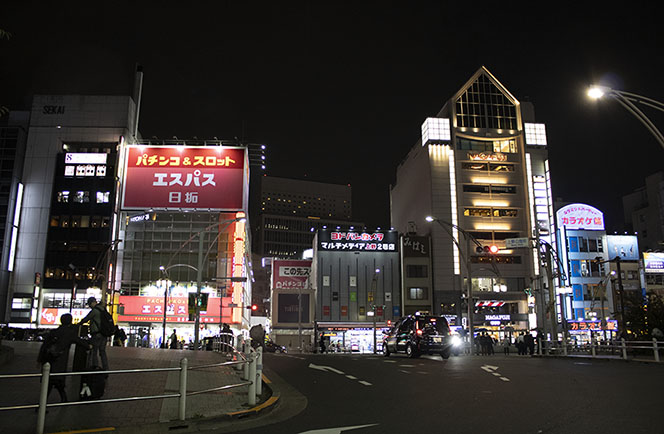 Main street in Ueno. Yodobashii Camera Annex bldg. is the small grey building straight ahead. Ueno Station and Ueno Park/Shinobazu Pond are to the left. PARCO is to the right (see below).
Attractions + Fun
Just across from the station to the west is a huge Marui (OIOI) dept. store, which also has a Metro entrance/exit in its basement along with shops + food. On the 2nd floor of Marui here is the great Leis's Coffee + Hawaiian Pancake house. There are plenty of other shops around.
There is also a Seria dollar store (a must-see) and a Ueno Tourist Info store on the 2nd floor.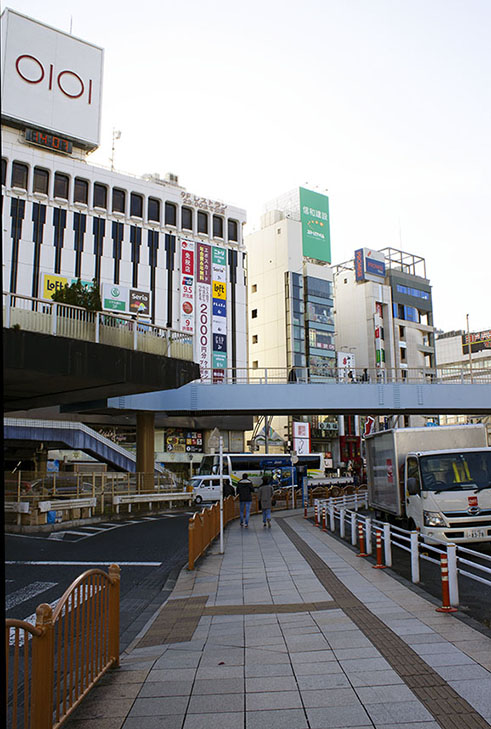 Marui dept. store across from Ueno Station to the southeast. Note the overhead walkways.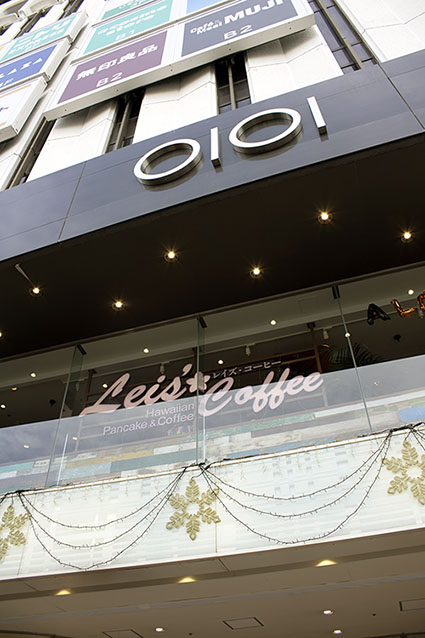 Marui dept. and Leis' Coffee + Hawaiian Pancake House
Metro entrance on the corner of Marui dept. building.
North of this, just after the overhead tracks is the entrance to Ameyokocho, Ueno's famous shopping district. Here you'll find endless food vendors, clothing, luggage, shoes, – just about anything else you might want to buy. There are also game arcades, izakaya (bars), coffee shops, and a variety of other shops. You can stroll around here for hours and not see it all.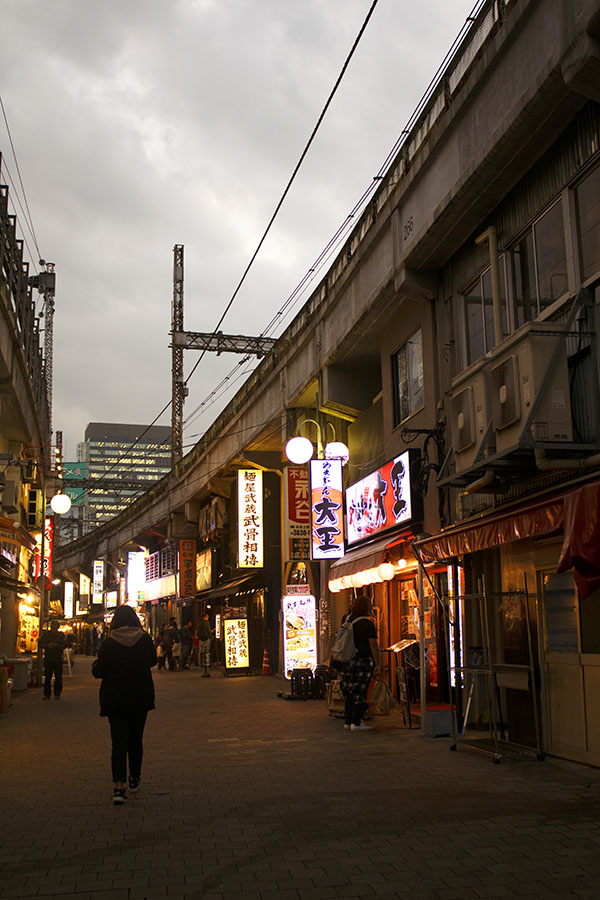 Ameyokocho in the gathering dark – facing southwest.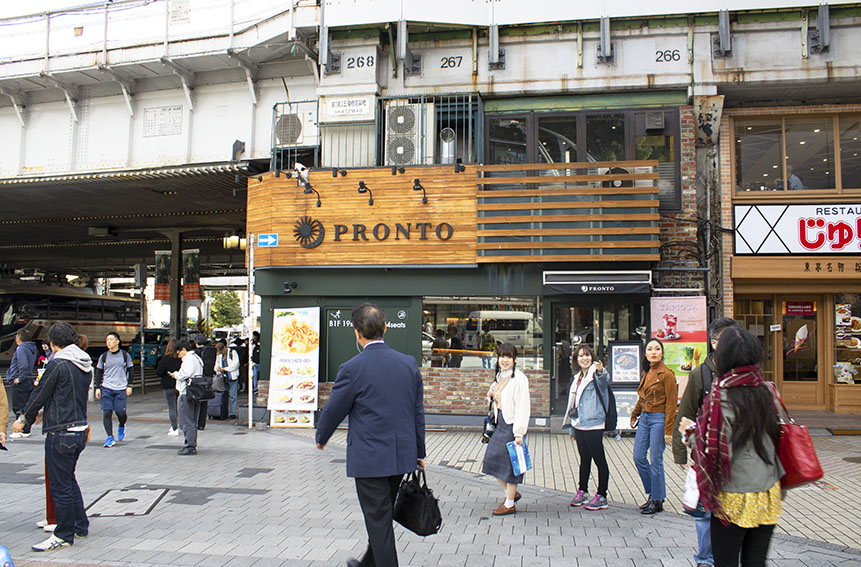 Ameyokocho entrance is to the right. Ueno Station is to the left. This is facing south. Tracks are overhead. Just ahead around the corner is a great hidden luggage shop with some good deals (see next photo).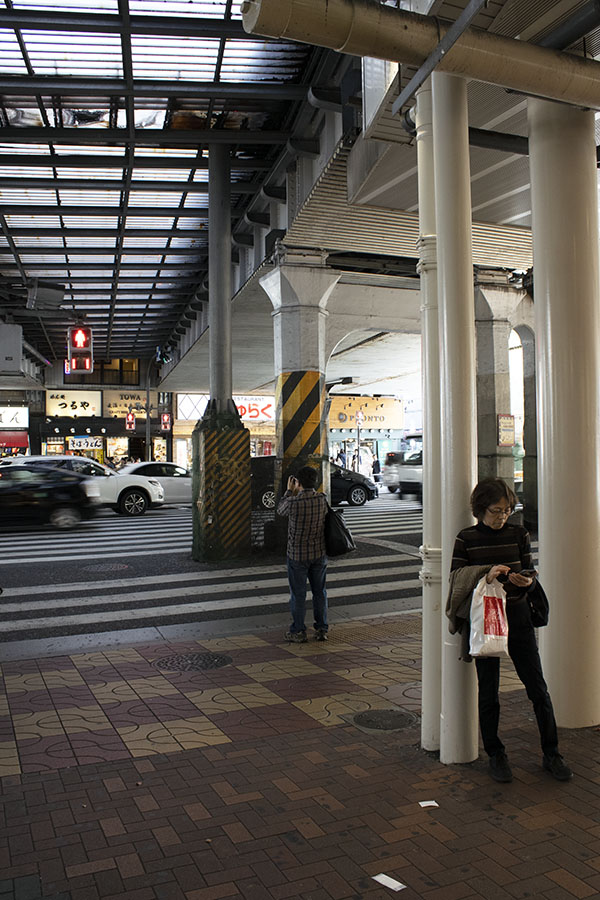 Just around the corner from the Pronto, under the tracks, is a great luggage shop with some inexpensive bargains – shown across the street here with the red + white sign. It's a little hidden shop so keep your eyes peeled for it.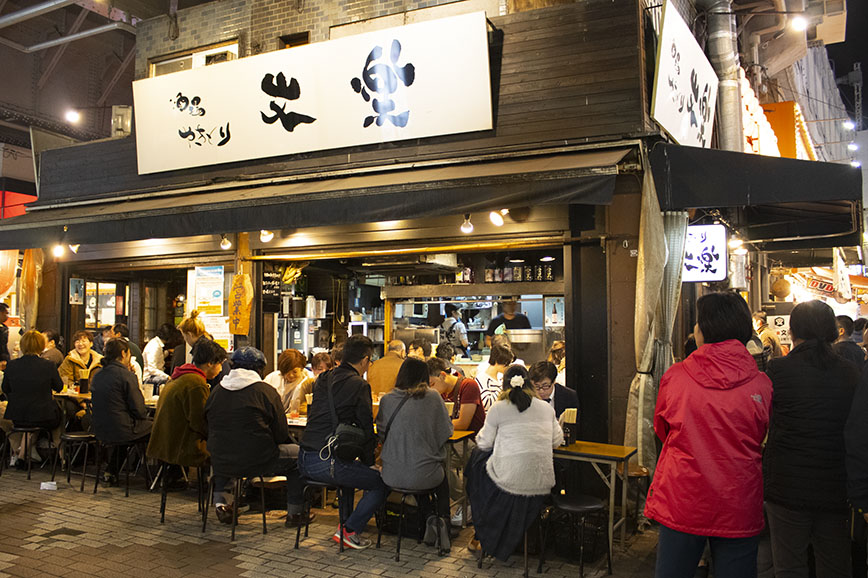 Eating on the backstreets……. there are endless food options in Ueno.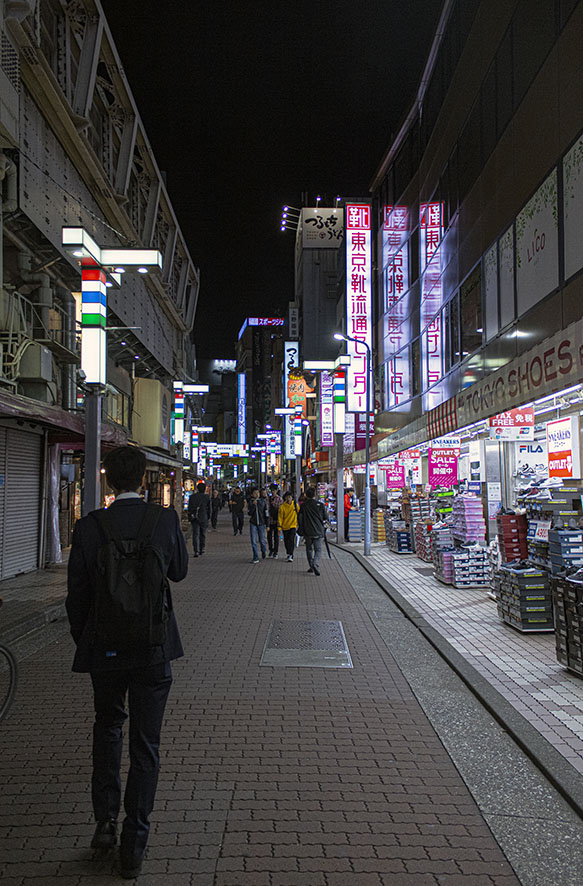 You can wander Ueno's back-alley shopping for hours.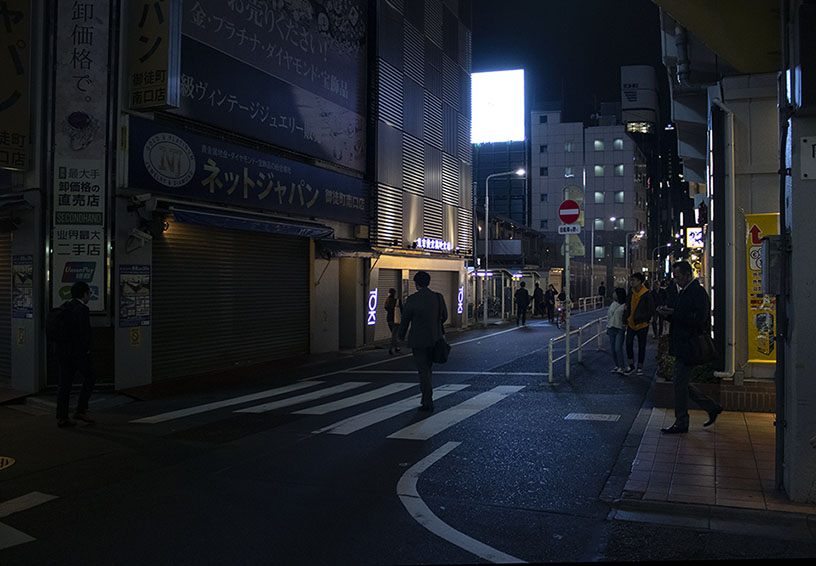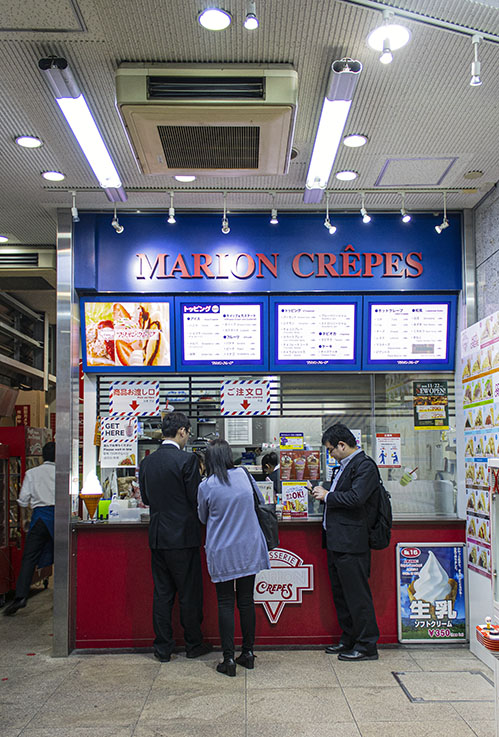 There is even a famous Marion Crépes tucked away in the side streets. This chain was originally opened in 1976 in Harajuku on the west side of the city.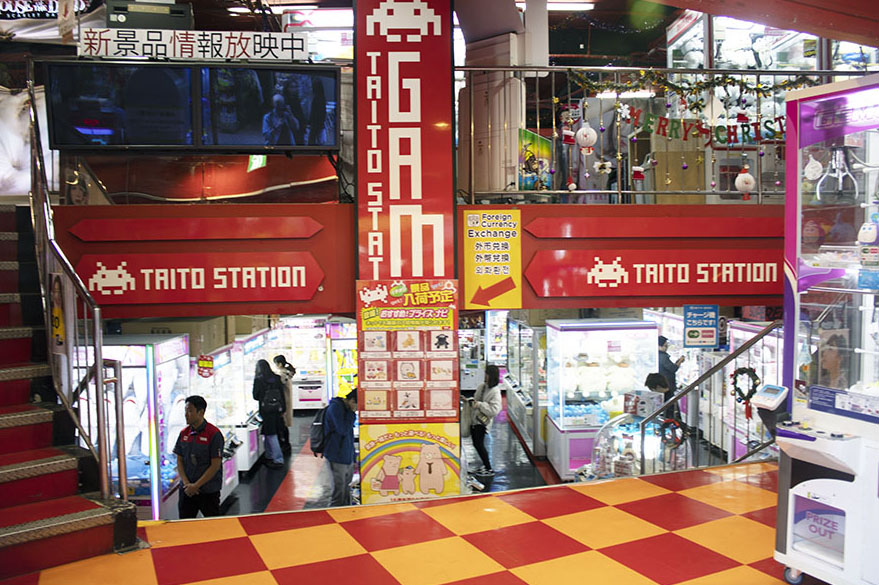 Taito game station.
Ueno 3153
If you exit Ueno Station at the west exit, and immediately turn north (right) up the sidewalk, you'll come to Ueno 3153 – Ueno's newest multi-use complex. There are lots of restaurants + shops here. On the roof there is also a sitting terrace with a great view of Tokyo Sky Tree, which happens to be just 5 miles to the east. You can also get direct access to Ueno Park from the sitting area. From the sitting area, head south down some steps and you are back at the Skyliner Station. We'll talk more about Ueno Park below.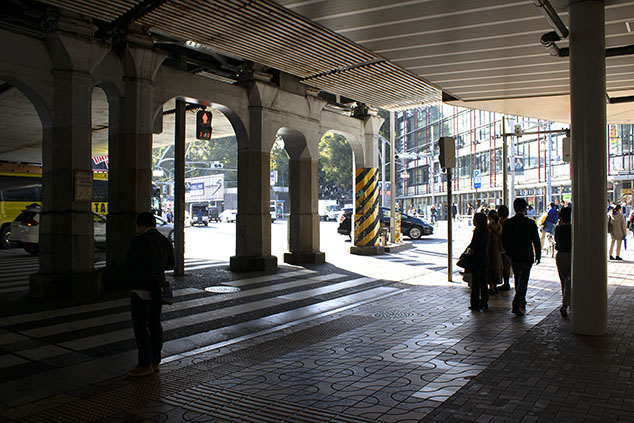 Head north from Ueno Station's west exit to reach Ueno 3153 to the north. The Skyliner Station is just visible on the left across the street underneath the red crosswalk signal.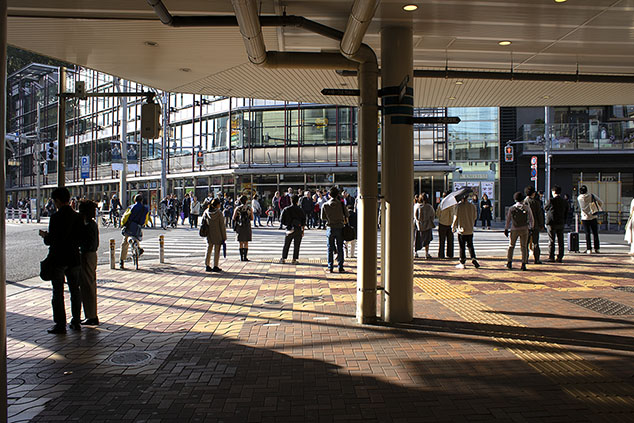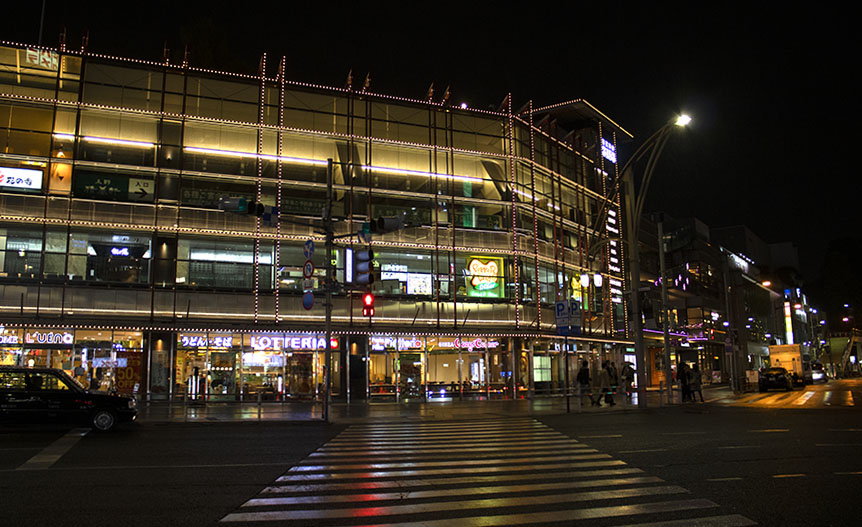 Ueno 3153 at night. The bottom floor to the left contains convenience stores and a few restaurants. The main entrance is to the right. Definitely worth a look.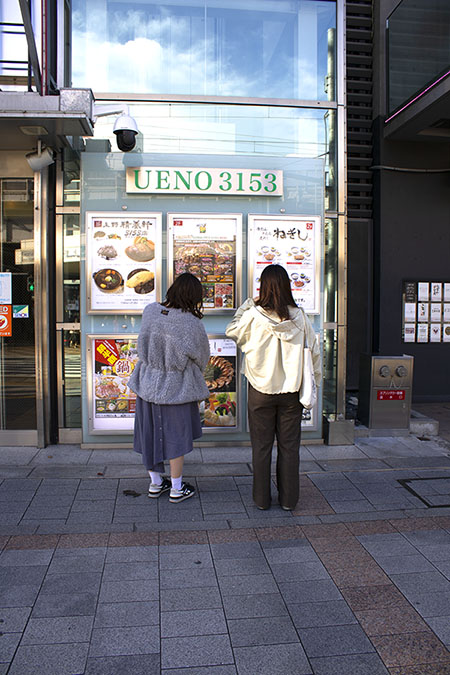 Food menus on the outside of Ueno 3153.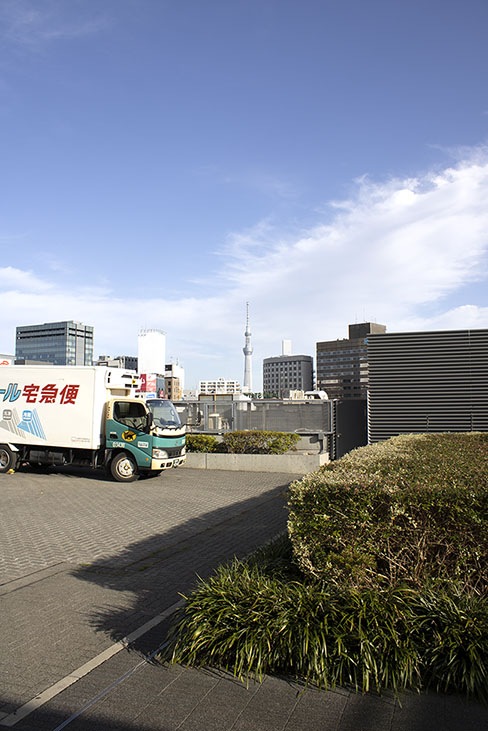 The sitting area on the roof of Ueno 3153 with a view of Sky Tree to the east.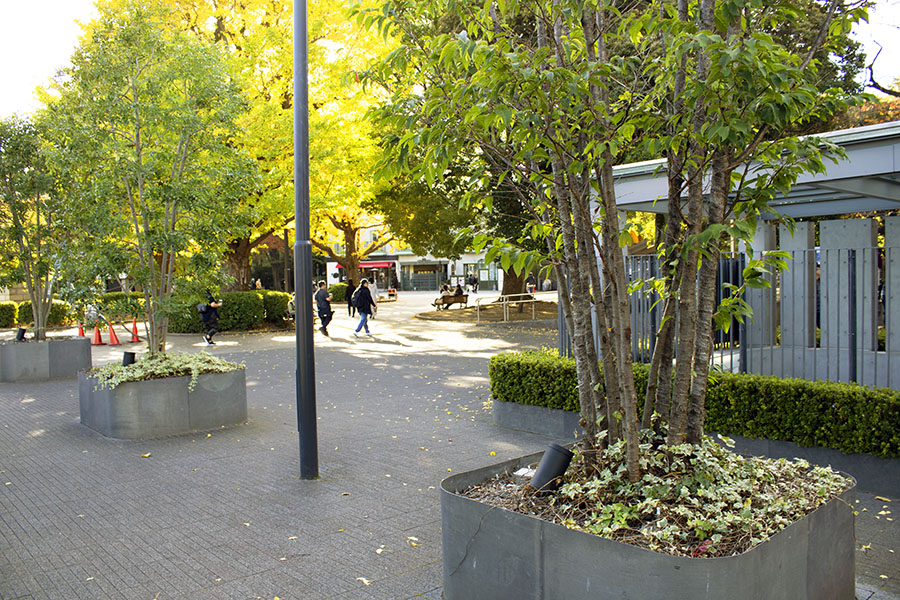 Access to Ueno Park is just up behind the 3153 sitting area. Stairs down to Skyliner Station are on the left. Most of the park is to the right. This is facing west.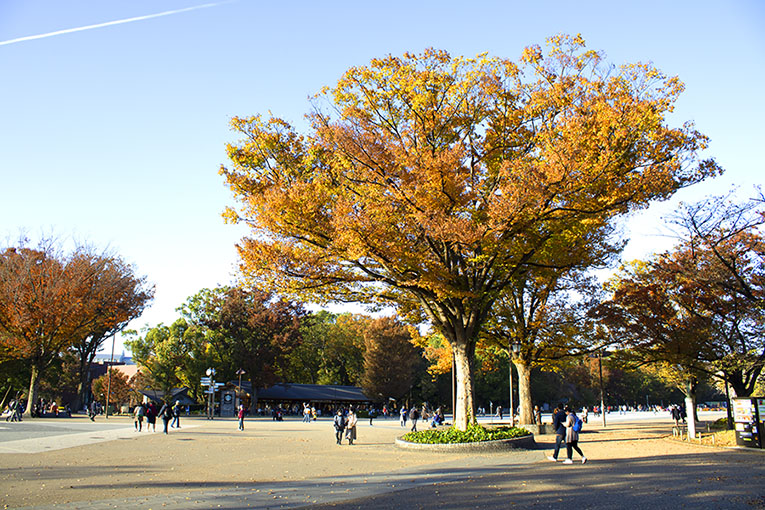 Ueno Onshi Park Fountain Square, in the fall. Just to the right (north) are several huge and interesting museums.
Matsuzakaya, PARCO, and Okachimachi Station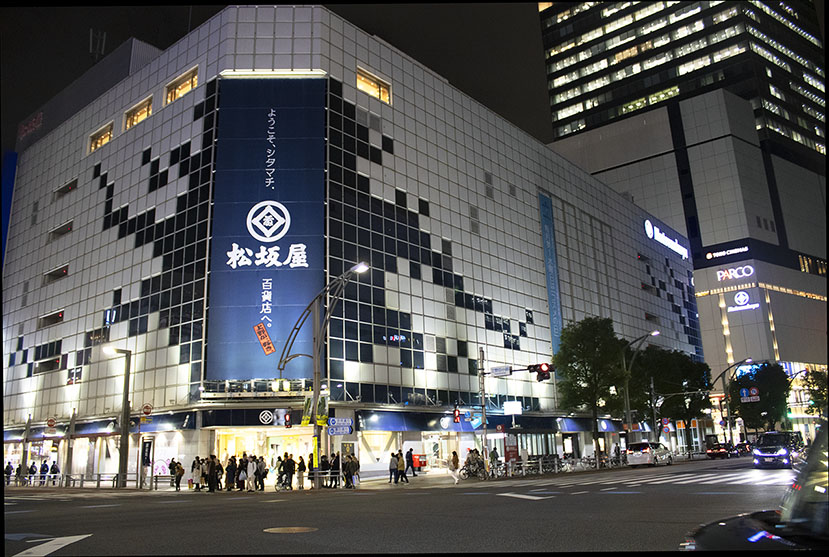 Matsuzakaya, left, and PARCO, right are connected and are at the southwest end of the station. One of the best food/gift basements in Tokyo is in the basement of Matsuzakaya. There is also a really good Seiko watch store on the 7th floor, and restaurants on the top floor. PARCO has a movie theater. Just behind these buildings is Okachimachi Station and its famous Panda Square.
Matsuzakaya, PARCO, and Okachimachi Station are all right next to each other and southwest of the station. To get here exit the station and walk north, cross at the Ueno 3153 building and walk west. Loop around south on the sidewalk heading south, then cross back east on the same street to the other side. About .5 miles down you'll come to Matsuzakaya – hands down one of the best dept. stores in Tokyo. Its food/gift basement is superb. It has 7 floors of shops + restaurants on the top floor. This page has some shop details. Just to the east of these buildings is Okachimachi Station. This is a favorite hangout of young locals at night. You can reach it by heading east between the two buildings. The area around Okachimachi Station is Ueno's jewelry district. This area and Ueno are really one and the same. From the station, to the north back towards Ueno are all kinds of backstreets filled with shops + restaurants. There is also a Ueno-Okachimachi Station on the Toei Subway line in the area. Well worth a look.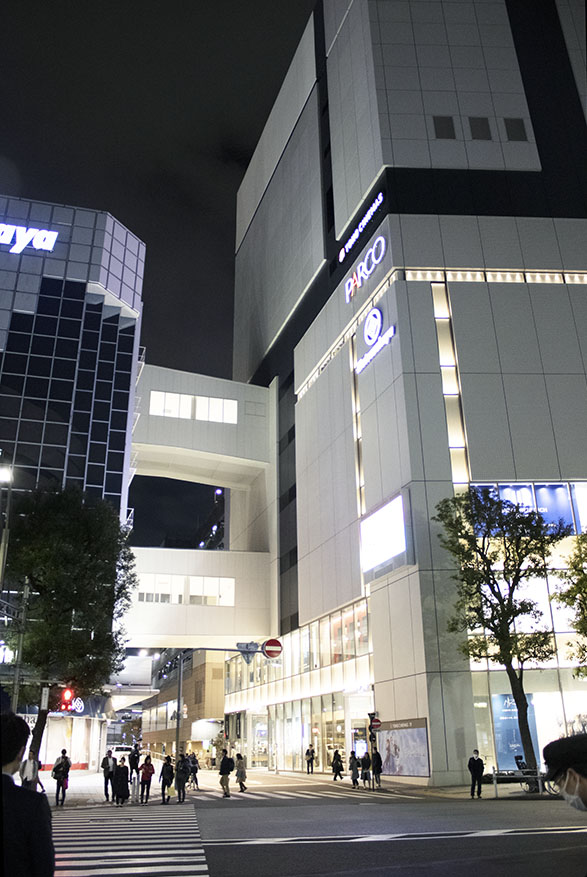 Slip between the PARCO and Matsuzakaya buildings to the east and you'll find Okachimachi Station. The area is fantastically well-lit at night. Just to the left under the overhead walkways is the entrance to the Matsuzakaya food-gift basement – a must-see. There is also a Café Velocé just to the south of the PARCO bldg. on the same street.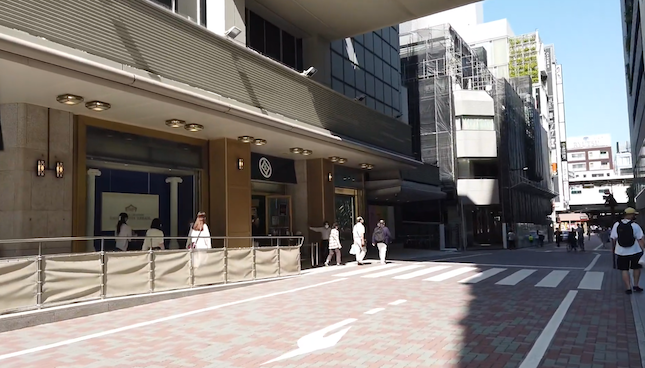 Matsuzakaya food-gift basement, left.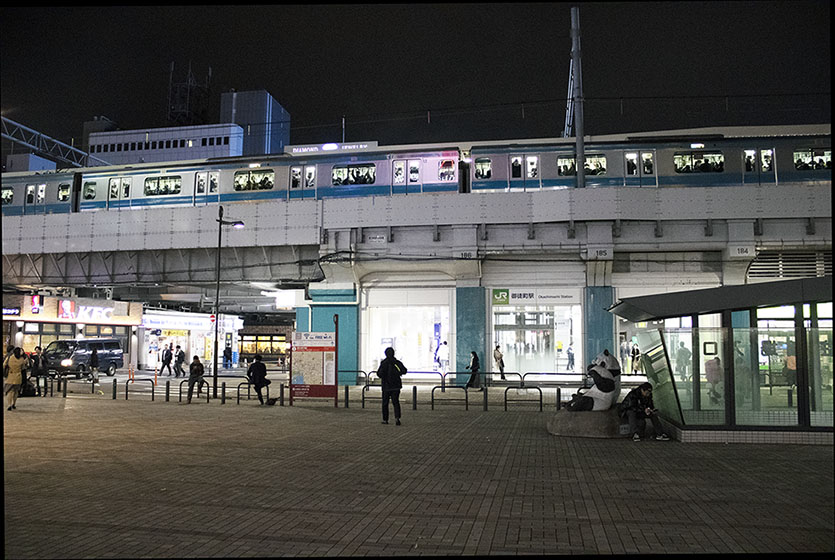 Okachimachi Station, 1 stop south of Ueno on JR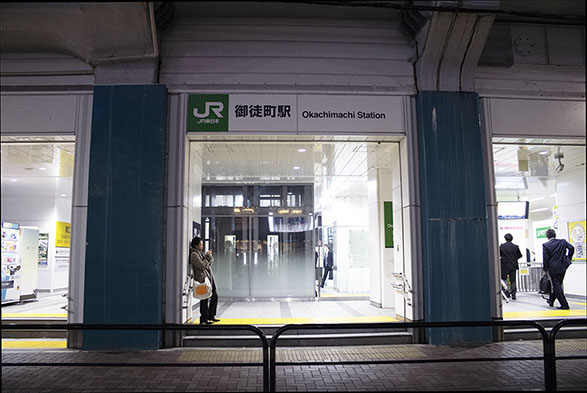 Okachimachi Station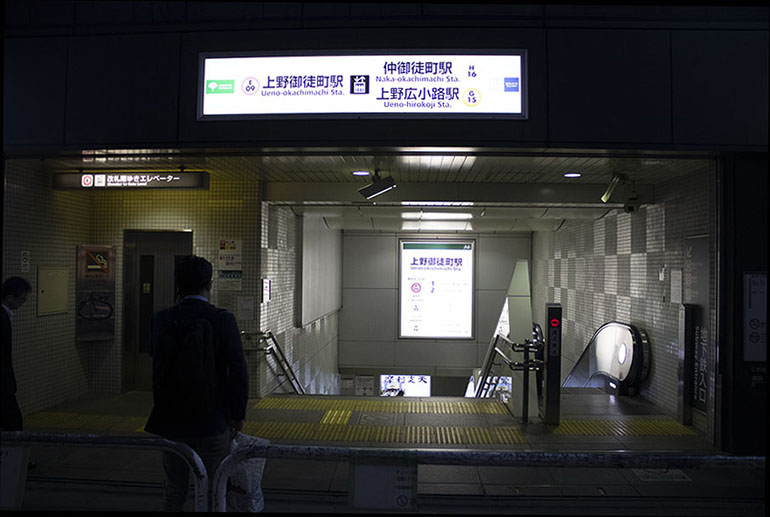 Ueno-Okachimachi Station, on the Toei Subway line
West + Don Quijote
If instead of turning left at the PARCO building to get to Okachimachi Station, you turn right across the street here and head west: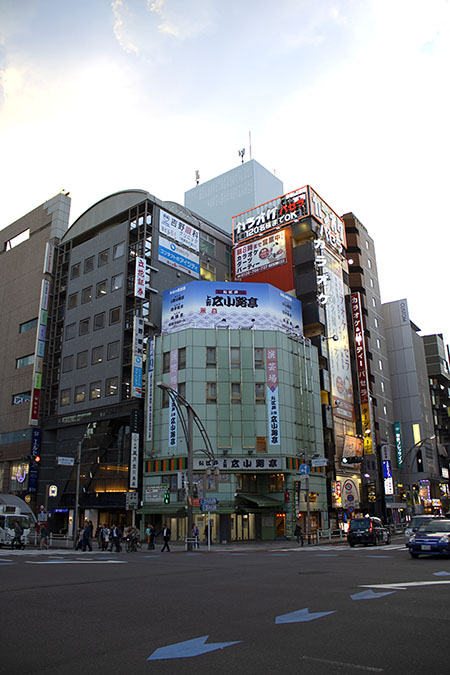 You will come to Ueno's Don Quijote discount store. You can also turn back north from Don Quijote down side streets if you wish to get to Shinobazu Pond which we discuss below.
Also on this street is Yushima Station on the Chiyoda Metro Line, lots of restaurants, shops, and other hotels. There's a giant multi-floor karaoke tower on this street.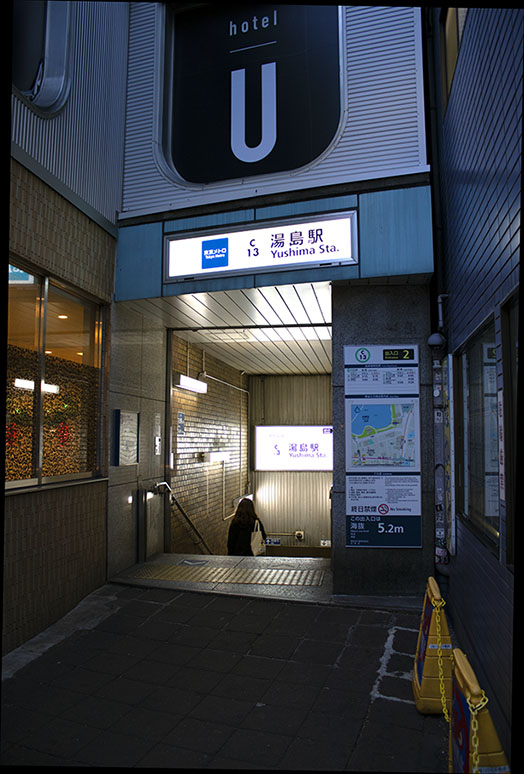 Yushima Station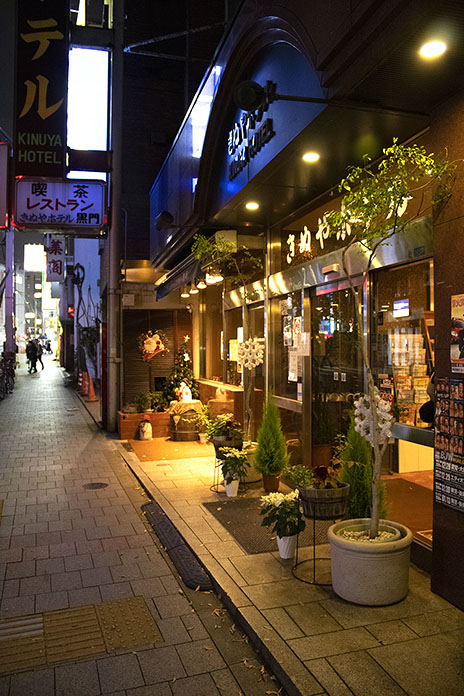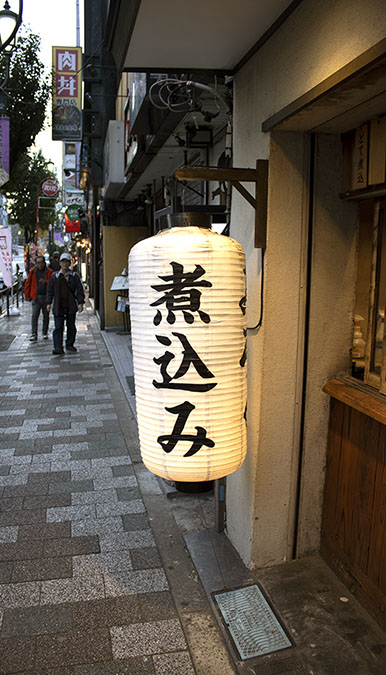 Shinobazu Pond
Shinobazu Pond is just to the west of the Skyliner Station. As we mentioned, it's an ancient pond featured in classical Japanese literature. There are even paintings from the 1600's and 1700's depicting it. In feudal times it was a northern sentry post used to protect the imperial palace.
Today it has a nice walk around it, small boats you can take out and paddle on the lake, and a shrine in the middle.
It's well worth a stop. To get there from Ueno Station, head west, and slip down the small alley to the left of the 7-11 across the street from Yodobashii Camera Annex. Or from Ueno Park head down the long staircase and across the street to the west.
Just before the pond is also the entrance to Ueno Zoo on the north.
Also be sure to check out Kyu-Iwasaki-tei Gardens at the southwest corner of the pond across the street.
As a footnote, if you travel west on Rt. 453/254 (Kasuga Dori) from 35°42'30.32″ N 139°46'11.94″ E, at the southeast corner of the Gardens, in under 1.5 mi, you will arrive at the Bunkyo City Hall 1 block north of the Tokyo Dome area, just south of Itabashii – an easy and quick way to get across town. Bunkyo City Hall also just happens to have one of the best free observatories in Japan. Well worth a trip. Tokyo Dome and Ueno are actually quite close to each other. That makes them both ideal to stay at and pop over to the other for maximum Tokyo enjoyment.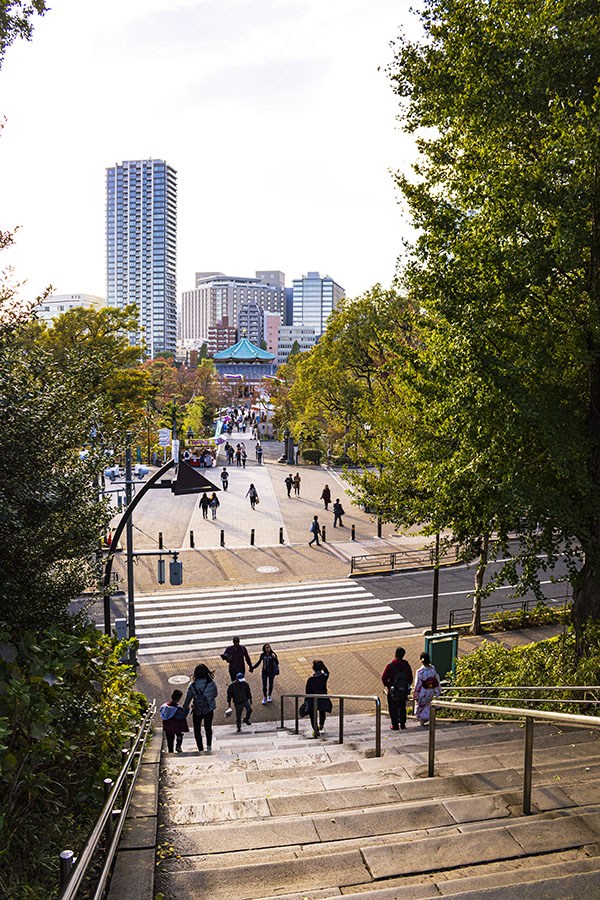 The massive stairs leading down from Ueno Park to Shinobazu Pond across the street to the east. The temple is the green-roofed bldg. right in the center. Entrance to Ueno Zoo is just to the right.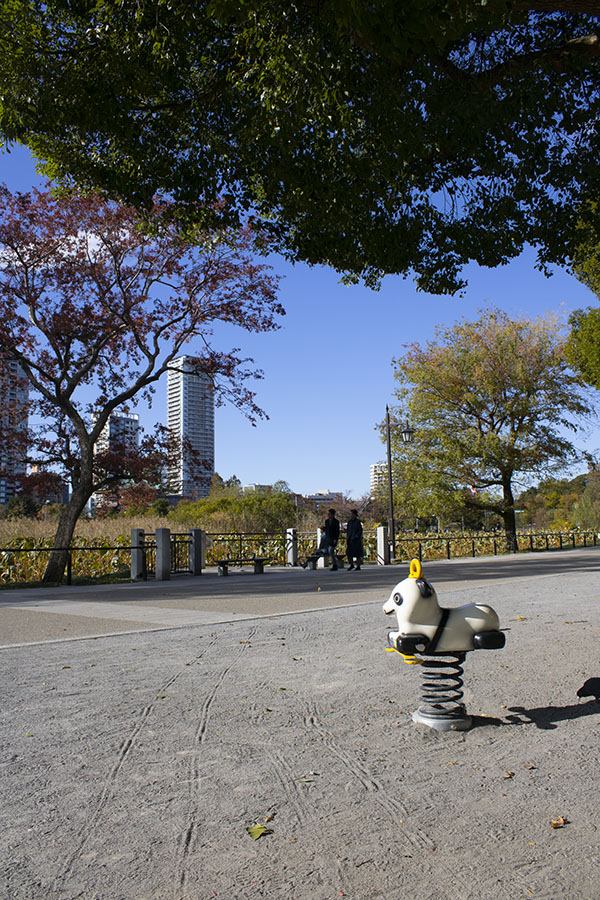 Shinobazu Pond in autumn.
Ueno Park
Ueno Park is a massive free park just north of the Skyliner Station. You can enter from stairs to the south or west, or from the roof of Ueno 3153, or from the north. There are dozens of museums, temples, shrines, and other attractions in the park. Fall is the best time, but the park is popular in the summer due to nice weather – and is often a spot for summer concerts + festivals + hanami (cherry blossom viewing). This area is a must-see in Ueno. Plan to spend a few days to see everything as there is a lot to do here.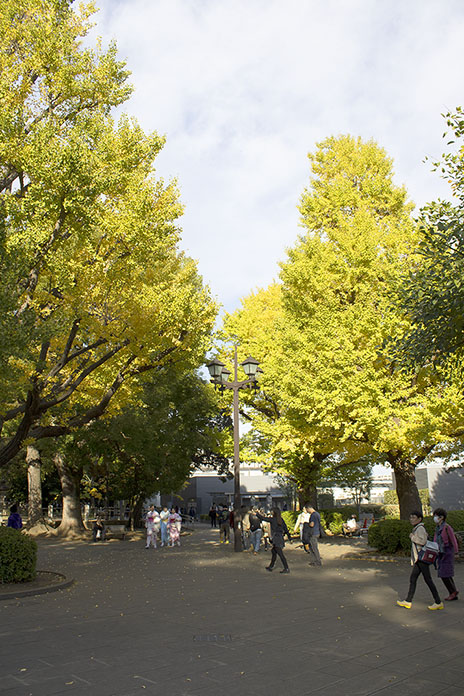 Ueno Park, in the fall.
Rt. 463
If you cross from Ueno Station and head east instead of west, you'll come to Rt. 463 (Asakusa Dori) just next to the Mitsui Garden Hotel. If you head east up this street you'll find all kinds of shops, a large temple, and a huge kitchen-related area several miles down. If you go far enough, as we mentioned, you'll come to Asakusa, and if you cross the Sumida River, eventually Sky Tree. There is also a Kinko's + Family Mart on this corner if you need one. Be forewarned however, for some strange reason all Kinko's in Japan require you to give them a photocopy of your passport – even if all you want to do is make copies. On Rt. 463 on the right a few blocks down, there is even a 150-year old Japanese stationary store.
There are also several free + paid bike lockers at the entrance to Rt. 463 on the east side as you approach from the station.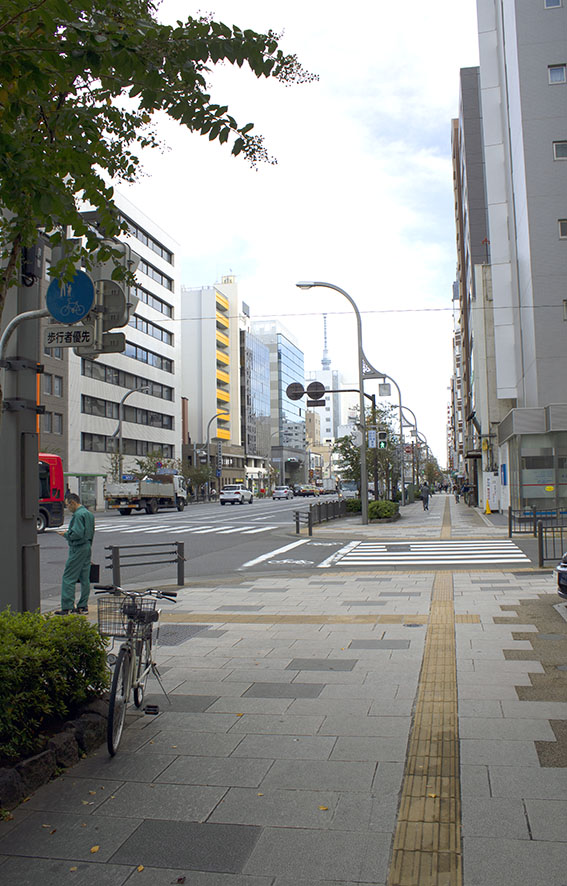 Rt. 463 heading east. You can see Sky Tree in the center in the distance. Sumida River is straight ahead before Sky Tree a few miles down.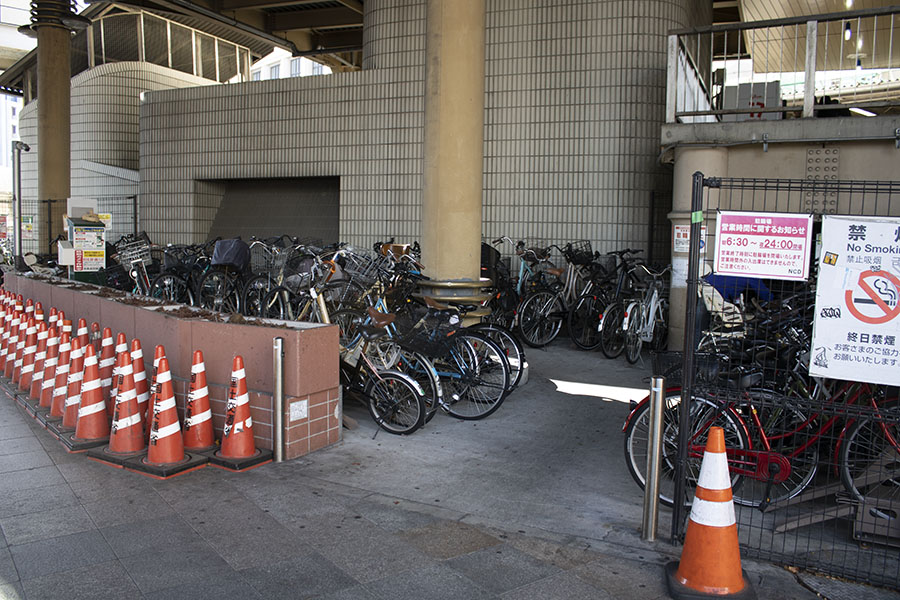 Bike parking area just east of the south exit of Ueno Station.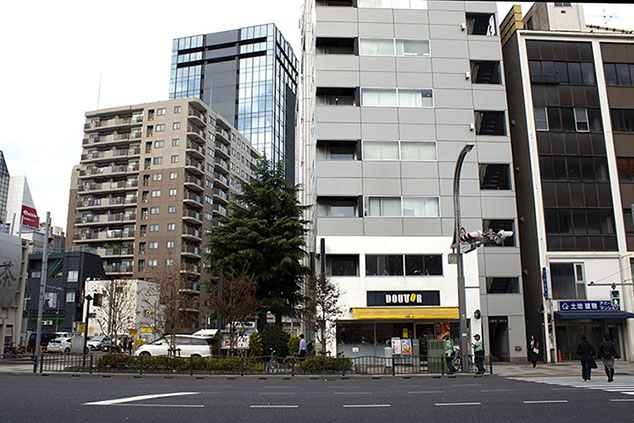 On the left side of the street there is also a large 2-story Doutor Café which has good, inexpensive food.
If you continue far enough east on Rt. 463, you will also come across Inaricho Station on the Ginza Line (G17). You can drop down from the street into the station here to get quickly to Ginza, Suehirocho Station at Akihabara, Tokyo Station, or Shibuya on the west side of the city. The station is located at 35°42'42.81″ N 139°46'55.05″ E. The station's platform has completed renovations for the 2020 Summer Games and is quite nice.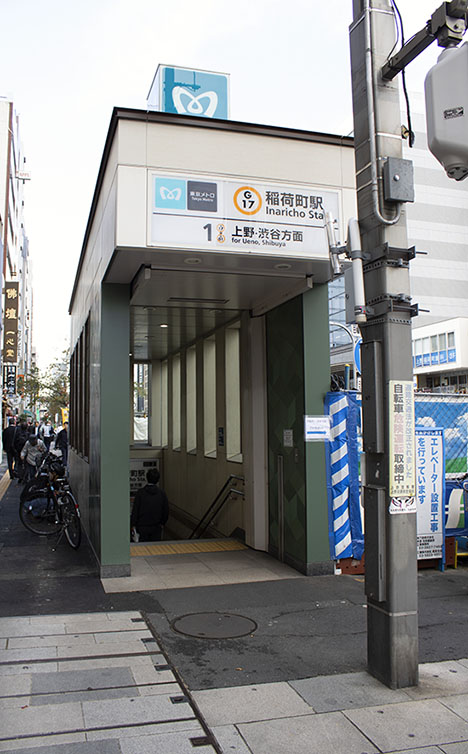 Inaricho Station on the Ginza Line (G17)
Ueno Sakuragi Atari
To the northwest of the Ueno Station and the park, at 35°43'21.24″ N 139°46'16.07″ E, in a tiny one block area is Ueno Sakuragi Atari – a small block of traditional Japanese houses converted into crafts shops. Well worth a .5 mile hike north of the station. See GoTokyo's Guide. Head north on Rt. 452 from the station for about 3 blocks. Of interesting note is Yanaka Cemetary Park just to the north. This is a vast cemetary. As a footnote, if you head west on Rt. 452 far enough, eventually you'll come to Old Hakusan-Dori, which if you follow north, will take you to Itabashii and Akabane.
Yanesen
To the northwest of the cemetery is an older neighborhood which has been recently renovated and is now upscale + trendy – Yanesen – located at 35°43'39.92″ N 139°45'55.03″ E. This area is well worth a walk.
Hotels + Hostels
There are many good hotels in Ueno, but by far the best is APA Hotel just behind the Skyliner Station. This side street also leads to Shinobazu Pond, and if you're willing to climb a huge staircase, Ueno Park. APA is a massive hotel chain which has 100's of hotels all over Japan – most of them good. APA Ueno is reasonable at around $75/night – borderline luxury. The best value in the town – not too expensive, not too downscale. You can't come close to a hotel like this in the west at this price. We highly recommend it. In fact, there are two APA hotels in Ueno – the other one is just northeast of the station.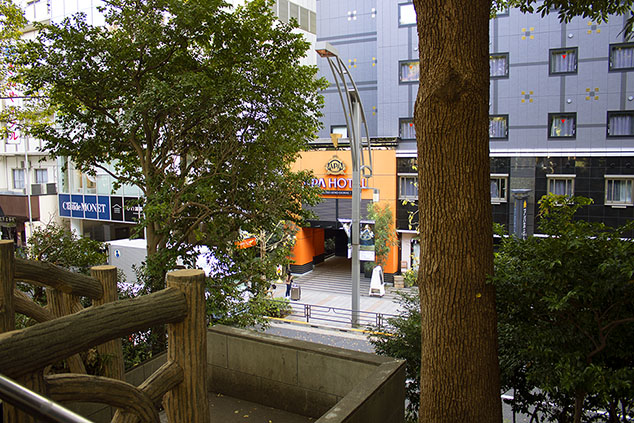 APA Hotel across from Skyliner Station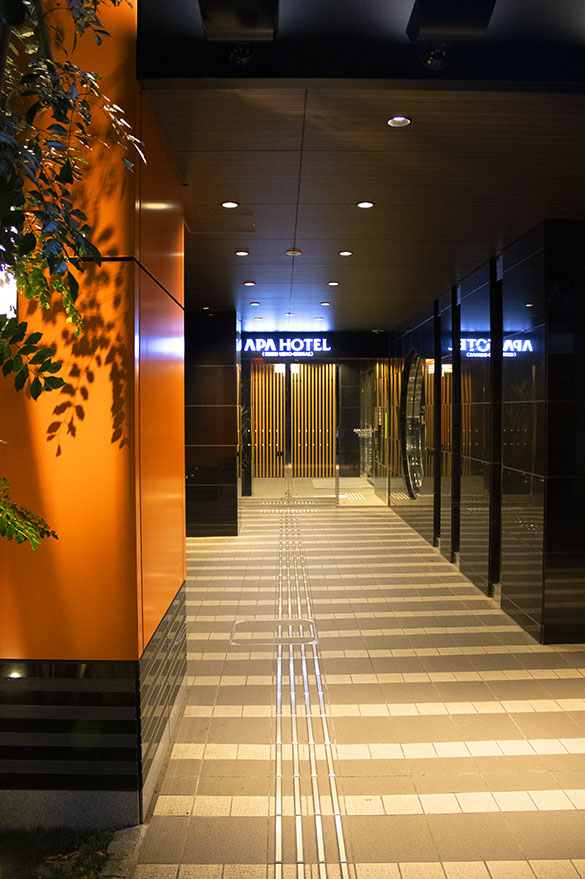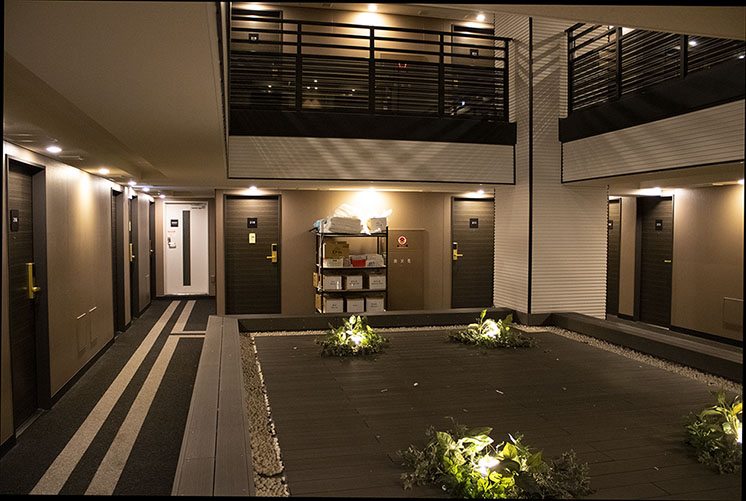 Inside APA Hotel across from Skyliner Station
Tucked back on a side street at about 35°42'36.52″ N 139°46'41.54″ E 3 blocks southwest of the station is the very nice Nohga Hotel. This is a very nice clean upscale hotel that doesn't disappoint. A little pricey at around $150-$200 a night, but well worth it if your budget allows. It has excellent clean rooms, a 1st floor lounge with refrigerators, and a huge outdoor patio and separate indoor reading room. Very nice.
There is also the Mitsui Garden Hotel mentioned above, just across from the station but it's a little steep at around $135/night. However, it is very good. You can save some $ by staying in a more expensive hotel for a few nights, then jump to APA above, and finally to a hostel. That way you get some luxury without breaking the bank and save $ on the trip overall. Or you can just go for one mid-range hotel such as APA for the duration of your stay.
Another option just outside the east exit of the station is Hotel New Ueno. This small hotel is tucked down a side street but is extremely convenient.
For a slightly more traditional hotel experience, check out Ueno First City Hotel a few blocks south of the pond.
There is also simply Ueno Hotel – which has spectacular views of Sky Tree.
There are also a lot of hotels on the street that runs east to west on the south side of Shinobazu Pond. See our other article here.
One of the best-kept hostel secrets in Tokyo is And Hostel. There is one in Ueno, Sumida (a few miles to the east) – and one in Akihabara. All are excellent, low-priced at around $38-$45/night, and all of them offer large ground-floor lounges + a kitchen. Bathrooms are generally very clean as well. However, be aware the Ueno And Hostel, unlike the other two, don't offer private capsules – they offer only an open dorm with bunkbeds, as well as private rooms, which are around $80/night – more expensive than other full-scale hotels in the area.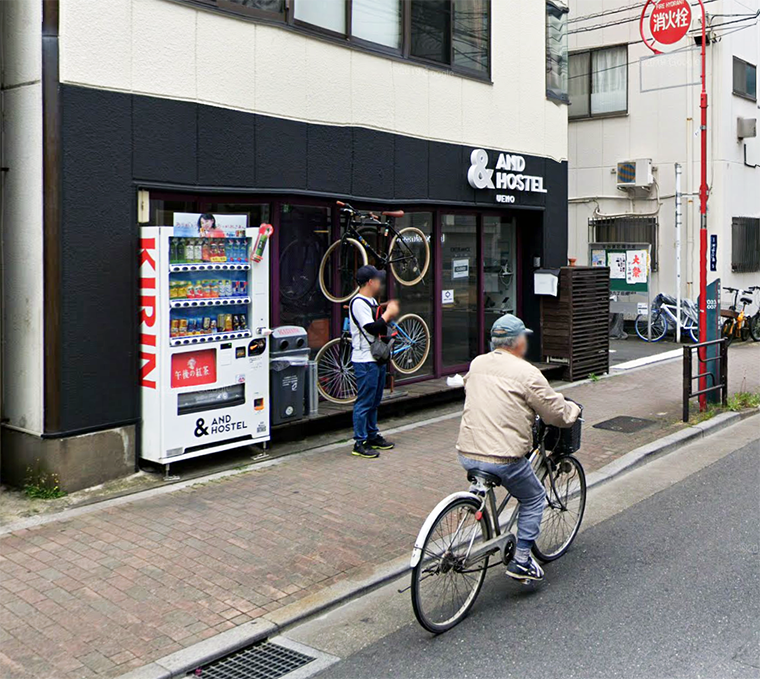 And Hostel Ueno – to the northeast of the station
There is also Hiromas Hostel just a few blocks northwest of And Hostel. It's incredibly cheap @ $23/night and has a huge 1st floor lounge with benches and tables.
Another good hostel option is Uno Ueno.
Coin Lockers
There are a variety of coin lockers in and around Ueno, some at the station, but better, cheaper, and usually empty ones scattered throughout the town. See our article on Ueno secret coin locker hacks. Coin lockers can come in handy when you need to move across town, want to drop your stuff when you go shopping or get on a train for a short trip, or even on the day before your international departure and you need to move multiple pieces of luggage which might be too much to carry in one trip.
Ueno to Akihabara – A short walk
If you head south on Ueno's main street past the PARCO complex, and walk 2 miles or so, you'll come right into Akihabara. The two towns are surprisingly close to each other and an easy walk. There's a great bike shop along the way on the left side of the street: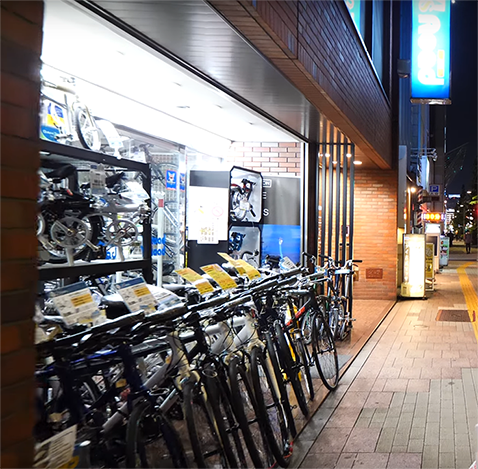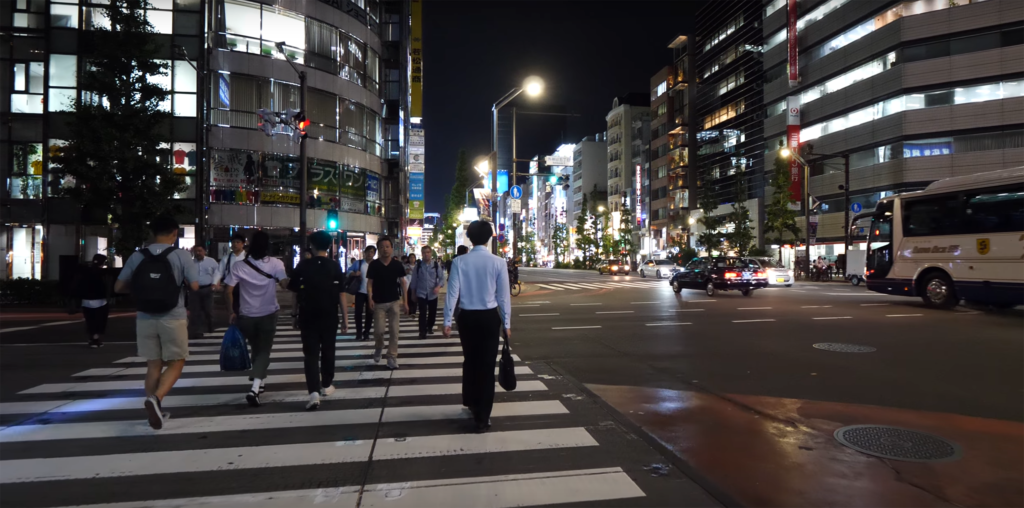 Walking south to Akihabara from Ueno.
Book Road Winery in Okachimachi
If you walk from the east side of Ueno Station south on Showa Dori/Rt. 4 for about .5 miles and then turn east (left) you will find Book Road Winery (whose motto incidentally is "Wine for Happy"). It's actually in Okachimachi at 35°42'18.23″ N 139°46'38.28″ E. It's just 2 blocks off Rt. 4 to the east.
Well, that's about it. Enjoy your trip to Ueno and don't be afraid to venture beyond the tourist areas for unexpected discoveries.
A few more photos around Ueno
Clockwise left to right: Street Metro station entrance, flower shop, in front of Yodobashii Camera, Coffee shop in Ameyokocho, temple in Ueno Park, side street vending machine, restaurant on Ameyokocho side street. Center: under the JR tracks @ Okachimachi Station.
Currency Exchange
There are a few good currency exchanges scattered around Ueno – you'll have to canvas the backstreets around Ameyokocho to find them. There is one on the main street in Ameyokocho. There is also this one hidden in one of the covered side alleys around the area: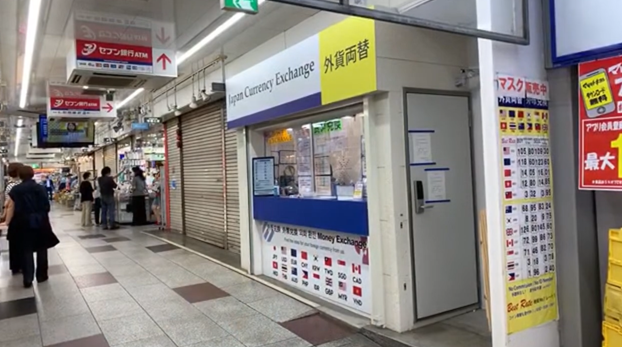 You will need to provide name, phone #, and passport to exchange money. These are usually a much better deal than the ones at the airport – so exchange a little bit of money at the airport, then hit one of these, or similar ones in Akihabara or Shibuya to exchange more.
Well, that's it for now. Enjoy Ueno – plan on spending 2 days or so to see everything. Enjoy!
LINKS
https://en.wikipedia.org/wiki/Ueno_Station
https://www.japan.travel/en/destinations/kanto/tokyo/ueno-and-akihabara/
https://www.gotokyo.org/en/travel-directory/result/index/keyword/Ueno
https://en.wikipedia.org/wiki/Shinobazu_Pond
https://en.wikipedia.org/wiki/Ueno%E2%80%93Tokyo_Line
https://dmdepart.jp.e.md.hp.transer.com/flnews/e/
https://www.gotokyo.org/en/spot/230/index.html
https://www.tokyocreative.com/sights/7063-ueno-marui
https://livejapan.com/en/in-tokyo/in-pref-tokyo/in-ueno/spot-lj0011916/
https://www.tokyodrew.com/ueno-tokyo-ameyokocho-open-air-street-market/
https://www.japan.travel/en/destinations/kanto/tokyo/ueno-and-akihabara/
https://livejapan.com/en/in-tokyo/in-pref-tokyo/in-ueno/article-a0003206/
https://luxuryhotel.guru/tokyo_ueno/
https://www.agoda.com/mitsui-garden-hotel-ueno/hotel/tokyo-jp.html
https://nohgahotel.com/en/ueno/
https://www.gotokyo.org/en/spot/1631/index.html
https://www.booking.com/hotel/jp/ueno-hotel.en-gb.html
A snack superstore that specializes in cool local snacks from different prefectures of Japan
https://www.gotokyo.org/en/spot/1674/index.html
Guide to Tokyo's Old Quarter: 7 Quaint Spots in Yanesen!
https://www.agoda.com/uno-ueno/hotel/tokyo-jp.html?checkin=2020-05-05&los=14&adults=1&rooms=1&searchrequestid=e1ff78ce-cb12-4a0d-97c9-6dd49349753f&travellerType=0&tspTypes=3,16,7
https://andhostel.jp/ueno/english/
https://ueno-bunka.jp/en/facilities/kahaku/
https://livejapan.com/en/in-tokyo/in-pref-tokyo/in-ueno/article-a0001894/
https://www.tripadvisor.com/Restaurant_Review-g1066461-d4664607-Reviews-Cafe_Asan-Taito_Tokyo_Tokyo_Prefecture_Kanto.html
https://www.tripadvisor.com/Restaurant_Review-g1066443-d12987949-Reviews-Burger_Milkshake_Crane-Chiyoda_Tokyo_Tokyo_Prefecture_Kanto.html
https://www.yelp.com/biz/%E3%83%89%E3%83%B3-%E3%82%AD%E3%83%9B%E3%83%BC%E3%83%86-%E4%B8%8A%E9%87%8E%E5%BA%97-%E6%96%87%E4%BA%AC%E5%8C%BA
VIDS