Having a bicycle in Japan can come in handy.
Walking long distances take a long time. Trains are crowded + expensive.
If you're in a hurry to get somewhere quickly, having a bicycle can save you time and frustration while getting around in Japan.
This guide tells you everything you need to know.
Unfortunately Japan – unlike many other modern countries – has yet to build good widespread bike lanes, even in Tokyo. This is surprising given the number of people who ride bikes here. Some areas in central Tokyo, such as around Tokyo Dome do have good bike lanes – but they are often blocked by deliveries so you must still be careful.
Everyone from housewives with kids, to octogenarians can be seen riding bikes. Many Japanese rely on their bikes to get to grocery stores, to commute to and from work, and just to get around.
The streets in Japan are very narrow, sometimes hilly, and everyone is always in a hurry. Riding a bike in Japan can be a real hazard. You'll have to be extra careful at intersections and crosswalks – both so you don't get hit by a vehicle, and so you don't collide with pedestrians.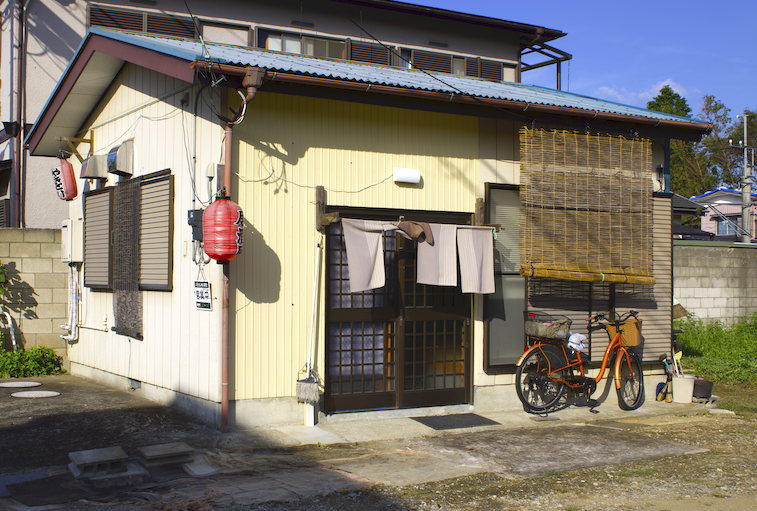 Bikes are everywhere in Japan.
Here are the basics of how to buy + ride a bike in Japan:
Buying a bicycle in Japan.
Do's + dont's of riding safely.
Parking.
Taking your bike on trains in Japan.
Bike sharing.
Buying a bicycle in Japan
Bike shops abound in Japan. But you can also buy bikes at depato (department stores), including low end depato's such as AEON, and Don Quiojte.
There are smaller higher-end shops such as Y's Road and Cycle Base Asahi, but be prepared to pay more. If you're looking for high end bikes, check out dealers in Japan, or higher end shops. There's a huge Y's Road shop 2 blocks east of the main Ikebukuro JR Train station in Tokyo.
One of the best shops in Tokyo is Cycle Olympic. They have a great new shop which just opened called Free Power – located in Kokubunji western Tokyo.
Cheap generic bikes can be bought in Japan anywhere from $125 – $200 + up. These are really low end bikes – some have Shimano shifters + sprockets, but they're usually low end equipment. Most sub-$200 bikes in Japan are for very basic getting around. There are also generic unisex $125 bikes at discount stores. For just puttering around, these will work. If you're after a high end bike, go to one of the specialty or dealer shops.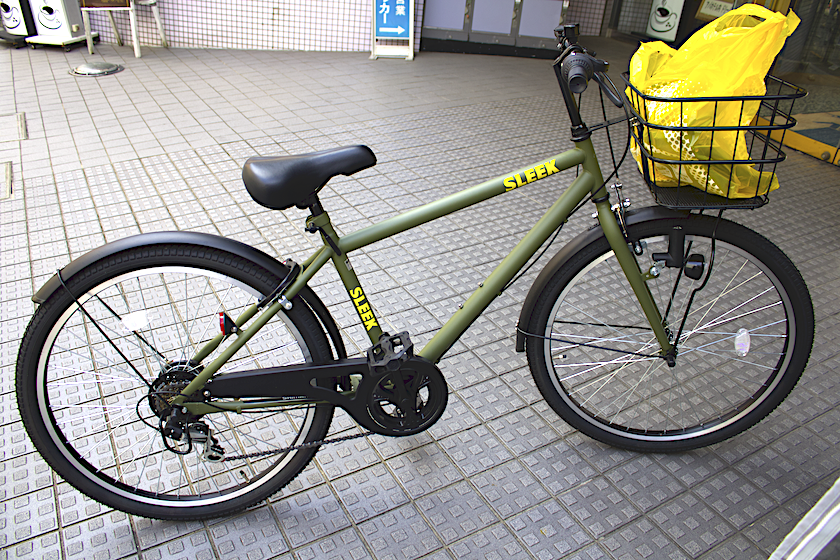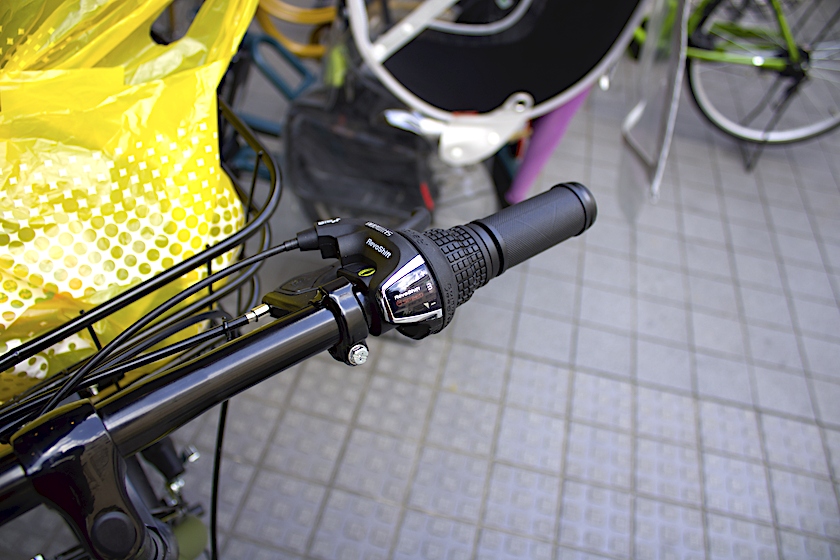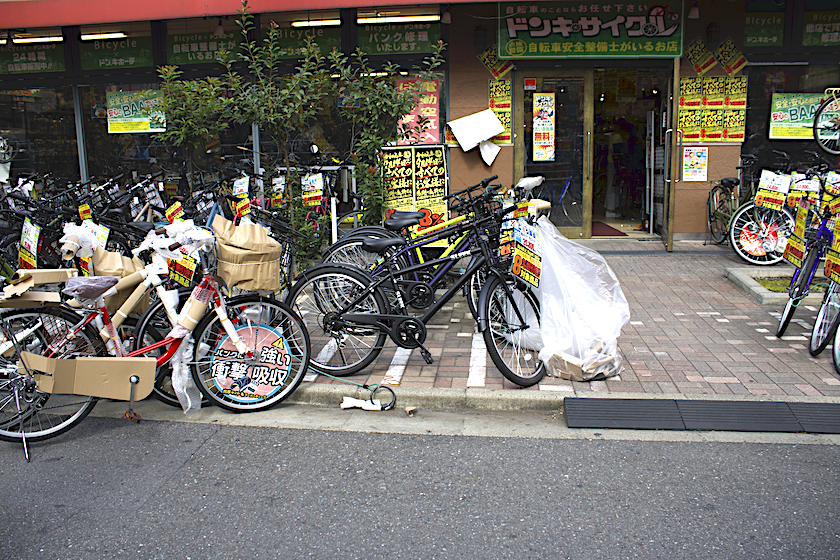 A new bike lot at discount store Don Quijote.
Legally, when residents of Japan buy a bike at a bike shop, they're required to fill out a small registration form which contains a small registration sticker which gets affixed to the front top or neck of the frame of the bicycle. If you're a short term visitor to Japan (under 3 months), this requirement is often waived by the shop selling you the bike. However, consider in this case if some legality later arises between you and a resident party, it could cause you trouble. Also, the lack of a registration sticker on your bike will almost certainly mean you will never see it again if it's stolen. The police won't even listen to you if you didn't have the registration sticker to begin with. So, for temporary visitors, proceed with a purchase at your own risk. The best way to mitigate theft risk is to make sure you lock your bike, and park it in a designated bike parking lot (more on this below).
However, bike theft is much more rare in Japan than in western countries. Only very high end bikes are usually targeted in Japan, and even then theft is rare. People simply don't steal bikes here. It's common to see peoples' bikes parked out front of their houses, with no locks whatsoever.
Most Japanese bikes today come with an ingenious locking mechanism on the rear wheel called a Gorin Lock. This device is permanently affixed to the frame and contains a sliding ring which you slide into the spokes of the rear wheel when you park – which makes the wheel impossible to turn. With the lock engaged, no one can ride off with your bike. The only downside is the lock is secured with a key, which you must keep on you at all times. If you lose your key, you'll have to cut the lock off, which won't be easy.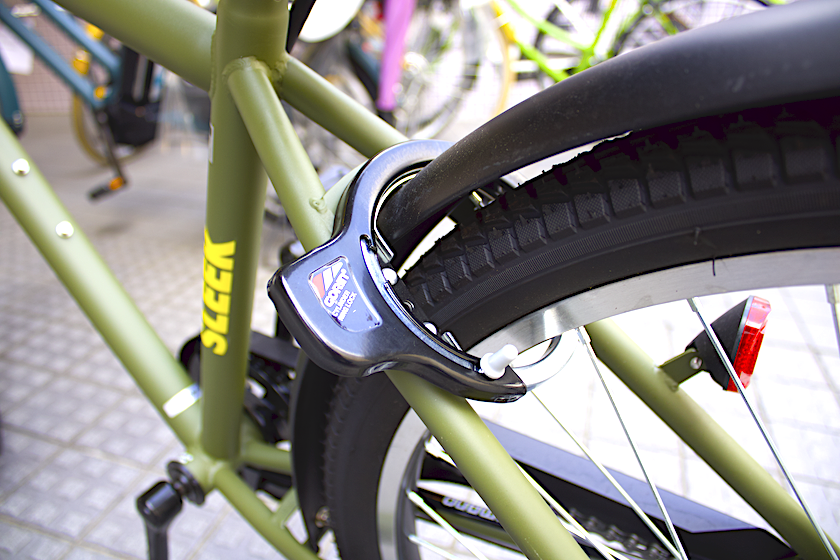 A Gorin Lock.
Do's + dont's of riding safely
There are a lot of bikes on the streets of Japan – and, as we mentioned, few good bike lanes. Unless signs state otherwise, you may ride your bike on sidewalks – as most locals do. Just be sure to not ride too fast, endanger people, or cause pedestrian problems.
It is extremely important to be extra careful at intersections. Many of Japan's streets are tiny and have blind corners. Micro-sized motor vehicles often shoot out of nowhere with little warning. Many backstreet intersections have no stop or yield signs. You take your life in your hands if you don't use proper caution when crossing intersections. We mean it. In many ways, this makes riding a bike in Japan much more dangerous than in the west.
Always honor all road signs. This site has a list of Japanese roads signs for motor vehicles, but the same applies to cyclists.
Also always remember to ride on the left – as motor vehicles do in Japan. Even on sidewalks try to always ride on the left.
Be polite to other riders + pedestrians. Be considerate. When in doubt, yield the right of way.
You can ride on streets, which means you won't have to deal with as many pedestrians, but be aware that without bike lanes, you must be eternally vigilant. No one is going to watch out for you or see you,. No one. You have to be aware at all times of the situation + be ready to take evasive action in an instant. Not doing so could cost you your life.
In Japan many deliveries are made by small trucks on main roads. If you decide to ride on the street, you'll have to deal with these + navigate around them – which creates another hazard. Keep in mind that if you swerve left in front of a parked truck at the curb, as you re-emerge and swerve back right, it's highly likely that the flow of traffic behind you will not see you – or even know you're there. This is an incredibly dangerous situation in heavy traffic. You may want to invest in some bike mirrors – but even then you're going to have to be extremely careful. Always assume every vehicle around you may not see you – and plan accordingly.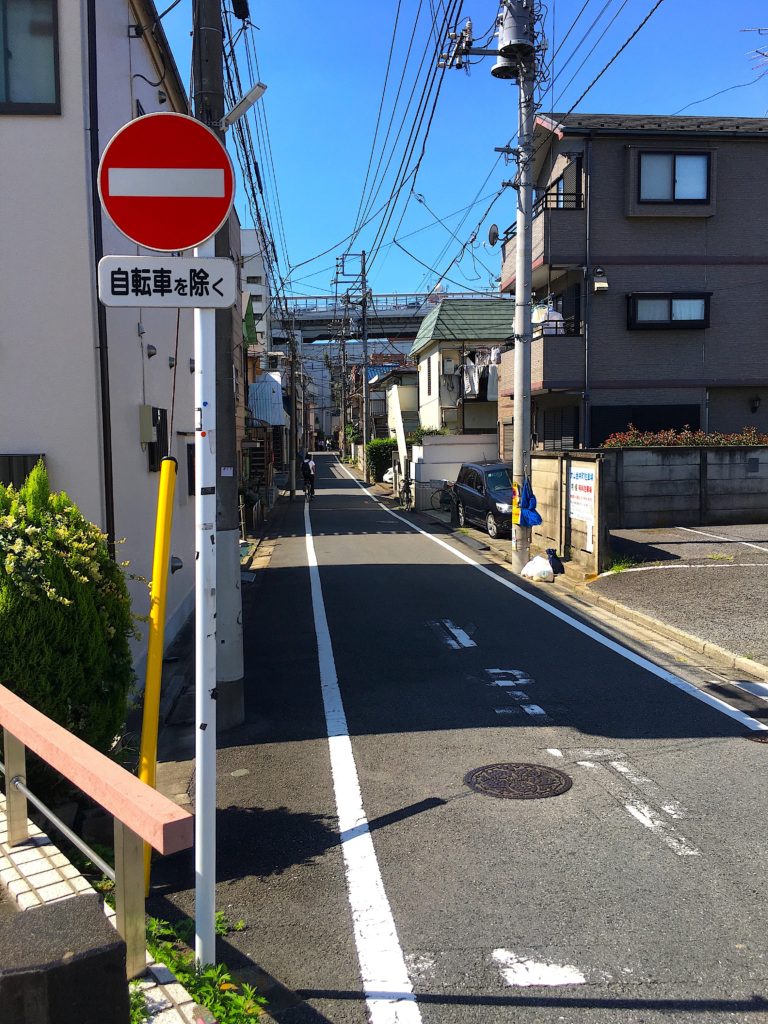 Japan's tiny backstreets present a hazard for all cyclists. In this case motor vehicles are banned, but they're not always. Small streets like this can leave cyclists totally blind to oncoming traffic.
Parking
Bicycle parking (like auto parking) in Japan can be problematic. You usually can't just lock your bike up anywhere and walk away. In fact, there are many signs along most streets telling you so. If you ignore them, your bike may be impounded by the police, and you'll have to go retrieve it, which in huge cities might be a huge headache.
Unless you work in Japan + use your bike to get to + from work, parking willy-nilly out front of buildings is generally discouraged. Instead you need to find an authorized bike parking lot. Most Japanese train stations have them out front of the station. There are also metropolitan lots with paid or free parking. Prices are generally pretty reasonable – ¥100 for 6-10 hours. So around a buck a day. Unless you need to use a paid lot every day, it's probably worth it.
Some central metro areas such as Ikebukuro + Shinjuku have large paid lots. You can Google around to find them.
Some rail station lots have automated parking ticket machines, and some have attendants. Some have coin-operated locks on each space. Some have coin-operated slots on the honor system – you pay for the time you use, but there is no lock on the bike slot – you have to bring your own locks or not use them at all.
To lock your bike at paid lots, you usually roll your bike up into a metal slot until it locks. You then note down the number of the slot, and go to an automated machine and pay. The machine will give you a ticket. When you are ready to retrieve your bike you punch in the number of your slot, or in some lots insert your ticket, pay any extra due, if required, and the machine will remotely unlock the slot so you can roll your bike out. Do not just walk up to these slots and lock your bike to them. It's highly likely your bike will be removed by the lot owner if you do.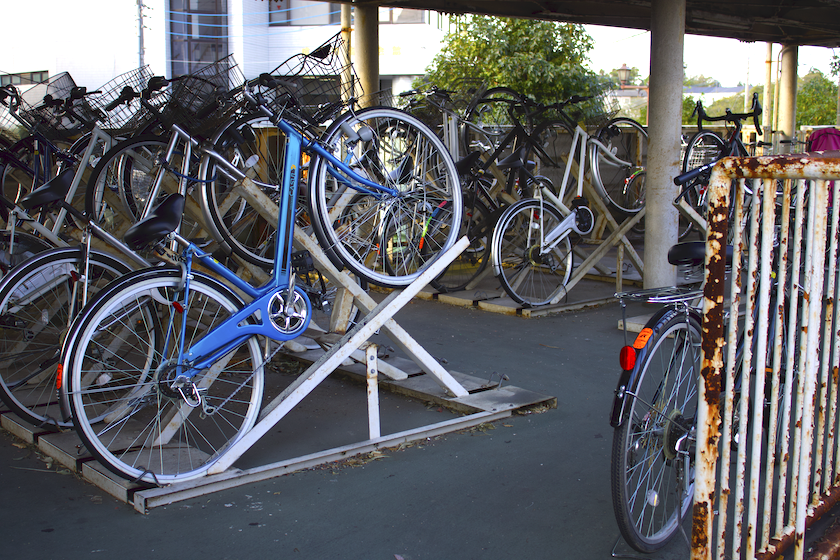 Honor system bike racks in Narita City.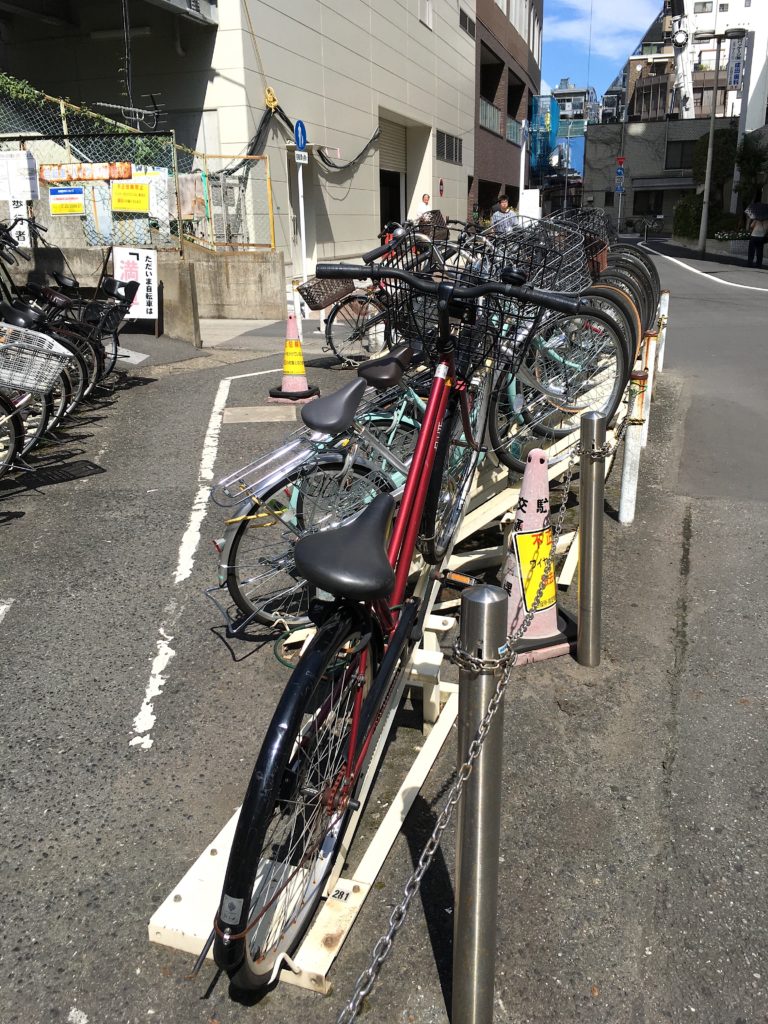 Most Japanese rail stations have bike racks out front. Most are usually full.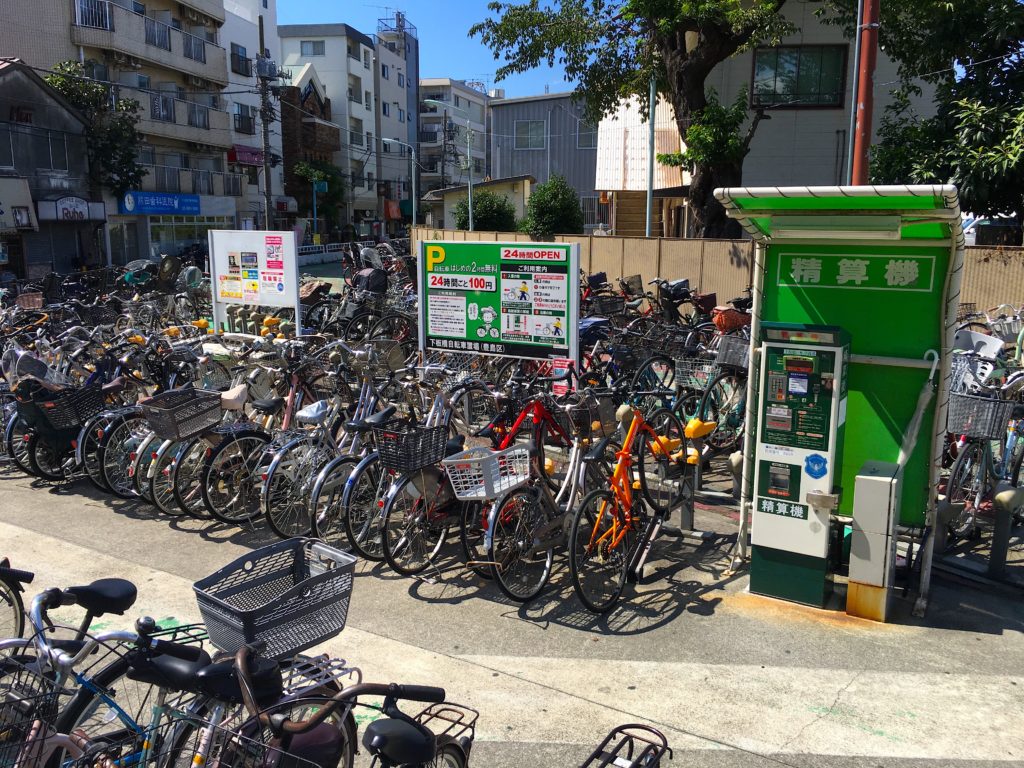 Fully automated bike lot with payment machine.
Taking your bike on trains in Japan
In general, bicycles are not allowed on normal commuter trains around Japan: there just isn't any space. If you attempt such, you'll likely be asked to leave the train by a conductor. The one exception is the Narita Express to/from the airport, but even on that train, you'll have to store your bike somehow at the end of a car in the luggage storage area, which is usually already cramped. Your best bet is not to. If you must, then take it apart in advance and store it in a bike box or Rinko Bag and then load it onto the train. A much better option however, is to disassmeble it, then ship it in a box ahead of you. Japan's trains are just too crowded to accomodate a bicycle.
Bike Sharing
Japan's NTT Docomo has started a bike sharing service in limited areas of Tokyo. You can read more about it on DoCoMo's Bike Sharing Websites. They also have iOS + Android bike sharing map apps.
https://www.tripadvisor.com/Attraction_Review-g1066451-d11979779-Reviews-Docomo_Bike_Share-Minato_Tokyo_Tokyo_Prefecture_Kanto.html
https://www.tripadvisor.com/Attraction_Review-g1066451-d11979779-Reviews-Docomo_Bike_Share-Minato_Tokyo_Tokyo_Prefecture_Kanto.html
Resources
https://www.gotokyo.org/en/plan/getting-around/bicycles/index.html
https://www.yelp.com/search?cflt=bikeparking&find_loc=Ikebukuro+Station%2C+Toshima%2C+%E6%9D%B1%E4%BA%AC%E9%83%BD
https://tokyo.digi-joho.com/travel-living-tips/bicycle-parking-tokyo-regular.html
https://toa.com.sg/solutions/kansai-station-underground-bicycle-parking-lot
https://www.tokyobike.com/international.html
https://www.crowngears.com/html/worldguide/english_page.html
https://7bicycle.com/shops_en.html
http://cycle-tokyo.cycling.jp/shops.html
https://donnykimball.com/docomo-bike-share-d0b9c01b0c3b
Best Bike Parking near Ikebukuro Station, Toshima:
https://www.yelp.com/search?cflt=bikeparking&find_loc=Ikebukuro+Station%2C+Toshima%2C+%E6%9D%B1%E4%BA%AC%E9%83%BD
Eco Station 21 iTerrace Bicycle Parking Area A:
https://japantravel.navitime.com/en/area/jp/spot/01252-NV0001311/
Rent a bicycle in IkebukurO:
https://www.tripadvisor.com/ShowTopic-g298184-i861-k2542514-Rent_a_bicycle_in_Ikebukuro-Tokyo_Tokyo_Prefecture_Kanto.html
2 Wheel Cruise Channel: https://www.youtube.com/channel/UClvtLAnUD8z_9dec6iUc24Q/videos
https://www.youtube.com/watch?v=OAcThSw2Y84&feature=youtu.be
More links:
https://www.google.com/search?client=firefox-b-d&q=best+bike+shops+in+Itabashi+Japan

https://www.tripadvisor.com/ShowTopic-g298184-i861-k6699430-Recommendation_for_bicycle_shops_in_Tokyo-Tokyo_Tokyo_Prefecture_Kanto.html

https://www.quora.com/Is-there-a-secondhand-bike-or-part-shop-in-Tokyo

https://japantriathlon.wordpress.com/2016/12/06/japan-bike-shops-directory/

https://tokyocycle.com/threads/tokyos-best-stocked-bike-shop.404/

https://tokyocheapo.com/lifestyle/reconditioned-bicycles-the-two-wheeled-wonders-where-to-find-them/

https://7bicycle.com/shops_en.html

https://morethanrelo.com/en/tokyo-bicycle-shops/