©2019-2020 tenmintokyo.com
Japan is crazy about vending machines.
Many models are shown below.
These contain mostly drinks, but in some areas hot + cold meals, and even T-shirts or electronics.
Drinks range from 100¥ – 200¥ and many of them are quite good, such as BOSS Coffee, shown below, CC Lemon, and lots of teas. Some also feature the usual western soft drinks – although most western soft drinks are not as popular in Japan as they are in the west.
You will find these machines on virtually every corner or shopping complex. Some take only coins, some take bills also, and newer ones also aceept the Japaneese train system's IC card – Suica. The light green machine in the photo in the lower right corner below is one such Suica machine at a train station. To pay for a drink using Suica, just slap your Suica card on the IC card reader and you're good to go.
If you have an NFC-F enabled smart phone, and have loaded a Suica app onto it, you can also trigger the machine's Suica reader simply by holding your phone up to it. Note that some western phones won't work with Suica readers since they use NFC and not the Japanese-specific NFC-J standard. If you use an iPhone you'll need an iPhone 8 or later and the Suica app to use Suica on the readers. You can also use an Apple Watch Series 3 or later on the readers if your phone has Suica added to Apple Wallet, and Bluetooth is enabled on your Apple Watch.
In some stations there are new electronic models which don't show the bottles themselves, but only an LCD image of them.
To use them, put your money in the top, select the small black button under the drink you want, and the drink will come out the slot at the bottom.
On a hot summer day, these are life-savers: if you're walking a lot, you'll also be sweating profusely and will dehydrate very quickly.
Sometimes you'll find mega-banks of them in a row – 4-10 machines all lined up.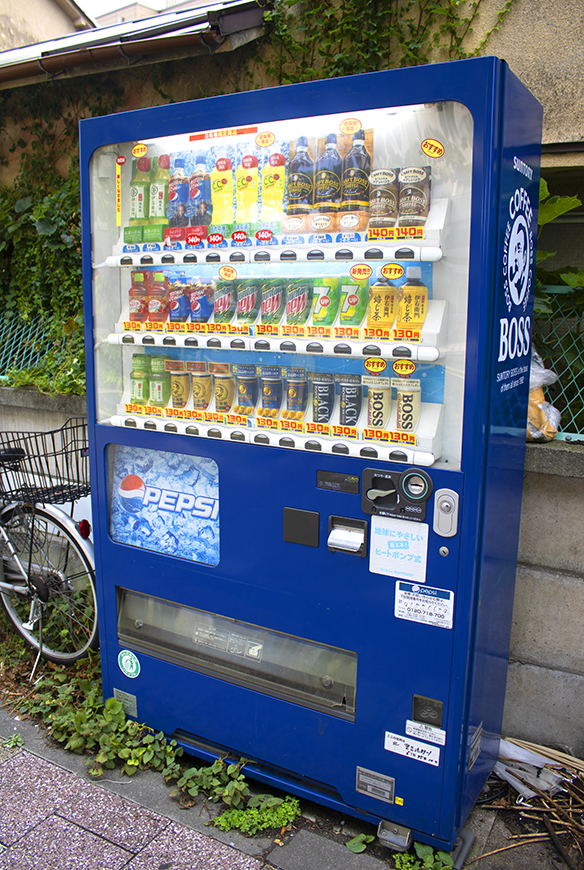 Suntory BOSS coffee machine in Itabashi.
Suica-enabled vending machine in green, lower right. The IC card reader is the small oval in the center.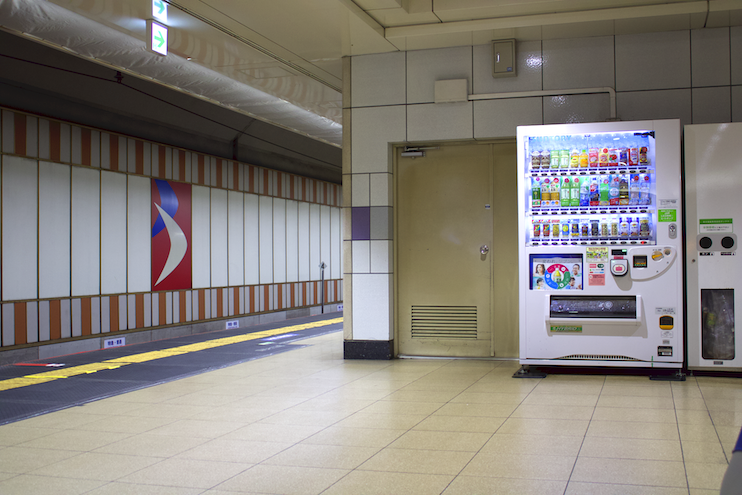 Suica-enabled vending machine at the Narita International Aiport waiting lobby.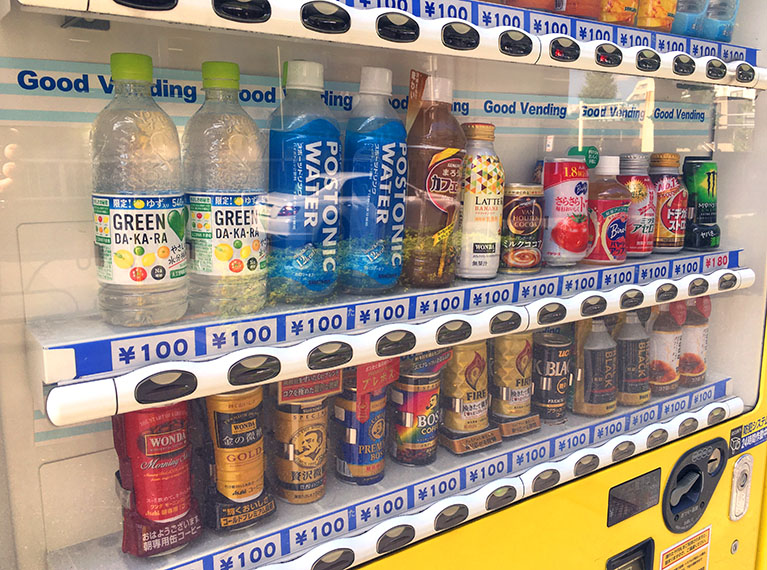 A Good Vending/Happy Price machine, also in Itabashi. Note all drinks are 100¥ (approx. $1 USD).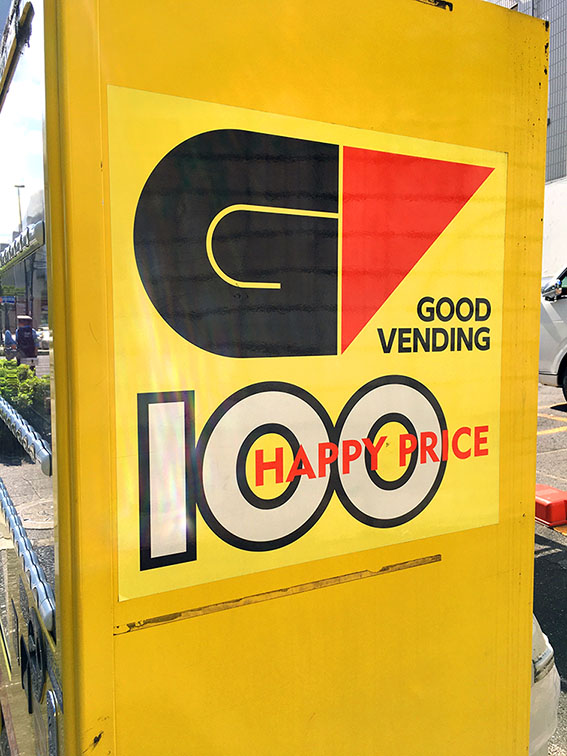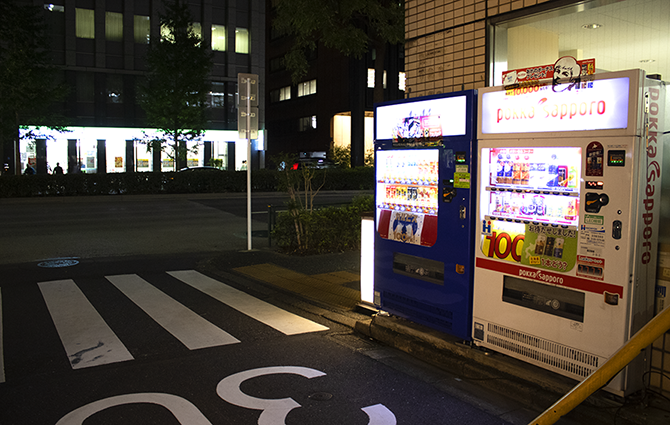 Vending machine bank on a corner in Toranomon.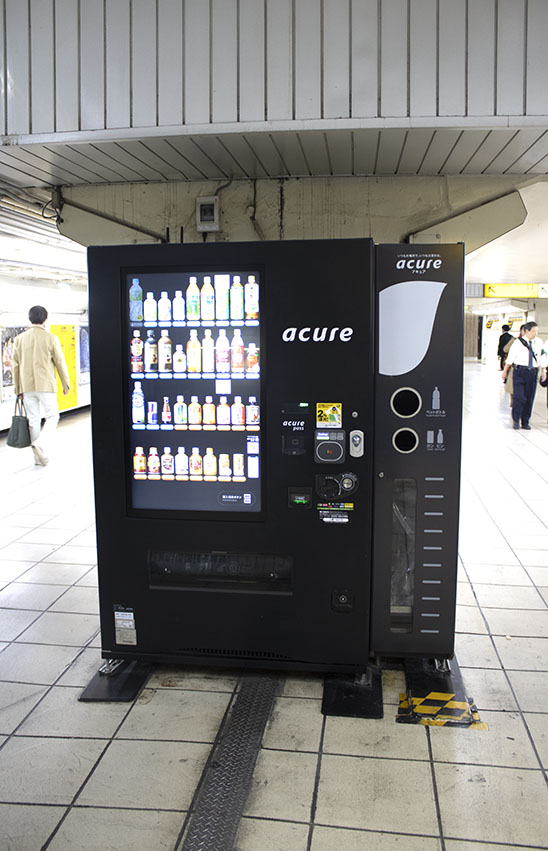 Modern all-electronic "acure" model at Ueno Station. Also note the small recycling slots on the right.
As an odd footnote Tommy Lee Jones is the official spokeman for BOSS coffee, and is featured in many Suntory BOSS TV ads in Japan.
LINKS
https://www.japan-guide.com/e/e2010.html
https://kotaku.com/the-world-of-japanese-vending-machines-5988536
https://www.alljapanrelocation.com/news/suica-on-iphone/
VIDS