Name: Kamata
Kind: Town/City
Free Wifi: Yes
Location: 35°33'47.55″ N 139°43'13.80″ E
Stations: Kamata Station, Keihin-Tōhoku Line, Tokyu Ikegami Line, Tokyu Tamagawa Line
Worth it? For a quick look.
Our Rating: ⭑⭑⭑
Updated 10/15/2021
©2021 tenmintokyo.com
Kamata is a small town in central Tokyo west of Tokyo Bay.
It's a popular stopover point for Haneda International Airport, which is just to the southeast.
The town is fairly old – dating back to the 900's – and contains one of the first railway stations built in Japan.
Access
To get to Kamata, you can take a train or bus from Haneda, or one of many lines which run through Tokyo – most notably the JR Keihin-Tōhoku Line which runs all the way north past central Tokyo.
The area is mostly residential, so there's not a ton to do, but it's still worth a look.
Attached to the station to the west is the Tokyu Plaza Kamata multi-use complex, and other complexes attached to it, which are rather large. To the west of the station is a small town square + small park. Several of the side streets to the west are an interesting walk with lots of restaurants + shops. There is also a large Don Quijote discount store.
Ota City Tourist Information Center
Ota ward also runs a very large tourist info center with English-speaking staff but it's about 1/2 a mile to the east in the Keikyū Kamata Station on the Keikyū Main Line. It's open 9AM-9PM.
Tokyo University of Technology
Just to the north of the station is the very large Tokyo University of Technology – a popular technical college. The college also has a large outdoor park.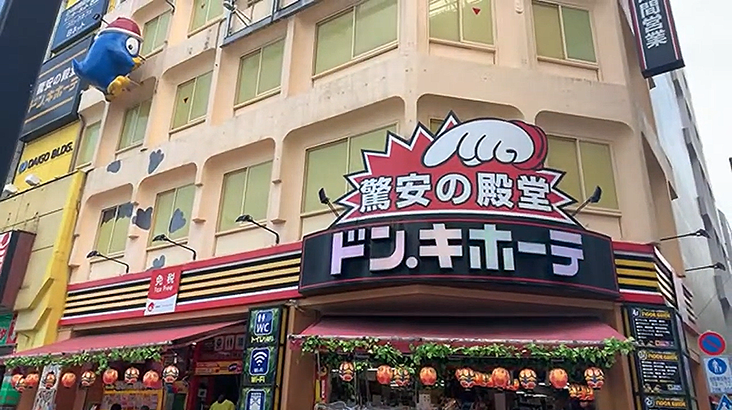 Don Quijote discount store just across from the station.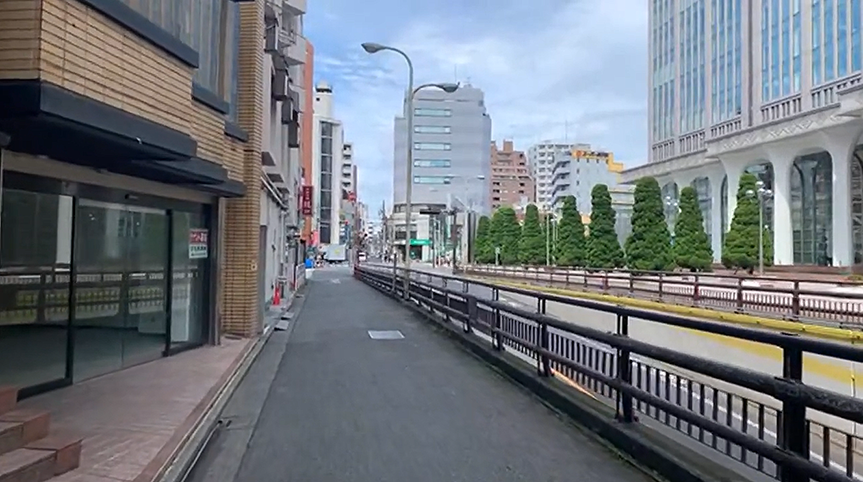 A typical residential street in Kamata.
Bourbon Road
Perhaps the most interesting street in Kamata is Bourbon Road – a small alleyway which is mostly Izakaya (bars) + shops to the west of the station. But just be aware some of the establishments may or may not be foreigner-friendly. You might want to ask ahead of time if you plan to frequent any of them.
Fujitsu Solution Square
Just to the south of the station is Fujitsu Solution Square – a large Fujitsu complex which is mostly offices, but also contains a showroom. It's a few blocks south so if you have a little extra time, it's worth a quick walk.
The biggest historical attraction in Kamata is Ikegami Honmonji shrine – where famed Buddhist sect founder Nichiren died. It's about 1.25 miles to the northwest of the station, but is well worth the walk – the grounds + temple are impressive and definitely worth the look if you have time.
About 1/2 a mile south of the station is a weird outdoor concrete park next to some high-rise apartment buildings called Nishirokugo Park (Tire Park). Really designed as a playground for kids, the park has several tall Godzilla-like figures made of old tires. Weird, but worth a look.
About 1/2 mile west of the station is a huge performing arts hall called Ota City Aprico. Various events are held here. Check the hall's website for times + info.
Capsules
If you're looking for a cheap capsule hotel in Kamata, there are several, the cleanest + most modern being 9 Hours Kamata – although we might warn you that from our personal experience 9 Hours can be a bit loud – they are usually filled with traveling salary-men who snore up a storm after a hard day of business + drinking. 9 Hours' plastic capsule construction makes the sounds reverberate all throughout the building, sometimes making it difficult to sleep if you you're a light sleeper. 9 Hours Kamata is around 35°33'45.68″ N 139°43'10.14″ E.
Conclusion
Kamta is just another small town in Japan, but if you're coming from the airport and want a close layover, or just want to see a typical town in Japan, check it out if you're staying in Japan longer. It's worth a stop – even if only to walk around.
Enjoy!
LINKS
Kamata area guide | Time Out Tokyo
Haneda Layover Guide: Getting a Short-Term Taste of Tokyo | Tokyo Cheapo
Kamata: Tokyo's Multi-Ethnic Shitamachi | Tokyo Weekender
https://tokyocheapo.com/place/bourbon-road/
https://www.teu.ac.jp/english/campus/018356.html
https://en.wikipedia.org/wiki/Nichiren
https://www.fujitsu.com/global/about/resources/news/press-releases/2003/1127-02.html
VIDS