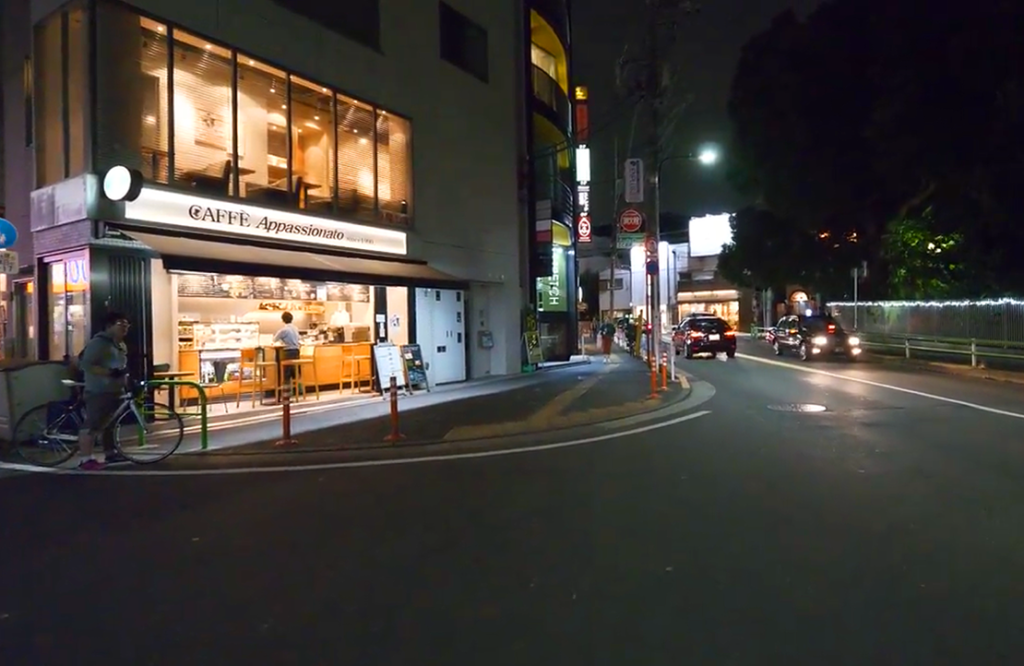 Name: Caffe Appassionatto
Kind: Cafe
Location: Hiroo – around 35°39'03.98″ N 139°43'23.78″ E
Station: Hiro-o Station (Hibiya 03), Tokyo Metro
Phone: 03 6277 0097
Free WiFi: Yes.
Worth it? Do not miss it.
Our Rating: ⭑⭑⭑⭑
Last updated 6/25/2022
©2022 tenmintokyo.com
Just south of Shibuya is the little residential enclave of Hiroo in Tokyo. This town has a nice atmosphere, upscale residences, and lots of cool little neighboorhoods and places to check out.
One such place is Caffe Appassionatto – tucked away on a 3-way corner just south of Gaien Nishi-Dori Ave, and just a block east from Hiro-o Station. To get here, take the Hibiya Line to Hiro-o Station, and head east down the street across from the station, which makes a dog-leg left. Just at the corner, you'll stumble onto Caffe Appassionatto. As a footnote, you can take this street a few block north to Roppongi.
The shop has an open-air front, tables right next to the sidewalk, and delightful nighttime lighting. There's loads to do in the area at night – just wander around.
Iris Park
Just down the street further east is the spectacular Iris Park – and on its east side the Tokyo Metropolitan Central Library – also both worth a look if you have time.
Hiroo Walking Street
Also of interest just a few blocks back the other way (west) is the charming little Hiroo Walking Street – a nice shop-lined street that is definitely worth a stroll.
If you're in the area, stop in to Hiroo and Caffe Appassionatto. You won't be disappointed.
Enjoy!
LINKS
http://www.caffeappassionato.jp/cafe_ap03.html
Hibiya Line/H | Route/Station Info
On the hunt for Gaien Nishi-dori's taste-makers
Hiroo Area Guide | Tokyo Cheapo
A Guide to Tokyo's Hiroo Neighborhood
Parkhouse Azabu Gaien Nishi-dori
Location:
Minato, 東京都 〒106-0047, Japan
Hours:
Mon
7:30 AM – 8:00 PM
Tue
7:30 AM – 8:00 PM
Wed
7:30 AM – 8:00 PM
Thu
7:30 AM – 8:00 PM
Fri
7:30 AM – 8:00 PM
Sat
7:30 AM – 8:00 PM
Sun
7:30 AM – 8:00 PM
VIDS