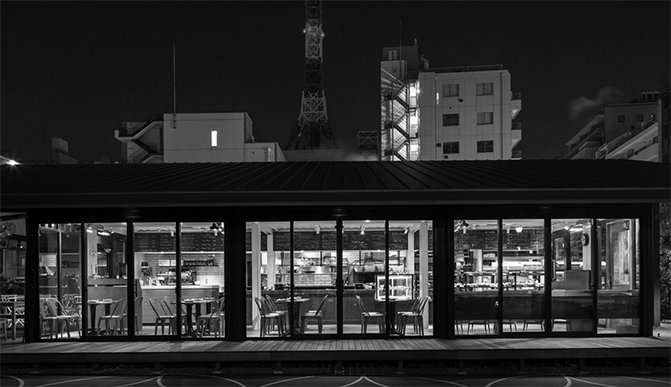 Name: No4
Kind: Cafe/Bakery
Where: 35°41'17.57″ N 139°44'09.52″ E
Stations: Kojimachi Station, Yurakucho Line, or JR Ichigaya Station
Free Wifi: Yes
Our Rating: ⭑⭑⭑⭑
Address: 5-9 Yonbancho, Chiyoda-ku, Tokyo
Site: https://www.tysons.jp/no4/en/
Phone: 03-3234-4440
Hours: 8:00-10:00PM.
Worth it? Don't miss it.
©2023 tenmintokyo.com
Just a few blocks south of the famed Ichigaya Fish Center, is a new No4 Cafe sitting right on a corner in Yonbancho.
Housed in a nice new beautiful wood + concrete building with huge windows, No4 doesn't disappoint.
In addition to serving lots of gourmet coffee, No4 also serves lots of delicious food. They also serve breakfast and have a full breakfast menu which you can download as a PDF.
Some of the food is absolutely fabulous, and reasonably priced. There's also a large patio with open-air seating, weather permitting.
To get here, exit Kojimachi Station, and head north for a few blocks. No4 will be on your right. (East side of the street).
After you get your coffee fix, if you're in the mood for a park visit, check out Chidorigafuchi Park, just across from the Hanzomon Gate and the Imperial Palace.
Or, about a mile in the other direction to the west, check out the fabulous Akasaka area.
Also check out a review of No4 at the official Visit Chiyoda site.
LINKS
Tokyo Brunch Heaven: Indulge in Delicious Bites at "No4"! – Visit Chiyoda