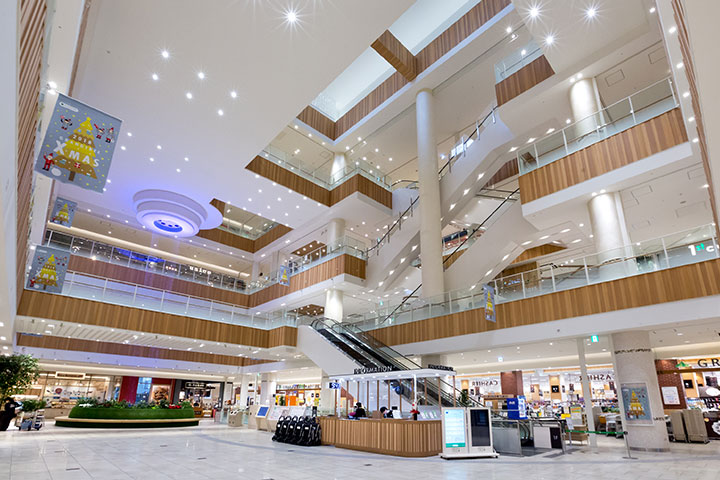 Name: GRAND TREE MUSASHIKOSUGI
Kind: Food/Entertainment
Where: 35°34'26.40″ N 139°39'37.71″ E
Stations: Musashi Kosugi Station
Free Wifi: Yes
Our Rating: ⭑⭑⭑⭑
Address: 3-chōme-1135 Shinmarukohigashi, Nakahara Ward, Kawasaki, Kanagawa 211-0004, Japan
Site: https://grand-tree.jp/lang/en/
Hours: Varies – mostly 10:00 AM – 9 PM
Worth it? Absolutely.
©2023 tenmintokyo.com
GRAND TREE MUSASHIKOSUGI is a 4-story new multi-use complex on the southwest side of Tokyo Bay about 7 miles inland across the Tama River, and just south of Setagaya in Kawasaki City.
There are lots of shops, clothing, loads of cafes and other food, a womens' floor, a Kinokuniya Books and a home floor.
There's also a big kids playground on the roof called Grand Green Garden.
Across the street is a huge steakhouse called Steak Asakuma.
To the northwest is a large Ito-Yokado department store (depato in Japanese).
Right next to the Ito-Yokada is another, slightly smaller complex called Kosugi 3rd Avenue. There is also a nearby Maritetsu grocery store, and a DAISO 1¥ shop.
Getting Here
GTM is in Kanagawa, a major southwest ward of Tokyo. The nearest station is JR Musashi Kosugi station just to the north. It's not too far though – less than 1/4 mile. You'll need to hoof it south just 2-3 blocks, then hang an immediate left. You can't miss the huge complex.
Hotels
If you want a hotel in the area, be sure to check out the Richmond Hotel Premier Musashikosugi just across the street to the east. Very nice and very affordable.
3 Chome-1175-1 Shinmarukohigashi
Nakahara Ward, Kawasaki, Kanagawa 211-0004
More Food
Also be sure not to miss the cool 3 STARS PANCAKE just to the south of the complex. They've got some pretty delicious and insane pancake meals.
Just to the north, near the train tracks, also check out the hip little restaurant called NATURA MARKET.
964-7 Shinmarukomachi
Nakahara Ward, Kawasaki, Kanagawa 211-0005
Just to the north of GTM is the Kawasaki City Convention Hall.
GTM is actually run by 7-and-i Holdings (aka 7-11 in the US).
LINKS
Grand Tree Musashi Kosugi | Japan Shopping Now
https://en.wikipedia.org/wiki/Tama_River
Grand Tree Musashikosugi—Fun for Kids! | Ito Yokado
Official Kanagawa Travel Info – Tokyo Day Trip
VIDS