©2019-2020 tenmintokyo.com
Nakano is a charming little town just to the west of Shinjuku in western Tokyo. It's well worth a day trip.
There are actually 2 main areas – and 3 stations in Nakano – the first area is closer to Shinjuku on the east and has a Metro stop at Nakano-sakuae on the Maronuchi line (M06) at 35°41'49.45″ N 139°40'55.78″ E
Halfway between this stop and the main Nakano Station to the northwest is Shin-Nakano station at 35°41'50.97″ N 139°40'08.17″ E. It's mainly just a Metro substation so you don't have to walk the 1.6 miles between the other 2 stations.
If you're up for a hike of about 1 mile, get off at Nakano-sakuae. There's a few interesting things to do in this small area. There's a huge Life supermarket which is quite good, and you can also stroll south on the main road for a few miles for general sightseeing. On this street there is also Tokyo Polytechnical University. There's also a huge Asahi Brewery distribution warehouse in this area. There's a temple to visit along this route. In fact, from this vantage point, you're still close enough to Shinjuku that you can see the Tokyo Metropolitan Gov't building only a few miles to the east. You can take in a few shops + other interesting sights as you come up to street level out of Nakano-sakuae station. As a footnote, if you head right (east) in the photo below, you'll come to downtown Shinjuku.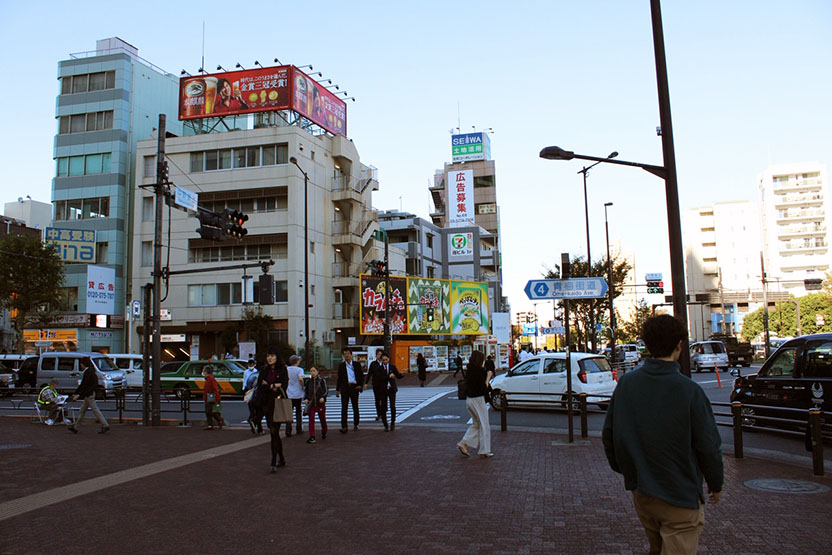 Just outside Nakano-sakuae station, facing north. If you turn right here and head east, you will come to downtown Shinjuku. See the video below for a reverse walk.
Once you're done around the station, head west along Rt. 317 (Ome Hwy.) for about .85 miles (left in the photo above). When you come to the Super-Seven pachinko parlor, head north along Nakno Dori St. There are lots of shops and restaurants along Ome Hwy. as you walk. .6 miles north on Ome Hwy. is the main JR Nakano Station. This is where the Tozai Line terminus is. When you're done for the day you can take the JR line back to Shinjuku, or any other point from Shinjuku on JR or Metro.
As a footnote – just 2 and 3 stops away on the Tozai Line are Waseda University, and one stop beyond that, Kagurazaka – another charming small town well worth a quick stop. Both of these areas are definitely worth another day trip.
In fact, the Tozai Line is invaluable because it can shoot you from east of Shinjuku in Nakano, to several interesting stops: Waseda, Kagurazaka, Iidabashi, and beyond that Otemachi and Nihonbashi right near the central finance district on the east side of Tokyo – all in just a few minutes – and all bypassing the massive crowds and mess @ JR Shinjuku Station. Note also Metro Otemachi is an interchange point for several other important Metro lines – namely Hanzomon which can shoot you right out to Sky Tree (Oshiage), and Maronuchi which can shoot you back to Shibuya fast, or to Ikebukuro. One stop beyond that at Nihombashi will connect you to the Ginza Line, and Yurakucho which drops you right into Ginza. You can even get to Tokyo Dome from Iidabashi station just one stop away on Maronuchi – at Korakuen Station. For these reasons, Tozai is often then fastest way to get around Tokyo from west to east.
Nakano Station is in the main downtown area and is near Nakano Broadway – arguably the town's most popular street. Nakano Station has both a JR line stop as well as a Metro Subway stop (T01). In fact, it's the eastern terminus for the Metro Tozai line shown here: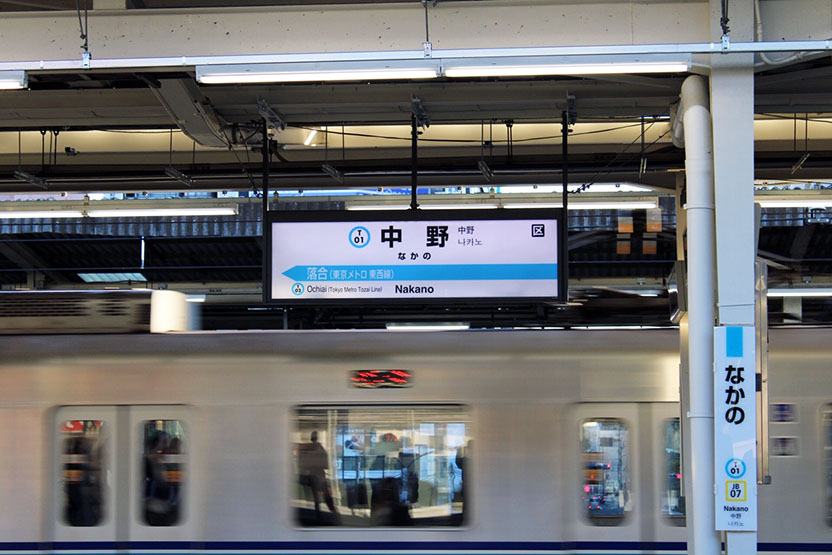 Tozai o1 – Nakano, on the Tozai Line @ JR Nakano Station.
There is also Nakano-Shimbashi station on the Maronuchi Metro line further to the Southeast.
City Layout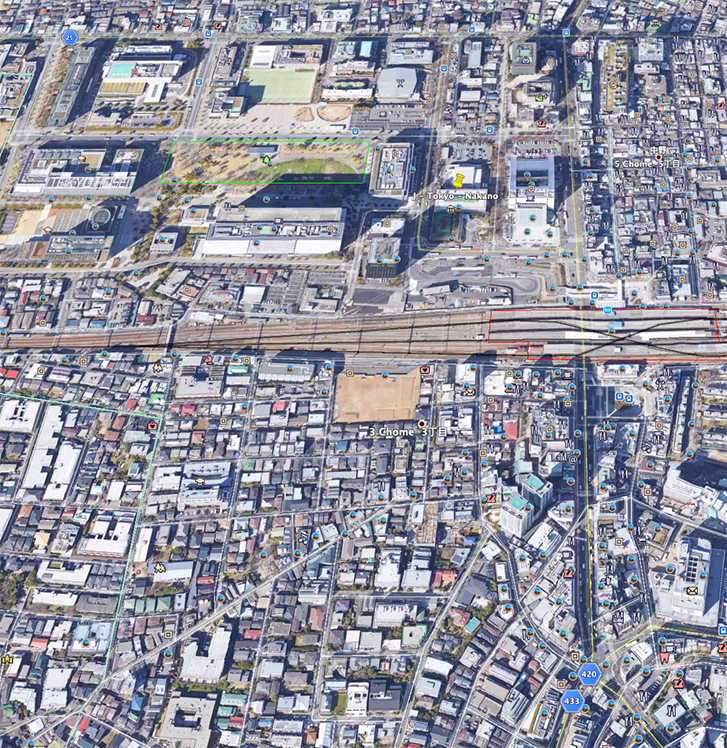 This map image shows JR Nakano Station on the right, center, Nakano Broadway in the right upper corner, and Nakano Central Park in the upper left. All within a few blocks of each other. Nakano Sunplaza is the square building in upper center right above the station. The pachinko parlor on Ome Hwy. is to the south on Rt. 420. Nakano-sakuae Station is to the east (right).
The main attraction at the JR station is on the northeast side and is called Nakano Broadway. It's a large covered arcade with side streets, as well as an underground mall. It's known as Little Akihabara for all its shopping and electronics shops. The entrance to Broadway is just on the northeast side of the JR station and is shown in the Tokyo Explorer video at the end of this article.
Free Nakano City WiFi
The City of Nakano provides free WiFi near most major infrastructure in the city. They have a website you can see on your phone for access: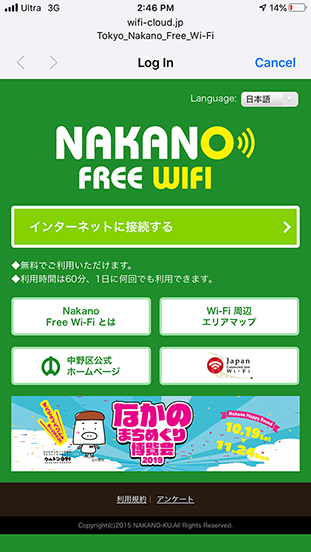 Nakano Sunplaza
Nakano Sunplaza is an old hotel restaurant complex built in the 1970's – it's very popular for weddings and receptions. The upper floors have some good upscale restaurants. It looks like something out of a 1970's sci-fi movie such as Logan's Run. There are also a variety of shops just to the east along Nakano Dori.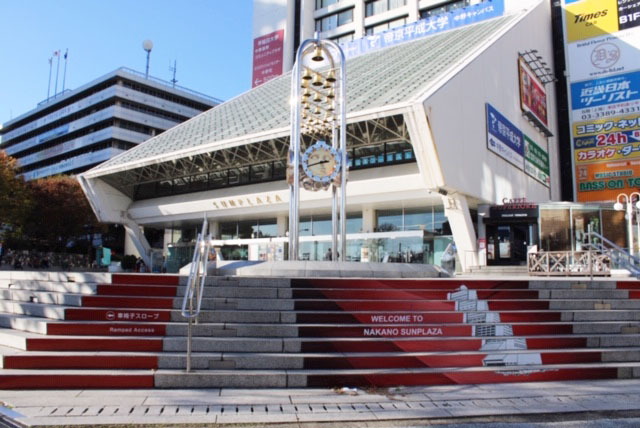 Nakano Sunplaza just north of JR Nakano Station. Note the 70's retro architecture.
If you head out of Sunplaza north along Nakano Dori, within a block or two you'll find a nice Don Quijote – although this one seems to be a little lacking in food selection.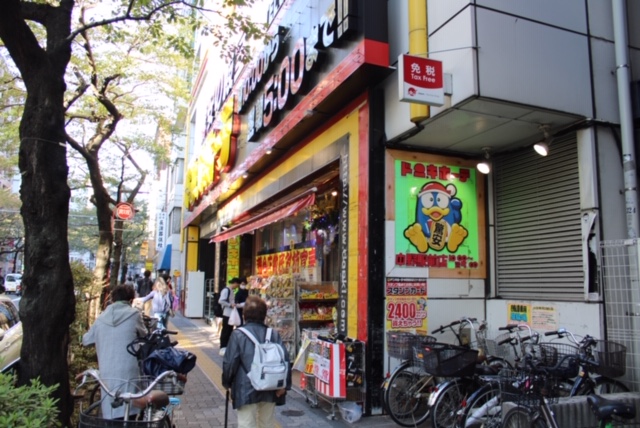 Nakano Don Quijote, northeast of Sunplaza.
Nakano Central Park
The modern jewel of the town is Nakano Central Park to the northwest of the station. There's a huge office complex here, and just behind it, a large park + several shops including lots of cafes and dining areas. Well worth a stop. It's just a few blocks west of Sunplaza. There is also a giant bike locker just across the street.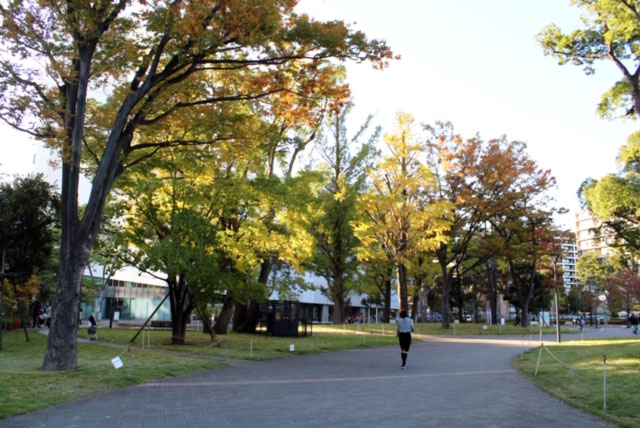 Nakano Central Park in the fall.
The hidden treat in Central Park is a giant pancake shop called j.s. Pancake Cafe. It's on the southeast corner of the park in the corner of an office building. This place is huge and has a massive selection of insane pancake delights. Plates run $10-$14 USD. $10 bucks gets you a giant stack of pancakes, with ice cream and mixed fruit.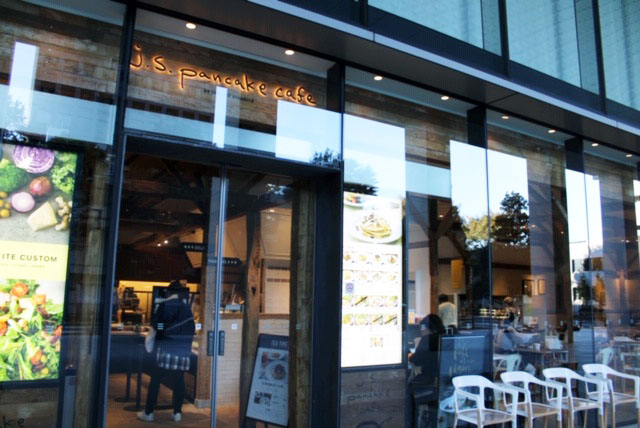 j.s. Pancake Cafe in Nakano Central Park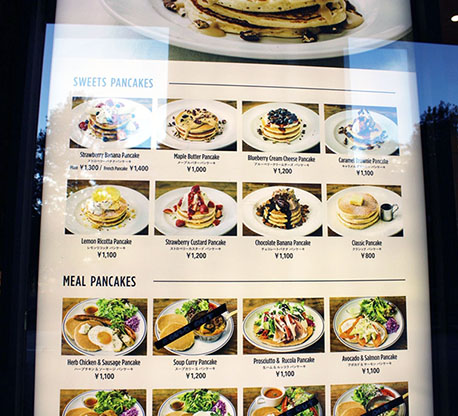 There are a variety of other parks in the area, as well as an onsen.
Well that's it. Enjoy your trip to Nakano – you can easily see everything in one day.
LINKS
https://www.japanvisitor.com/tokyo-area-guides/nakanobroadway
39 Things to Do in Nakano, Shinjuku's Stylish Neighbor
VIDS