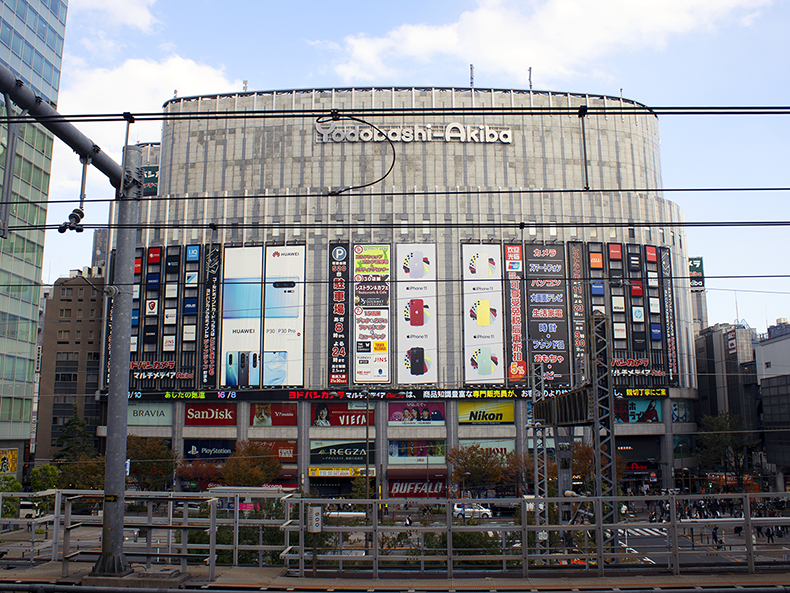 ©2019-2020 tenmintokyo.com
Name: Akihabara
Kind: Town
Location: 35°41'53.63″ N 139°46'28.29″ E
Updated on 6/22/2020
Akihabara (or simply Akiba as it is known by locals), aside from being one of Tokyo's biggest electronics areas, is also a great place to explore and walk around. There's tons to do here.
Since we've lived there many times, and have deep knowledge of the area and its attractions, we've put togther this superguide to help you get around.
First, the layout + streets, then shopping, electronics, attractions, and lodging.
On Sundays, from noon – 4PM, the streets in Akihabara are closed to vehicles, making it a walker's paradise.
How to Visit Akihabara
The best way is to get a cheap hostel or hotel in the area, stay a few days and walk around. It's not a large town and is relatively compact so it is easy to cover in just a few days. Hit the main streets and areas first, explore the staion, then explore some backstreets and side areas. You can also walk from Akihabara to Kanda, Nihonbashi, and Tokyo Station to the south in just a few miles.
To get to Akihabara by train, take the JR Yamanote Line north from Tokyo Station or South from Ueno Station to Akihabara Station (there are 3 main exits, described below). You can also take the Keihin Tohoku line if you are coming from the north. The Ginza Metro Subway line also stops at Kanda Station just to the south so you can easily walk from Kanda north to Akihabara in just a few minutes. Get off at the G13 Station on the Ginza Metro Line, and head north. Suehirocho Station (G14) on the Ginza Line will also drop you into Akihabara – at the northwest corner of the town near the Tam-Tam Hobby Shop (see below).
How Big is Akihabara?
As mentioned below it's a fairy small town – you can easily walk the main station area in a day or two (see below).
How Expensive is Akihabara?
Akihabara is actally not that expensive. There are some very good hostels and hotels such as And Hostel and APA Hotel. Depending on the season, daily prices can range anywhere from $24 for hostels to $70-$80 for a hotel. There are many other similar hotels in the area ranging anywhere from $60-$160 per night. So you can visit Akihabara quite inexpensively.
How Far is Akihabara From Narita Airport?
As the crow flies about 32 miles. Once from the airport to Tokyo Station on the N'EX or Keisei Skyliner, Akihabara is just a few miles north – 2 train stops. So only a few minutes.
How Far is Akihabara From Tokyo?
As mentioned it's actually part of Tokyo – it's in the northeast corner of the central part of the city and is considered a main area. It's just a few stops north of Tokyo Station.
How to Explore Akihabara
See our section below. Once at Akihabara station there are 4 main areas: the long street to the east which runs north to south, and is more reserved with traditional shops, the electronic town area on Chuo-Dori to the east which also runs north to south, the area to the south of the station which includes Akihabara Park and other small shops and restaurants, and the area north of the station which includes the Gundam Cafe, the UDX bldd. area, the Excelsior Cafe and Bic Camera bldg. The station is shaped like a "+" sign so there are 4 major corners or areas to explore. There is also Manseibashi Bridge and eCute mall inside to the south of the electronics area. There are also side streets with various small shops to the far east of the station. These areas are described in detail below.
Akihabara Station
JR Akihabara Station is fairly well laid out in the shape of a "+" sign. As far as Japanese train stations go, it's easy to navigate. There are only 3 main exits: the Showa-Dori exit @ the east which drops you outside Yodobashii camera on the east side, the Central Exit which drops you into a small square near the Gundam Cafe and office buildings such as UDX to the west side, and the Electric Town Exit which dumps you out into an alley to the southwest of the station filled with various electronics stores and restuarants. There is one more small exit in the Uniqlo building on the southeast corner of the station. The upscale Washington Hotel is just east of this exit across the street. Yodobashii Akiba is just a block north of this exit also. Note that the Electric Town exit is a bit misnamed – you might expect it would drop you near Yodobashii or Bic Camera, or onto Chuo Dori but it doesn't – it drops you to the south of the station in a back alley. For Chuo Dori use the central exit, then head a block or two west.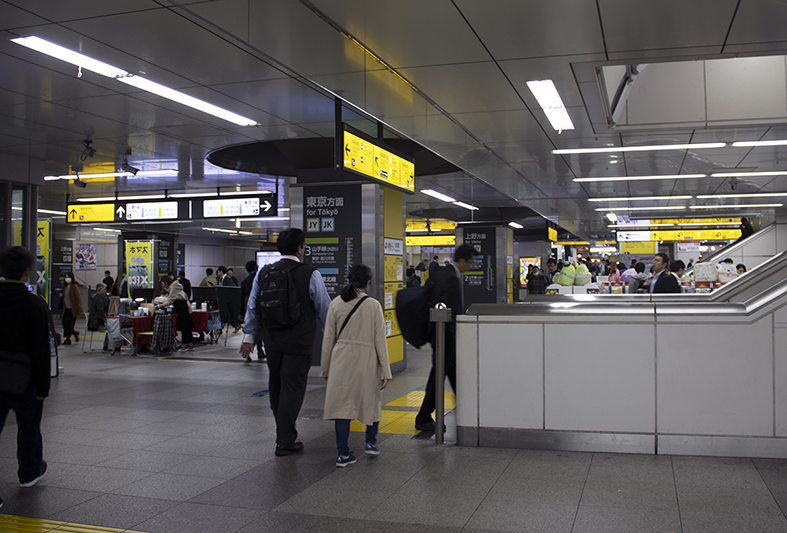 When you exit the platform, you'll come down the stairs on the right. Follow the yellow signs to any of the 3 major exits.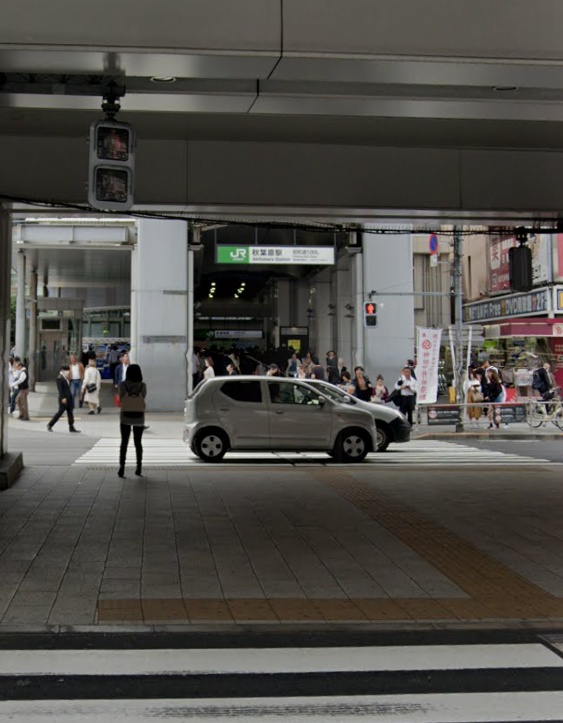 The Showa Dori Exit to the east of the station. Go west (back) through this exit, and head right inside to get to the food shop passage which leads to the Central Exit near Yodobashii.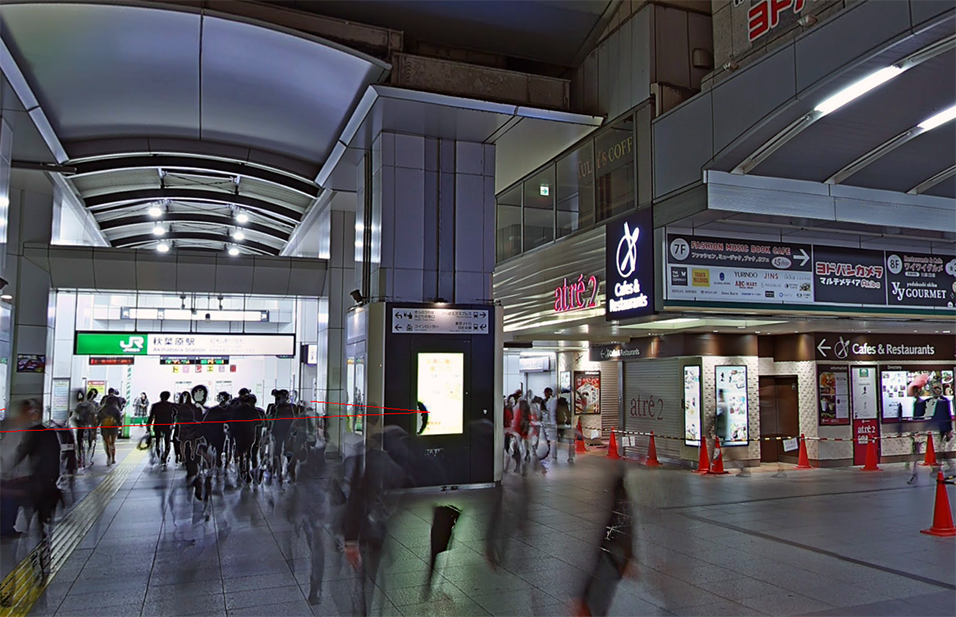 Head back throught the exit shown above, then veer right slightly to get to the food passage. There are also more restaurants in the atré complex on the way. Just to the left of this photo there is a small bank of 300¥ coin lockers, but they are almost always full.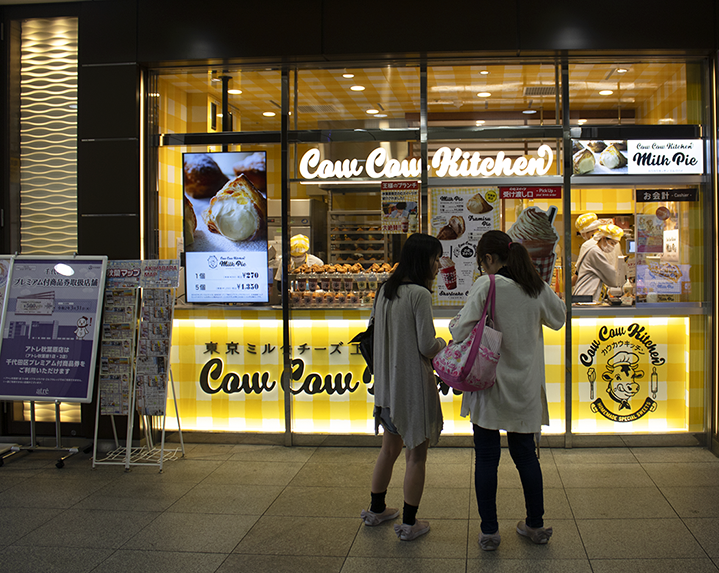 The food passage between the Showa Dori and Central exits.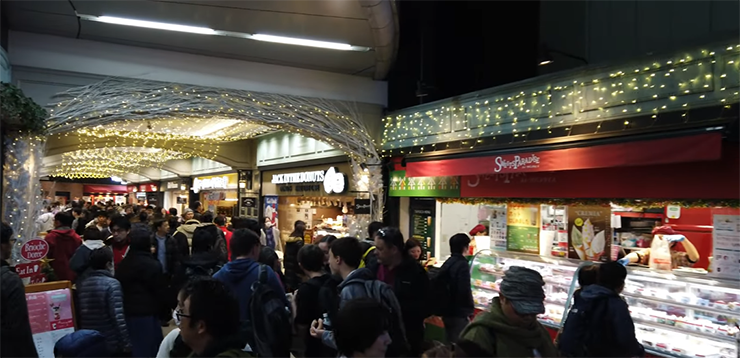 Entrance to food passage just outside west exit of Yodobashii Camera.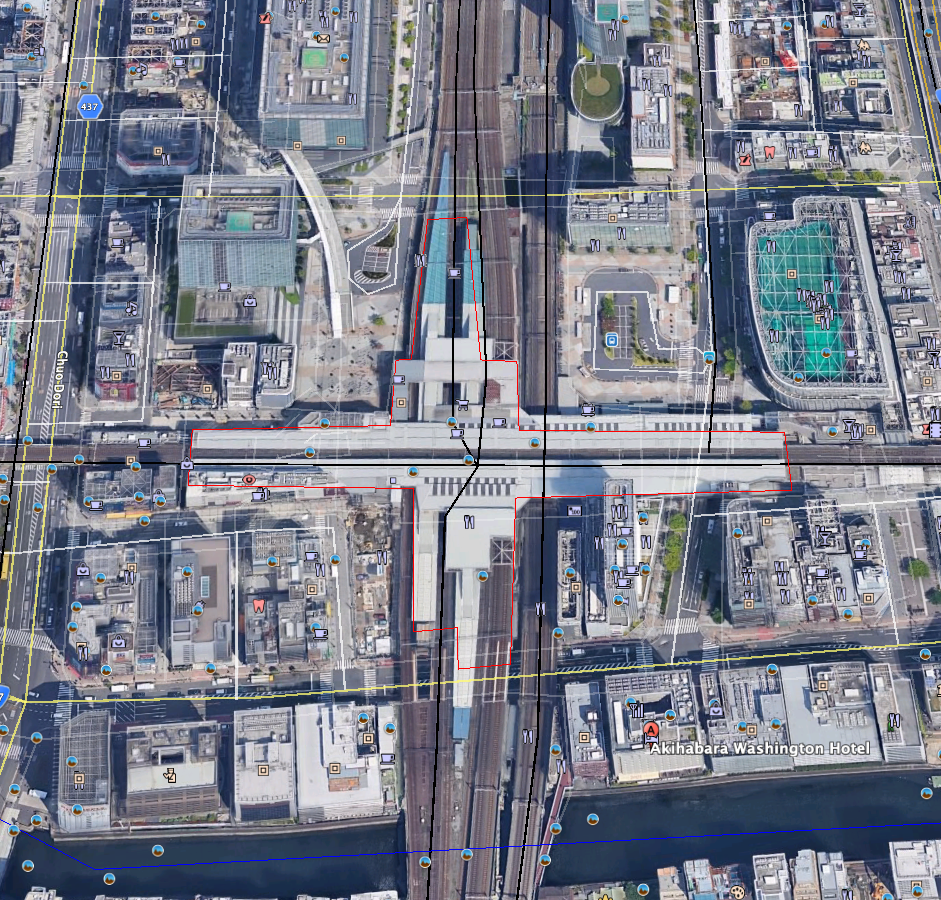 Akihabara Station. Up is north. The large building on the right with the green roof is Yodobashii Akiba. Just left of that is the Central Exit. At the lower left (southwest) corner of the station is the Electric Town exit. On the north side of that where the large ramp is is the UDX building and post office. Chuo Dori is on the left of the image. 2 stops north on the Yamanote Line is Ueno.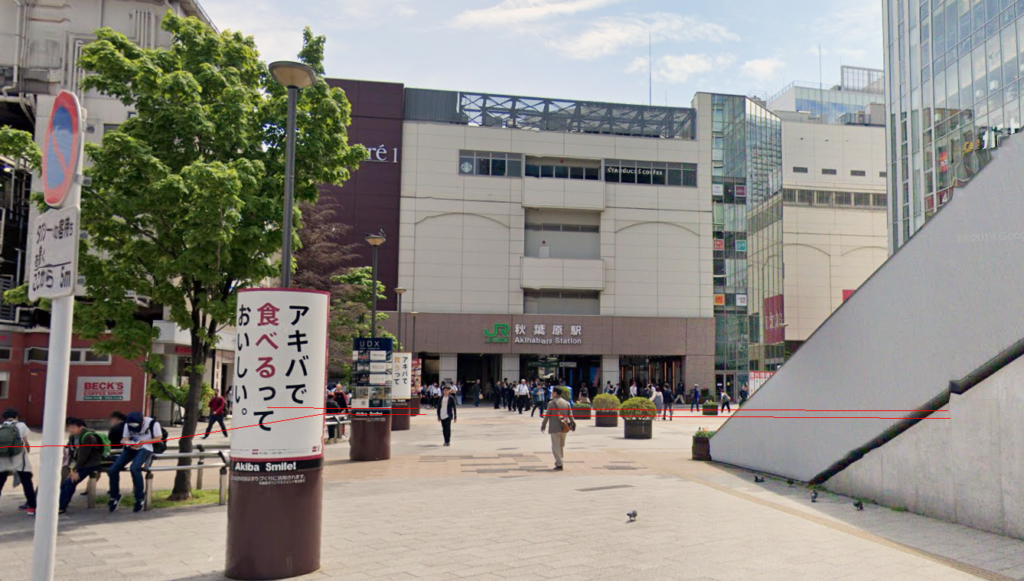 Central Exit. Facing south. atré department store complex is on the left. Excelsior Cafe is just to the right behind the stairs.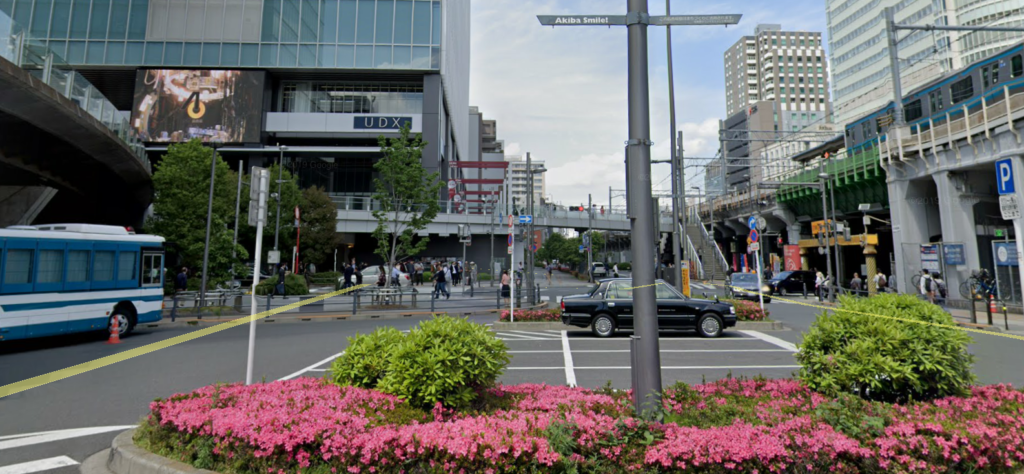 Facing north from the Central Exit. UDX buidling is on the left. Post office is on the left side of this building on the ground floor. There is also a small paid bicycle parking area to the right behind the stairs to the pedestrian overpass. Excelsior Cafe is just to the left side behind the bus. If you walk down through the street where the green overpass is on the right side, you'll come out at Yodobashii Camera, and beyond that, Showa Dori to the east. If you turn left at the UDX building 1 block, you'll find Bic Camera, and Chuo Dori where all the big stores are. Gundam Cafe and Square Enix Cafe are just to the right out of frame. The French Toast Factory is also here, near the Gundam Cafe.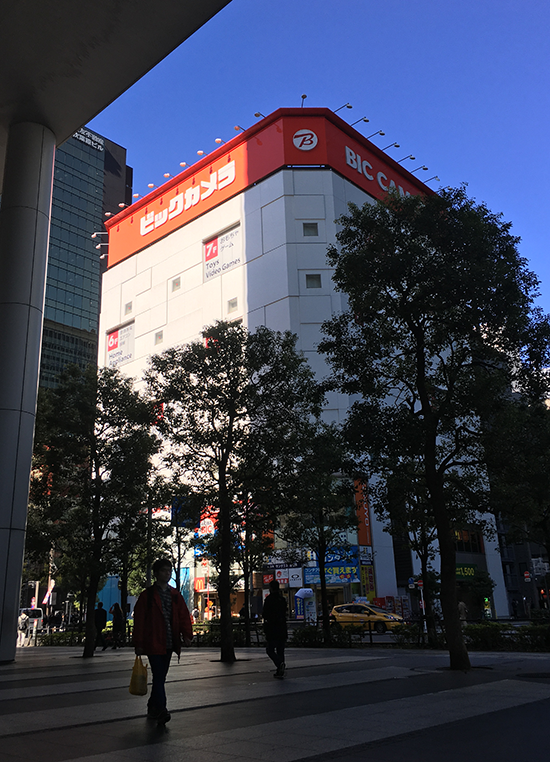 Bic Camera, just to the west of the UDX building shown above. Chuo Dori is just to the left (west) of this image. This photo was taken from the approximate vantage point of the Excelsior Cafe just outside the Central Exit. Note that in Japan in the fall + winter it gets dark early – this photo was taken around 2PM in the afternoon in Nov.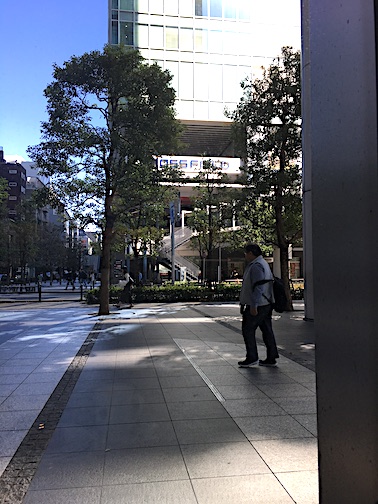 Just to the right (east) of Bic Camera is the UDX bldg. shown here, and just south of that where this photo was taken, is the Excelsior Cafe which is quite large and nice with indoor + outdoor seating. Also on this side of the courtyard, just to the left (west) is the Moco Cafe, and a secret bank of 200¥ coin lockers, which are almost never occupied. We'll discuss both later below.
Around the station there are 2 main streets: Chuo Dori, which is the main electronics shopping street to the west of the station, and Showa-Dori immediately to the east of the station. Showa-Dori is a main traffic road which runs all the way to Ueno 2 miles to the north, and all the way to Tokyo Station several miles to the south. Both roads run north to south and parallel to each other. In fact, you can easily walk north to Ueno in a few minutes on Showa-Dori. Side streets running east-west connect the two north-south streets, so it's easy to cut over to either quickly.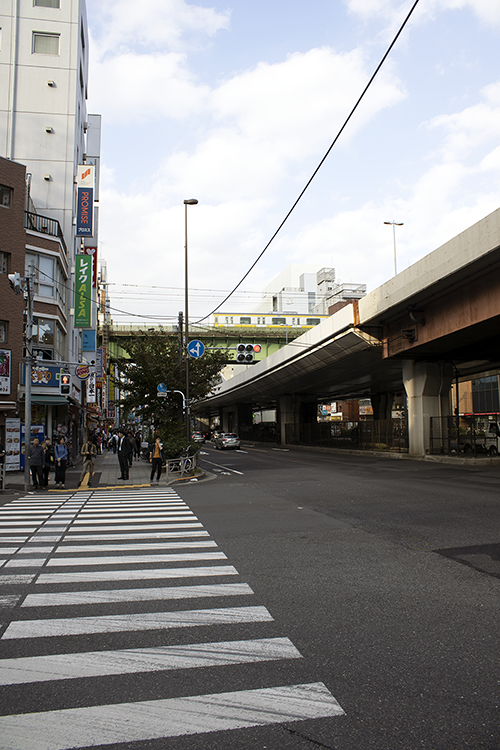 Showa Dori facing north. Note the Metro tracks overhead.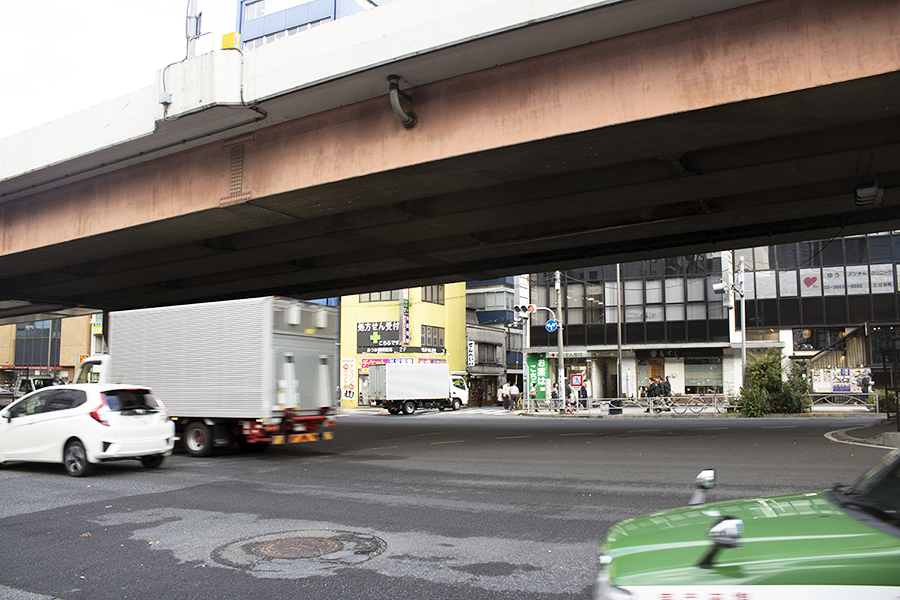 Showa Dori facing NE.
It's fairly easy to navigate around the station by walking the East-West streets between Chuo Dori and Showa Dori. There is also a street-level passage between the Showa Dori JR exit and the Central JR exit through the station. This passage is lined with small food shops such as a Marion Crepes and Jack in the Donuts, among others. At the Central Exit side you have the entrance to Yodobashii Akiba electronics store. The entire area around the station of interest is only about 4-5 square blocks, although you can venture much further than that on foot, if you like.
At the south end of Chuo Dori, past the shopping area, and over a bridge across from the huge Big Apple pachinko parlor is the Old Manseibashi Station area and mAAch eCute shopping area, which we'll talk about below.
Trains
There are 3 main lines in the station: the Yamanote Line, which rings central Tokyo, the Keihin-Tohoku Line which runs to the north out of Tokyo, and the Chuo-Sobu Line which runs east-west. For most stops on the east side of the city you'll use the Yamanote line. Ueno is 2 stops to the north, Kanda, Nihonbashi, Tokyo Station, and Yurakucho Station (Ginza) a few stops to the south, in that order.
As a footnote you can take the Kehin-Tohoku Line all the way north to Akabane where it changes for the Saikyo Line which can then take you south to Ikebukuro and Shinjuku. Or you can stay on the Keihin-Tohoku Line all the way north to Omiya.
A note about station signage in Japan: "Exit" means a physical exit from a station, and "Gate" means a payment gate where you use a ticket or electronic IC card to exit the station. When you buy a paper ticket you pay in advance and use the ticket to exit the gate at the destination station. When you use an IC card, you swipe the card when you enter a station gate for departure, but the funds are actually deducted when you swipe it again at the destination station's gate. All but the smallest Japan stations have more than one exit. Usually gates and exits are synonymous, but not always. Some stations can be confusing because to get to one line you have to pass entirely through another line's area in the same station (such as at Tamieke-Sanno station). Some of the huge stations have miles of underground tunnels and dozens of exits to take you to different parts of the local area. Some stations (many in fact, in Tokyo) combine several different systems such as JR, Metro Subway, and Toei Subway lines. You'll see the small box-shaped entrances to these on the streets in many places besides the main station entrances.
When you get off the train, immediately look for the large yellow panels on a wall or signs mentioned above which list what is at each exit. Usually the exits are numbered. There will be additional smaller yeallow signs throughout most stations pointing the direction to most exits, but still – it's easy to get lost or turned around if you're not al ready familiar with a given station.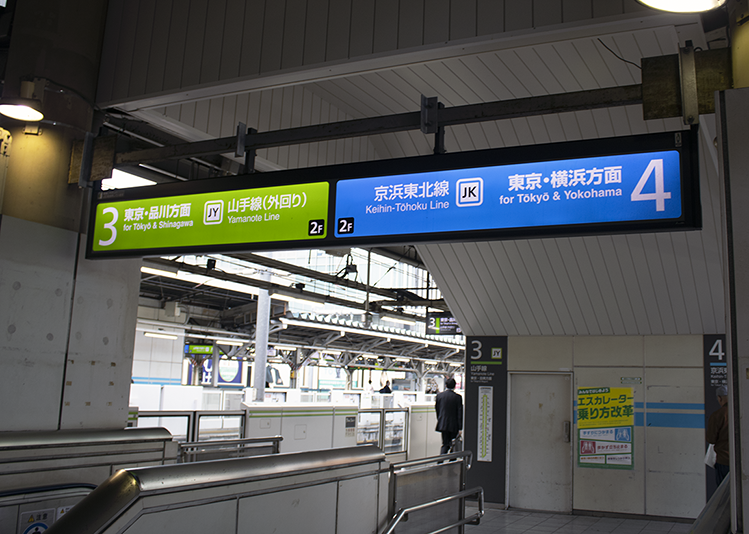 Yamanote line (green), left, and Keihin-Tohoku line (blue), right. Entrance to the Chuo-Sobu line (yellow) is downstairs near the Electric Town Exit and has an escalator up to the platform.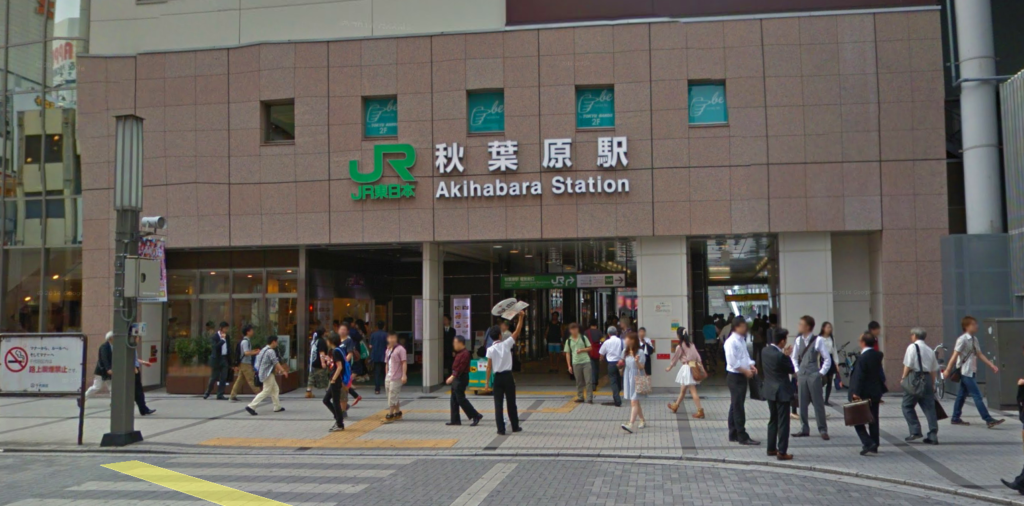 Electric Town exit.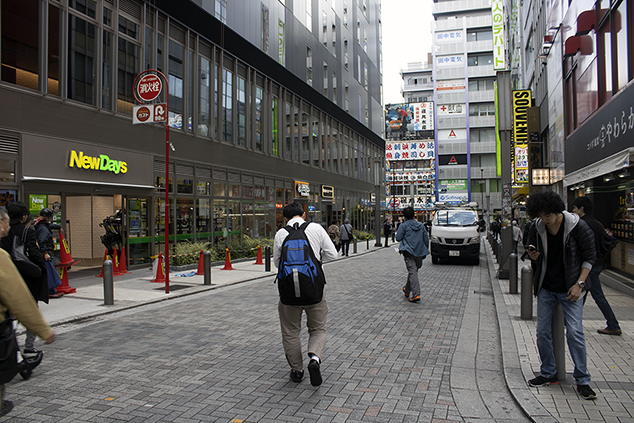 Heading east from Electric Town Exit. Showa Dori is straight ahead. There's a NewDays conbini (convenience store) on the left, and the next shop up is a great Becker's hamburger place combined with a Pronto Cafe. There is also a SofMap store just at the end of the street. If you turn north coming out of the Electric Town exit instead of east as shown here, there is also a small Yamada Denki LABI which is great.
Hobbies
Aside from electronics, and anime, there are a lot of great hobby shops in the area. If you're looking for models or trains, by far the 2 best shops in Akihabara are Yodobashii Camera and TamTam (35°42'11.08″ N 139°46'17.71″ E) at the north end of Chuo Dori. (As a footnote, the huge Don Quijote and SofMap are just 2 blocks south of TamTam on opposite sides of the street).
The model floor in Yodobashii is incredible. They have the largest selection of high-quality Tamiya models we've ever seen anywhere in Japan.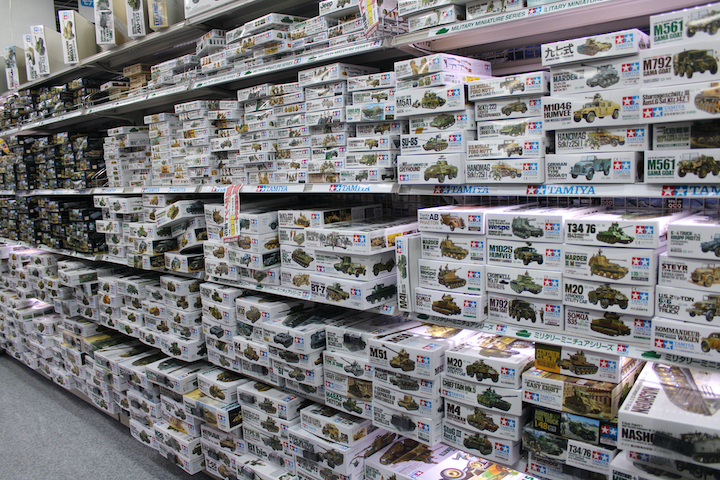 Tamiya model selection in Yodobashii Akiba.
On the north end of Chuo Dori on the west side of the street, just north of the Don Quijote is the TamTam hobby shop. The 4th + 5th floors have all kinds of plastic models and trains, including a good selection of Tamiya models also. Suehirocho Station (G14) on the Metro is just across the street to the south.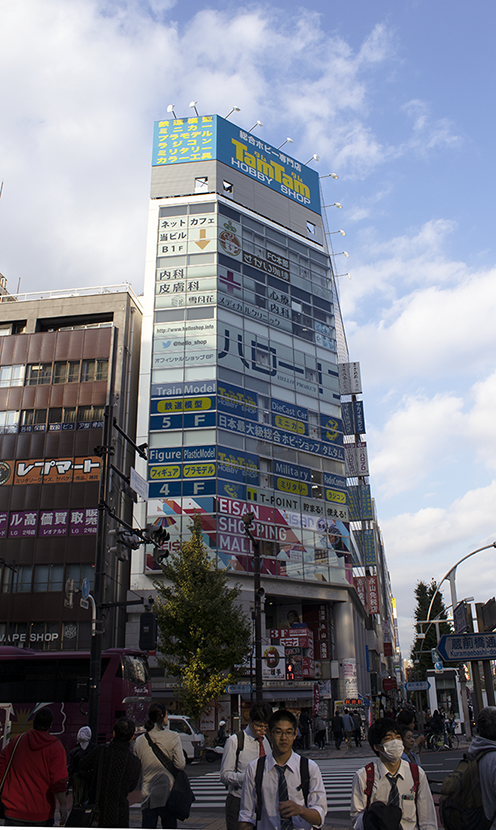 TamTam on the northwest side of Chuo Dori.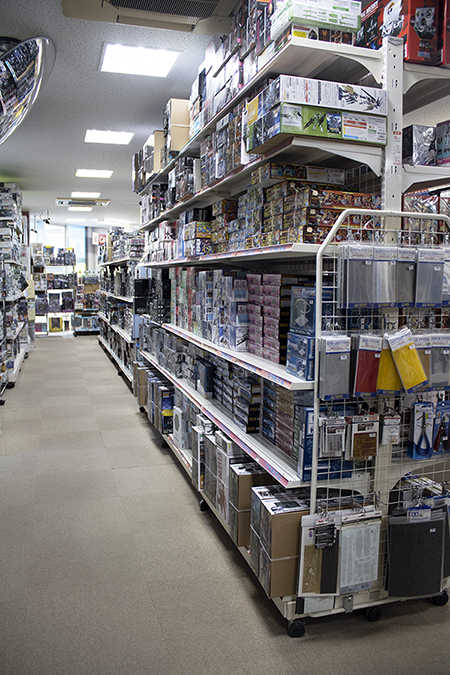 Inside TamTam.
This video shows inside TamTam and the unbelievable selection of models: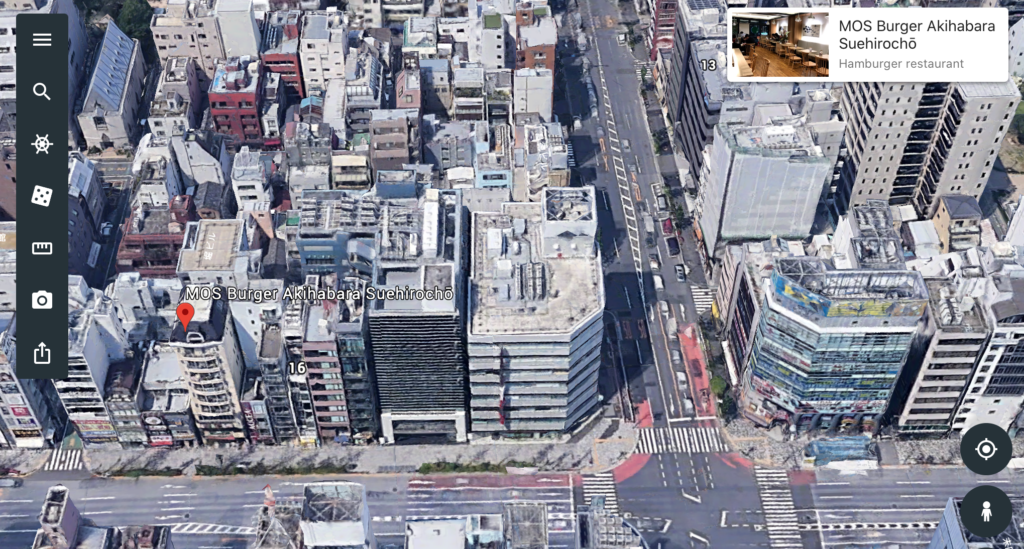 As a footnote, less than half a block south of TamTam there is a nice MOS Burger.
Akihabara Park
Just to the south of Yodobashii is Akihabara Park. It's a small concrete park with stores and shops on both sides. It also has free WiFi. There's a really good Key's Cafe here, and across the park from that is a great little surplus electornics store which has nice little USB battery banks for $10.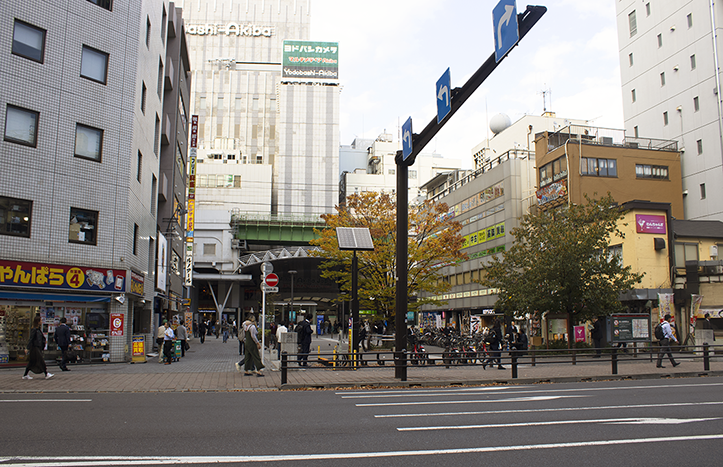 Akihabara Park south of Yodobashii. Key's Cafe is in the brown building on the right. There is also a small bike locker here. Just to the right out of frame is Showa Dori.
Cafes
Aside from the usual maid cafes, there are several intereting ones to visit. There's Key's Cafe mentioned above, a Café Veloce out on Showa Dori Avenue, which is sort of a throwback to the 1950's, there's Café Moco (shown below), which is smaller and privately owned + is just south of the Bic Camera mentioned above, there's also SAO Cafe (link below), Gundam Café, Square Enix Café, and others. There is a Tully's Coffee in the UDX bldg – and Tully's usually has free WiFi and free power plugs if you need a charge. There's also a great trainspotting porch behind Tully's up a small staricase to the left: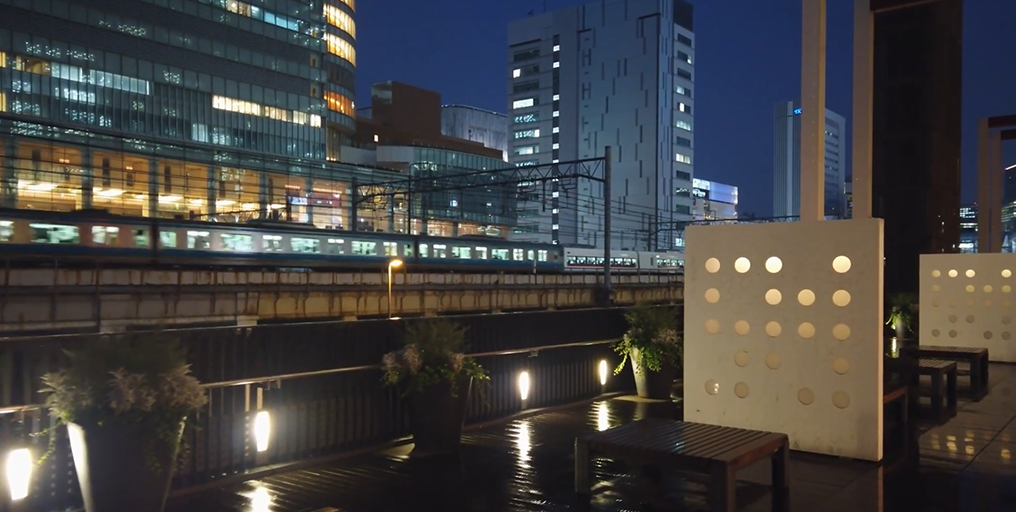 There is also a Beck's Coffee near the Central Exit.
There are also a few other cafés on the food floors at the top of Yodobashii Camera.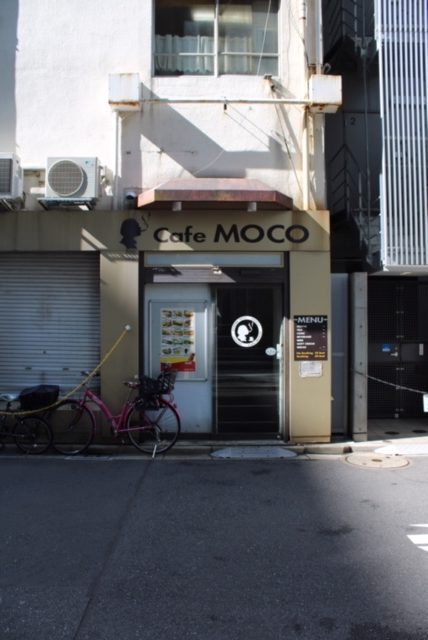 Café Moco is just to the west of the Excelsior Café. Just to the left (south) of this photo is a secret bank of coin lockers costing only 200¥-400¥. They are keyed, so you have to not lose the key, but are good and cheap nonetheless.
Gundam Café, just across from Café Moco. The now defunct AKB48 Café is the brick bldg. just to the right. Yodobashii Camera is behind the tracks overhead. JR Central Exit to Akihabara Station is to the right (south), out of frame.
Gundam Café and Square Enix Café are right next to each other on the east side of the square by the Central JR Exit. There was an AKB48 Café here also, but it closed in Nov. 2019, just around the initial time of this writing. The Excelsior Café mentioned above is quite good + has lots of seating. Excelsior, Café Moco, Gundam, and Square Enix are all within a block of each other in the same courtyard. The maid cafés tend to be more out on Chuo Dori Ave, and side streets near the Electric Town exit.
Velocé cafés tend to be very good, and have lots of cheap food + drinks such as 290¥ coffee (cohee in Japanese), and 350¥ hot dogs. Velocé is a chain all around Japan, and is similar to Dotour shops, except that Velocé cafes seem to have more smokers, on average, for some reason, if that bothers you. Maybe it's the 1950's vibe. There is a Doutour in the area, but it's a little further south via Showa Dori in Kanda, the next station to the south. Both chains are great, but on average we like the Dotour shops just a little bit more.
SAO cafe is a bit on the expensive side with 600¥ shakes + 1000¥ sundaes. Good nonetheless. Square Enix café has fantastic huge burgers in the 1000¥-1400¥ range which are worth it once in a while.
There are loads of cafés all over the area in fact, and we've just scratched the surface here.
Currency Exchange
There are many good currency exchange shops in Akiba. But the 2 best ones are on the east side of Showa Dori, just across from and south of the JR East Exit. If you come out of the east exit and cross at the light shown at the top of this article, you'll see the Noodle Stand Kourakuen:
Or at night: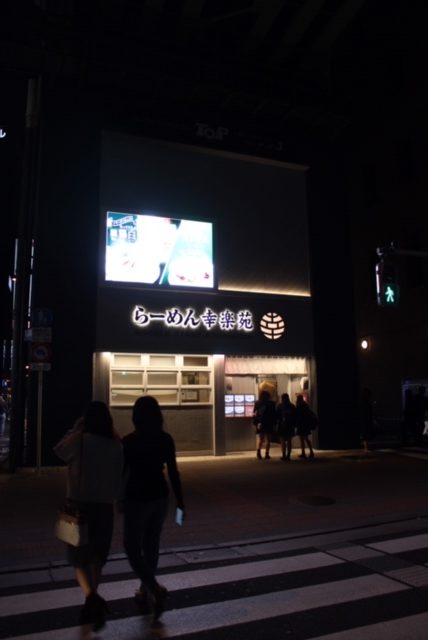 If you turn right at this shop, on your left you'll see a small alley with an Urgent Care sign next to it (a green cross). Just below that you'll see a currency exchange: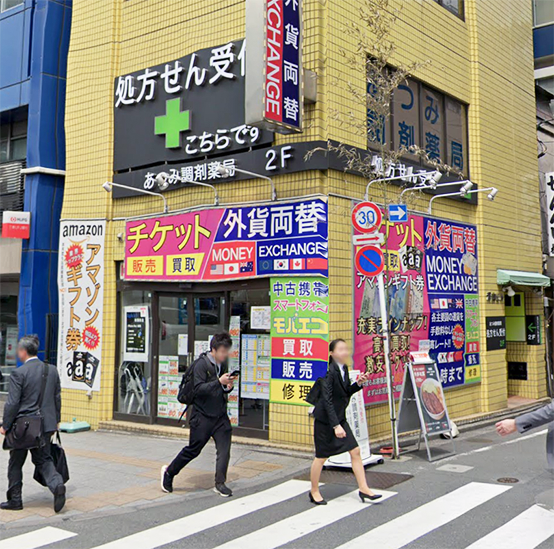 This one is great. If you continue south on Showa Dori on the same side of the street, you'll come across another one a few blocks down – it's another little hole-in-the-wall shop, but is also very good. Both of these charge around 2%-4% as of this writing, depending on currency. Don't exchange large amounts of currency at the airport – they charge outrageous fees.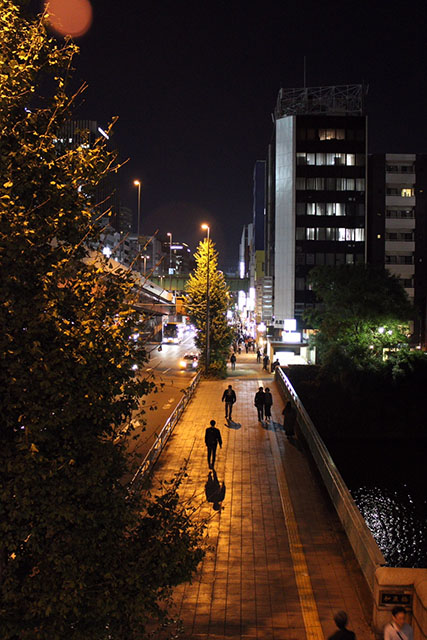 Showa Dori, south of the 2nd currency exchange shop.
When Do Akihabara Stores Open and Close?
Store hours vary. Some large stores such as Yodobashi stay open very late, especially on weekends. Some close early on weekdays, and some open late on weekdays. Most store hours are from 8AM-10AM to 6PM-10PM. It's rare for stores in Akihabara to stay open past midnight in most cases but some do. Many are open on Sunday – when the major streets are closed to motor vehicle traffic.
More Shopping
The biggest electronics parts store in the area is called Tokyo Radio Department Store. They have just about everything including raw network cable. There are other smaller electronics parts stores in the area – including the one mentioned above across from Key's Coffee.
Don Quijote (Donki as locals call it) is a famous discount electronics chain all over Japan. These stores have just about everything, including, usually, a cheap food floor. There are actually some good deals on food. You can get a 1 liter healthy vegetable drink consisting of 26 vegetables, or a 1 liter bottle of UCC black coffee for around 78¥. They also have cheap snacks in various forms. They also have good prepacked meals for under 500¥. You can take them home, microwave them, and chow down. The Akihabara Don Quijote is on Chuo Dori, right across from the big SofMap tower store. Their food selection seems to be a bit less than other stores such as the Ginza one or Ikebukuro one, but is good nonetheless. Don Quijotes are a bit of a crazy mashup of electronics and supermarkets. They have just about everything. The stores are usualy cramped, with tiny aisles and products strewn everywhere. Quite amusing. Still worth a look, though. They even have cheap luggage. Don Quijote Akihabara is at 35°42'02.69″ N 139°46'18.23″ E.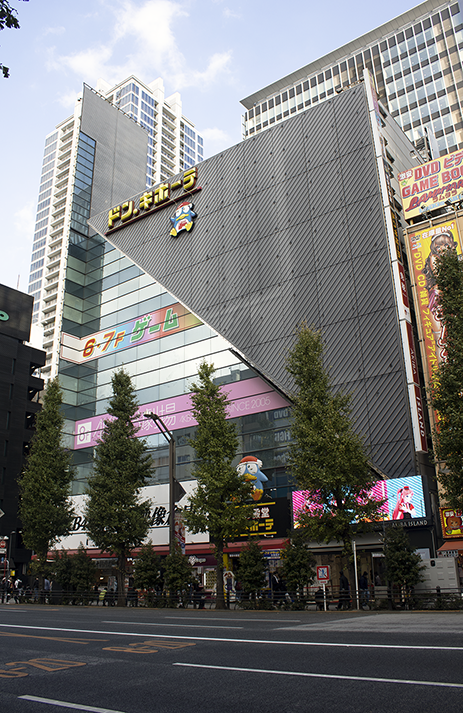 Don Quiojte on Chuo Dori.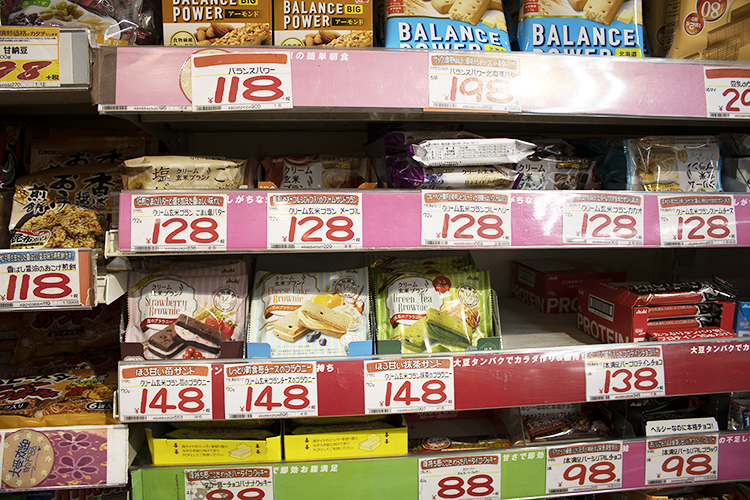 Cheap snacks around 128¥ @ Don Quijote.
Don Quijote stores are crammed with merchandise.
Groceries
Hands down the cheapest and most healthy grovery store in the area is an Aeon supermarket 5 or 6 blocks north of the station on the east side of Showa Dori. It's on a corner and is in a tan bldg. They have the above-mentioned vegetable drinks for under 100¥ and lots of fresh produce for salads. And a variety of other products, including liquor and beer. As you walk north on Showa Dori, you'll discover all kinds of other shops such as clothes, bikes, furniture, household goods. The shops on this street are a little more upscale comapred to the rough-and-tumble shops in the central area. Also on this street is the YKK zipper company HQ – which is known the world over for high-quality zippers.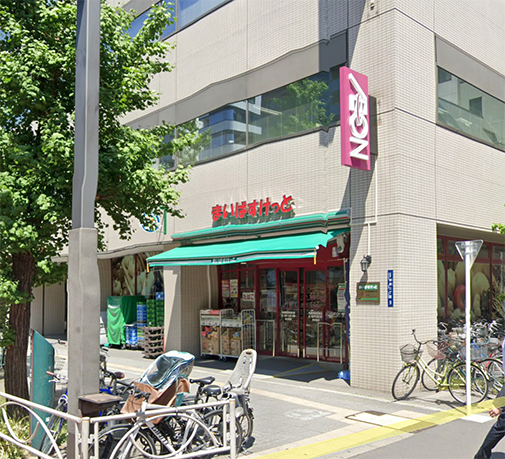 Aeon supermarket on Showa Dori in Akihabara.
Bicycles
Beleive it or not, there are a few shops in Akiba where you can buy name-brand high-end racing road bikes for up to 50% off retail. There are some incredible deals here, such as this $600 Bianchi road bike: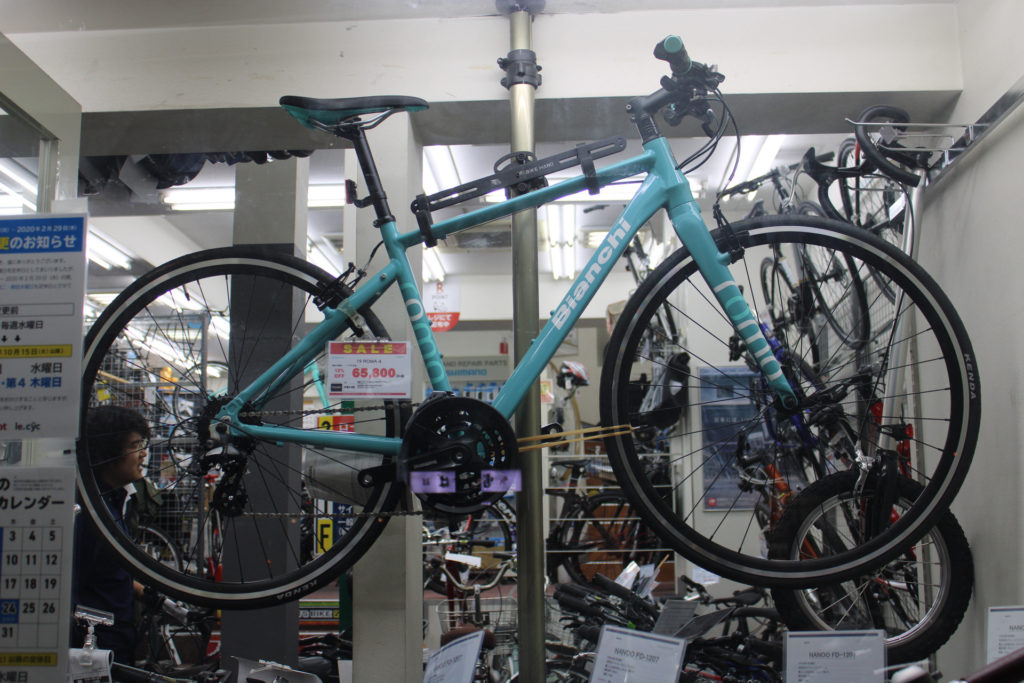 Arcades + Video Games + Super Potato
Akiba abounds with arcades, game shops, and retro reuse stores. Chief among the retro game stores is Super Potato – a 3-floor extravaganza of old arcade machines, old consoles for sale, and old game titles. It's a bit hidden and hard to find, but close to Chuo Dori. It's located at 35°41'57.79″ N 139°46'17.17″ E, 1 block southwest from the main Bic Camera building, west of the UDX building.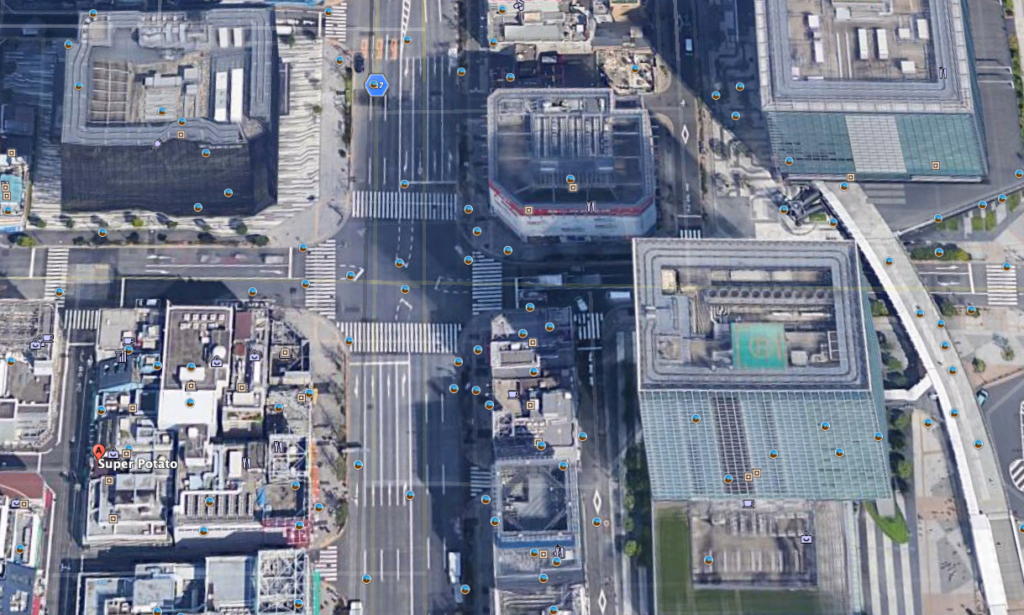 There is no sign in English on the store's entrance shown below: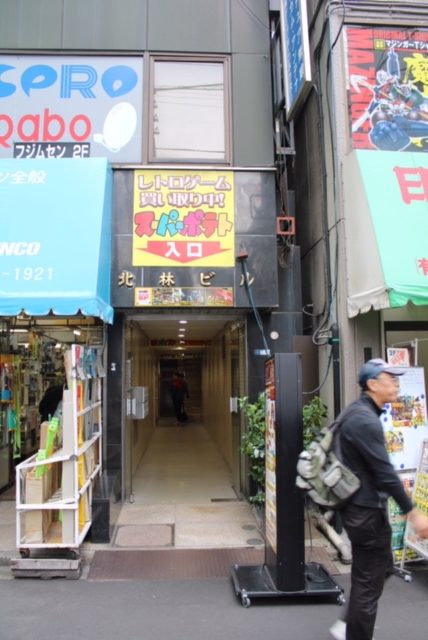 Either go up the stairs at the end, or take the small elevator to floors 3-5: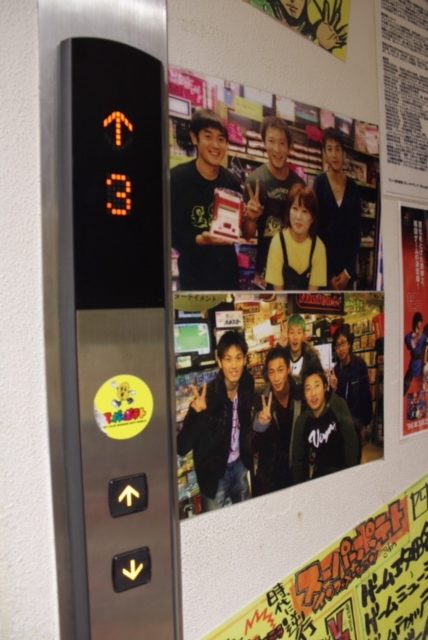 Even Japanese pop stars Yuzu have visited Super Potato.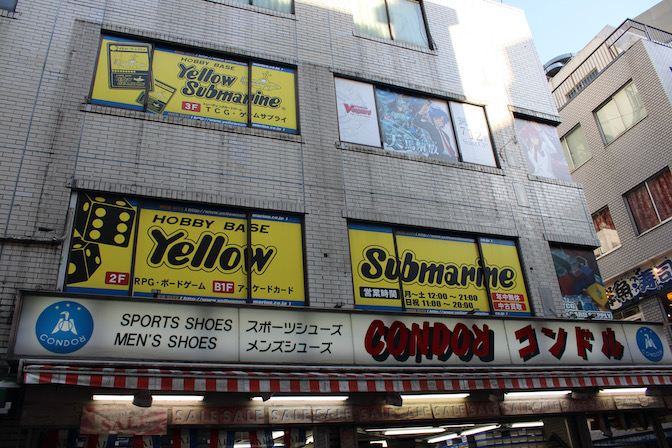 Just down the street from that is another retro store which also has video games + models – Yellow Submarine.
There are plenty of other arcades in Akiba – mainly the 3 big SEGA ones, and the big Taito Game Station. The biggest SEGA arcade is on Chuo Dori – Sega Akihabara 4 gokan – is next to the SofMap tower, and the 2nd one is at the south end of Chuo Dori across from Mainseibashi Bridge.
Akiba Kart
Akiba Kart is a go-cart racing service where you can rent to ride go-carts around Tokyo. Keep in mind though, there is considerable traffic in Tokyo and the experience can be a bit hair-raising for the uninitiated.
Trading Cards
Akiba is a huge magnet for trading card collectors and there are lots of card stores in the area. Probably the biggest is Card World Akiba – it's 1 block off Chuo Dori towards the south at the end of an alley shown here: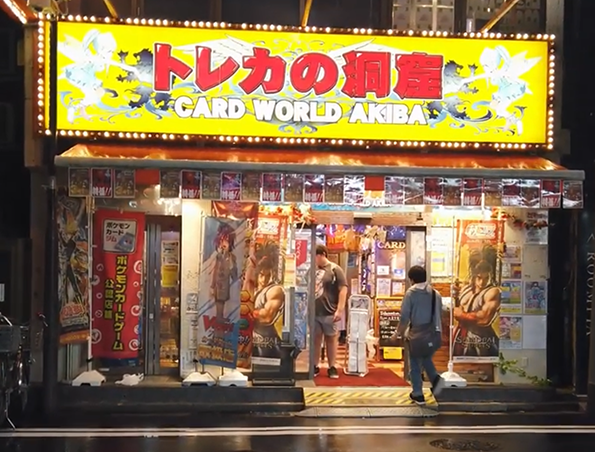 Manseibashi Station + mAAch eCute
Akiba's hidden gem is Manseibashi Station – an abandoned train station turned mall. The station was built in 1912, was renovated in 1925, 1938, and 1946 – but was then abandoned when Tokyo Station was built to the south in 1914. It sat empty + unused from 1948-2006, when it was renovated and reopened as a shopping mall. Manseibashi was one of the first train stations built in Japan. The JR lines, however still run across the top of the station north to south. The east side features Manseibashi Bridge, and a picturesque river which runs parallel to the station. You can reach the station by walking south on Chuo Dori from the central area to Manseibashi Bridge.
Ueno (1910), Manseibashi (1912), and Tokyo Station (1914) were all built around the same time. When the station was renovated in 1938, Shimbashi Station south of Tokyo Station was also built, connecting the entire east side of the city. All but Manseibashi are still in use today for transit.
On the 2nd floor of the station, via a small elevator on the northwest side is a small museum with a diorama of the entire area as it looked in 1912. The larger original brick building (also shown on this site) which was to the west of the station, and had a remarkable resemblance to the Maruonuchi side of Tokyo station was destroyed in the Great Kanto Earthquake of 1923 and was torn down. You can see what that part of the station looked like below. Definitely worth a look. Watch for the signs on the west outside wall of the station for the elevator, and both stairwells.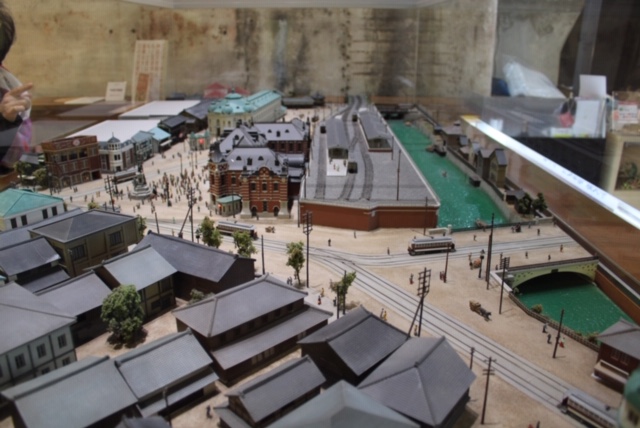 Station diorama in the museum on the 2nd floor.
The original 1912 and 1938 stairwells are still open, the 2nd of which leads to the roof where there is a trainspotting garden, and a small restaurant. You can sit + sip wine and eat as you watch the JR lines whiz by next to you.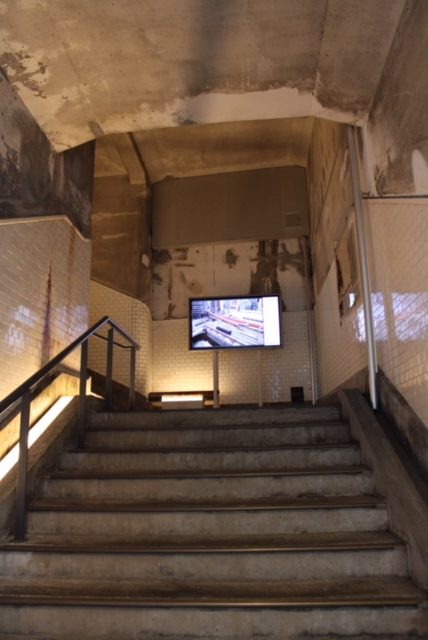 Original 1912 stairwell.
Manseibashi Station (1912-1936) @ Old Tokyo
At the south end of the station is mAAch eCute – a chain of stores. Actually the stores run throughout the station but the eCute entrance is at the south end. Enter from Manseibashi bridge at the eCute sign, and walk in. The inside is a tunnel of stores with small concrete overhead arches on both sides. You can walk inside the entire length of the station and shop as you go.
The station is one of Akiba's best-kept secrets and is well worth a stop to look around.
mAAch ecute: Akihabara's Best-Kept, Non-otaku Secret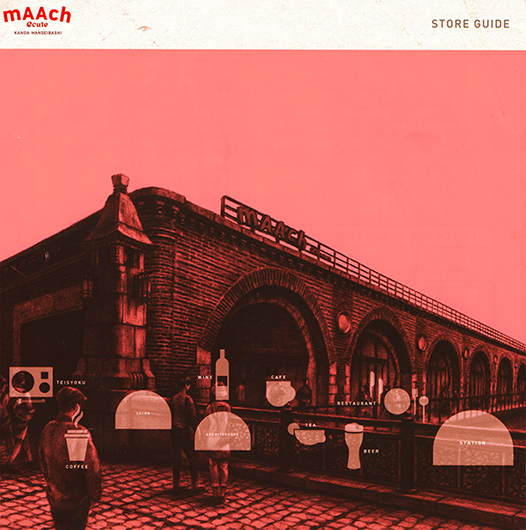 mAACH eCute Store Guide. The entrance is shown on the left.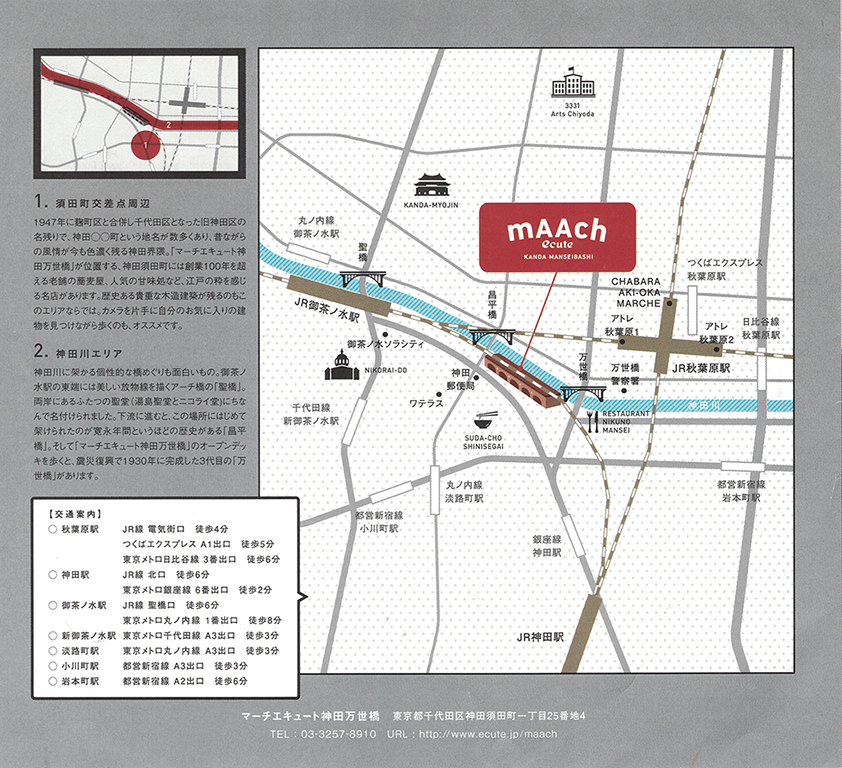 Hotels, Hostels, + Lodging
There are some nice hotels and hostels in Akiba. The aforementioned Washington Hotel next to the Uniqlo near the station is very nice – altough a bit expensive. As for hostels, there is a First Cabin and a And Hostel just a few blocks from the Showa Dori exit. The First Cabin is just a few blocks north of the AndAnd Hostel.
There are 2 nice APA hotels in Akihabara, and one of them, APA Hotel Akihabara Ekimae, is literally 2 blocks right in front of the east exist to the JR station. Their rates are reasonable, at around $70/night or less depending on the time of year. The other APA is APA Hotel Akihabara-Eki Denkigaiguchi, (literally "Electric Street Exit") and is around the same price, although it is a few blocks to the northwest of the station and is not quite as convenient as the one mentioned above. Note that APA Akihabara Ekimae, First Cabin Akihabara, and And Hostel (mentioned below) are all within a few blocks of each other. All are quite nice.
Also of note is the fact that about a mile or so even further to the northwest is another APA – APA Ochanomizu Ekikita. In fact, if you head west from TamTam hobby, right near Suehirocho Station, it's less than 2 blocks. This APA has several advantages: 1) It's really close to Akihabara, 2) it's less than .6 miles south of Ueno, and the Skyliner Station to Narita Airport, 3) it's also really close to the WATERRAS area just south of Ochanomizu, and from there, south into Otemachi, and the main area around Tokyo Station, 4) it's also just a mile or so east of the Tokyo Dome/Korakuen Station area. All of this means if you stay at the APA in Ochanomizu, you can jump off to Akihabara, Nihonbashi, Otemachi, Tokyo Station, Tokyo Dome, Ueno, or Okachimachi all in less than 1 hours' walk. This makes it a cheap + ideal location to stay at in the east side of Tokyo. And of course, once you're on the JR Yamanote line from Akihabara, or Suehirocho Metro Station, you can get just about anywhere you want in central Tokyo fast.
First Cabin usually tends to be more upscale, and in our experince is very good – you get a deluxe tube, with a sliding door, a nice bed, outlets, A/C control, and a TV in each tube. It's very clean + upscale. They also have a lounge where you can relax, watch TV, read, work, or just hang out. Our only real complaint against First Cabin is that the cabin area lacks real ventilation and if the hostel is crowded, it can get quite stuffy at night. It needs a window to open, which it lacks. Other than this, First Cabin is usually a good deal. They are relatively inexpensive considering what you get for the money. The one in Akiba is just north east of the station, so it's very convenient.
And Hostel is just a few blocks south, and also just a few blocks east of the station. Remember the side alley where the money exchnage mentioned above was? If you go 1 block south of that and turn left, you'll be on a small side street. Head east a few blocks on this street and keep a lookout to the right for And Hostel. It's just a few blocks to the right. When you see it, hang a right and head over.
There is also a very nice And Hostel in Asakusa as well.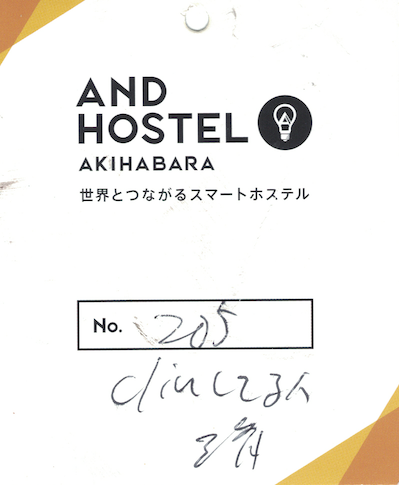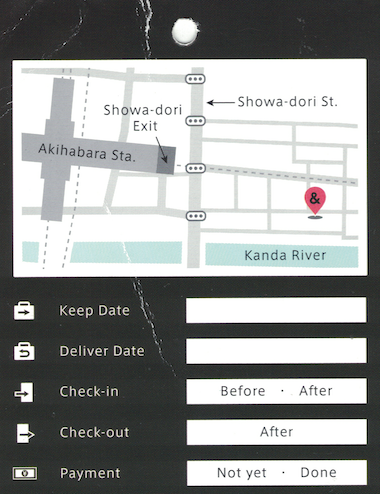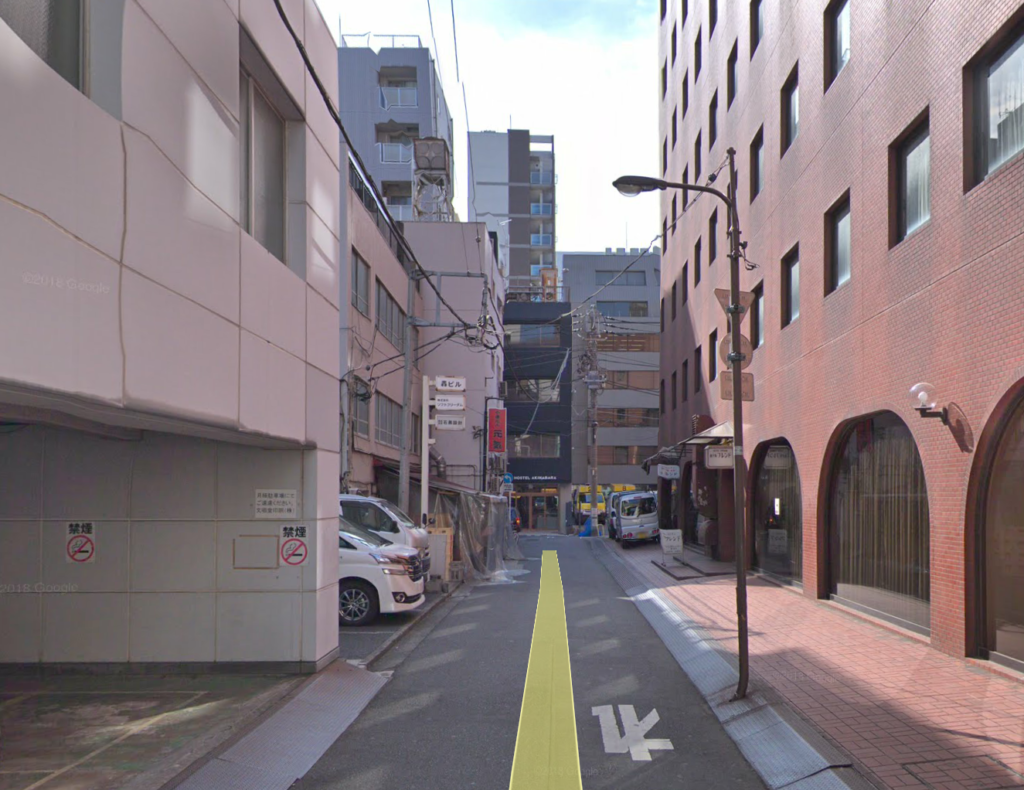 Keep a lookout to the right for the hostel down a side street. Shown here at the end.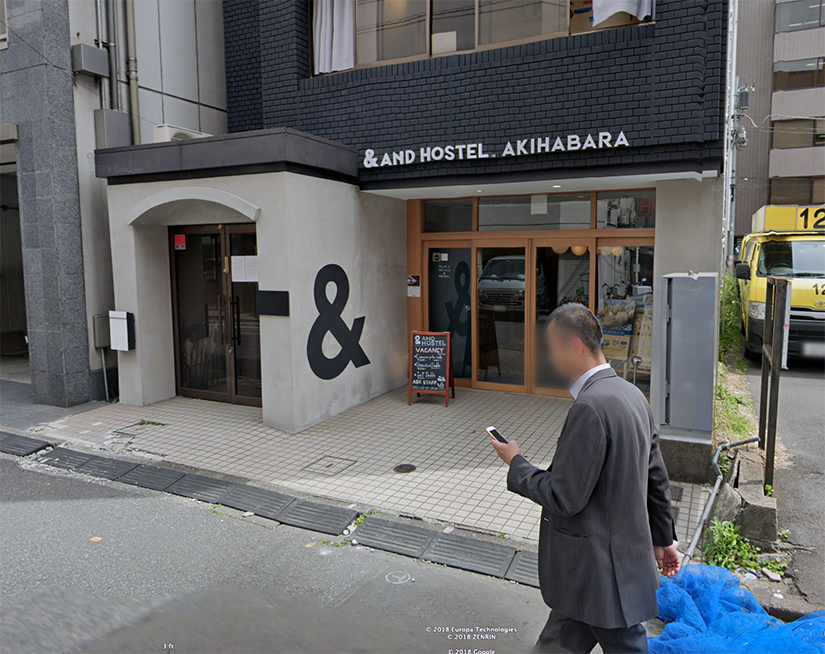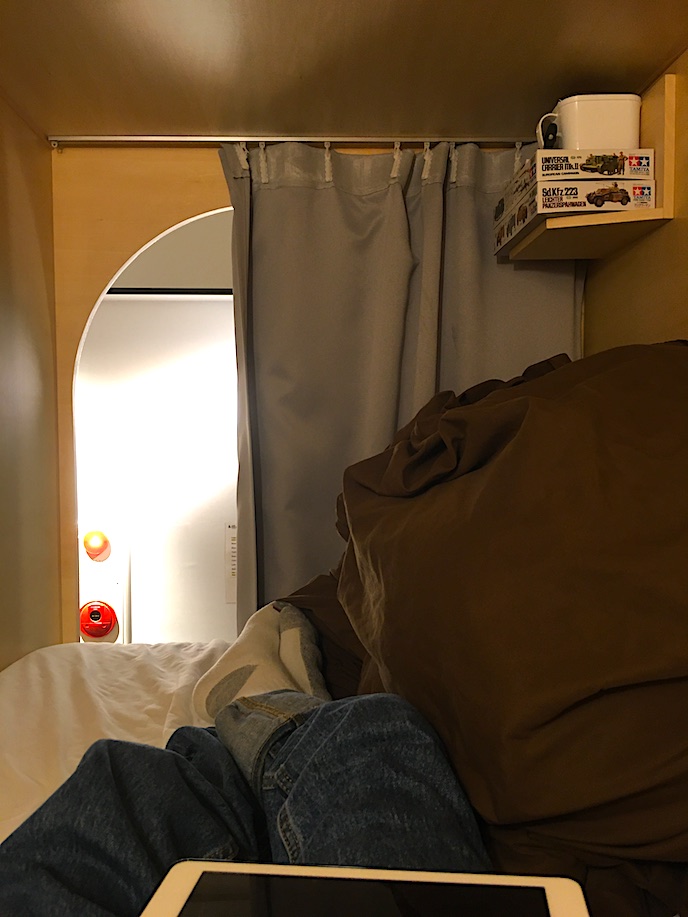 Inside the single tube room at And Hostel.
A newly-opened luxury hostel called GLANSIT is on the east side of Chuo Dori. Around $72 bucks a night.
There are also quite a good number of great bars and restaurants in the area on the side streets.
If you're tired and in need of a rest, go east from And Hostel until you hit a dead end, turn north (left) for 2 blocks, then left again, back towards the station and you'll come upon Izumi Park. This is a popular park for families with kids, but there are several benches here as well and you can just sit and hang out for a while if you like.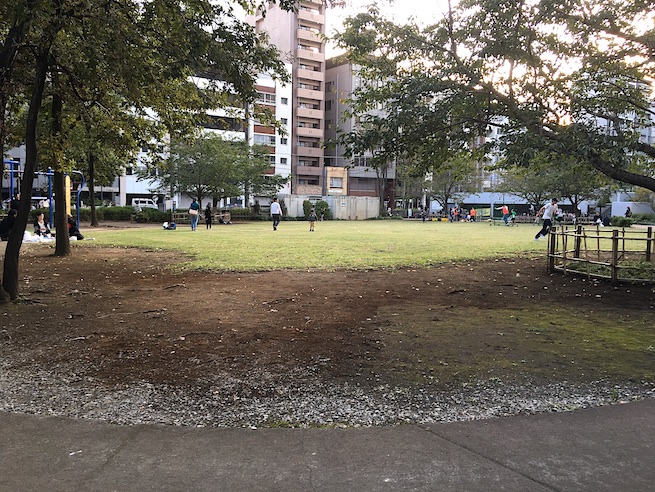 Izumi Park
Secret Cheap Coin Lockers
Just to the left (south) of Café Moco mentioned above is a small bank of secret cheap coin lockers (also mentioned above). These range from 200¥ to 400¥ for 12 hours and are quite good, although the are keyed and don't yet support IC cards. There is another tiny inexpensive bank just inside the Showa Dori exit, but there aren't many there, and they are almost always full. These lockers are designed for you to drop your stuff while shopping to pick up when you leave, but we've actually used them to store luggage overnight when moving from one area of the city to another. Just be aware if you leave contents in them overnight, you'll have to pay an additional fee (via coin) to get your belongings out. You can also use them to temporarily store luggage when leaving the country or going to an airport if you have lots of luggage and can't carry it all – if you need to make more than one trip. Also see our page about Coin Locker Hacks just to the north in Ueno.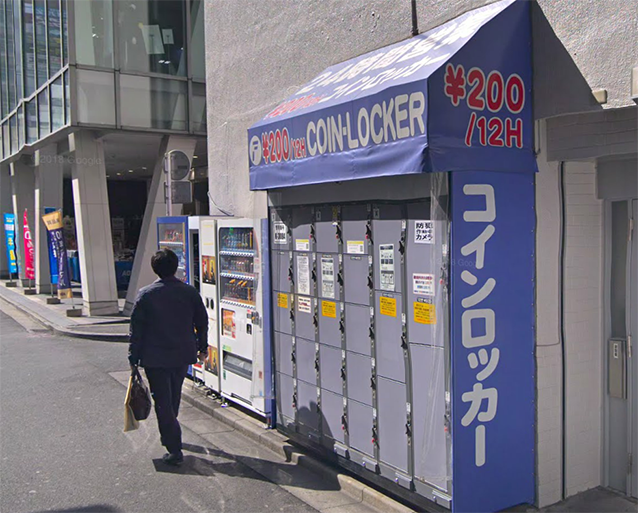 Co-working Spaces
There are a few nice affordable co-working spaces in Akiba too. Best among these is Lifork on the 4th floor of the UDX bldg. They have a variety of shared offices, and even retail. Some of the small 2-person offices are as low as $900 USD/mo, which is incredible – considering this is Tokyo – and the UDX bldg. is right across from the JR Akihabara Station, which makes it incredibly convenient. Near Suehirocho Station (above), is 1/3 Work Life, which is also good. They also offer business mailboxes. Rates are below $450 USD/mo. Another one in the area is Rampart. It's right across the street from Shosen Book next to Showa Dori. They also have door'ed meeting rooms. Regus is another option, although quite a bit more expensive. BIZcomfort is another option in the area, although there is no staff at all here. All you get is a 24-hour keycard.
Language Schools
Halfway between Akiba and Ueno, just to the northeast is the Intercultural Institute of Japan, which among other things, has a language school.
WiFi
Just aross from the Akiba UNI-QLO store, in the block west of the Washington Hotel is a visitor center and a free Wi-Fi hotspot shown below: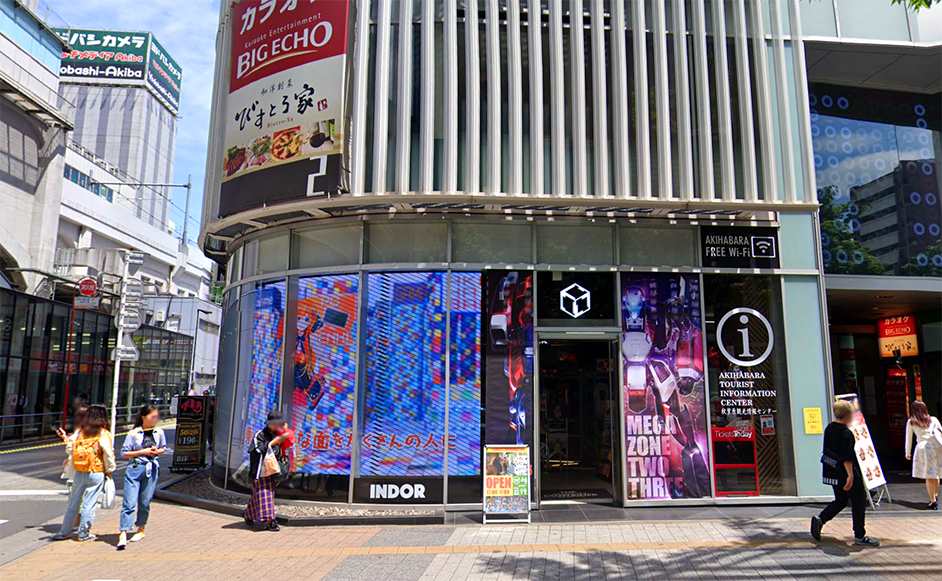 Conclusion
One potentially disturbing aspect of modern Akihabara to some is that the area is becoming less focused on electronics and more on anime. Akihabara was once known mostly for electronics. While Yodobashi/Bic/Sofmap are still around, they are facing growing competition from Amazon and other online retailers, which is cutting into business. There are still lots of electronic shops in the area, but the trend seems to be more towards anime today. Electronics shopping seems to have moved more to the Shinjuku and Ikebuluro areas on the west side of the city.
Anyway, that's it. Have fun exploring + finding stuff in Akihabara. It's a fairly small area – if you spend an entire day or two there, you can easily see it all.
LINKS
Akihabara Station Guide @ Japan Rail Pass
&And Hostel Akihabara (35°41'50.94″ N 139°46'38.84″ E)
First Cabin Akihabara (35°41'51.28″ N 139°46'37.66″ E)
Washington Hotel Akihabara (35°41'50.56″ N 139°46'25.69″ E)
https://www.akihabaraluxurycityhouse.com/en-us
Akihabara's 4 Sofmap Stores @ Matcha
Super Potato Retro Video Game Store
Manseibashi Station @ Wikipedia
Manseibashi Station – Kanda's abandoned train station
Manseibashi: The Phantom Station of Tokyo
Manseibashi Station (1912-1936) @ Old Tokyo
mAAch ecute: Akihabara's Best-Kept, Non-otaku Secret
Akihabara Food Guide: What to Eat in Akihabara
Best Cafes In Akihabara That Are Not Otaku-Culture Oriented
10 Ultimate Akihabara Cafes You Must Try Besides Maid
My trip to Japan, Akihabara and the SAO Cafe
Akihabara Shopping @ Japan Visitor
Best 10 Department Stores near Akihabara Station @ Yelp
Tokyo Radio Depato Electronics Parts Store
TamTam Akihabara: One of Akihabara's Largest Hobby Shops
Don Quijote Akihabara – Tokyo Things To Do & Itineraries | Planetyze
Easily spend a day in Don Quijote in Akiba
Akihabara Travel Guide | MATCHA
10 Best Akihabara Tours & Tickets
Akihabara : 15 Best Things to Do
Akihabara Beyond the Popular Attractions @ Tokyo Cheapo
7 Picks For Akihabara Souvenirs @ Matcha
Get iPhone and Mac at Bargain Prices
Coworking Spaces in Akihabara @ Akihabara News
Lifork – https://akihabara.lifork.jp/maintenance.html
JR Yamanote line: Getting around Tokyo
Best Route from Shinjuku to Akihabara Station
JR Saikyo Line to Ikebukuro, Shibuya, Omiya & Odaiba
https://en.japantravel.com/tokyo/super-potato-in-akihabara/2410
https://en.japantravel.com/guide/unlock-japan-with-japan-travel-bike/43086
https://www.yelp.com/biz/%E3%82%BB%E3%82%AC-%E7%A7%8B%E8%91%89%E5%8E%9F%EF%BC%93%E5%8F%B7%E9%A4%A8-%E5%8D%83%E4%BB%A3%E7%94%B0%E5%8C%BA
https://www.tripadvisor.com/Attraction_Review-g1066443-d10094610-Reviews-Sega_Akihabara_1st-Chiyoda_Tokyo_Tokyo_Prefecture_Kanto.html
https://www.digitaltrends.com/mobile/cool-tech-souvenirs-akihabara/
Akihabara photos @ Cool Photo Japan
VIDEOS
https://www.youtube.com/watch?v=kV7fcmY62hY&feature=share
©2019 tenmintokyo.com