Name: Tokyo Dome City (TDC)
Kind: Town
Free Wifi: Yes
Location: 35°42'16.95″ N 139°45'10.95″ E
Station: Korakuen Station (M22) on the Metro Maronuchi Subway Line.
Worth it? A must-see.
Our Rating: ⭑⭑⭑⭑⭑
Updated 3/14/2021
©2019-2021 tenmintokyo.com
Tokyo Dome City is a big sports + entertainment complex right in the heart of Tokyo. There's a huge stadium for baseball, but also a rollercoaster, ferris wheel, and multi-level food and shopping.
Right across the street is MeetsPort – another shopping area. The streets around the area are lined with great restaurants and shops.
Suidobashi Station is the closest Metro Subway stop right across the street.
But in this article, we're going to cycle to Tokyo Dome City from north Tokyo in Itabashi.
It turns out this is fairly easy – given a few caveats.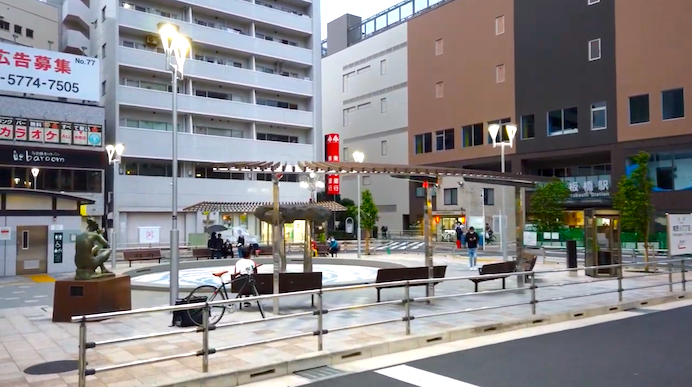 JR Itabashi Station, right – newly finished in 2020.
The main avenue that runs from Itabashi to Tokyo Dome City is called Hakusan-Dori. You can cruise all the way from northwest Tokyo down to Tokyo Dome and beyond on this one street. In fact, if you pass Tokyo Dome City heading east, you can take Hakusan-Dori all the way to the Imeperial Palace and Maruonuchi.
So, in photos we'll show you roughly how to get there.
From Itabashi Station, head north a few blocks onto Hakusan-Dori Ave. South. Use the sidewalks, or brave the traffic until you pass Sugamo, and Sugamo Station.
(As a side note, if you plan to come back this same way, note that as you pass Sugamo Station heading back north, you'll come upon Jizo-Dori Shopping Street on the left. This is a must-see area, especially at dusk. Loads of great food and shops to explore. See our other post on Jizo-Dori Street).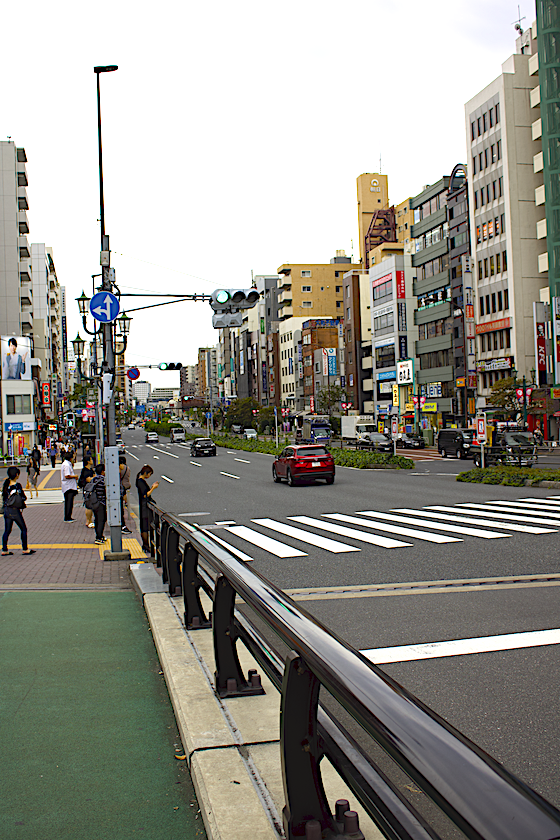 Hakusan-Dori Ave. heading south from Itabashi.
You'll pass a covered shopping area on the sidewalk, then pass Sugamo Station. There are both JR and Toei Subway stations here. There's also a Beck's Coffee just after the stations if you want to take a break. There's also a great APA Hotel, shown below: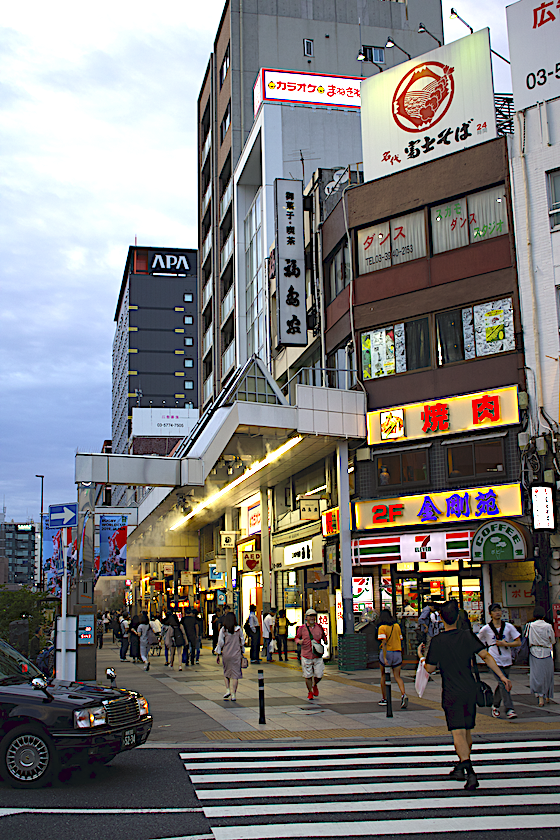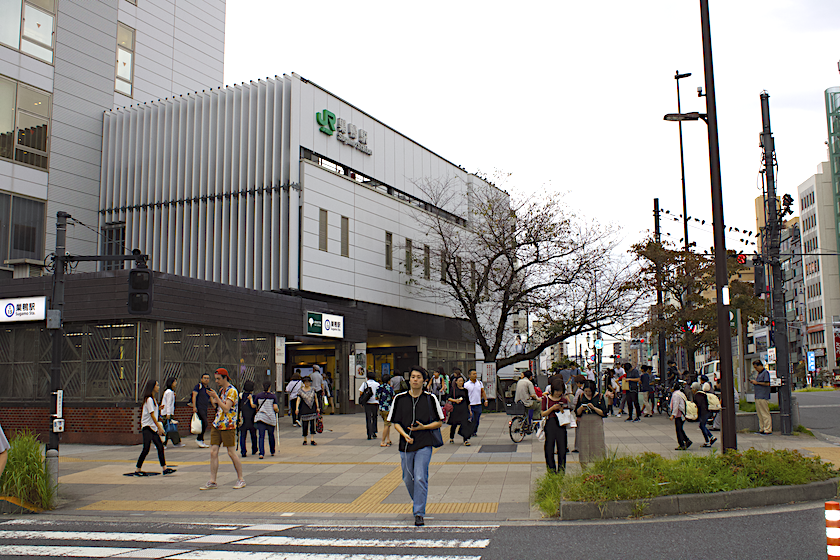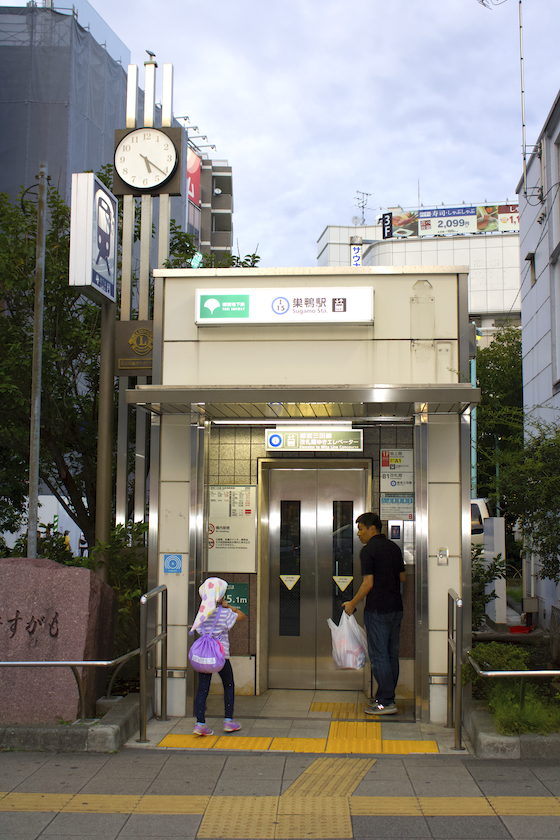 Toei Subway Station.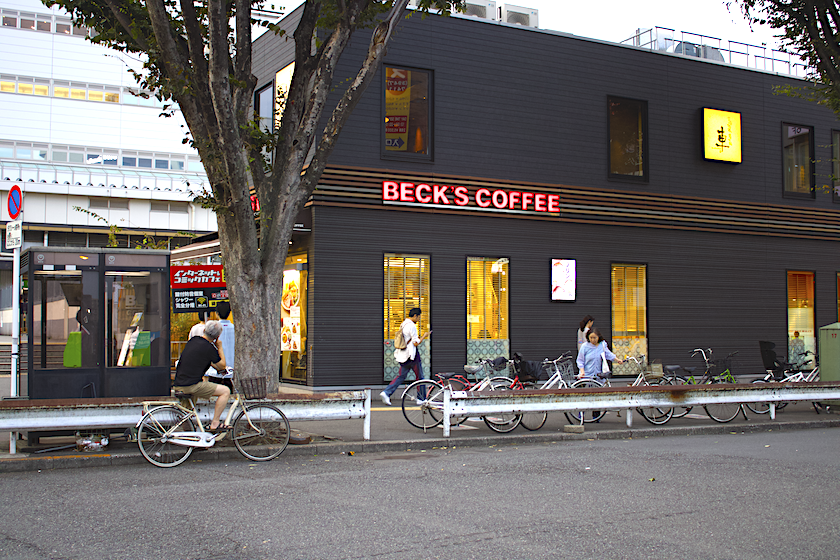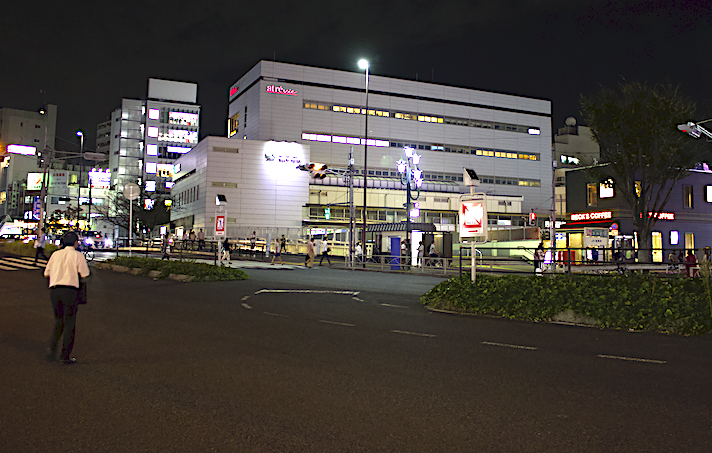 JR Sugamo Station looking north at night. Beck's Coffee is on the right.
Keep cruising for several miles. You'll pass charming side streets, and a huge Mizuho Bank, which is, by chance, one block north of the world HQ of Pioneer Corporation, shown below.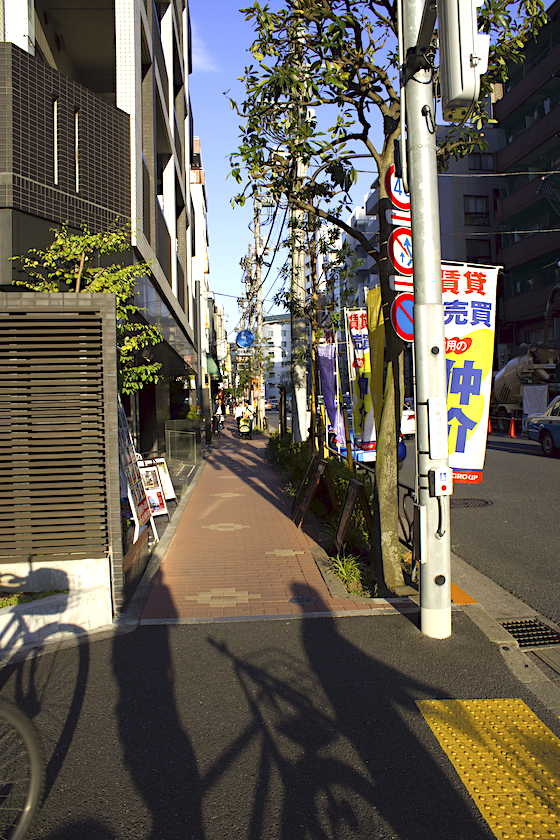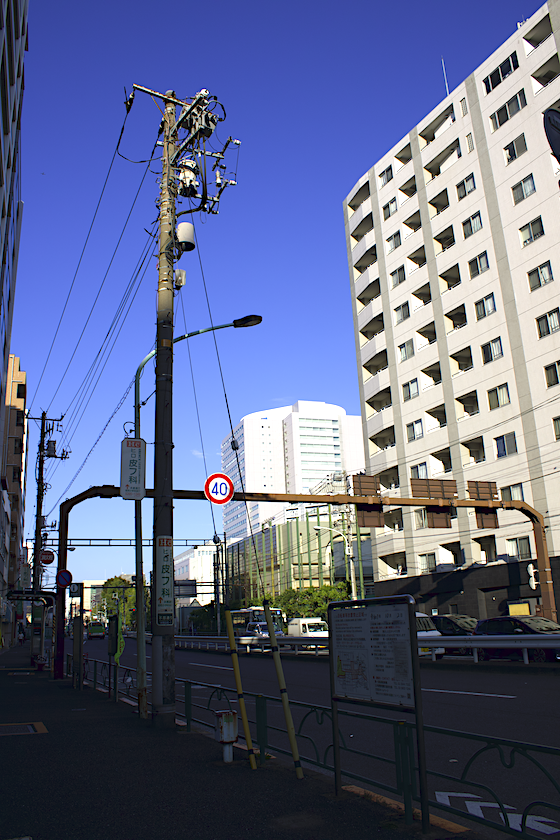 The large white bldg. to the southeast is the world HQ of Pioneer Corp.
As the Fig Newton Man used to say in the 1970's: here's the tricky part:
Hakusan-Dori splits shortly up ahead. The old street veers to the left and you don't want to miss the split to the right, or you'll be taken well out of your way. The split is shown below and when you come to it, cross at the light shown, then veer back left into a brand new bike lane: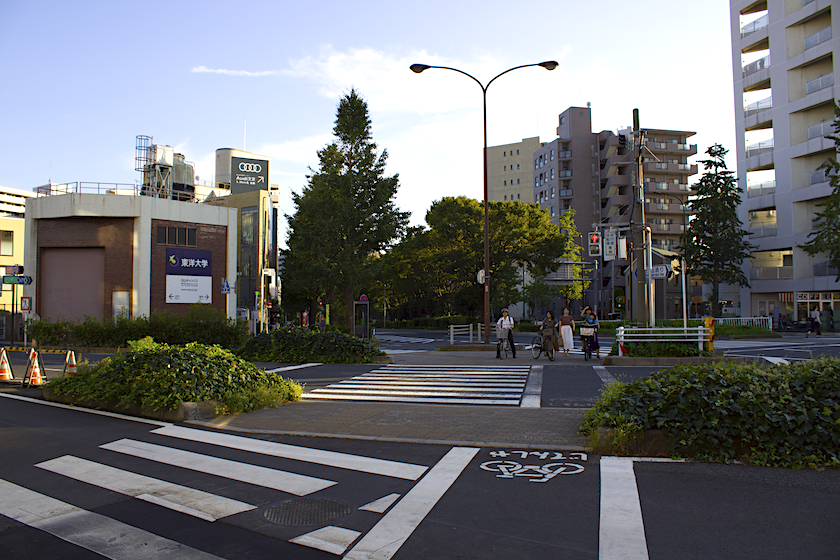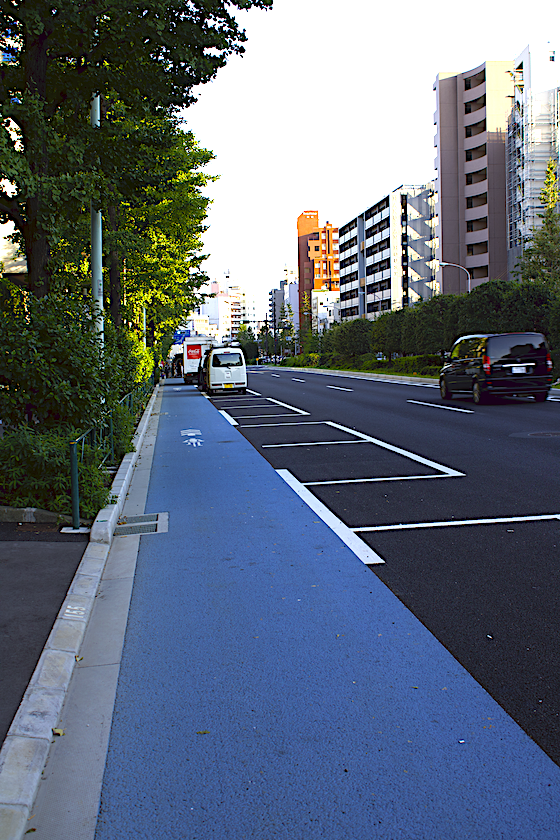 Japan's few bike lanes were designed to have a row of parking spaces to the right for deliveries to park in but lots of trucks just ignore them and park in the bike lane itself anyway – making it even more dangerous. Be extremely careful when passing vehicles parked in the bike lane. It's easy for traffic not to see you since you'll be where they don't expect you to be – in the parking spaces to the right!
Keep cruising and shortly you'll come to Bunkyo Civic Center. You can either turn right here, or go 1-2 more blocks + turn down the side alley next to the 1st Tokyo Dome City bldg (the big pink one on the right). In either case, your goal is to scope out the huge bike parking lot behind Bunkyo Civic Center. As a short side trip after parking your bike you might want to go check out the huge observation deck atop the city hall, shown below: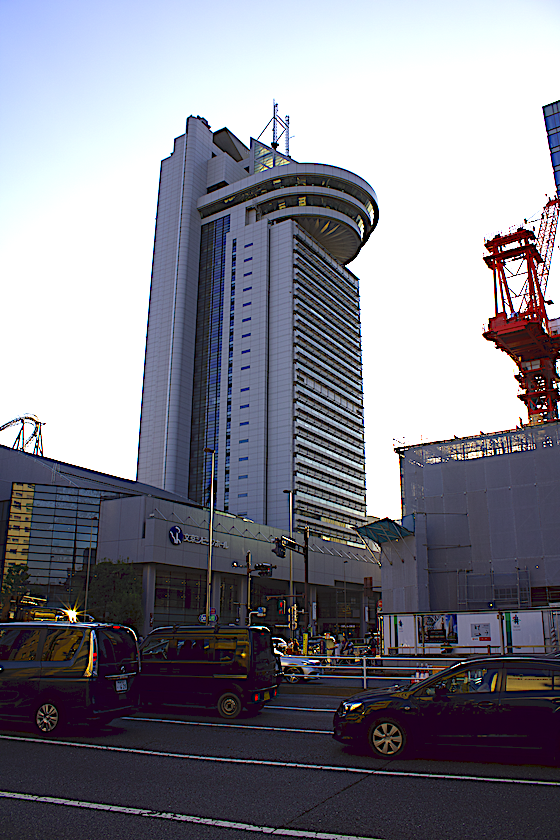 Bunkyo Civic Center. Its spectacular observatory on top is free – and is one of the best views in Tokyo..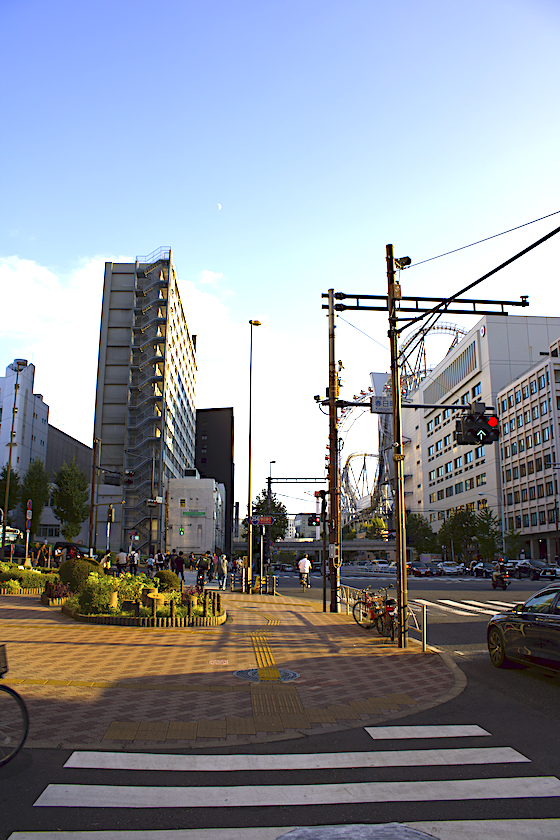 Either turn right here, or 2 blocks up on the right before the first Tokyo Dome City bldg.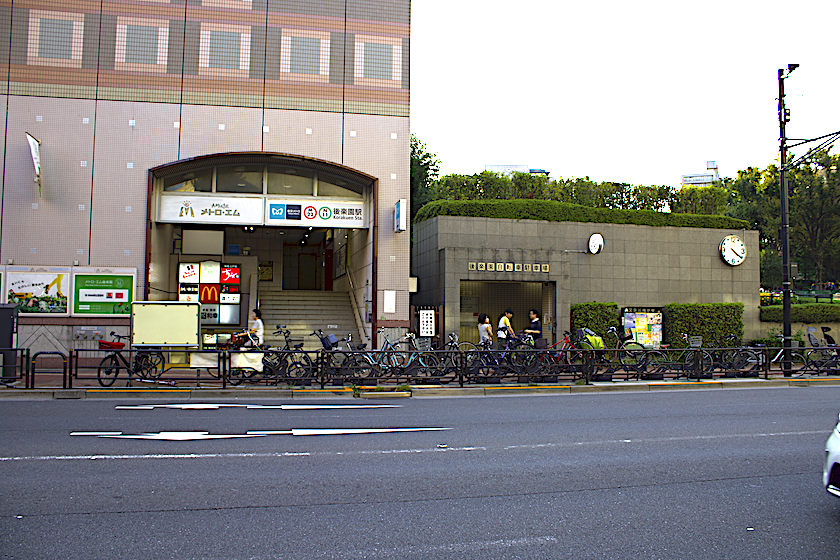 This is what we're after – the massive bike parking lot behind Bunkyo City Hall. Cruise to the right for the large parking area – just behind the civic center. To the left of the bike parking lot is Korakuen Station (M22) on the Metro Maronuchi Subway Line.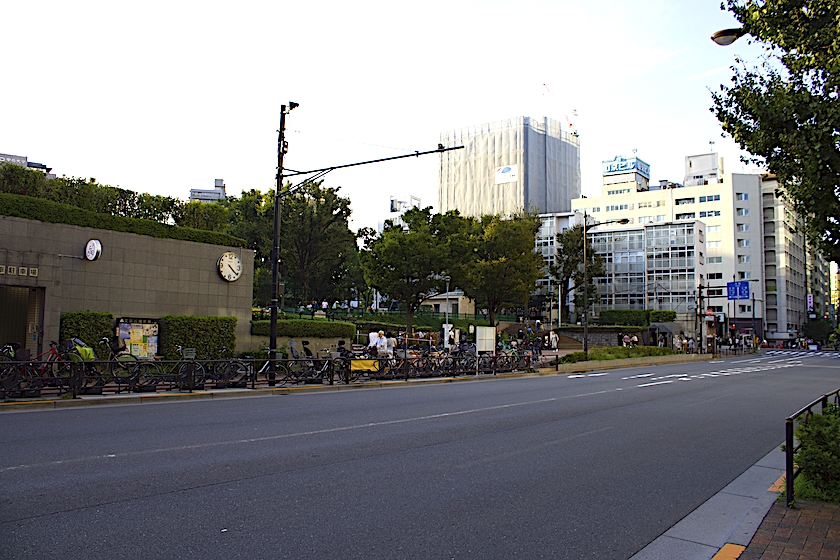 On most days – unless you arrive before dawn – the bike lot will most likely be full. In that case, just park your bike in the lot and put a lock on it. As with most places in Japan, the bike parking isn't strictly enforced in the short-term. Just don't leave your bike there overnight or for a few days – or else it might get towed. A Gorin Lock + bike lock will keep it safe. You generally don't need to worry about bike theft in Japan.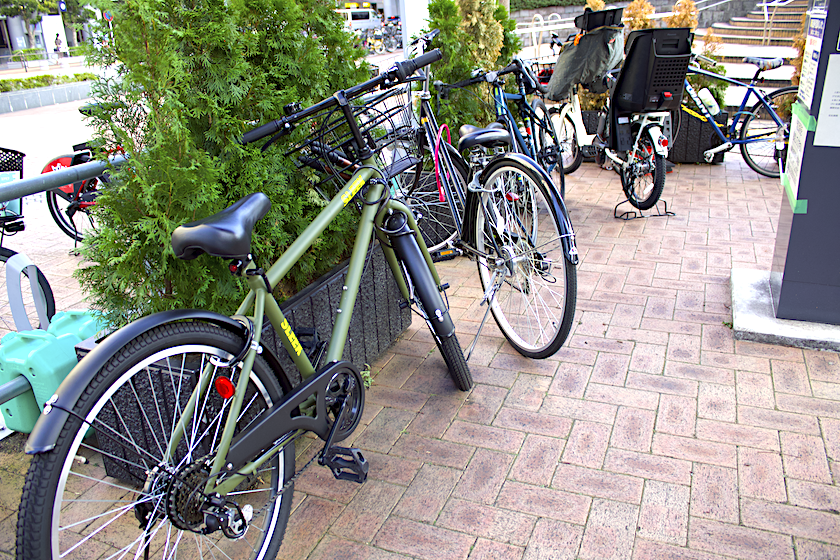 Our $200 Chinese special parked in the lot – along with dozens of other bikes just sitting there, many without locks. Bike parking in the short-term isn't strictly enforced in Japan.
Now on to Part II of our article.
Check out our Tokyo Dome timelapse vids on our YouTube channel:
LINKS
https://www.scycle.jp/contents/tour01ridewalk.php?dtid=08001&pkid=09003
VIDS
https://www.youtube.com/watch?v=2_kOKCbV77U&feature=share
The pub that Tokyo Drew frequents is just at the northwest corner of Tokyo Dome City on Hakusan-Dori Ave. A great restaurant + bar – The Hub: