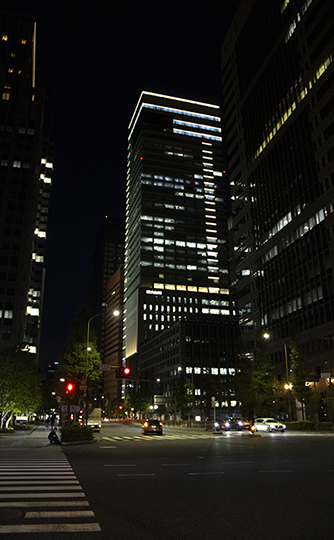 ©2019-2020 tenmintokyo.com
Name: Ōtemachi
Kind: Town/City
Location: 35°41'14.86″ N 139°45'52.56″ E
Station: Otemachi Station on Toyko Metro Subway: Marunouchi, Tozai, Chiyoda, or Hanzomon Lines (M18, T09, C11, Z08, respectively).
Free Wifi: Yes
Our Rating: ⭑⭑⭑⭑⭑
Worth it? Absolutely do not miss it.
Updated 12/29/2020
Don't miss our other post on one of the best sub-sections of Otemachi: Ootomori.
Also be sure to check out the Tokyo 4K YouTube channel which has a lot of good vids around the Otemachi area.
Access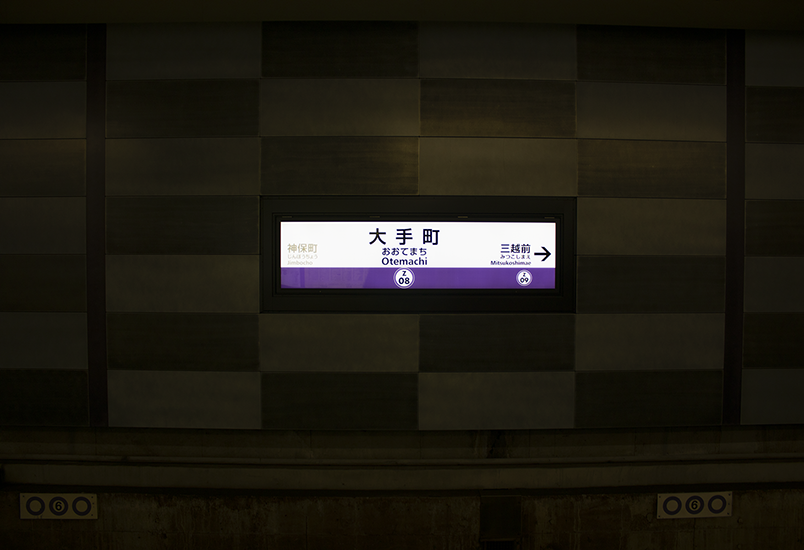 Take the Marunouchi, Hanzomon, Tozai, or Ginza lines to Otémachi Station, or those lines or the JR Yamanote Line to Tokyo Station. If you exit Tokyo Station, head northwest on surface streets, or through Tokyo Station's vast underground walking tunnels to get to Otemachi Station, then head up to surface streets.
Otemachi Station is the largest station in Tokyo.
5 most confusing train stations in Tokyo
To get to Otémachi, take one of the lines listed above, and exit Otémachi Station. If you'd like a slightly longer way with more of a walk through central Tokyo, exit @ Tokyo Station, and head northwest on surface streets or through the vast underground network of tunnels under Tokyo Station which lead to Otémachi Station. If you do chose Tokyo Station there is a huge map of the entire area just next to the JR East Baggage Service office in the northwest corner at the Marunouchi side northwest exit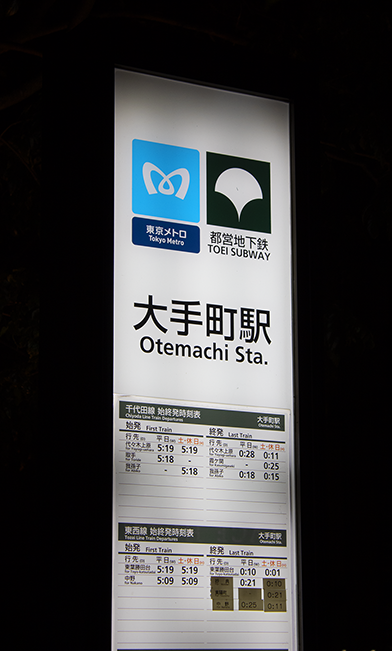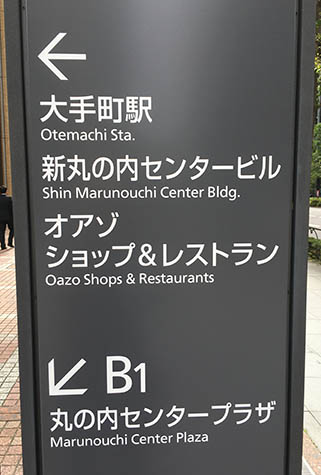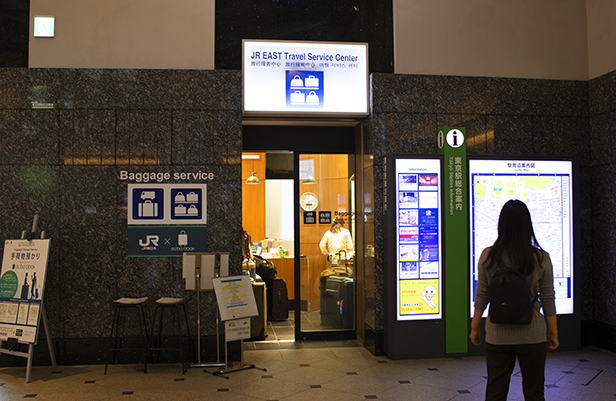 JR East Baggage Service office in Tokyo Station. The large area map is on the right.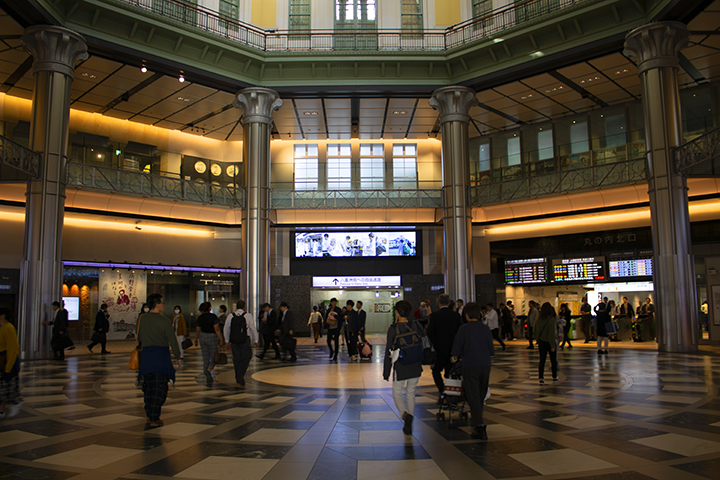 Northwest corner of Tokyo Station at the Marunouchi side northwest exit. JR Baggage Service office is just to the left, JTB tourism office just to the right, out of view. To walk to Otémachi from here, head left and out of the station, then head northwest on sidewalks.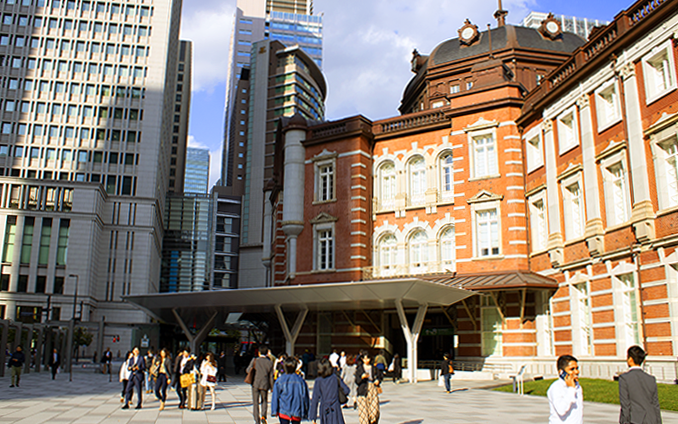 Just outside the northwest Marunouchi side exit. Head left (west) + north from here to reach Otemachi.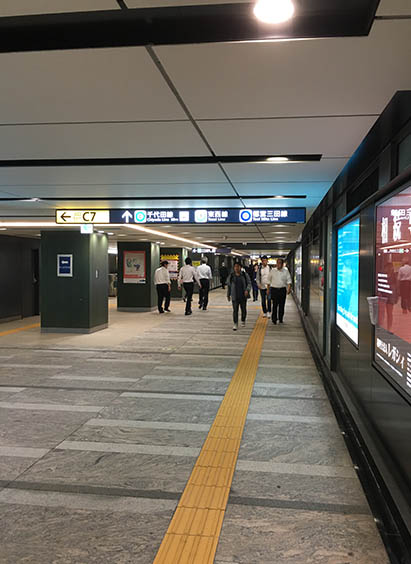 One of the long underground walkways connecting Tokyo Station + Otemachi Station. Incredibly, there are actually miles of these tunnels all over the Marunouchi/Otemachi area. In fact, they run all the way to the south to Yurakucho Station. Many of them connect in the basements of skyscrapers and other stations. It's possible to traverse the entire area underground.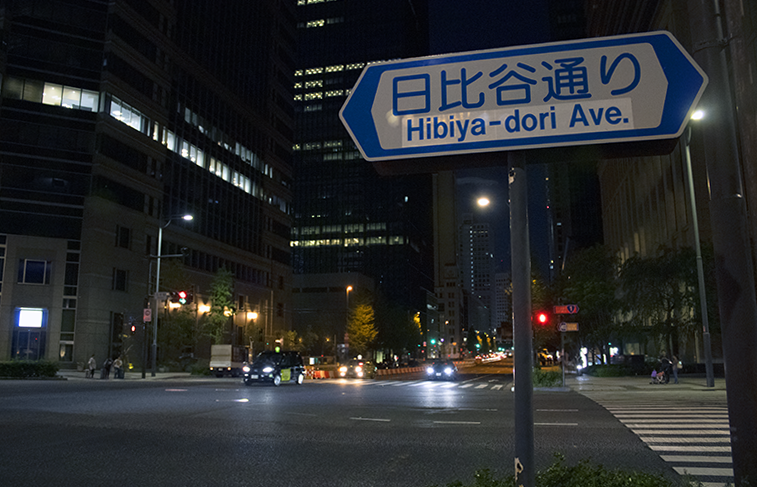 Hibiya-Dori runs north-south and connects Hibiya to the south with Otemachi to the north. This walk is one of the most spectacular in Tokyo and passes right in front of the Imperial Palace. A must-see.
Area layout
Otemachi's layout is shown on the map below in white. Marunouchi is just to the east (right), and Hibiya to the south. The big green area on the left is the Imperial Palace. Just to the northeast is Kanda and Ueno. Tokyo Station is the big area in the lower right corner to the southeast. Out of view to the northwest is Tokyo Dome City.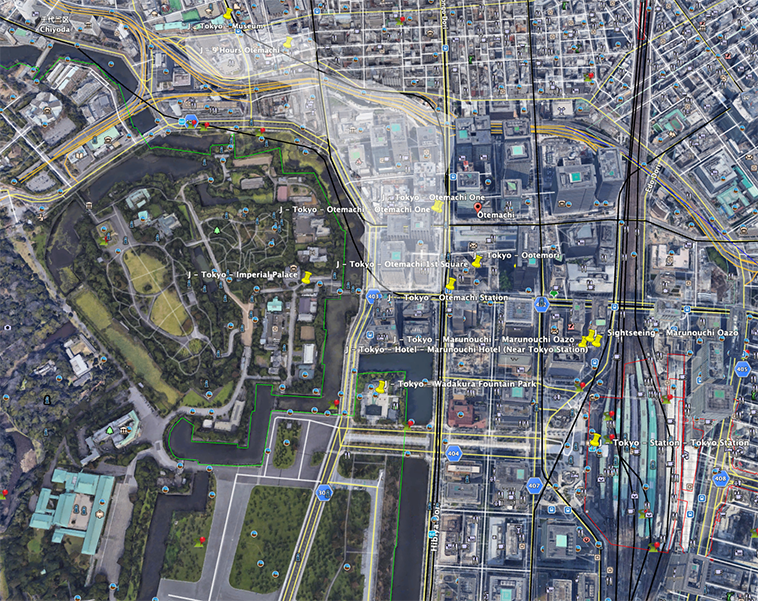 Central Tokyo. North is up. Clockwise from left: Imperial Palace + Gardens, Otemachi (highlighted in white), Marunouchi, Tokyo Station (lower right). Just to the south of Tokyo Station is Yurakucho. Just to the east of that is Ginza.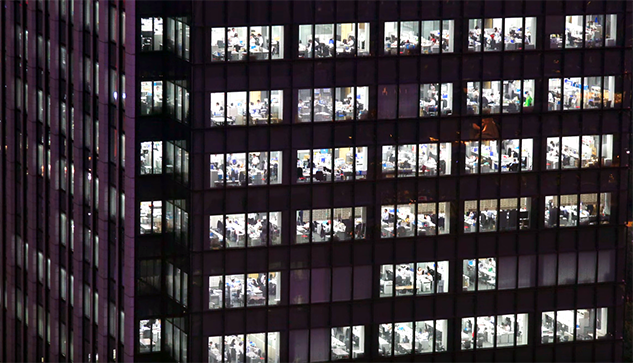 Otemachi is in the heart of the financial district and has endless huge office bldgs packed with Japanese workers.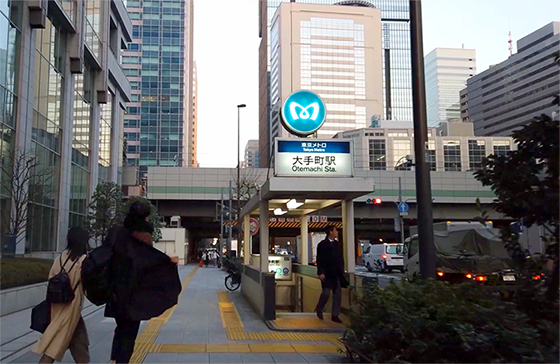 Otemachi Station street entrance/exit – facing west from the Marunouchi side.
Area Street Maps
In addition to the huge area maps in Tokyo Station, there are many area maps just outside Otemachi Station on the street level. Most are in both Japanese + English, so if you're lost, a quick glance at one of these can help.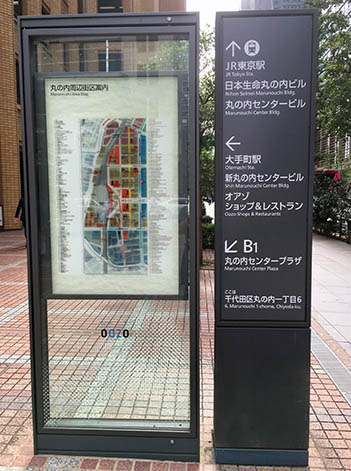 Tokyo central area map near Oazo, facing south. Otemachi is the blue area at the bottom of the map (north).
History
Otemachi derives its name from Ōtemon ("Great Hand Gate"), and was a critical area in the early Edo Period after Japan's capital was moved from Kyoto to the Tokyo area.
Today the area houses dozens of critical Japanese companies including Japan Post HQ, Marubeni, Development Bank of Japan, Mizuo, Mitsui, Nisso (Nippon Soda) and The Nikkei newspaper.
MARUNOUCHI AREA GUIDE
At marunouchi.com there is a great free area guide which includes most things in Otemachi as well. Well worth checking out.
Otemon Guide + Otemachi One
Also be sure to check out the Otemon Guide – Chock full of good stuff to do in Otemachi. Shops, restaurants, displays, and museums. Definitely worth a look.
The top attraction in the area is called Otemachi One – a huge complex in the ground + basement levels of The Otemachi Tower. Also in this area with a little walking is Ootomori – which connects to Otemachi Station. Otemachi One is in the block to the east of Otemachi Station. Otemachi One has fabulous shops, restaurants, and museums to check out. A must-see.
The Otemachi One block is just one block to the east of the Imperial Palace – just across the street from the small north Imperial Palace Gardens.
Towards the end of each year, Otemachi One has a nice lighted display called OTEMACHI ONE WINTER FOREST
There is also a massive conference center called Otemachi Mitsui Conference in Otemachi Tower.
https://otemachi-one.com/floorguide/
https://www.architectmagazine.com/project-gallery/the-otemachi-tower
1-chōme-2-1 Ōtemachi 1-chōme-2-1 Ōtemachi, Chiyoda City, Tokyo 100-0004
Directly connected to Otemachi Station on the Tokyo Metro Chiyoda Line, Marunouchi Line, Hanzomon Line, Tozai Line, and Toei Subway Mita Line
5-minute walk from Takebashi Station on the Tokyo Metro Tozai Line
14-minute walk from JR Tokyo Station(from the Marunouchi Central Gate)
12-minute walk from JR Kanda Station(from the South Exit)
Otemachi 1st Square + Coworking Spaces
In the block just to the south of the Otemachi One block is a complex called Otemachi 1st Square. There's a nice large park + several good restaurants in the area – as well as a sidewalk entrance to Otemachi Station.
In the Otemachi 1st Square office bldg. there is a great shared office space by Regus which has some very nice decked-out office spaces starting at around $600-$799/mo per person. Very reasonable considering this is central Tokyo. Check 'em out. There is also a LIFORK coworking space here.
Also in Otemachi 1st Square is the NTT R&D HQ
https://www.emporis.com/buildings/104988/otemachi-1st-square-east-tower-tokyo-japan
Ote Center Building
Also of interest is Ote Center Bldg. – mainly for a few really great restaurants in the area. Ote Center Bldg. is in the south-east corner of the Otemachi main block.
TOKYO SANKEI BUILDING
Also in the same block – on the fast east side is the TOKYO SANKEI BUILDING – there are a few nice restaurants on the ground floor. Outside is the world-famous "red tube" artwork: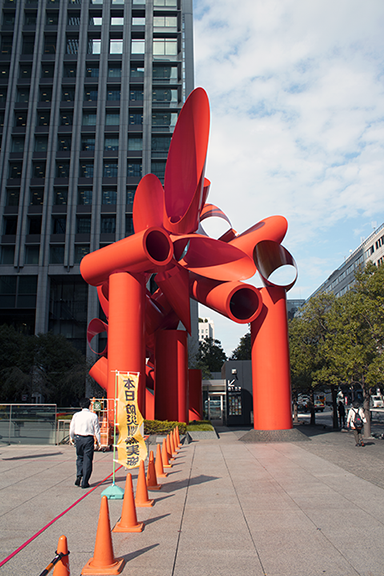 https://www.sankeibldg.co.jp/tsb/location_eng.html
The Hidden Gem Courtyard
Just to the west of the Sankei Bldg., around 35°41'16.23″ N 139°45'54.45″ E is a nice little hidden gem of a courtyard sandwiched in between 2 office buildings. Lots of great restaurants, cafés + shops. Definitely worth a stop.
Wadakura Fountain Park
Just 2 blocks to the southwest of the Otemachi area and 1 block west of Oazo around 35°41'00.02″ N 139°45'39.55″ E is a great concrete urban park called Wadakura Fountain Park. It's near the Hibiya area and across from the Imperial Palace. Well worth a quick stop or walk. Just on the north side of the park is the fabulous Palace Hotel Tokyo (if you can swing the $500/night cost).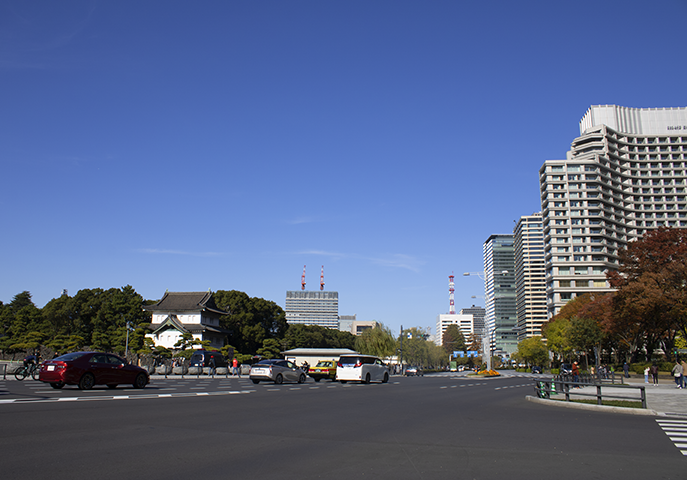 Palace Hotel Tokyo, right, and entrance to north Imperial Palace Gardens, left. This is facing north. Otemachi is on the right up the street. Wadakura Fountain Park is just on the right behind the red trees.
Just to the south end of the park is a small pedestrian walkway (Gyoko-dori) which runs west-east with a straight view of Tokyo Station. Gyoko-dori is best known for its spectacular fall view of Ginko trees, which turn a brilliant yellow around mid-late Oct. Like this: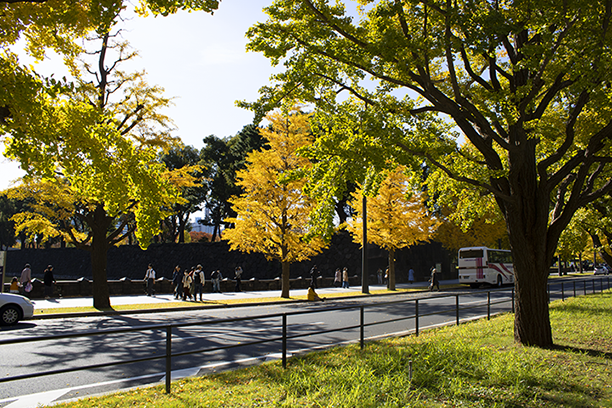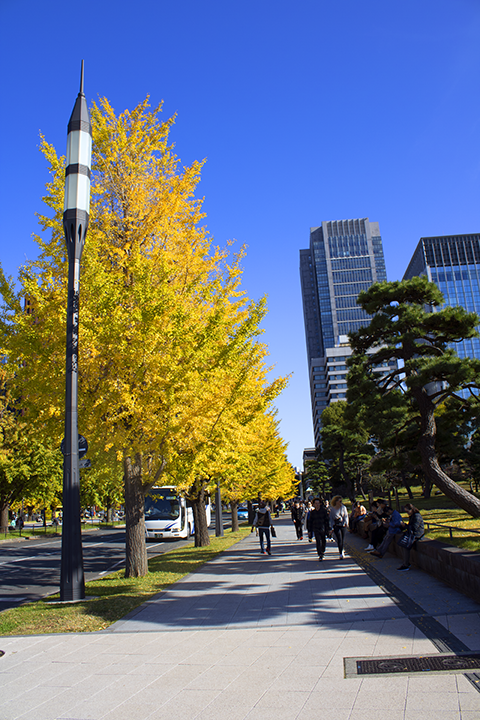 Looking east towards Tokyo Station. Gyoko-dori is out of view to the left.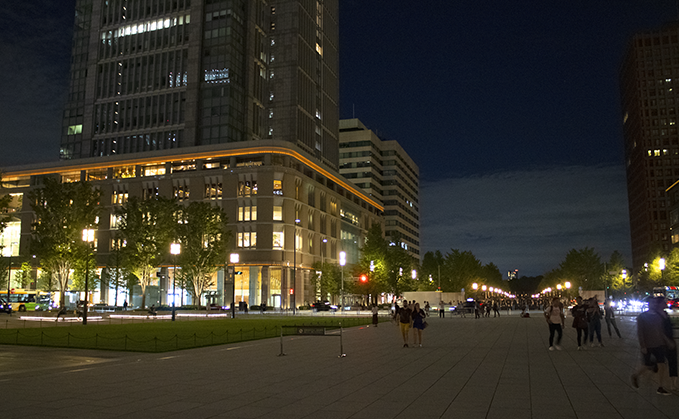 Looking west towards Imperial Palace from Tokyo Station. Gyoko-dori is the walkway with streetlamps on the right.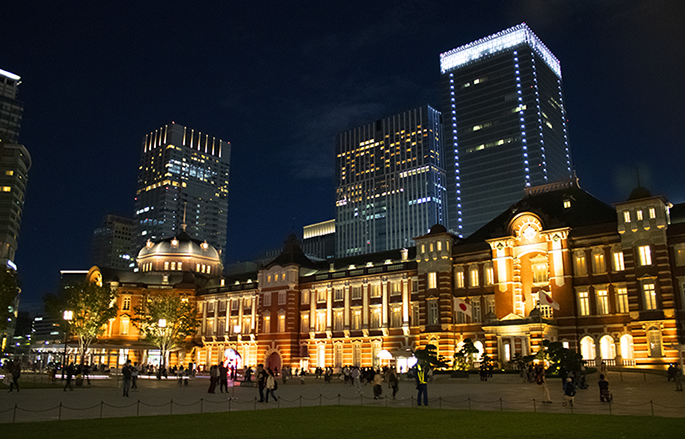 Looking northeast from Tokyo Station. Gyoko-dori is out of frame to the left. Marunouchi is the area with the tall bldgs. to the east of the station.
Marunouchi Shuttle
There is also a free shuttle called the Marunouchi Shuttle which runs in a loop between many of the larger office bldgs. including a few in Otemachi. A quick way to see the area for free. The shuttle also has an app for Android and iOS, but it's in Japanese only. The above page also has a PDF map of the area.
Coin Lockers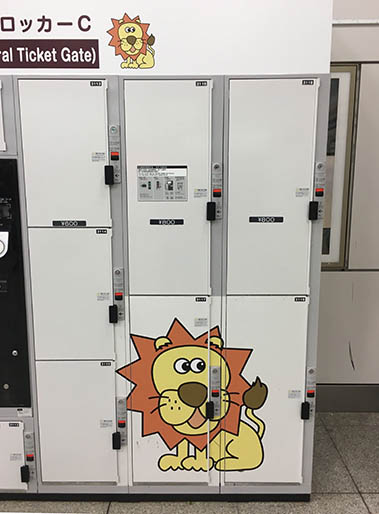 If you don't want to lug your heavy bags around the area, you can drop + lock them in any one of the many paid coin lockers around the area. The inside of Tokyo Station has huge banks of these, and you can usually find one available. Cost is anywhere from $4-$8. Most of them take electronic Suica prepaid rail cards for payment. Storage time is usually 16-24 hours.
Marunouchi Oazo
Just at the edge of Otemachi to Marunouchi to the west, is a small complex called Marunouchi Oazo. It's mostly offices, but also has a shopping and a dining floor. Well worth a look. It's located at 35°41'00.61″ N 139°45'58.92″ E.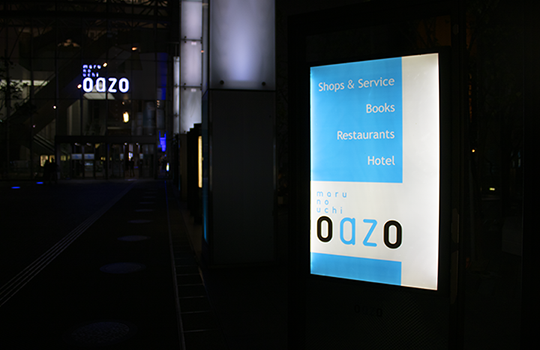 Northwest to Takebashi Station
If you head northwest on Rt. 403/401 past the Imperial Palace and loop around to the west, you'll come to the northwest part of Otemachi. This area is just north of the north entrance to the Imperial Palace. You can also get here by taking a Metro subway to Takebashi Station on the Tozai Line.
Just across from the Imperial Palace is the Palaceside Bldg. – an older office bldg. but still worth a look. The ground-floor lobby has lots of shops and restaurants + a post office. The building also houses some coworking spaces. There is also a Tully's on the north side of the bldg.
https://www.mai-b.co.jp/index-en.html
Rt. 301 North to Tokyo Dome City
If you head north on Rt. 301/Haukusan Dori from the Palaceside Bldg., a few miles up you will find Tokyo Dome City. See our other post on the area. Keep in mind from TDC, it's only a few quick miles east to Ueno. In the 2nd block along this route there is also a very large nice museum on the left hand side of the street.
9 Hours Otemachi
If you're looking for a cheap place to stay in Otemachi, 2 blocks to the northwest of the Palaceside Bldg, is 9 Hours Otemachi. Can we recommend it? Well it depends – if you're a light sleeper, not really. As with most other 9 Hours capsule hotels, the tubes you sleep in are made of plastic. It's common to get stuck in these places with lots of snoring Japanese salarymen who will keep you awake all night. If on the other hand, you're a heavy sleeper and nothing bothers you, then it may work. This particular 9 Hours has nice showers, and a nice common lobby with a small desk and charge ports, but the common locker rooms are a bit cramped and the minuscule lockers they provide are hard to deal with. At this hotel, for us at least, we also experienced rude, immature staff – very young teens from China staff the place – nothing like the legendary Japanese hospitality you've come to expect. Even by Tokyo capsule standards it left a lot to be desired. So, if you're rough 'n ready, 9 Hours Otemachi might work for you, else think twice. 9 Hours is located around 35°41'31.39″ N 139°45'39.14″ E down a tiny side street.
9 Hours Otemachi: entrance, capsules, showers: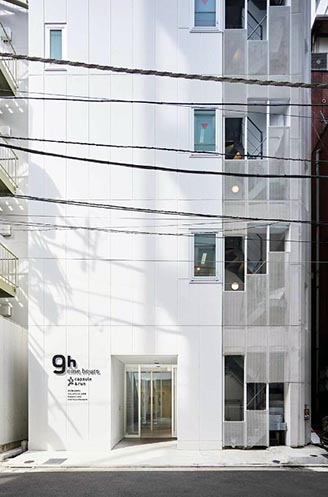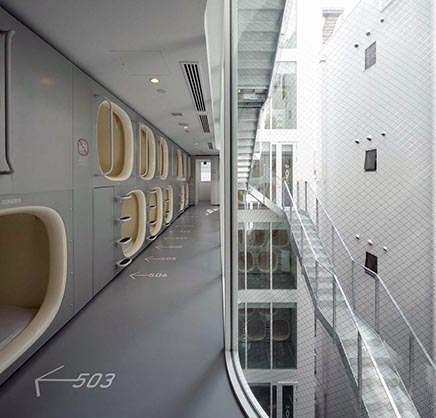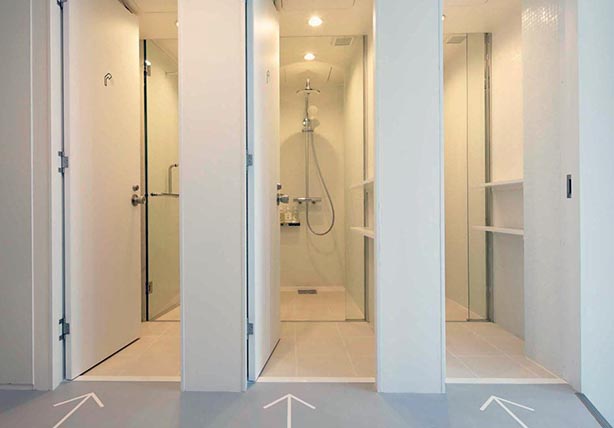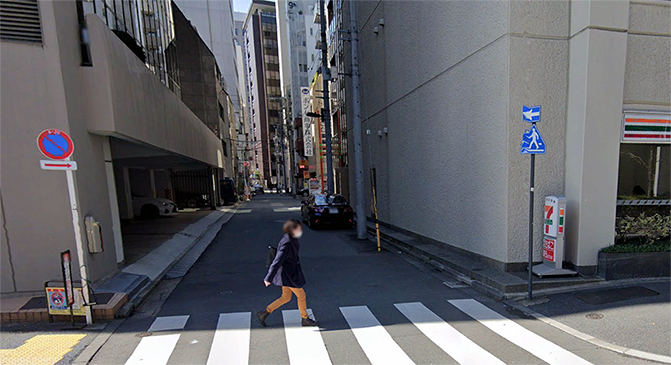 9 Hours Otemachi is just down this side street on the right. This is facing west. There is also a big 7-11 on the corner.
Northwest to Jimbocho + glitch Coffee
If you head just to the northwest of the main street the 9 Hours is off of, you'll come to Jimbocho – Tokyo's famous used book area. Just to the northeast of that is WATERRAS, Ochanomizu, and lots of sports and music shops. You can walk from Jimbocho to Ochanomizu by walking along Yasukuni Dori to the east, then north on Rt. 405 for a few blocks. WATERRAS is just a few blocks north on your left (west) side of the street. 1 block northwest of that is Ochanomizu Station. Ochanomizu is known for its guitar shops. There are also a lot of ski/snowboard shops in the area.
Along the street north from the 9 Hours, around 35°41'37.44″ N 139°45'40.64″ E, on the right-hand side just before Yasukuni-Dori, is a hip little café called glitch Coffee. This place has some really high-end pour over coffee + Espresso, and lots of seating with a big window. Worth a stop. When we stayed @ the 9 Hours, they had a free breakfast ticket for glitch Coffee. The shop also serves lots of scones + pastries. The bldg. is a little hole in the wall, and the only sign is the small painted name in English on the front window.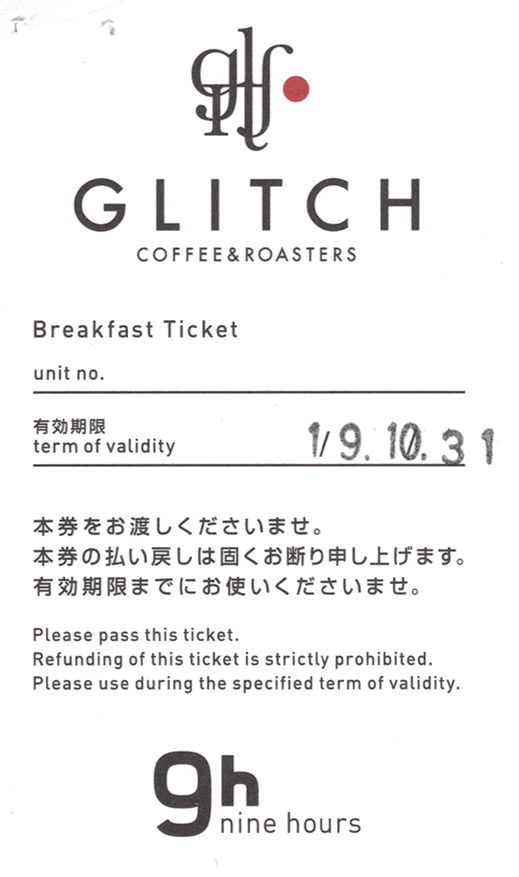 Address:
1F 3-16 Kanda Nishikicho, Chiyoda-ku, Tokyo 101-0054 VIEW MAP 東京都千代田区神田錦町3-16 香村ビル1F
Website:
http://glitchcoffee.com/
Hours:
Weekdays 7:30-20:00
Weekends 9:00-19:00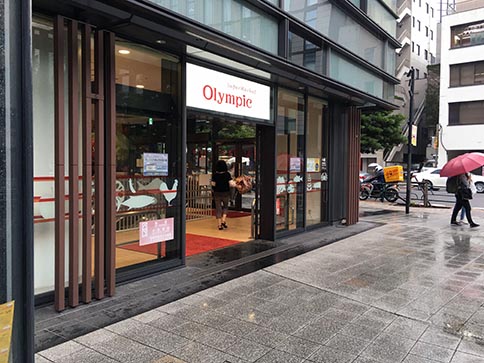 Near the WATERRAS complex, there is also a very nice big Olympic Grocery.
Food
Your food options in Otemachi/Marunouchi are endless. Aside from the ultra-deluxe restaurants in Otemachi One and the big hotels, you can stop in a café for a quick bite, or a local noodle shop. Many of the upscale hotels in the area have spectacular fabulous restaurants, though they will cost you.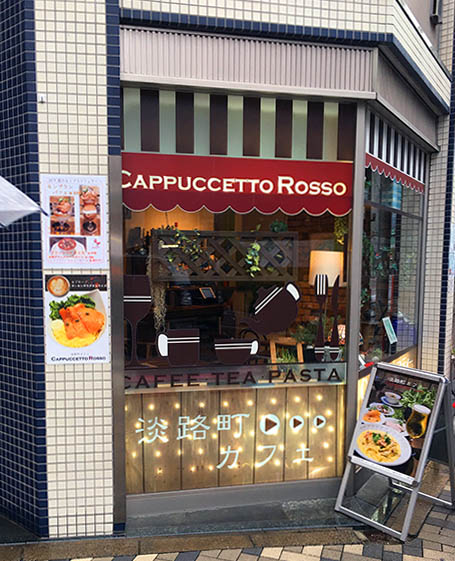 Cappuccetto Rosso café in northwest Otémachi.
Conclusion + Footnotes
There's a lot to do in Otemachi and it can serve as a jumping off point to lots of other interesting parts of Tokyo – it's just north of Tokyo Station, just west of Marunouchi (from which you can jump to the northeast to Nihonbashii and its fabulous hotels + restaurants), it's just a few miles south of Tokyo Dome City and just southeast of Akihabara. Also keep in mind just down Hibiya Dori to the south from Otemachi is the fabulous Hibiya area. It's even close enough to walk to for most people. So, in summary, you can see everything Otemachi has to offer + get to lots of other interesting destinations quickly at the same time.
Plan on spending a 1/2 or whole day in Otemachi + surrounding area – especially if you want to see the Tokyo Station + Marunouchi areas at the same time.
Enjoy!
=======================================
LINKS
Rail:
Guides
http://marunouchi.mec.co.jp/smt/en/
https://apps.apple.com/us/app/marunouchi-shuttle/id687729554
Places:
Top 10 Picks for Tokyo Winter Illuminations
Wadakura Fountain Park
Tokyo Station and Wadakura Fountain Park: ILLUMINATION AT ITS FINEST
Wadakura Fountain Park | japanistry.com
Wadakura Fountain Park, Tokyo @ Garden Visit
Wadakura Fountain Park – 和田倉噴水公園 | Tokyobling's Blog
Wadakura Fountain Park – 2020 All You Need to Know BEFORE You Go – Tripadvisor
https://www.google.com/maps/search/?api=1&query=Wadakura%20Fountain%20Park%203-1%20Kokyogaien%20Chiyoda%20Tokyo%20100-0002%20Japan
https://officee.jp/en/catalog/Palace+Side+Building/17456/
https://www.gardenvisit.com/gardens/wadakura_fountain_park
https://en.palacehoteltokyo.com/
http://coffeecollection.tokyo/2018autumn/shops/glitch.html
Walking The Path To Glitch Coffee In Jimbocho
9 Hours Otemachi
https://ninehours.co.jp/otemachi/?lang=en
Coworking
A closer look at Tokyo's coworking spaces
Maps
http://marunouchi.mec.co.jp/smt/en/map/
Help Desks
Information counters are located on the first floors of both Marunouchi Building and Shin-Marunouchi Building. Please feel free to pay them a visit if you have any problems.
11:00-21:00 until 20:00 on Sundays and national holidays.
Tourist Information Center, JNTO(TIC, JNTO)
Providing information on tourism throughout Japan at customer counters.
9:00-17:00 03-3201-3331
Rail
https://www.tokyometro.jp/lang_en/station/ochanomizu/index.html
Additional Photos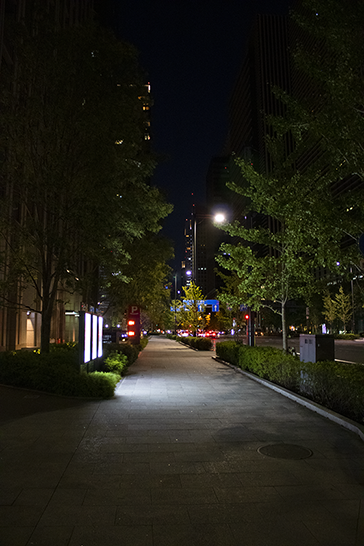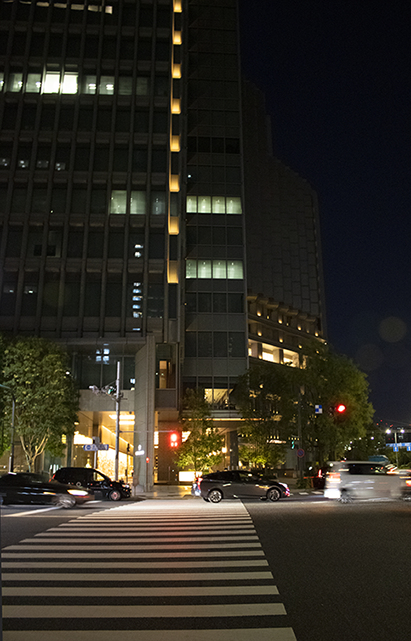 Turning east (left) off Hibiya Dori. Otemachi is to the left.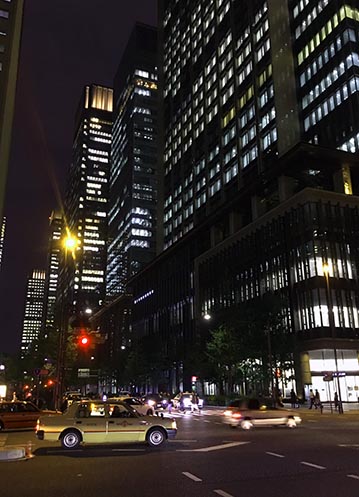 A spectacular night view in Otemachi.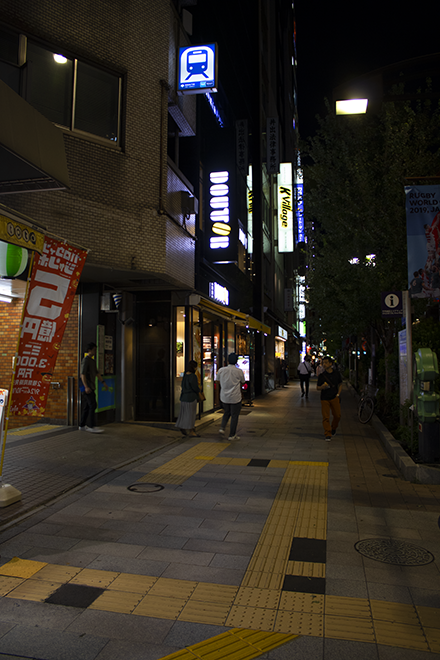 A Doutour Café on the northwest side.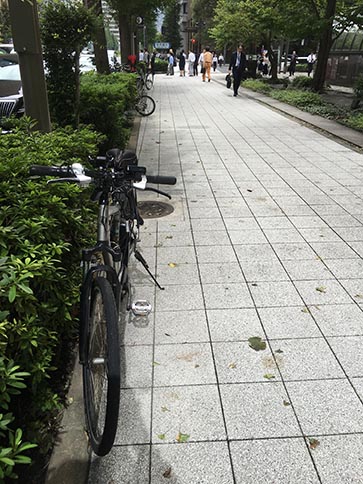 Street outside Oté Center Plaza bldg., Otemachi.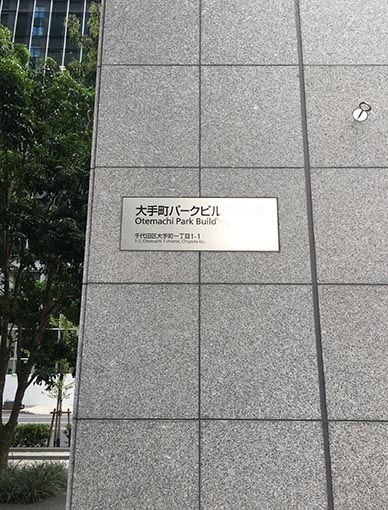 Otemachi Park Bldg.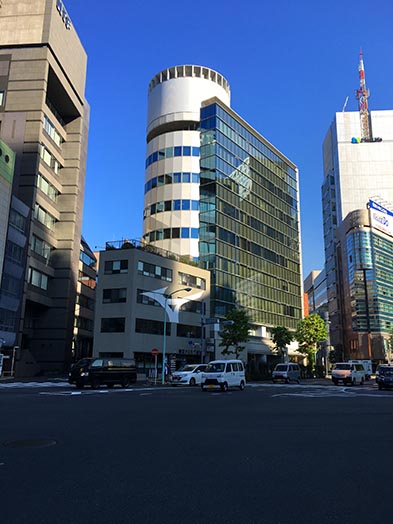 Northwest side of Otemachi, facing east. Just to the right 2 blocks is the Imperial Palace and Hibiya Dori. Just to the left a few blocks is 9 Hours Otemachi. As a small footnote, the small tan bldg. in the center is currently a shared working space. Just behind the camera is a very nice Tully's Coffee. If you go left here for several miles, you'll come to Tokyo Dome City.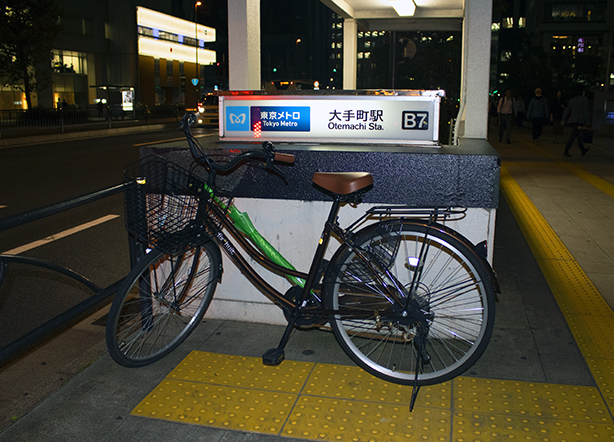 2 more views at station street-level exits.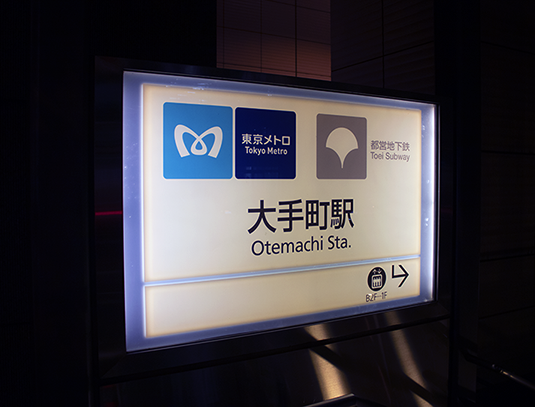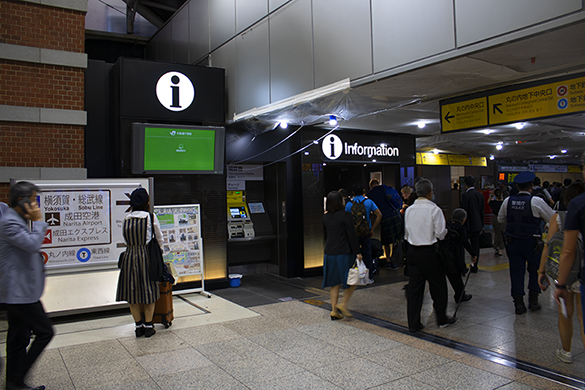 Info desk inside Tokyo Station.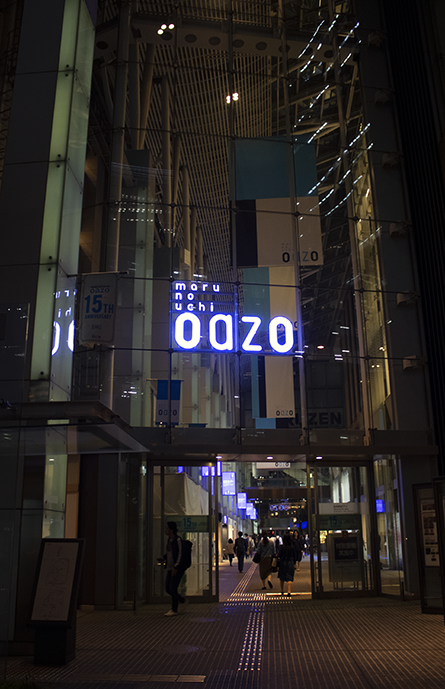 Another view of Oazo.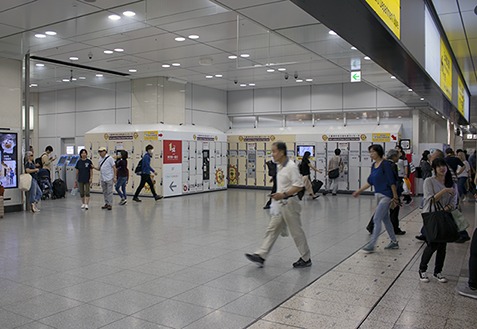 A huge coin locker bank inside Tokyo Station.
VIDS