©2019-2020 tenmintokyo.com
Last updated 6/21/2020
Page may take time to load – lots of photos/vids. Please be patient.
The native word for post office in Japanese is the tounge-twister Yubinkyokyu (Pronounced You-bean-kyo–kyu).
There are post offices all throughout major cities in Japan. Some are larger and in major complexes, but some are smaller and are tucked away on side streets, or near train stations, and in smaller strip malls in neighborhoods. Most are indicated by a green + red-striped or white + red-striped sign on the outside of the building.
Most of the staff are helpful, but in the smaller or less central ones, some staff may not speak English, or may be nervous about speaking English. For this reason some staff may try to avoid you or refer you to other staff. This doesn't mean they don't want to be helpful – it's more out of a worry that they won't be able to speak English well, and thus be seen as not being able to do their jobs well – which is a no-no in service-oriented Japan. However, this is rare, and most will go out of their way to help you – especially in the bigger metro ones.
There are both domestic and international forms to fill out to mail or ship packages (see below).
The international JP service is called EMS – Express Mail Service. EMS has an excellent site in English. Luckily the forms are in both Japanese + English. You will need to fill them out in detail though – or the staff won't mail your package. The most important items (other than name, address, phone, etc) are a list of each item, its weight, contents, and each item's value. You have to be exact with the description for each item. If the clerk has doubts about an item – which might be dangerous or hazardous, they may ask you to clarify it – for example, if you buy a plastic model at an electronics store + ship it overseas, they may ask if it contains paint or glue.
As you enter the post office, get in line. Be polite + aware of others around you. Some offices have a numbered paper ticket machine from which you must take a ticket to get service. There is ususally an LED display with a number on it above the ticket machine. Many JP's also have ATMs inside them – usually the affiliated JP Bank – and some have a bill pay machine, as shown in the photo below on the right side: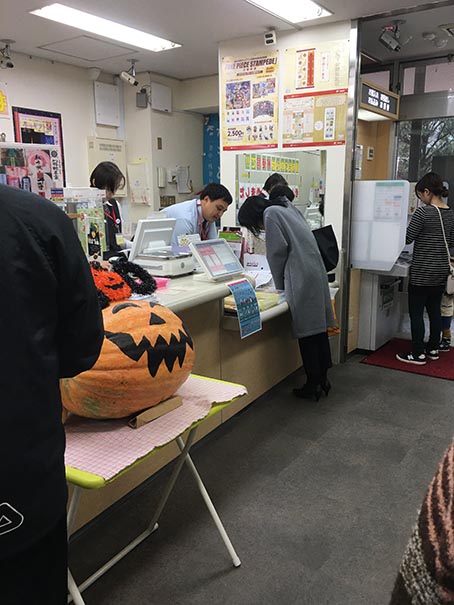 A small Japan Post Office tucked away on the ground floor of a high rise manshon (apartment bldg.) shown below – east of Kinshicho near Ojima Komatsugawa Koén: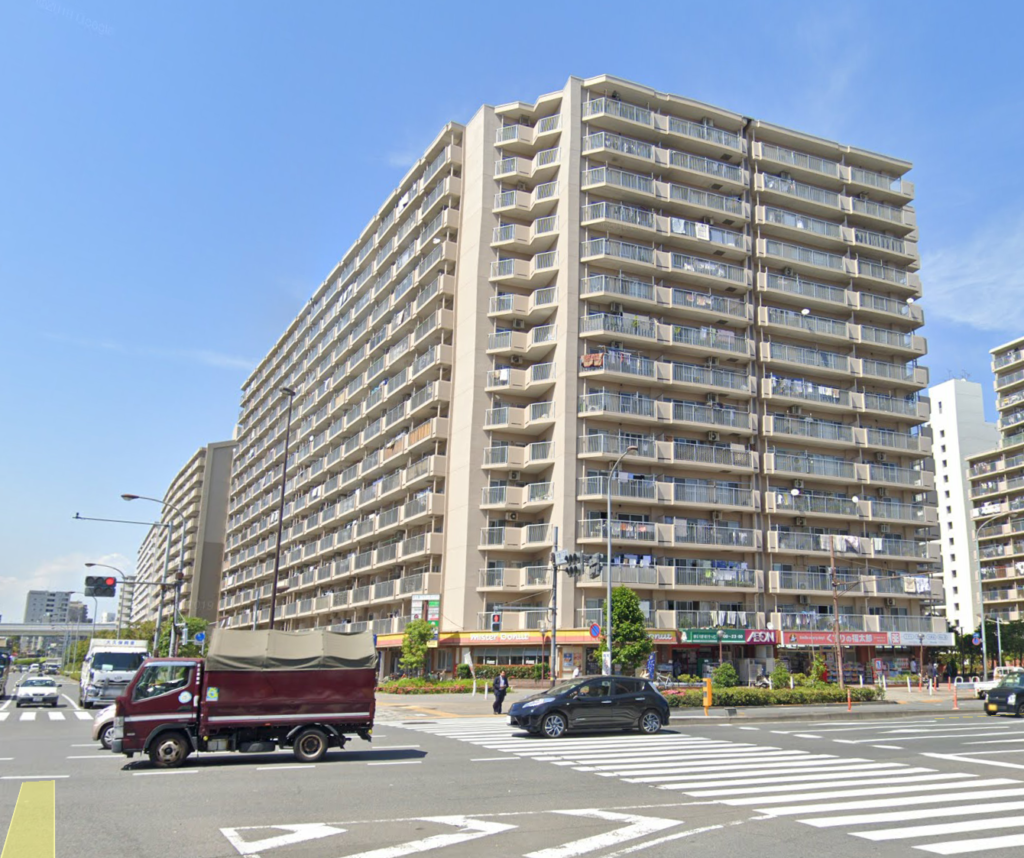 As a major bonus, there is both a Mr. Donut (Misa-Do in Japanese) and a small MOS Burger on either side of the PO. If you turn left here + head west, you will pass Sumiyoshi, and just to the north of that, Kinshicho.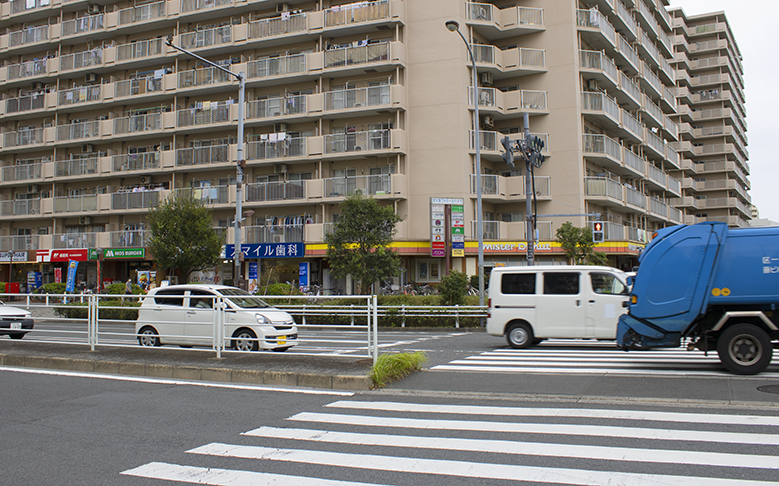 Japan Post (red + white sign), left, MOS Burger (green sign) to the right of that, and Mr. Donut (yellow/orange sign), right. In Japan you can mail your stuff and pig out on all kinds of junk food at the same time – to make up for that 15 miles you just walked – all in one place. (As an even further added bonus, we've added a Mr. Donut Sidecar section at the end for your enjoyment).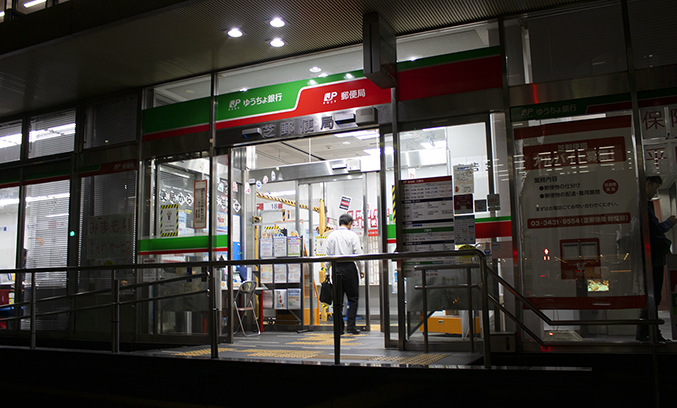 A larger, more mega-PO between Shimbashi and Toranomon areas in Tokyo. Some PO's in Japan are open late – up to 9:00 PM or so.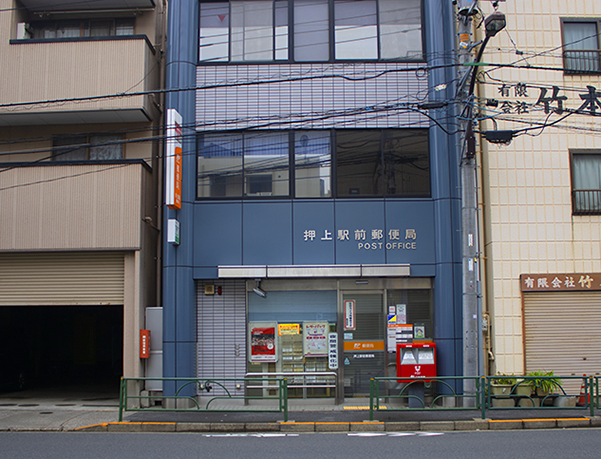 Another Post Office – this one just southwest of the spectacular Tokyo Sky Tree.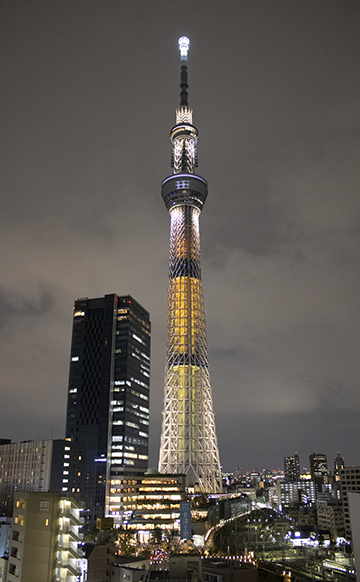 Tokyo's incredible Tokyo Sky Tree, in autumn.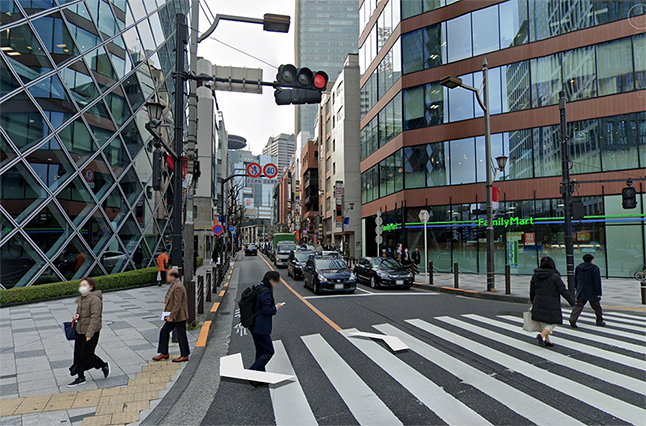 Just across from the major Family Mart in Akasaka, on the left is a large JP Post Office, Akasaka SACAS is 2 blocks straight ahead (facing west). The PO entrance is right next to the red + blue Do Not Enter sign on the left, shown here. As a footnote, directly across from the PO on the other side of the street is the excellent curry beef restaurant, Marble. As a further footnote, just 1 block more down on the right is the capsule hotel First Cabin Akasaka.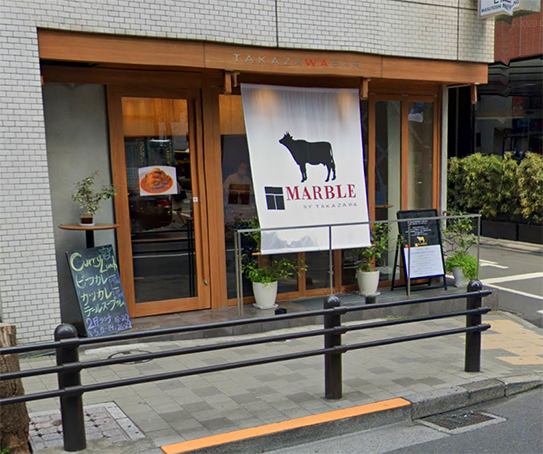 Be sure to check out curry beef shop Marble, right across the street from the Akasaka Post Office.
You may want to bring your own mailing box + tape and box everything up yourself on a side counter before you get in line. Most JP's also sell boxes and tape for a very reasonable price – under $5. One thing about Japanese mailing tape is it's made of very thin cloth coated with a thick layer of latex – so you can tear it with your hands without the need for scissors or tools. Very clever. You can also buy the same kind of tape in most conbiini (conveniences stores) in Japan. The tape is usually tan-colored (although some brands sometimes have a very pungent toxic odor to them once you open the package). If you need help sealing your box, most JP staff will be happy to help.
Mailboxes
JP mailboxes in Japan are usually large square metal boxes painted red with a 〒 symbol on the sides or front: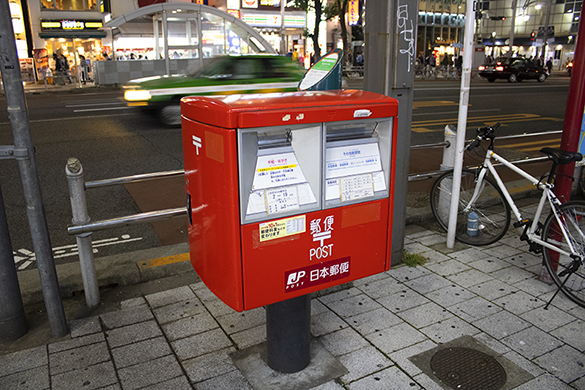 You'll see these all over – on sidewalks, near train stations, at temples, everywhere.
There are other smaller sized boxes around Japan – some are tall narrow ones like the one above, but slender and taller. Old Japanese mailboxes from the early 1900's were tall, slender, round-shaped, and about 5 ft. hight. You can see one in the Postal Museum Japan @ Sky Tree (see link below).
Forms
There are both domestic and international forms, as shown below. The international form is actually a little easier to understand and requires slightly less info. Be sure to fill each out meticulously.
Domestic Japan Post Shipping Label
Example international EMS label from EMS's website.
Postal Trucks
JP trucks are usually tiny little red vans or trucks (almost always made by Suzuki) with tiny micro-wheels with the same 〒 logo or JP logo as on mailboxes: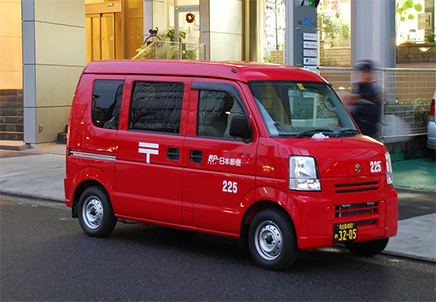 LEGO even has a model one.
As a footnote there is a very nice Postal Museum Japan @ Tokyo Sky Tree above the mezzanine floors. Entrance fee is $6. Well worth a look if you are @ Sky Tree. See our review here.
Well that's it for now. Post Offices in Japan are easy to use – just be aware of the language issue – and if you have trouble, try to use one of the bigger offices in a major central area – it's more likely the staff in these will speak fluent English and not be as nervous about helping foreigners.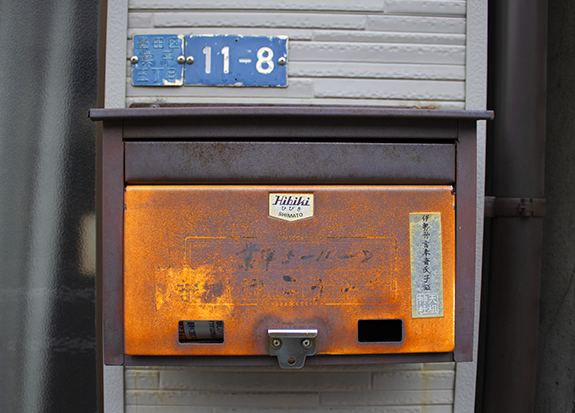 An old Hibiki ("Echo") brand household mailbox from a bygone era.
Notable PO locations in Tokyo
LINKS
Japan Post Offices + Japan Postal Information @ japanvisitor.com
The Story Behind Japan's 〒 Postal Logo
https://otayoripost.net/basyo/doniti/23/English/NishiIkebukuroPostOffice.html
https://en.japantravel.com/tokyo/akihabara-udx/25529
https://map.japanpost.jp/p/search/dtl/300101484000/
https://www.agoda.com/nine-hours-akasaka/hotel/tokyo-jp.html?cid=1844104
Check Out The Unique Japanese Mailboxes And Post Office Goods! @ Matcha
For inquiries by phone on International Mail, please call the following numbers. (You cannot call from overseas.)
Customer Service Center

(Toll Free) Mobile Phone : 0570-046-666 (Chargeable call) For English : 0570-046-111
Service Hours
Weekdays 8:00 – 21:00
Saturdays, Sundays, and holidays 9:00 – 21:00
VIDS
(The PO shown in this vid is in Kanda – just south of Akihabara).
Mr. Donut Sidecar
Mr. Donut (Misad0 for short in Japan) was founded in 1956 in the US but went bankrupt in the 1980's. There is only one left in the US today – in a small town in IL. Mr. Donut was actually the originator of the Caffe Latte Mocha decades before Starbuck's stole the idea. The donut chain began as a single donut shop called Tommy's Donuts (see photo) and later expanded into a franchise in the 1960's + 70's and was renamed Mr. Donut.
Sadly, Mr. Donut went bankrupt in the US in the 80's – mainly due to the rise of Dunkin, Winchell's, Krispy Kreme, and Starbucks. Oddly, they still have a US licnesing site.
BUT….
Amazingly, today Mr Donut is the biggest donut chain in Japan.
And boy, do the Japanese love their Misad0. Around Halloween + Christmas, the franchise goes nuts – even holding special Halloween parties featuring all kinds of crazy Halloween-themed donut designs + specials in Japan.
It's so OTT you could easily spend a couple $100 bucks in Misado in Japan and eat yourself sick (but of course that wouldn't happen because in Japan you probably walked 10-15 miles that day and are so hungry at the end of the day you could easily eat a dozen and not even blink).
Even more incredible, in the popular Tokyo town of Ikebukuro, there are three Mr. Donuts – one larger, older one a few blocks to the east of JR Ikebukuro Station, and two just outside the west exit of JR Ikebukuro Station. One of those two just opened in 2019.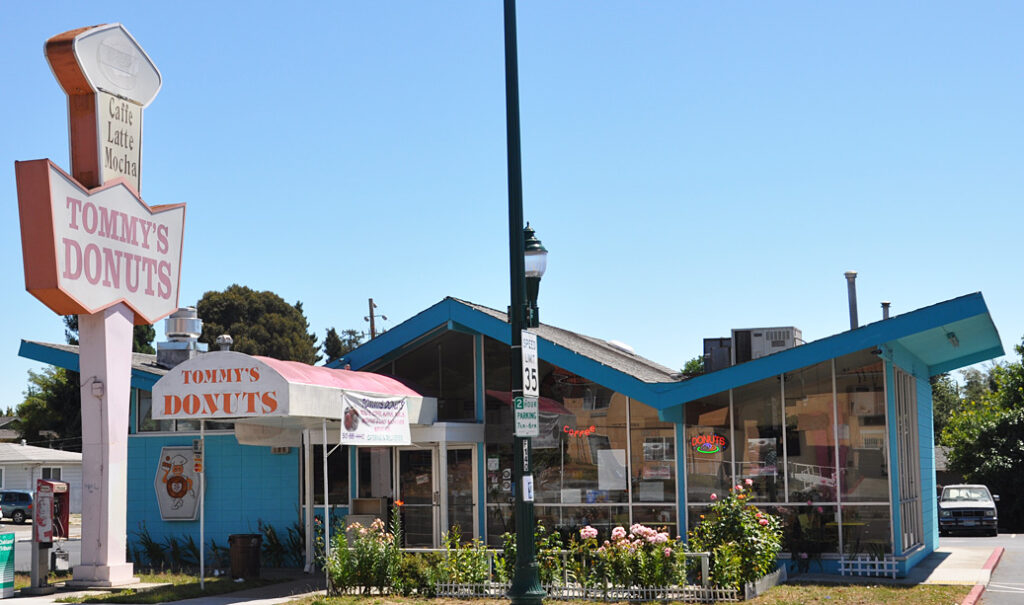 The original Tommy's Donuts bldg. from 1960's. The shape of the bldg. would become one of Mr Donut's trademarks in the US.
Early franchise.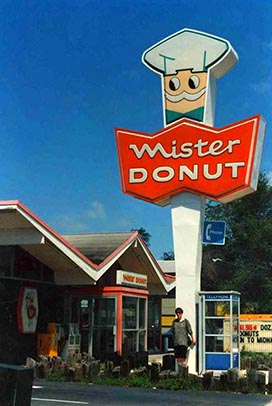 Mr Donut franchise in the US in 1980's. Note the pay phone booth.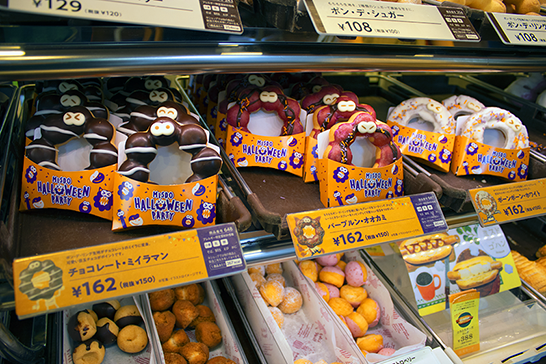 Crazy Misado Halloween Party lineup in a store in Japan in 2019. You have use restraint in these places – or you can stuff yourself silly.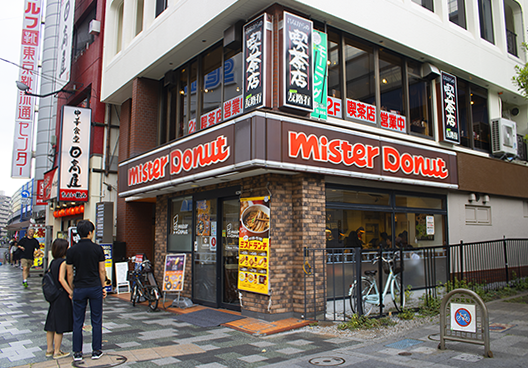 Decisions….. a Mr. Donut in Akabane in Northeast Tokyo.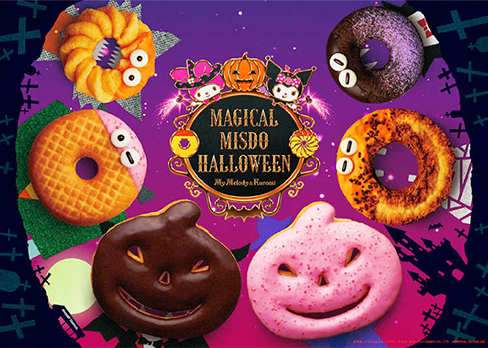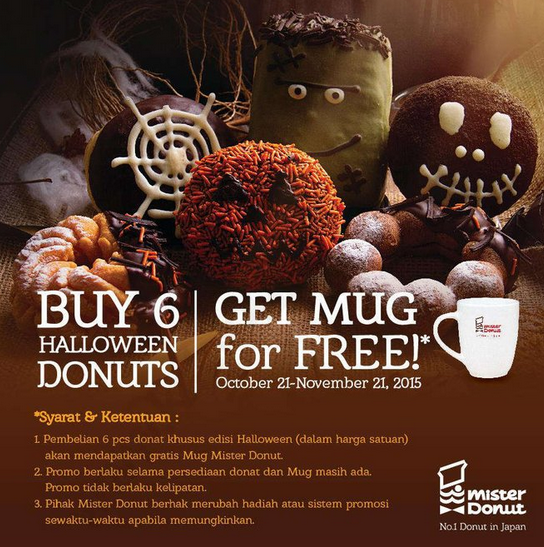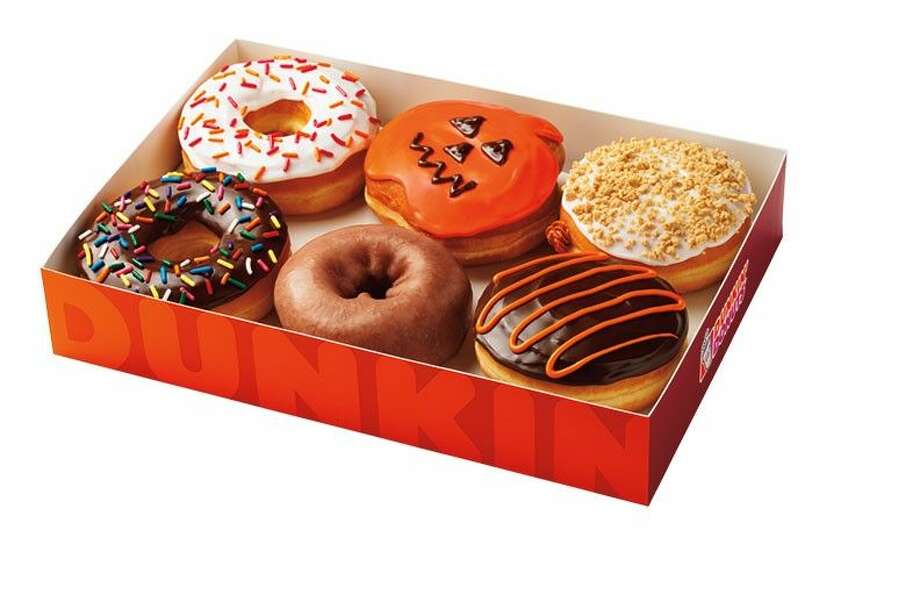 Dunkin and Krispy Kreme have picked up on the idea – all 3 chains now battle it out around Halloween every year for donut-eaters' ¥.
There are even new Matcha donuts from Mr Donut in Japan. There are also other campaigns such as Hello Kitty donuts, Mister Donut Pokemon Collection, and lots of other themes.
Mr. Donut also sometimes has special promos on ceramic coffee mug themes in their stores. You can even find them on eBay sometimes.
More Misado Historical Lore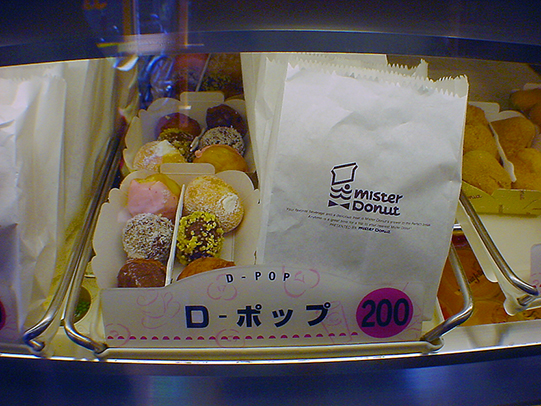 Misado set circa 2002 – note the price – around 200¥ – about $2 US.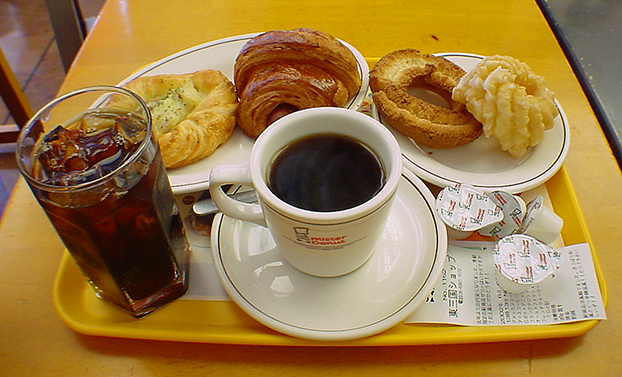 Misado set circa 2002 – They also served croissants, danish, and coffee.
LINKS
https://en.wikipedia.org/wiki/Mister_Donut
https://favy-jp.com/topics/430
https://livejapan.com/en/article-a0001533/
https://jw-webmagazine.com/mister-donut-pokemon-collection-2019/
Mister Donut Magical misdo Halloween
Sakura Flavour Cherry Blossom Doughnuts from Japan's Mister Donut
Pikachu Is Back At Mister Donut For Christmas
Check Out These Japan-Only Pokémon Donuts
Mister Donuts Releases Irresistible Collection with Pierre Hermé
Mister Donut Releases "Ronuts"–Doughnuts Served With A Slice Of Creamy Roll Cake On Top
Mister Donut says happy Halloween with Snoopy donuts
Doughnuts in Tokyo – Floresta, Krispy Kreme and Mister Donut
Mr. Donuts will release "Misdo Party Choo Collection"
MISTER DONUT: How The New Cake Collection Made Me Like Donuts
Never Turn Down A Cupcake: Japan Visit – Mister Donut
Mister Donut (Taipei City Hall Bus Station, Taipei, Taiwan)
5 Cutest Donuts Shops in Tokyo
https://kotaku.com/oh-my-gosh-japans-animal-donuts-are-too-cute-1075618608
Food Japan: Bear Doughnuts! Mr Donuts!
VIDS
Yes, she ate them all.