©2020 tenmintokyo.com
Name: ONE @ Tokyo
Kind: Hotel
Location: Tokyo Sky Tree @ 35°42'36.40″ N 139°48'45.84″ E
Address: 1 Chome-1-2 Oshiage, Sumida City, Tokyo 131-8634, Japan
Free Wifi: Yes
Our Rating: ⭑⭑⭑⭑⭒
Worth it? Absolutely.
Last updated 6/27/2020
Page may take a while to load due to photos.
Also see our full Tokyo Sky Tree Superguide and Postal Museum Japan pages.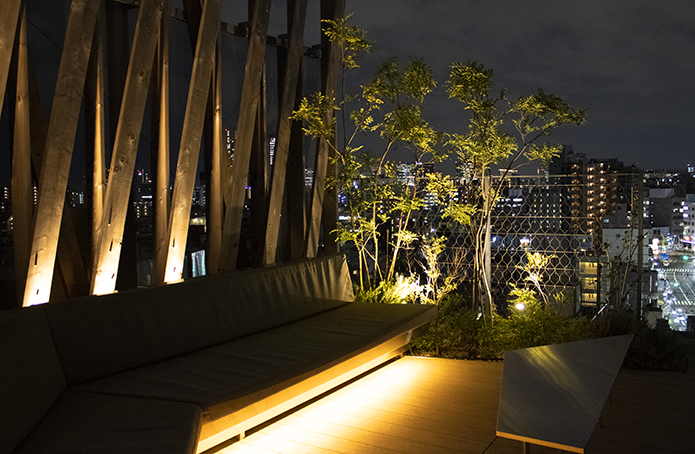 The ONE @ Tokyo is an excellent hotel just 2 blocks to the northeast of Tokyo Sky Tree. We highly recommend it. Rates are a little steep at around $120-$210/night depending on room size + ammenities. Weeknights are probably less expensive than weekends. You want to avoid weekends @ Sky Tree anyway because the place is a mob scene of 1000's of screaming kids everywhere. Lines for the observation deck tickets can be quite long on weekends – even into the 1000's of people. So you shoud plan your Sky Tree trip on a weekday. 2-3 nights will be more than enough – you should be able to see everything in + around Sky Tree in 2 full days.
The hotel offers a convenient location, great restaurant + bar, excellent multi-lingual staff who are helpful, and a nice rooftop lounge with a spectacular view of Sky Tree. Walking distance to Sky Tree is just a few minutes.
Sky Tree is located in the small outlying town of Oshiagé to the east of central Tokyo. The easiest way to get to it is to take the Hanzomon Metro Subway line. You can also walk to it easily from the Asakusa and the Sumida River areas.
To get to ONE @ Tokyo, take the Hanzomon Metro Subway line to Oshiagé/SKYTREE Station, come up to street level, then head northeast up Rt. 465 for 2 blocks. The hotel is on your right. There is a great AEON Supermarket and good noodle shop right across the street. There also several conbini (convenience stores) in the area. As you turn left onto Rt. 465 there is also a MOS Burger restaurant right in front of you. There is also a Mr. Donut (Misado to Japanese) shop further to the south from the Life Supermarket (see below), which is across the street from Sky Tree on the southeast side of the complex.
If you are coming from the Tokyo Station area, walk to Otemachi Station and get the Hanzomon Line there – but be warned – the underground tunnels from Tokyo Station to Otemachi Station are quite a hike through endless underground corridors, shopping centers, and stairways – you may want to walk it on sidewalks on the surface instead – which is only a few long blocks.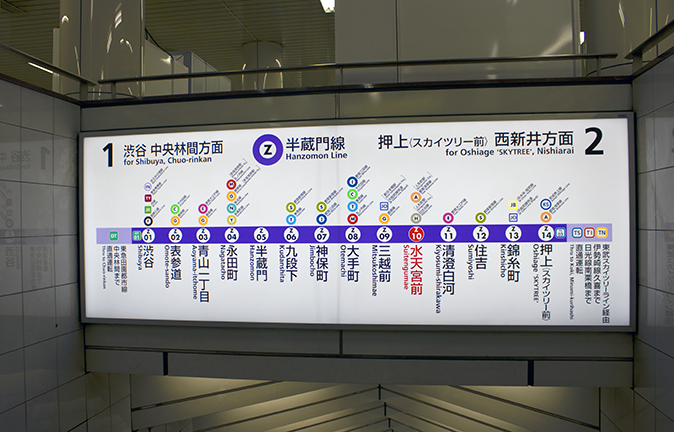 Hanzomon Line Map. Oshiagé/SKYTREE station is on the far right (east), Shibuya, the western terminus is on the far left (west). Notable stops include Kinshicho, Suitengumae, Otemachi, Omotosando, and the western terminus, Shibuya. Shibuya, Nagatcho, Otemachi stations are major interchange points for other lines (indicated by the colored circles above stations on the above map). Tokyo Station is just 1 stop from Otemachi. At 5 of the stations you can change to the Ginza Line for Akihabara, Ginza, and Ueno stops.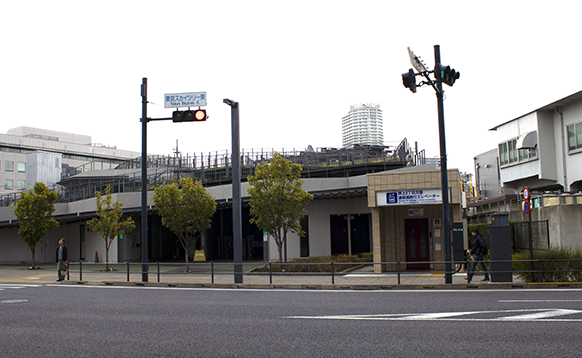 There are 4 street-level Metro exits from Oshiagé/SKYTREE Station. This one is right across the street from Sky Tree on the east side. The TOBU Sky Tree Station is way on the other side of the complex, to the northwest (to the left out of frame in this photo).
Also nearby on the Hanzomon Metro Subway Line is Sumiyoshi + Kinshicho.
The hotel also has a small free bike locker outside just to the east of the entry doors. Biking it from the Akasuka, Akihabara, Kinshicho, or Tokyo Station areas is only a few miles and not too bad.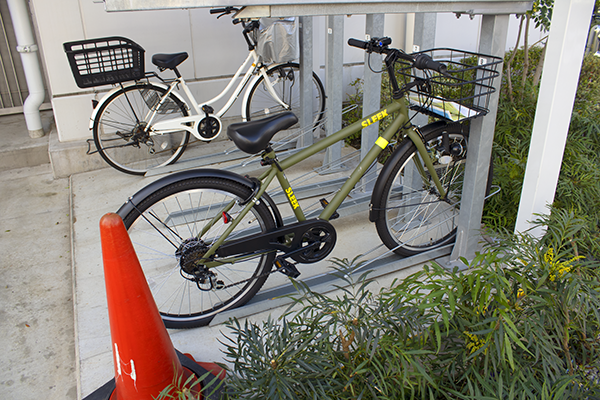 ONE @ Tokyo's free limited bike locker for guests.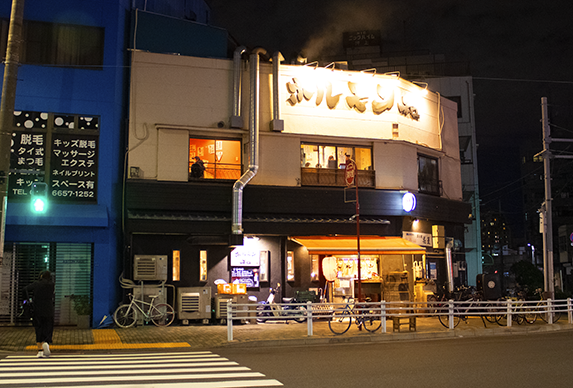 Across from the hotel is this fabulous 2-floor noodle place which belches awesome-smelling exhaust into the Oshiagé night sky.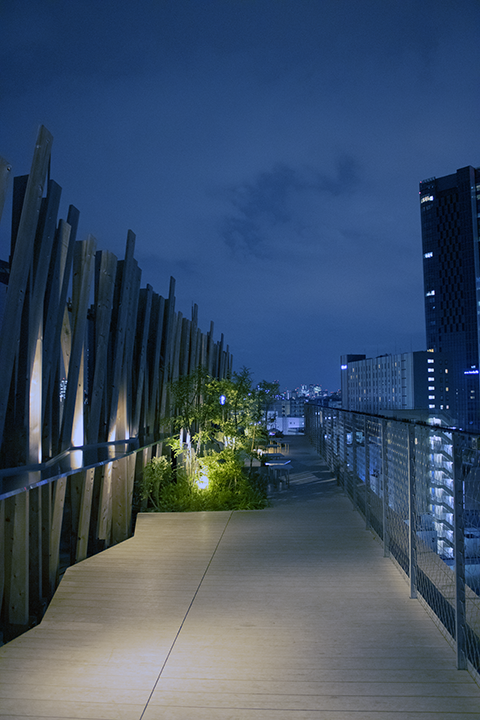 Hotel roof lounge facing south. Sky Tree is just out of frame to the right.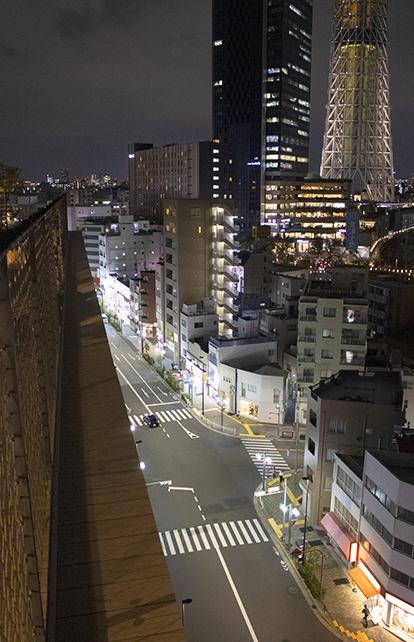 View from hotel roof facing south. Sky Tree/Solamachi is to the upper-right. The bright white bldg. at the end of the street is the Star Dust Pachinko Palace. If you turn left there, you'll find a local coin laundry where you can wash your clothes: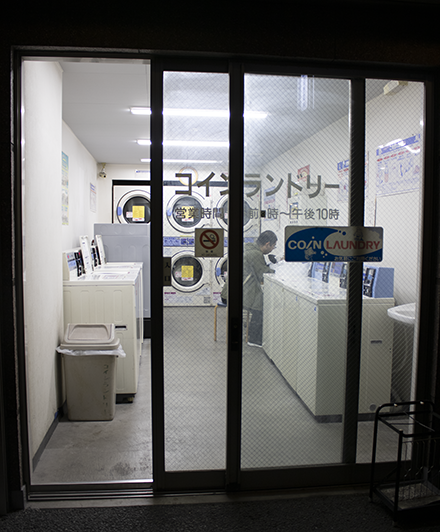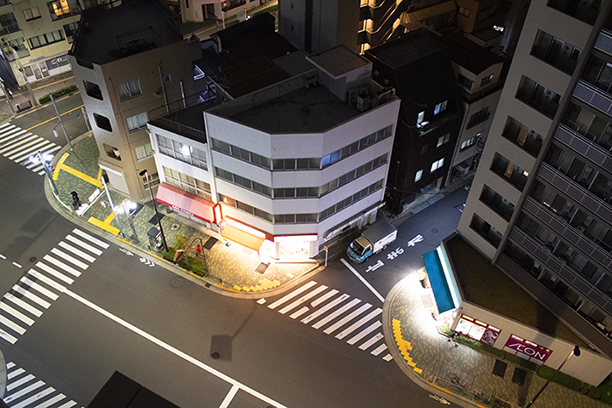 Looking down into Oshiagé from the hotel's roof. AEON Supermarket is on the right.
Inside
Inside, the lobby is very clean + open with a full glass front and a small bar + restaurant just next to the reception desk. Be aware Japan just passed a law in 2020 banning all smoking inside commercial buildings. If you smoke, you'll have to go outside.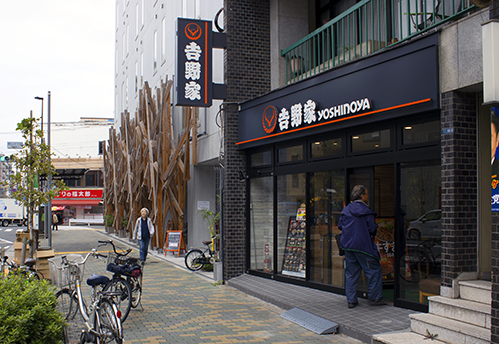 Just outside the hotel, right – facing north. There's a Yoshinoya noodle just next door.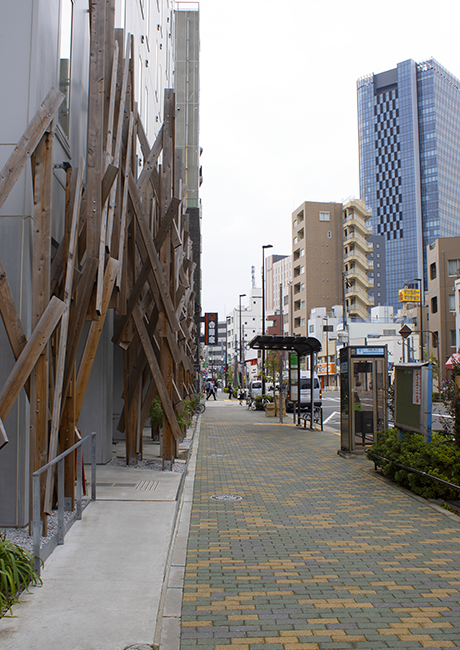 Just outside the hotel, left – facing south. Solamachi is the big bldg. on the right.
The restaurant is excellent – huge Lobby Burgers for $10-$12 (if you're a meat-eater), lots of great seafood plates, salads, and desserts. Well worth a meal. The bar is excellent as well.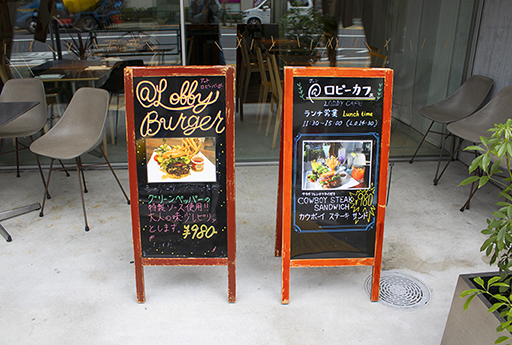 Just outside the lobby. Grab a Lobby Burger and chow down.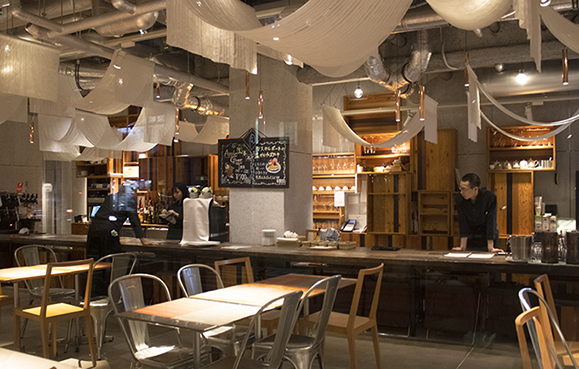 Lobby restaurant.
Rooms
Head up to your floor at an elevator on the far left side of the lobby. There are large vending machines right at the elevator on each floor.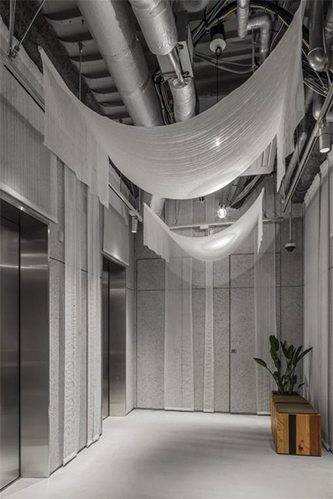 Elevators.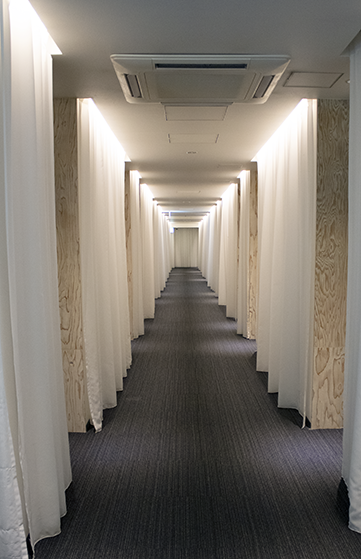 Go to your door + slap the electronic key the desk staff gave you on the door lock – and you're in.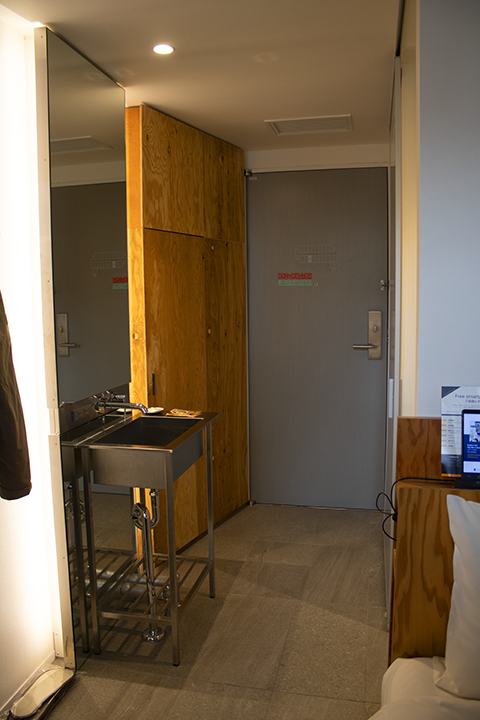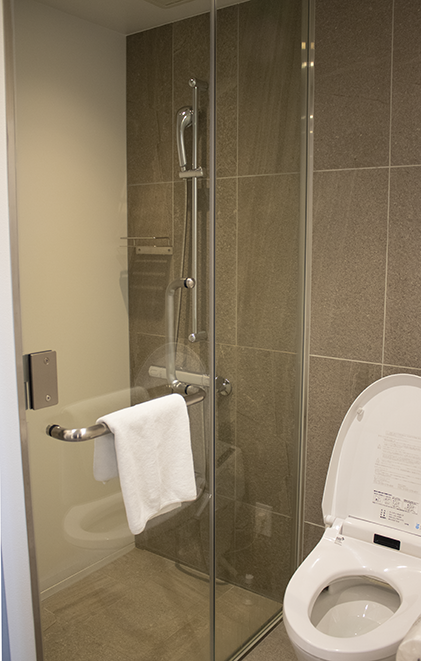 Be prepared for the robo-toilet.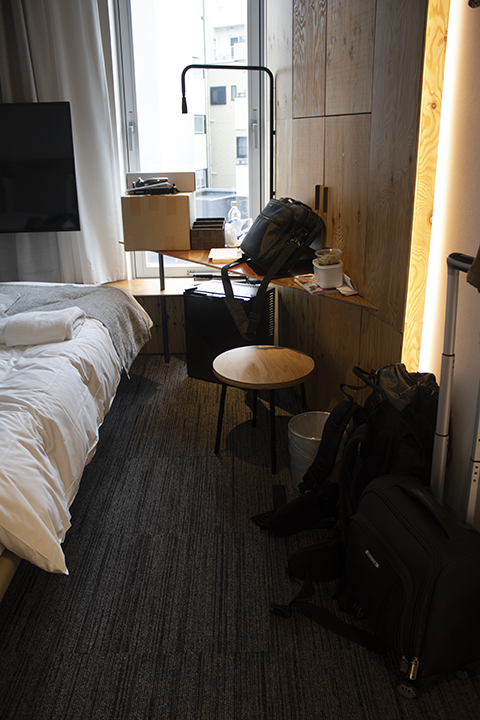 Inside, the rooms are clean + ultra-modern with tall windows. There is a small desk, lamp, and cupboard with a coffee maker. There's also a small cube fridge.
Inside, the rooms are elegant with a wood-concrete ultramodern feel. Tall windows open partly for air. The spotless bathrooms feature a deluxe clear shower, and an initially startling robot-toilet which dutifully flips its lid if you approach, and closes it when you walk away.
The deluxe beds are incredibly comfortable with thick covers which will ward off even the harshest Japanese winters. There are also device charging ports + AC plugs, as well as a small closet and huge HDTV.
Overall can we recommend ONE @ Tokyo? Absolutely. It's a great hotel and you won't be disappointed. Its close proximity to Sky Tree makes it a snap to jump down to the street and walk. Staff is sharp + helpful. The restaurant is out of sight. The roof garden provides a quiet escape from the city below and you can sit and marvel at the majestic colossus just a 1/4 mile away. All-in-all, ONE @ Tokyo is the best value in the Sky Tree area. If you're looking for something far cheaper but still accessible, pop over to First Cabin Suitenguemae on the Hanzomon Line for around $42/night. The train ride to Sky Tree is under 20 minutes and the Metro station is close to the cabin.
But ONE @ Tokyo is not to be missed.
We highly recommend booking through agoda.com – easily the best hotel reservation site online.
Additional Photos/Info
As a footnote, at the Tokyo Solamachi Bldg. there's more to do: 2 long food court hallways, a massive food/gift floor, Sumida Aquarium, an info desk, a rooftop terrace outside Sky Tree itself, coffee shops, and various other attractions – and tickets to the Sky Tree's 2 spectacular observatories (floors 350 + 450). Cost for the observatories is around $34 per adult as of 2019. Be sure to check out the glass floor in the 1st observation deck – for a dizzying view of the ground 340 floors below: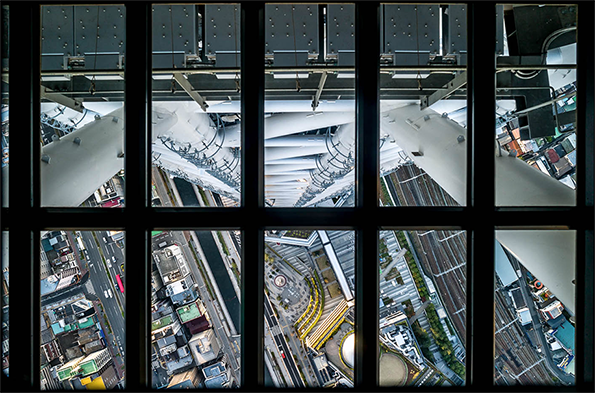 There are also lots of restaurants on floors 340-350 including the Sky Tree Cafe. You can have a nice meal 1/4 mile up in the sky + take in the breathtaking view as you eat. There are more restaurants on floors 30-31.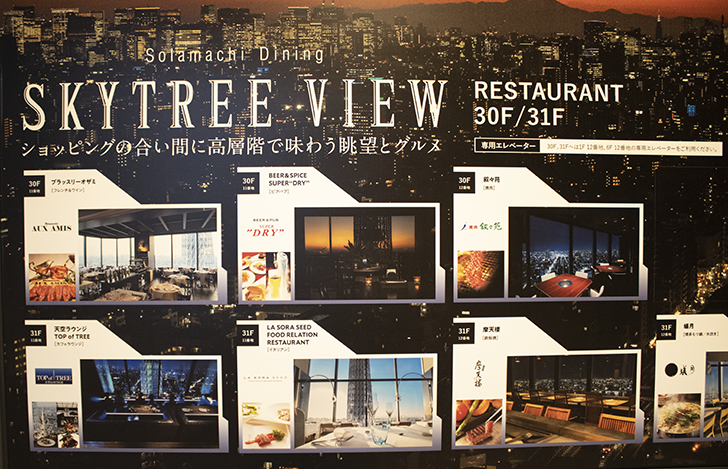 http://www.tokyo-skytree.jp/en/shop/restaurant/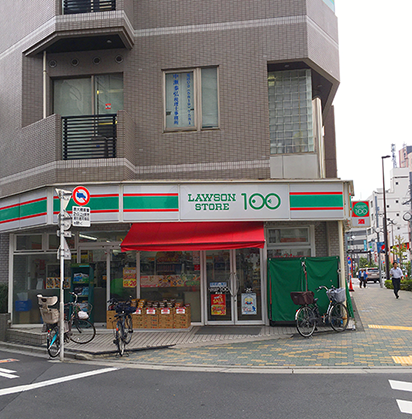 Lawson 100¥ conbini just south of the hotel. There is also a small coin-op laundry a few more streets down on the left.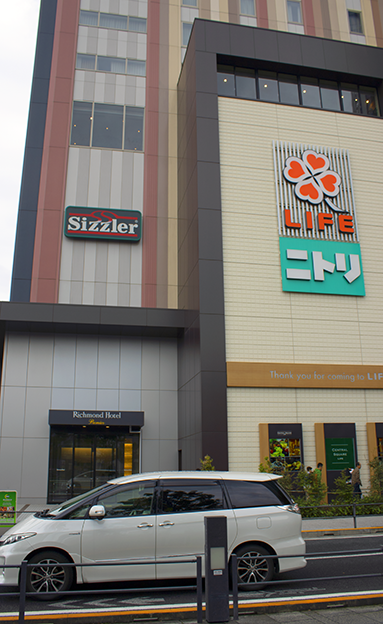 Life Supermarket and Sizzler restaurant to the southeast of the Sky Tree complex. This is actually a really awesome organic supermarket in a big multi-use complex with lots of shops + eateries. There is also a Xerbio Sports store where you can buy camp stove fuel for cooking. Directly across from this complex is a huge UNIQLO and a free city bus stop which has small buses which you can take around the city for free.
More Area Footnotes/Photos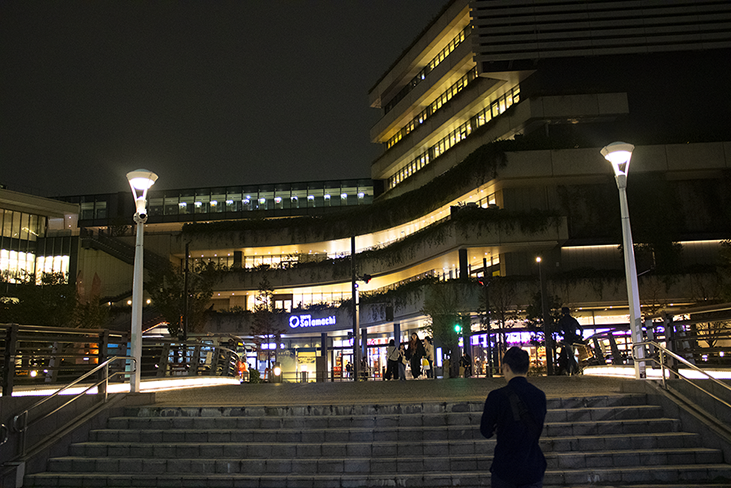 Solamachi area at night. A great Hawiian burger place is on the right. The main ticket lobby is straight ahead.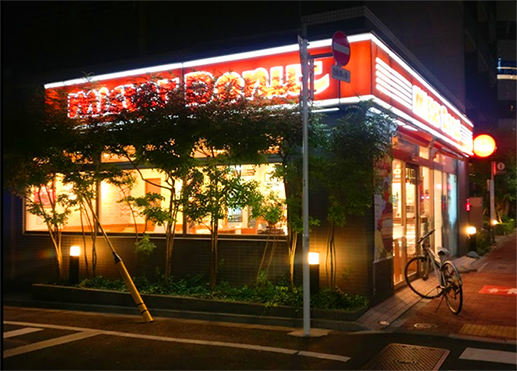 The Mr. Donut is just to the south of the the east side of the Sky Tree complex – about 2 streets to the south along Rt. 453 on the left (south) side.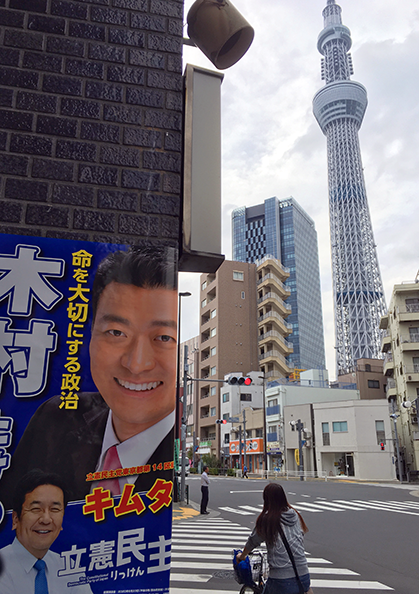 Even Japan has grinning politicians – this view is near the hotel.
Also not to be missed inside the Solamachi complex in Sky Tree is Nana's Green Tea. This restaurant has to be seen to be believed. The first one in America also just opened in Seattle, WA. At Nana's Green Tea you can feast on a matcha green tea sundae like this one for around $7: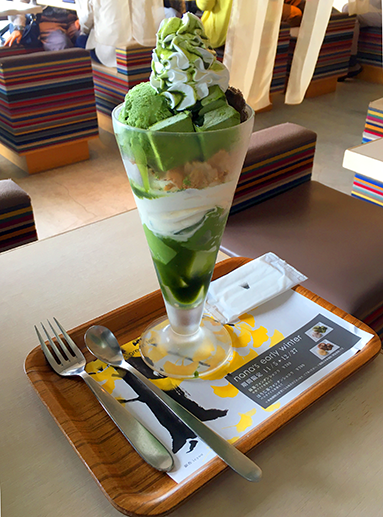 Forget Paris or Italy – Tokyo is the food capital of the world. But then again, you're probably going to walk this off because you're going to be walking 15 miles/day when you're there. There is also a NGT in Tokyo Dome City.
Just a few blocks to the southwest of Sky Tree is the odd Tobacco and Salt Museum. Japan loves its weird museums – and this one is worth a stop: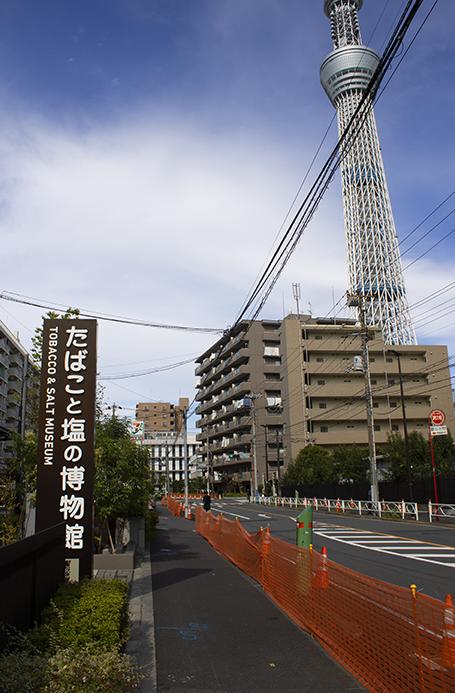 Well, that's it. Enjoy your trip to Sky Tree – it is not to be missed.
LINKS
Floor Guide @ Tokyo Sky Tree
VIDS
©2020 tenmintokyo.com