Name: Odaiba
Kind: Island/Town
Free Wifi: Yes
Location: 35°37'14.70″ N 139°46'49.47″ E
Stations: Daiba Station, Tokyo Teleport Station, Aomi Station, Yurikamome Line, Rinkai Line, Saikyo Line
Our Rating: ⭑⭑⭑⭑⭑
Worth it? Don't miss it.
Updated 4/15/2021
©2019-2021 tenmintokyo.com
Odaiba is a small man-made island on the west side of Tokyo Bay. The first of many man-made islands, there's lots to do here. The biggest attraction is Aqua City Odaiba/Fuji TV complex. After that, be sure to check out DiverCity where the life-size Mobile Suit Gundam statue is. There is also a huge convention center called the Tokyo International Exhibition Center, better known as Tokyo Big Sight where the Tokyo Motor Show + Tokyo Game Show are held every year.
There's also a large tech museum called the National Museum of Emerging Science and Innovation.
There are a number of large parks on the island and the Museum of Maritime Science, as well a many hotels + office parks.
There's also a near-perfect 1/4 scale Statue of Liberty at the south end of Aqua City Odaiba.
The northeast side of the island is mostly residential high-rise buildings, including the most luxurious one called The Towers Daiba.
If you're willing to walk to the east across the short Teleport Bridge, on the 2nd island to the east there are also the Tokyo Sewearge Museum (yes, they have museums about sewers in Japan) and a large hotel with a European-styled wedding venue called Anniversaraie. Anniversaraie also has a small replica European town on the premises. Just beyond that to the east is Tokyo Big Sight (see below). At the southeast end is a large park with a jogging path called Mizunohiroba Park.
Access
To get to Odaiba take the automated Yurikamome Line from Shimbashi or Shiodomé. Yurikamome runs in a loop around all the large artificial islands in Tokyo Bay – of which Odaiba is the first. You can also get to Odaiba on the Rinkai Line directly from the Saikyo Line from Ikebukuro, Shinjuku, Shibuya, Ebisu or any of the other stops on the Saikyo Line. If you're feeling adventurous you can walk to Odaiba across the Rainbow Bridge from the west side of Tokyo Bay in around 1.5 miles.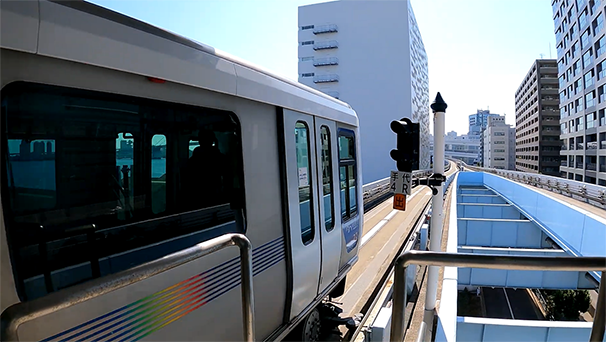 Heading to Odaiba on the fully automated Yurikamome Line.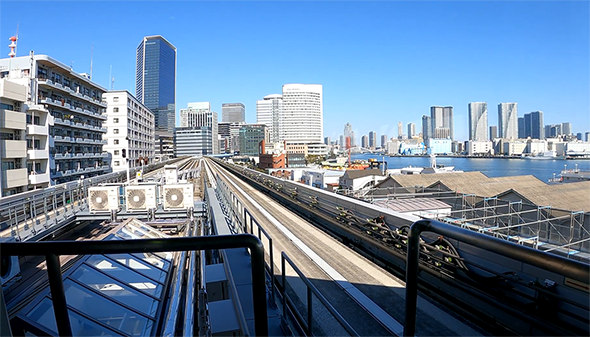 Yurikamome Line coming from Shiodomé to the north. Tokyo Bay is to the right.
Area Layout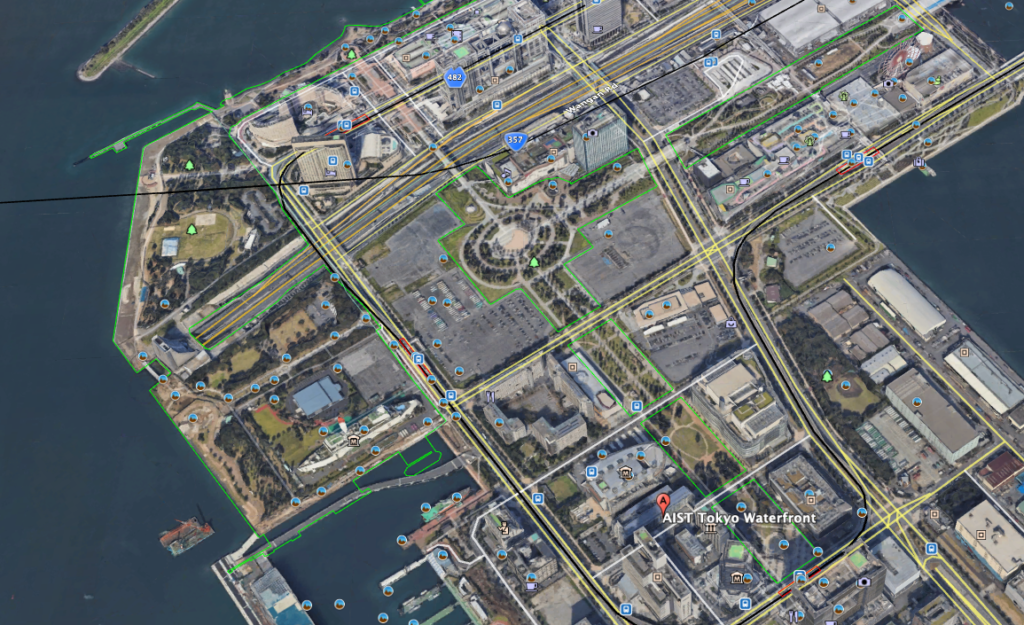 Odaiba seen from the air. Up is north. The large hotels are in the upper left (northwest) corner, the West Promenade is in the center, and Aqua City Odaiba/Fuji TV/DiverCity are above that. The Yurikamome station is also just next to the hotels. Venus Fort/Megaweb Toyota City Showcase are off the right of the West Promenade. Odaiba Marine Park is at the very north end of the frame.
Aqua City Odaiba + Odaiba Marine Park + Fuji TV
At the very north end of the island is a very nice seaside park + wood boardwalk called Odaiba Marine Park. You'll definitely want to check it out. It has great views of Rainbow Bridge + Tokyo.
Just south of the park is one of the island's main attractions: Aqua City Odaiba. A multiuse complex with shopping + food, it's a must-see.
1 block south of that is Fuji TV. One of the biggest broadcasters in Japan, Fuji TV is a must see. You can even take tours + watch shows being recorded in glass-sided studios.
All 3 areas are within easy walking distance of each other.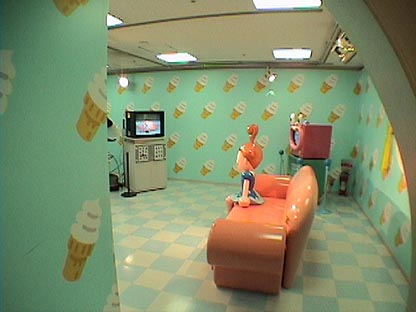 Inside Fuji TV studios.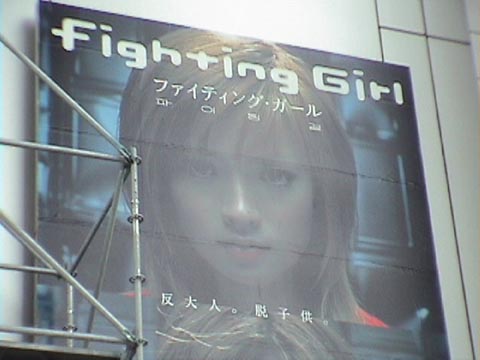 At the Fuji TV building, you can view recording of some TV shows.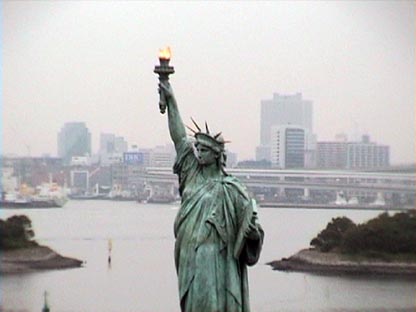 The 1/4-scale Liberty Enlightening the World statue at the west end of Aqua City Odaiba. The bridge in the background is Rainbow Bridge which leads to Tokyo. You can also walk across it.
DiverCity is a large multi-use complex run by Mitsui Corporation just south of Aqua City. This is where the world-famous full-scale Mobile Suit Gundam statue is. Pretty impressive. You can wander around DiverCity all day. There's lots of food + entertainment and it's popular with kids. There's also a bowling alley + a skateboard park.
West Promenade + Flame of Liberty Statue
South of DiverCity is the long West Promenade which runs east. It's well worth a stroll. There's a huge garden in the center and along the way there's also a huge BMW dealership + showplace. If you head to the east end of West Promenade, you'll find AIST Tokyo Waterfront (see below). At the very west end of the promenade is a sculpture entitled Flame of Liberty.
Tokyo Big Sight
On the 2nd island to the east is a huge convention center called Tokyo Big Sight. Various expo's are held here every year. The entire convention center floor is elevated on 4 large posts. If you want to see the Tokyo Motor Show or Tokyo Game Show every year, this is the place. Lots of other conventions are held here as well. Yurikamome has a stop here so there's no need to walk to it.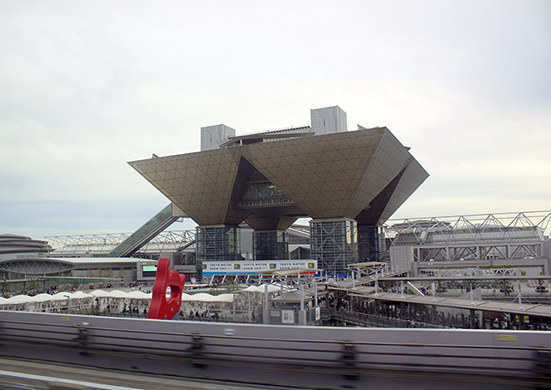 Tokyo Big Sight
Venus Fort + Ferris Wheel + Megaweb Toyota City Showcase
Northeast of the West Promenade is a huge shopping/entertainment complex called Venus Fort. It's worth a stop. You can get spectacular views of the island and of Tokyo + Rainbow Bridge from the top of the large Ferris wheel there. Toyota also has a large car exhibition here called Megaweb Toyota City Showcase.
MORI Building DIGITAL ART MUSEUM
Just east of Venus Fort is a huge open-air modern techno art exhibition called MORI Building DIGITAL ART MUSEUM designed by teamLab:Borderless. It's an interesting place, if not a bit unusual. You basically wander around the inside with each room being a different whole-room immersive experience. Worth a stop.
If you walk 1 block east from the digital art museum and cross Akemi Bridge, you'll come to another huge shopping/mixed-use complex directly across from Tokyo Big Sight Station. Tokyo Big Sight is just to the southeast. If you make this your last stop you can easily hop on Yurikamome here for a direct return to Shimbashi or Shiodomé back in the city.
National Museum of Emerging Science and Innovation (Miraikan)
Also known as Miraikan, it's not to be missed. (Mirai means "future" in Japanese) – and as a footnote was also the subtitle of an astonishing 1999 album by Japanese pop star Imai Miki.
Shiokaze Park + Museum of Maritime Science
There are loads of parks on Odaiba and all of them are good. Just to the northwest behind the hotels is Shiokaze Park (Tidal Wind Park), which offers great views of the city. Check out this and other parks over on tokyo-park.or.jp
1 block south of the park is the massive Museum of Maritime Science – a huge museum of all sorts of stuff related to ships + the sea. Definitely worth a stop and well within easy walking distance to the station. You can easily spend 1/2 a day here.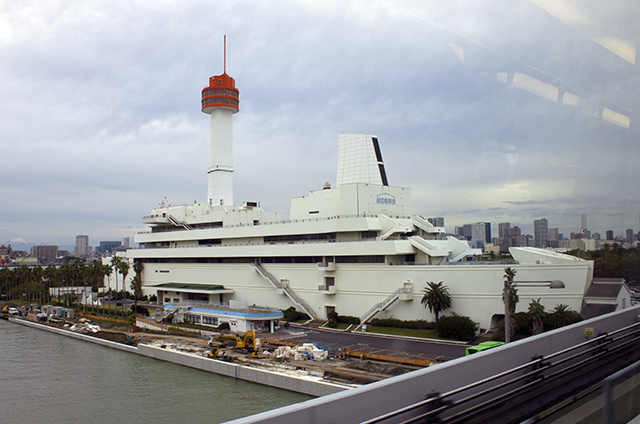 Museum of Maritime Science
South of the West Promenade is a large tech museum in an institute called the AIST Tokyo Waterfront. There's a huge globe of the earth with realtime weather patterns on it, as well as various other exhibits to see. Well worth a stop.
Aomi Minami Terminal Park + Smile Garden + Akatsuki Terminal Park
A few blocks south of the maritime museum is another long park on the shore called Aomi Minami Terminal Park – adjacent to a huge shipping yard run by Tokyo Port Terminal Corporation (which actually runs a lot of parks in the area including the impressive Tatsumi Seaside Park on another island way to the east). Directly east of Aomi Minami Terminal Park on Odaiba is another TPTC park: Aomi Green Park.
Out in front of AIST is a huge green open space called Smile Garden. In the spring the park is planted with tulips and is spectacular.
As a footnote, on the extreme southeast corner of Odaiba is yet another park run by TPTC: Akatsuki Terminal Park, but there's not much else to do on the south end of the island as it's mostly industrial + involved in shipping.
Daiba Park
If you're willing to walk a bit, at the very north end of Odaiba out on a tiny sqaure island around 35°38'03.91″ N 139°46'21.31″ E is Daiba Park. The park was mainly used during World War 2 for gun batteries and you can still see the their concrete housings on the island today. There's not much else to do here, but it's an interesting historical footnote anyway.
Just south of AIST Tokyo Waterfront is Ooedo Onsen Monogatari – a full-scale onsen (hot spring) resort where you can stay + relax. The grounds are quite extensive with gardens + other stuff to do. Just be aware that if you are a foreigner, most onsen in Japan absolutely do not allow anyone with tattoos – mainly because of the Yakuza.
Just east of the onsen around 35°37'01.29″ N 139°46'49.68″ E is a huge complex called Tokyo Telecom Center which has all kinds of displays + an observatory. You can get a great view of the island + Tokyo from here. Yurikamome has a stop here at Telecom Center Station.
TTC has its own site for more info.
Hotels
The 2 largest + best hotels on Odaiba – both at the northwest corner – are Grand Pacific Le Daiba and Grand Nikko Tokyo Daiba (お台場のホテル) around 35°37'32.47″ N 139°46'16.68″ E. Both are excellent, albeit slightly expensive. The first Yurikamome station at Odaiba is right next to the hotels.
If you're willing to spend a whopping $300 USD, you can take a 10-minute tour over Tokyo in a helicopter which includes a flyover of Odaiba + Rainbow Bridge.
Conclusion
There's lots to do at Odaiba so plan on at least one full day. You may want to stay past dark to do things such as a night view of Tokyo from the Ferris wheel. The place has the feel of an amusement park to it and it's lots of fun. Definitely on anyone's bucket list when in Tokyo.
Enjoy!
Additional Photos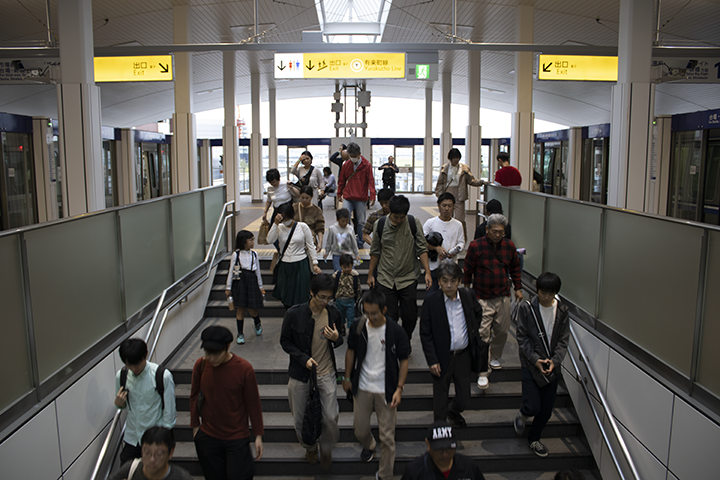 One of the Yurikamome stations.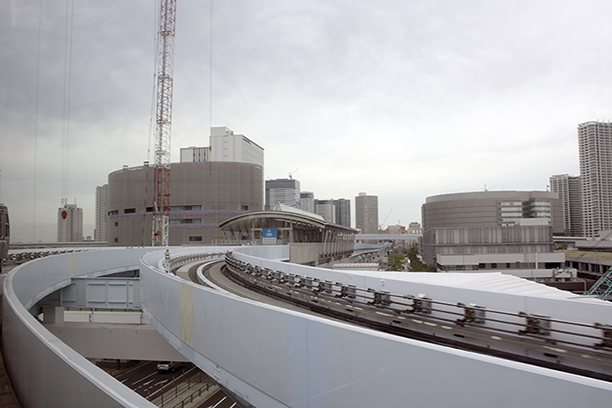 A new Yurikamome station.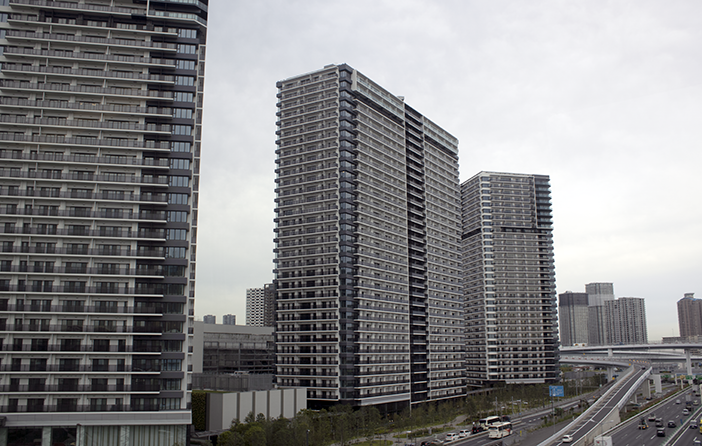 Huge new high-rise apartments being completed on Odaiba.
LINKS
Odaiba | The Official Tokyo Travel Guide
Tokyo Teleport | Darrell in Japan
Tokyo Teleport Station Area Map
https://www.megaweb.gr.jp/lang/en/area/csc/
TOKYO BIG SIGHT – Tokyo International Exhibition Center
https://tokyocheapo.com/place/shiokaze-park/
VIDS
There are also quite a few live webcams around Odaiba:
Mirai: Love Songs From Imai Miki