Name: Roppongi
Kind: Town
Free Wifi: Yes
Location: 35°39'42.86″ N 139°43'46.28″ E
Station: Roppongi Station (H04), Hibiya Line
Our Rating: ⭑⭑⭑⭑⭑
Worth it? Don't miss it.
Updated 4/24/2021
©2019-2021 tenmintokyo.com
Roppongi is a lively nightlife area in Tokyo popular with expats. The main road through the town is called Roppongi Dori and runs east-west. Another road at the major intersection shown below running north-south is called Gaien Higashi Dori. Both streets are strollable and provide endless things to do + see.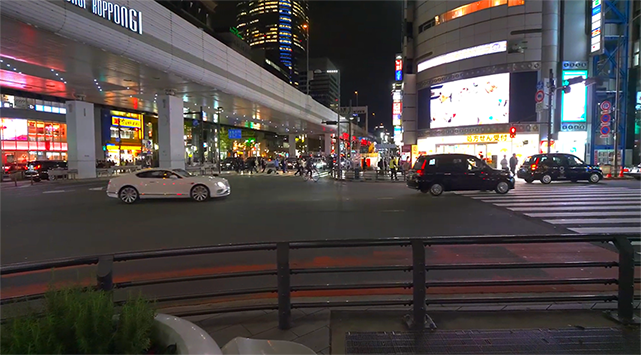 The central intersection in Roppongi on Roppongi Dori facing west. There are streets to the north + south (Gaien Higashi Dori), as well as the Roppongi Hills tower complex in the distance. East behind the camera down a long hill is the central gov't area of Akasaka.
Access
The easiest way to get to Roppongi is to get the Tokyo Metro Hibiya Line and get off at Roppongi Station (H04).
It is also just 1.5 miles on foot from Toranomon to the east or about the same distance from Nagatcho/Akasuka to the north.
The Hibiya Line can also shoot you quickly out to Ginza, Akihabara, and Ueno all in just a few minutes.
Area Layout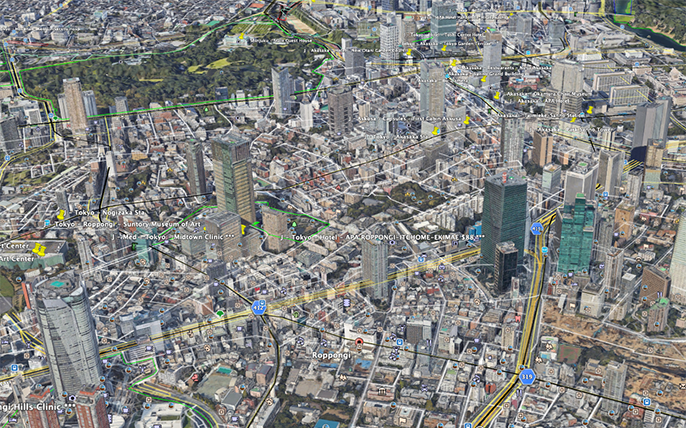 Roppongi area facing northeast. Roppongi Hills is in the lower left corner to the west, Akasaka is in the upper right corner. Roppongi Dori runs left to right (east-west), and the Imperial Guest House and gardens is in the upper left corner. In the far upper right corner is the western edge of the Imperial Palace. If you head further right out of frame, you'll be in Hibiya and Marunouchi to the east.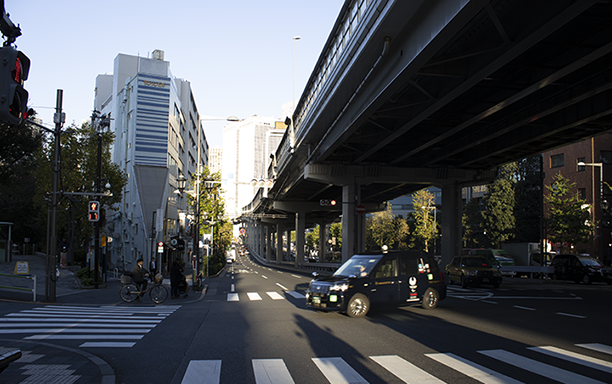 Looking back east on Roppongi Dori. A bike ride down this long hill can be thrilling, after which you will arrive in Akasaka to the east.
Just 2 blocks northwest of Roppongi is the National Art Center, Tokyo, which is huge.
Roppongi Dori + Side Streets
One of Roppongi's biggest charms are its endless back streets + side streets. It seems around every corner there is something new to discover. There are also quite a lot of good restaurants hidden away. You'll need to do some web research before you go.
There are also lots of small art galleries, specialty shops, dessert, and sushi places on the backstreets. Your options are nearly endless. The best way to discover is to walk around.
Roppongi Hills
On the west side of Roppongi is the area's biggest attraction: Roppongi Hills. Built several years back, the complex is the showplace of Roppongi. There's a huge apartment/office complex, with a large shopping mall in the center + basement, as well as various other attached areas such as Roppongi Hat (see below), street-level dining, and 2 large condo complexes. You can walk to Roppongi Hills from any of the town's streets. It's well worth the time, so don't miss it.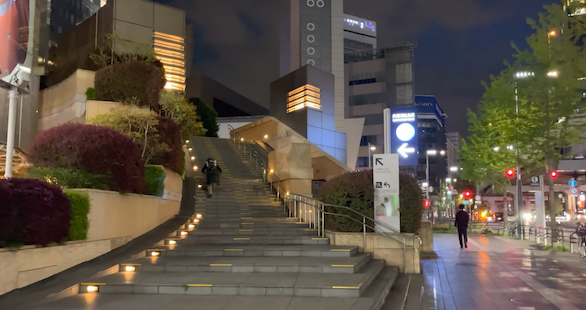 Entrance to Roppongi Hills.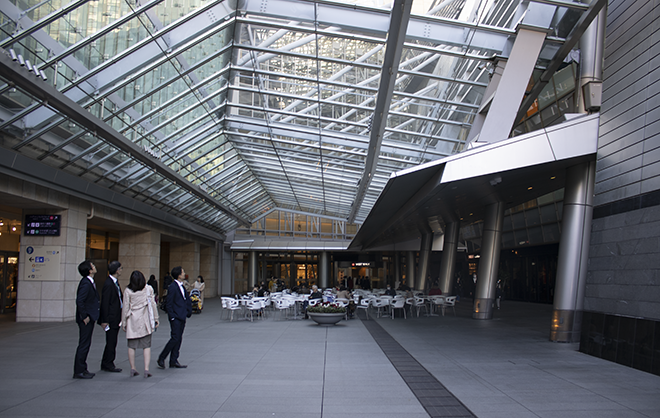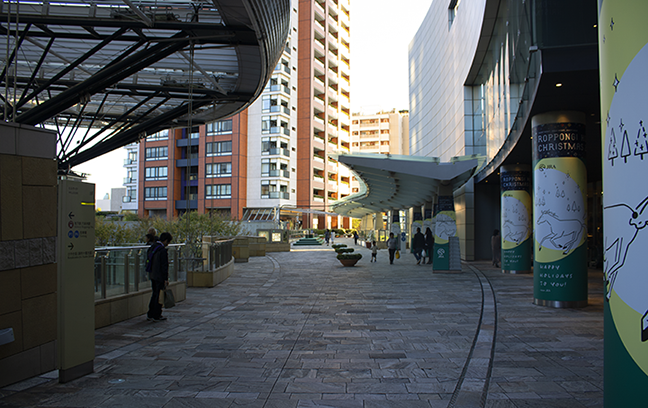 Roppongi Hills high-rise condos ahead.
Observatory + Mori Art Museum
On the 3rd floor of Roppongi Hills is an entrance to the rooftop observatory (Tokyo City View) on the top floor as well as the Mori Art Museum (the complex was built by one of Japan's biggest construction companies: Mori Construction).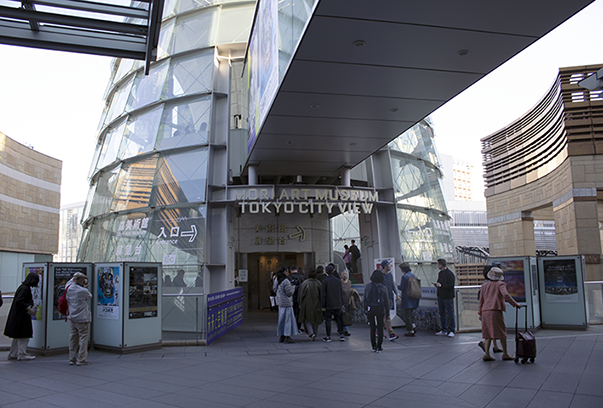 Entrance to Tokyo City View + Mori Art Museum.
Roppongi Hat
Right on the street next to Roppongi Hills is a large round glass bldg. called Roppongi Hat. Mostly food + entertainment, there are lots of options here. The 2-story basement has loads of food in a huge food court.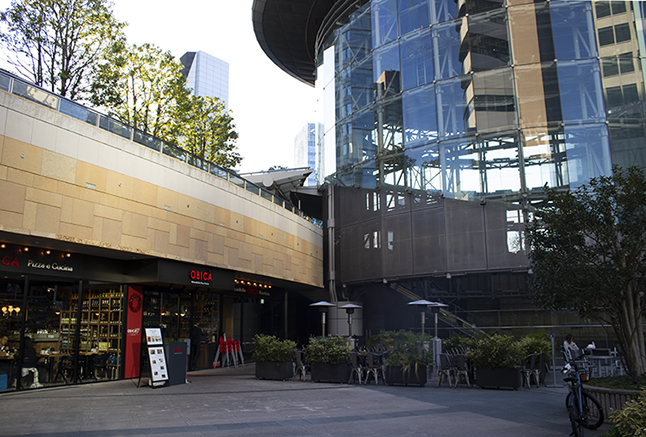 Roppongi Hat.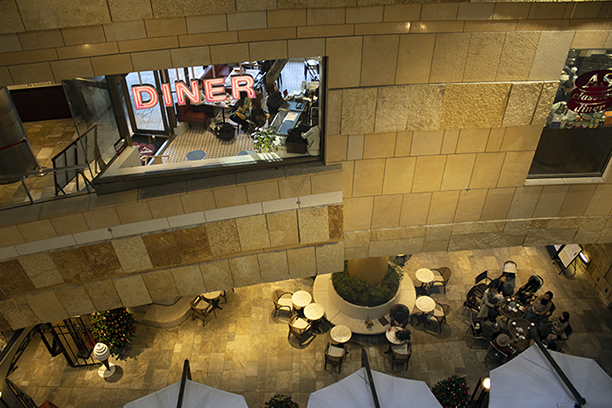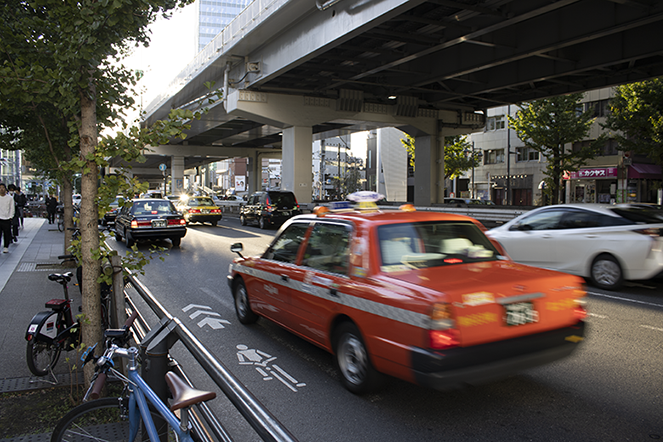 Roppongi Dori looking west. Note the cheesy "bike lane", which in Japan usually means nothing but a few symbols painted on the road.
Mohri Garden
Back behind Roppongi Hills is a hidden Japanese Gardern called Mohri Garden. You can stroll through the garden and enjoy the scenery. Fall is particularly spectacular.
Keyaki Hill + Illumination
Just west of the garden 1 block behind the TV Asahi building is a street named Keyaki Hill (Keyakizaka in Japanese) famous for its winter illumination with a direct view of Tokyo Tower in the distance. Keyaki is a Japanese hardwood used by artisans in Japan. The street is lined with these trees which makes for a spectacular winter light show during the cold months around Christmas/New Year's. There is also a huge Tsutaya Books store just on the corner at the entrance to Keyaki Hill. The entrance to the street is around 35°39'33.28″ N 139°43'54.72″ E, although most people enter the street from the north end at night in order to get the direct view of Tokyo Tower in the distance.
Tokyo Midtown Roppongi + Suntory Museum of Art
Squirreled away and hidden just a block east of National Art Center, is Tokyo Midtown Roppongi. Like its counterpart in Hibiya to the east this Midtown complex has a lot to do + see. There's a huge cinema, depatos (department stores), shops, a massive bakery, and lots of other stuff. There's a huge central square with buildings on all sides. There are also hotels plus the Suntory Museum of Art (Suntory is a Japanese beverage company). If you're in Roppongi, you won't want to miss it.
For Book Lovers: Bunkitsu
Right on Roppongi Dori around 35°39'26.61″ N 139°44'37.12″ E is a really huge bookstore called Bunkitsu. If you're into books, check it out.
A Few More Food Stops
Here's a list of other potentially interesting food stops in Roppongi, but by all means, this list is not complete because Roppongi is full of hundreds of great food places.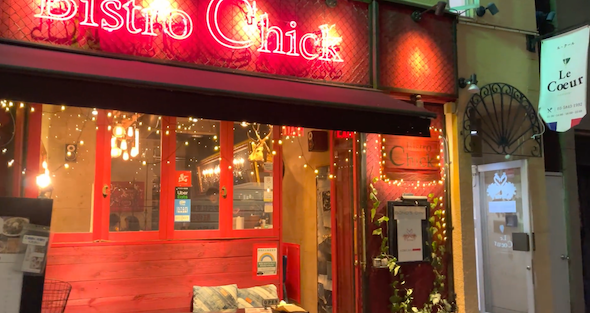 Also check out Bistro Chick somewhere around 35°39'52.80″ N 139°43'48.87″ E.
Hotels + Hostels
Also in the Roppongi Hills complex is the fabulous, but very expensive Grand Hyatt Tokyo. Ultra-deluxe with hundreds of rooms, a stay will set you back several hundred dollars a night – in the off-peak season.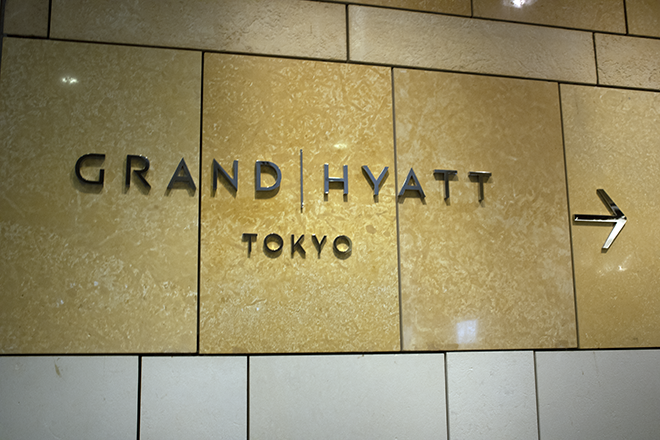 A very nice + inexpensive option is the brand new Sotetsu Fresa Inn Tokyo-Roppongi around 35°39'39.91″ N 139°44'28.56″ E. Incredibly, off-season you can stay at this hotel as low as $29/night. It's excellent. It also has a very nice lounge/café in the lobby.
As usual, APA hotels are a good option and the APA Hotel Roppongi SIX is excellent and is just up the street east from Sotetsu Fresa Inn. There is also another brand new APA hotel – APA Hotel Roppongi Eki-mae closer to Roppongi Hills around 35°39'44.11″ N 139°43'56.51″ E ("Eki-mae" means "At the station"). APA Hotels are always clean, cheap, quiet, and easy. You can't go wrong.
A new gem built in 2020 right near the station + main intersection is remm Roppongi for around $70/night off-season, but it's upscale + well worth it. There are a number of remm hotels all over Tokyo and they are all generally very good.
Comfort Inn Tokyo Roppongi is also a good cheap option around $40/night off-season.
A bit south of Sotetsu Fresa Inn around 35°39'42.91″ N 139°44'09.96″ E is another good option: Mitsui Garden Hotel Roppongi at around $80/night.
A bit north is the Hotel Asia Center of Japan which also has large conference facilities around 35°40'14.23″ N 139°43'40.70″ E.
Roppongi has a few nice hostels as well + they are fairly cheap, off-season.
The Wardrobe Hostel Roppongi is around $25/night + has a kitchen.
If you're willing to stay a bit to the east in Akasaka, there's a nice little family-run hostel called Inno Family Managed Hostel. Tucked down a little quiet side street around 35°40'20.15″ N 139°44'23.23″ E, it has bunks, but also unique rooms with several large queen beds for multiple guests. It's very clean + provides showers, lockers, and a shared lounge/kitchen area for cooking. Distance to Roppongi Hills is only around 1 mile.
For a complete list of good deals check agoda.com.
Conclusion
Well that's it for now. You can have hours of fun cruising the streets in Roppongi, exploring its backstreets, or checking out Roppongi Hills. It would be easy to spend a couple days here and not see it all. Well worth a stop.
Enjoy!
Additional Photos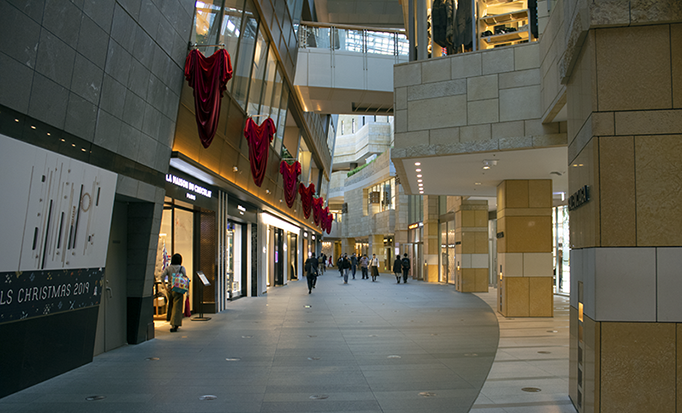 Inside Roppongi Hills.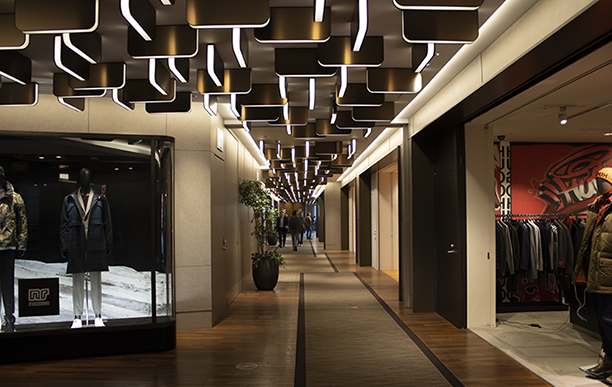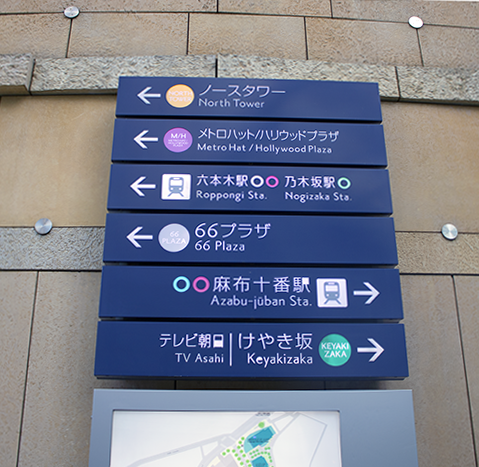 Sign for various attractions.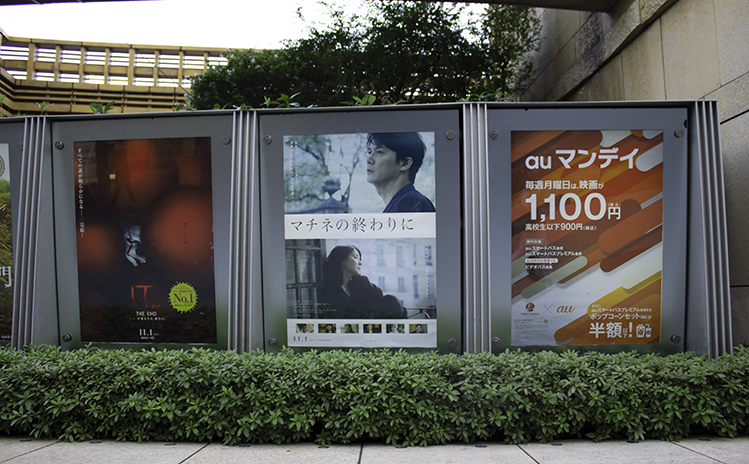 The man himself – Fukuyama Masaharu in an ad for a new dorama (TV series).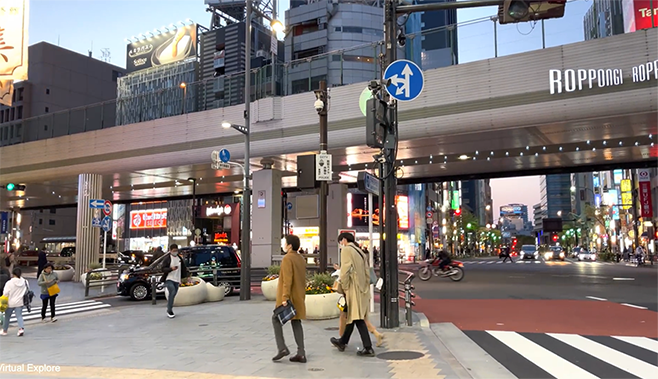 The main intersection facing south. Roppongi Hills is to the right a few blocks. Akasaka is to the left.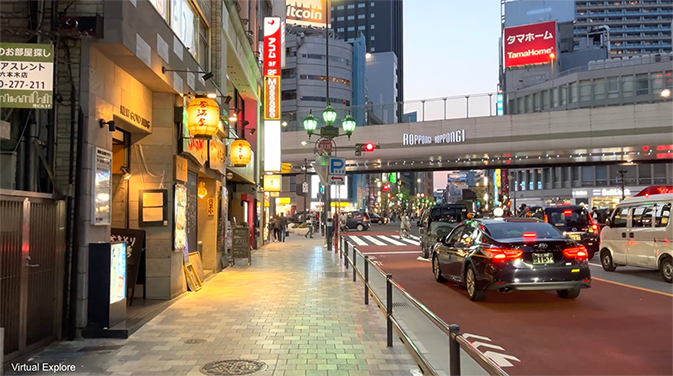 Facing south from the north area back towards the main intersection.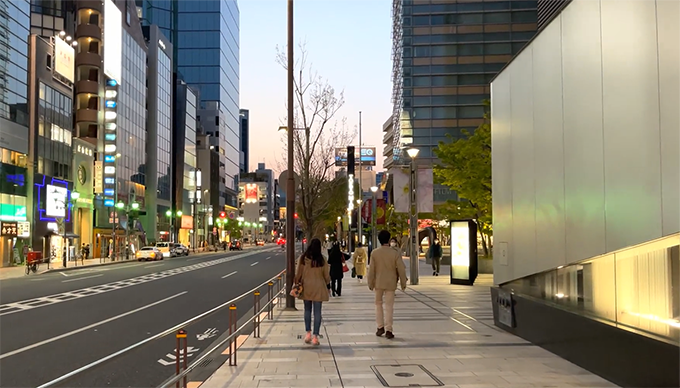 Facing north on the street to the north of the main intersection. There's lots to do here as well.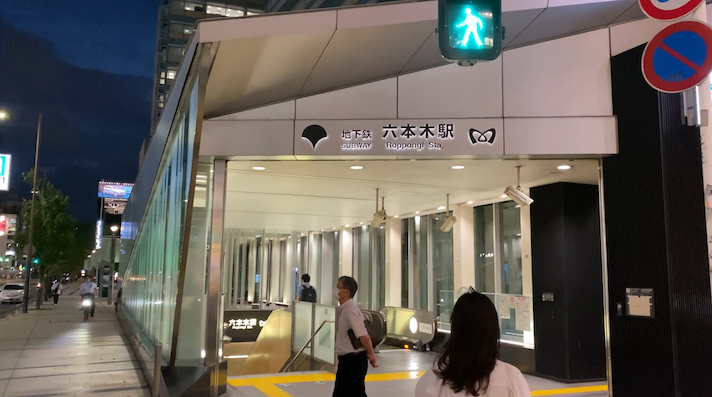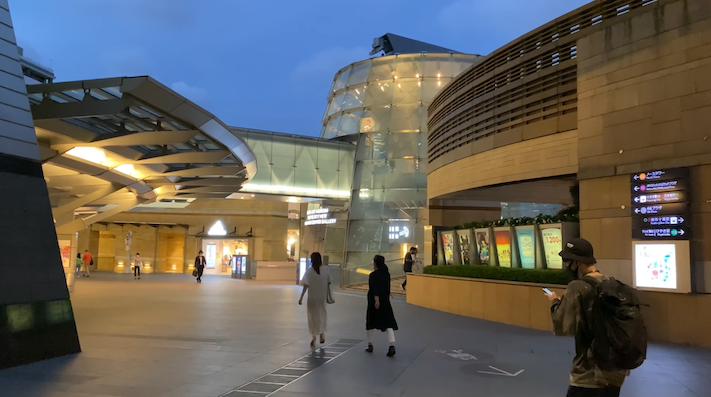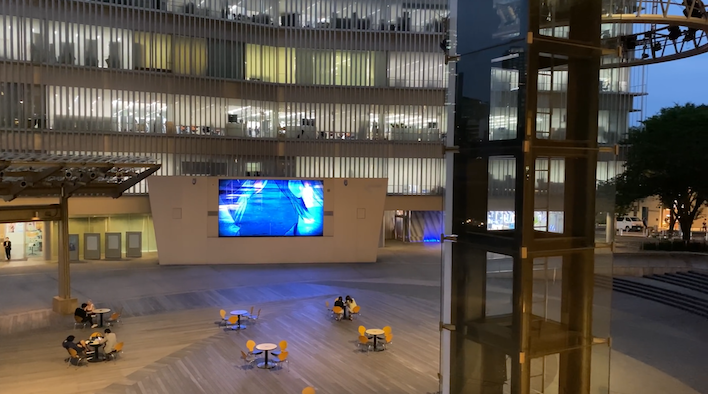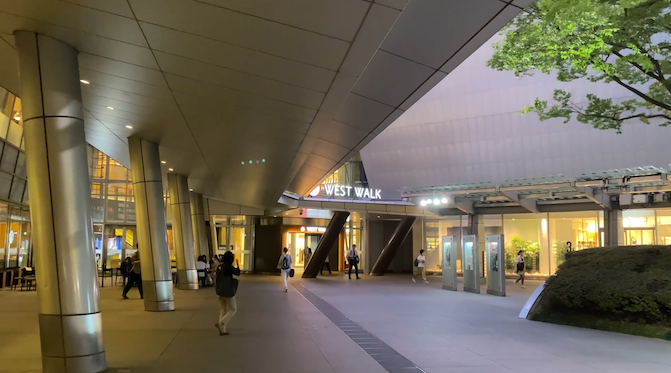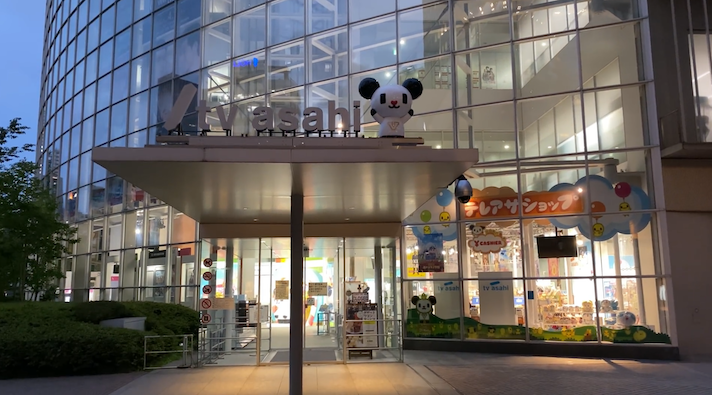 LINKS
https://en.wikipedia.org/wiki/Roppongi
https://en.japantravel.com/tokyo/roppongi
https://www.tripadvisor.com/Attractions-g14129735-Activities-Roppongi_Minato_Tokyo_Tokyo_Prefecture_Kanto.html
https://www.tripadvisor.com/Attraction_Review-g1066451-d1373795-Reviews-Roppongi_District-Minato_Tokyo_Tokyo_Prefecture_Kanto.html
VIDS