Name: Toyosumi Park + Sendaiborigawa Park
Kind: Park
Free Wifi: Yes
Location: 35°40'28.56″ N 139°48'35.06″ E
Station: Sumiyoshi Station
Walk Distance: 1 mile
Our Rating: ⭑⭑⭑
Worth it? If you're in the area.
Updated 7/9/2021
©2021 tenmintokyo.com
Toyosumi Park
Around 35°40'29.04″ N 139°48'41.15″ E on the east side of Tokyo are 2 small parks: Toyosumi Park + Sendaiborigawa Park. Both are small but worth a stop. Also just to the west is the much bigger and fabulous Kiba Park.
Just a bit to the northwest, is Kiyosumi-shirakawa.
Access
To get to the park, take the Hanzomon Metro Line to Sumiyoshi Station and head south about a mile, then several blocks west.
The main entrance to Toyosumi Park is at the northeast corner at an intersection shown below: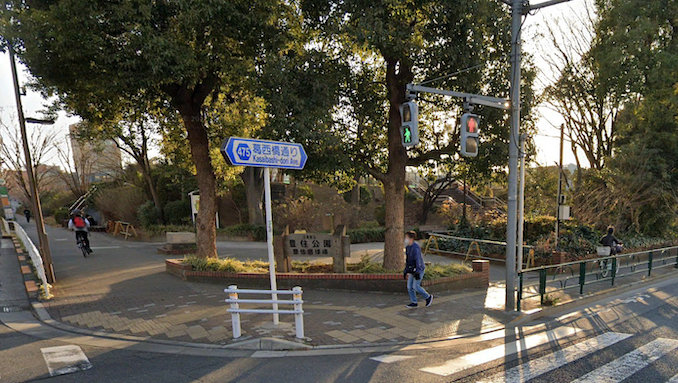 Entrance to Toyosumi Park in the northeast corner on Kasaibashi-Dori Ave (Rt. 475).
It's kind of a small park, but there are walking trails, lots of tennis courts, and a small museum. There's also a pool, but it's used only for special events.
Sendaiborigawa Park
Sendaiborigawa Park is a long narrow park which runs east-west to the east of Toyosumi Park along rows of high-rise apartment bldgs. along the Sendaibori River. It's mostly for residents + kids, but it's worth a stroll as it spans several long blocks and has lots of walking paths.
If you'up for a few more miles' walk after all this, head even further west to Kiyosumi-shirakawa.
Anyway, the area is nice for walking and is worth a look once, or if you're right next door already checking out Kiba Park.
Enjoy!
LINKS
Toyosumi Park
Kanto Forest Management Bureau Office
Sendaiborigawa Park
Sendaiborigawa Park | The Official Tokyo Travel Guide, GO TOKYO