Name: Kasumigaseki
Kind: Town
Free Wifi: Yes
Location: 35°40'22.31″ N 139°44'58.97″ E
Stations: Kasumigaseki Station, Tokyo Metro Marunouchi Line (M-15), Tokyo Metro Hibiya Line (H-07), Tokyo Metro Chiyoda Line (C-08)
Our Rating: ⭑⭑⭑⭑
Worth it? If you're nearby.
Updated 6/25/2021
©2019-2021 tenmintokyo.com
Kasumigaseki is a small town just south of the Japan central gov't area Nagatcho in west-central Tokyo. Kasumigaseki literally means Misty Gate. It's also the name of a 19th century Ukiyo-e wood block painting High Noon at Kasumigaseki.
Just to the southeast of Kensei Memorial Park and the Japan central gov't HQ are a cluster of gov't buildings including the HQ for the Japan Ministry of Foreign Affairs. There is also a Metro station at Kasumigaseki.
Because it's a large gov't area, there's not a lot to do, but it's still worth a look. The walk around the area and up north towards Nagatcho can be spectacular at sunset. The Imperial Palace, jogging path, and moat are also just to the east.
Around further to south and east are Hibiya and Marunouchi north of that. Just east is the spectacular Hibiya Park.
Kensei Memorial Park
Just to the north of Kasumigaseki, out in front of the Diet bldg. around 35°40'33.84″ N 139°44'53.60″ E is Kensei Memorial Park – a very nice green park with a small museum at the north end. If you're in the area, you'll want to stop by.
Also just to the northwest of the park is the nice Akasaka area – see our post Nagatcho/Akasaka Superguide for more info.
Of particular note around 35°40'17.43″ N 139°44'52.85″ E is the Kasumigaseki Building – Japan's first real skycraper built in 1968. There's a large concrete park + fountain behind the building. A film, Chōkōsō no Akebono, was made about its construction.
Access
To get to the area take the Metro Marunouchi Line, Tokyo Metro Hibiya Line, or Tokyo Metro Chiyoda Line (C-08) and exit at Kasumigaseki Station. The Chiyoda Line has a few more key stops just a few stations away in either direction: namely, Hibiya Station, Ōtemachi Station, and Akasaka Station.
When you exit, you'll come up to the street just south of the park mentioned above. The Diet bldg. will be just to your northwest.
Toranomon to the South
Just a few blocks to the south is the cool Toranomon area. See our Toranomon Superguide for more info. If you have extra time it's worth a stroll. It's only a few blocks' walk.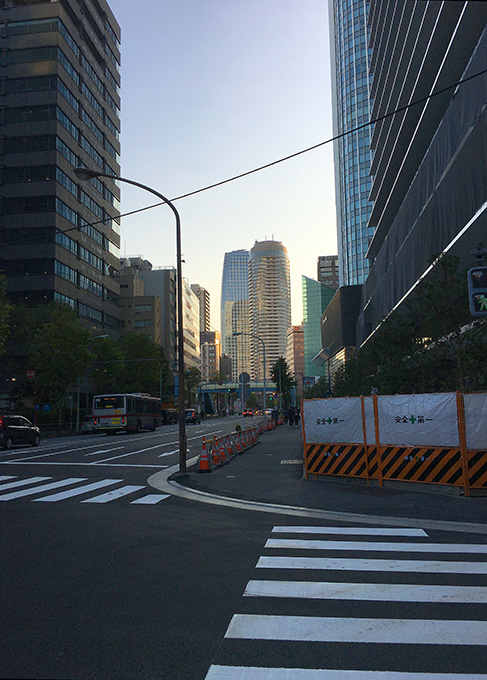 Looking southwest into Toranomon from Kasumigaseki at sunset.
Conclusion
Even though it's a gov't area, there's a fair amount to see just by walking around, and at the right time of day, it can be a visually epic area to see. You can enjoy crossing the area on the way between one of the areas mentioned above, or walk around the Diet/park area for some exercise. If you have extra time, be sure to check out the Akasaka area as well. Hibiya Park to the easy is a must-see.
Enjoy!
LINKS
Also see our Nagatcho/Akasaka Superguide since Kasumigaseki is very close to Nagatcho/Akasaka.
Kasumigaseki Station (Tokyo) – Wikipedia
Kasumigaseki Area Guide | Tokyo Cheapo
Edo Castle Outer Moat Underground Museum | Tokyo Cheapo
Kasumigaseki Building – Tokyo's 1st high-rise office building[4]
Chōkōsō no Akebono (A film about the construction of the Kasumigaseki Building).
https://en.wikipedia.org/wiki/File:Kuniyoshi_Utagawa,_High_Noon_at_Kasumigaseki.jpg
VIDS