Name: Otsuka
Kind: Town
Free Wifi: Yes
Location: 35°43'58.00″ N 139°43'45.03″ E
Station: Ōtsuka Station, JR Yamanote Line
Our Rating: ⭑⭑⭑
Worth it? If you're in the area.
Updated 8/12/2021
©2021 tenmintokyo.com
Just East of Ikebukuro
Just east of Ikebukuro is the town of Otskua. It runs north-south approximately the same distance that Ikebukuro does to the west about 1 mile.
Otskua is a little more laid back than Ikebukuro is, but it still has its own deep charm in a unique way. The streets have a slightly older feel, there's a street car, and more foreign influence than most other areas in Tokyo. Some areas feel downright European – as if you had gotten lost somewhere in Paris. Some of the the hidden backstreets have a delightful charm unrivaled in all of Tokyo. The area is huge and you can wander miles of blocks for days and not see it all. If you're in the area and have a few hours to blow, definitely stop and have a look.
There is also a large bike locker just south of the station around 35°43'52.66″ N 139°43'44.24″ E, just around the large atré shopping complex next to it.
There are actually 3 major areas: the main area around Ōtsuka Station around 35°43'58.00″ N 139°43'45.03″ E, a newer station to the south called Shin-Otsuka Station (Shin means new in Japanese) around 35°43'32.28″ N 139°43'49.28″ E. (Ōtsuka Station is one stop northeast of Ikebukuro on the Yamanote Line), and a more residential area to the south which surrounds Ochanomizu University (Ochanomizu means Ocha's Water). Around 35°43'16.13″ N 139°44'13.41″ E is another large school – University of Tsukuba.
Kasuga-Dori (Rt. 254)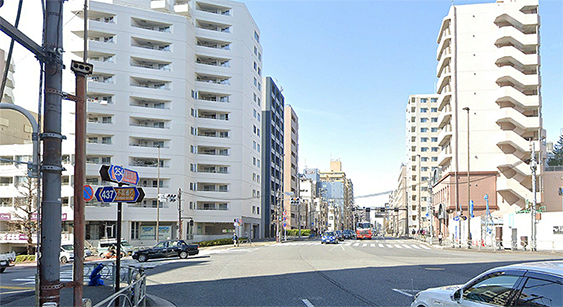 Kasuga-Dori (Rt. 254) facing north.
The main north-south street is called Kasuga-Dori (Rt. 254) and runs from the original Ōtsuka Station, all the way south for several miles to Kasuga Station. About 1/2 way down the street splits onto another street which runs all the way west to Ikebukuro. You can wander Kasuga-Dori for hours and browse all the shops + restaurants.
Gokokuji Temple
Just northwest of Ochanomizu University around 35°43'18.07″ N 139°43'32.50″ E is a huge temple + graveyard called Gokokuji Temple.
Awa Odori
During Obon (Festival of Ancestors) each year , Otsuka hosts its own mega festival and parade called Awa Odori.
Ikebukuro + Otsuka are slated next for redevelopment as the new cultural heart of Tokyo, so if you want to see some of the old world charm in the area before it's gone forever, hop on over and take a look. While many of the neighborhoods will undoubtedly survive, much of the area will change soon.
Enjoy!
LINKS
Otsuka Station Yamanote Line Tokyo – Japan All Over Travel Guide
Shin-ōtsuka Station – Wikipedia
Otsuka Map – Toshima, Tokyo, Japan – Mapcarta
Otsuka Area Guide | Tokyo Cheapo
Otsuka area guide | Time Out Tokyo
Otsuka Area Guide: Tokyo's Cultural Melting Pot | Tokyo Weekender
For some really awesome photos of the local area check out this page: 5 Days in Tokyo: Otsuka
Otsuka, Tokyo – thelooniverse.com
Ramen Atelier Nakiryū – Google Maps
VIDS