Name: Imperial Palace + Kitanomaru Park
Kind: Castle + Park
Free Wifi: Yes
Location: 35°41'31.72″ N 139°45'03.45″ E
Station: Kudanshita Station, Tokyo Metro Hanzomon Line, Tokyo Metro Tozai Line, Toei Shinjuku Line
Our Rating: ⭑⭑⭑⭑
Worth it? A must-see.
Updated 8/11/2021
©2019-2021 tenmintokyo.com
Just north of the Imperial Palace is a huge park called Kitanomaru Park.
The park includes a huge pond, gardens, and the Nippon Budokan – which was originally built as a Judo arena for the 1964 Olympics.
The Imperial Moat runs along the west side. If you head northwest or further west and down south a bit, you'll arrive at the fabulous Akasaka. Just across the street to the south before the Imperial Palace is the Imperial Guard Division HQ. Just east of that is the Japan National Archives. Just across east of that on Uchibori-Dori is the Parkside Building, which is down into Otemachi.
There are also 2 large car parking lots.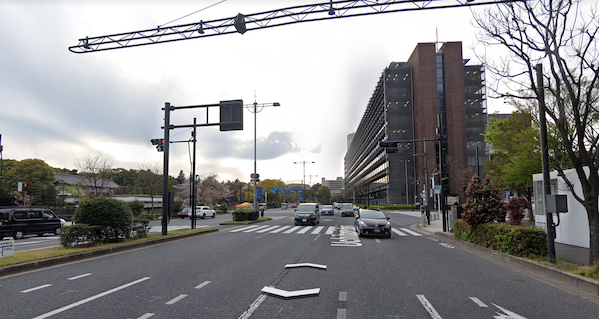 Uchibori-Dori, facing west. The entrance to the Imperial Palace is on the left, the Parkside Bldg. on the right. Kitanomaru Park is ahead up the street on the right.
Access
To get to the park, take the Tokyo Metro Hanzomon Line or Tokyo Metro Tozai Line, and exit Kudanshita Station. You can also take Toei Shinjuku Line. Get off at Kudanshita Station around 35°41'44.45″ N 139°45'05.70″ E. Head west down the street, then south in the next block.
Entrance is free and is easiet on the south side of the street at the Tayasumon Gate near the Imperial Palace from the main street. There's a small bridge to cross the moat into the park. You'll be right at Nippon Budokan so head southwest around the walkway and further south into the park.
2 Museums
Inside the park there are 2 great museums: National Museum of Modern Art and the Science Museum. The Science Museum is way out on the southeast side.
There are also a few other small things to do, and shops including an ice cream place and a few small other food shops.
The leaves in the fall are spectacular.
If you're in central Tokyo, you don't want to miss it.
Enjoy!
LINKS
Kudanshita Station – Wikipedia
Kudanshita Station/T07/Z06 | Route/Station Info
https://en.wikipedia.org/wiki/Kitanomaru_Park
A visit to "Kitanomaru Garden" – This is where you'll find your new favorite museum! – Visit Chiyoda
National Archives of Japan – Wikipedia
Tokyo Imperial Palace | The Official Tokyo Travel Guide, GO TOKYO
Tokyo Imperial Palace: Mega Guide for What to Do and See | Tokyo Cheapo
Imperial Palace Tokyo – a travel guide for visitors
旧江戸城写真ガラス原板  田安門 | Tokyo Museum Collection
Kitanomaru park, Tokyo, Japan [RESULT] – SketchCrawl.com™
Parc Kitanomaru – Le jardin du château d'Edo
Tokyo Travel Tips. Advice, Reviews, How to get Around, Things to See
Breakfast at Yaesu Hatsufuji (again), Ueno Park, and Kitanomaru Park – mmm-yoso!!!
Kitanomaru Square The Terrace – Luxury Apartment for Rent in Chiyoda-ku, Tokyo
VIDS