Name: Rapha Café
Kind: Café
Location: 35°40'33.04″ N 139°42'21.36″ E
Station: Harajuku Station, JR Lines, Omote-sando Station, Metro Ginza Line
Free Wifi: Yes
Our Rating: ⭑⭑⭑
Worth it? Do not miss it.
Updated 8/28/2021
©2021 tenmintokyo.com
Also see our related Harajuku + Omotesando Superguide.
There's a cool little café called Rapha in northwest Harajuku not too far from Harajuku Station. The café is just south of Shinjuku and offers a wide variety of gourmet coffee.
They also have a bike rack for locking your bike if you travel that way.
The staff + owner are friendly and helpful and the atmosphere is nice.
Access
To get to Rapha, either go to the new Harajuku Station on the JR lines, or to Omote-sando Station to the south on Metro Ginza Line, then head north through the backstreets. The cafe is northeast of the JR station and northwest of Omote-sando Station.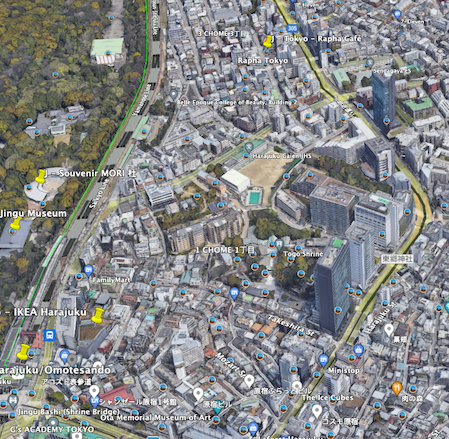 Harajuku/Omotesando area map. Harajuku Station is in the lower left, Omote-sando Station is right, center. Rapha is the pin shown near the top. Off to the left (west) is Yoyogi Park. North out of view is Shinjuku Station.
Conclusion
This is a cool little cafe on a corner with big glass windows and great coffee.
Note that the café is closed for COVID but will be reopening soon.
Enjoy!
LINKS