Name: Harajuku + Omotesando
Kind: Town
Location: 35°40'11.89″ N 139°42'32.43″ E
Our Rating: ⭑⭑⭑⭑⭑
Free WiFi? Yes.
Worth it? Do not miss it.
Updated 6/26/2021
©2019-2021 tenmintokyo.com
Page takes time to load due to photos.
Harajuku + Omotesando are 2 famous co-joined areas in west central Tokyo. Both spots are popular among young people + tourists.
Just to the east is Aoyama.
Harajuku is most famous for its shopping street – Takeshita Street. Omotesando Blvd. is runs parallel just to the south and is much bigger with more upscale shops + eateries.
Just to the north is Yoyogi and just to the south is Shibuya. Harajuku Station is on the JR Yamanote Line on the west side of Tokyo. A brand new larger JR station was completed in late 2019 to replace the historic aging older wooden station, which is now much too small for the tourist load. The new station is just south of the old one in the same block.
Just to the west of the station is Yoyogi National Gymnasium and Yoyogi Park – one of the most popular parks in Tokyo – and well worth a stop in spring, summer, and fall.
To get here, take any JR line that changes with the JR Yamanote Line, and get off at Harajuku Station. As a footnote, there is 1 other Metro station – Omoto-sando Station, all the way on the east side of Omotesando. You can traverse Omotesando Blvd. in a flash by shuttling between these 2 stations if you take the Chiyoda Line.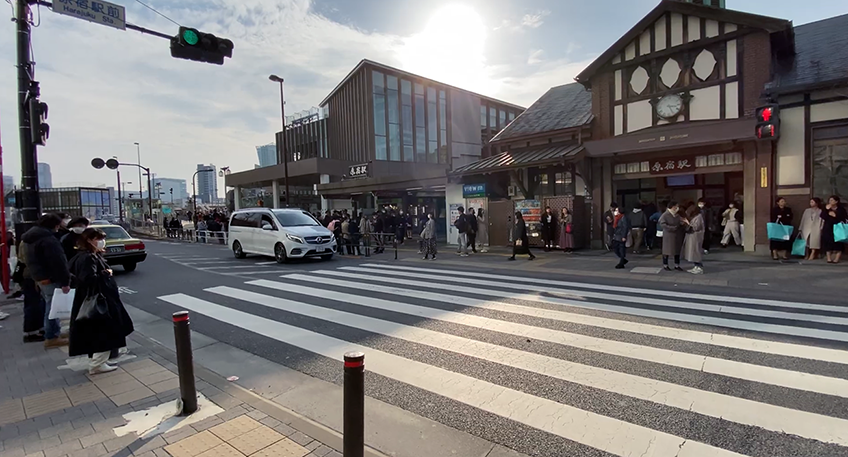 Old Harajuku JR Station in late autumn 2019. The new station is on the left. Turn left from this vantage point at the next corner to enter Omotesando Blvd. Takeshita Street is to the right in this photo, out of frame. The old station was torn down in 2021.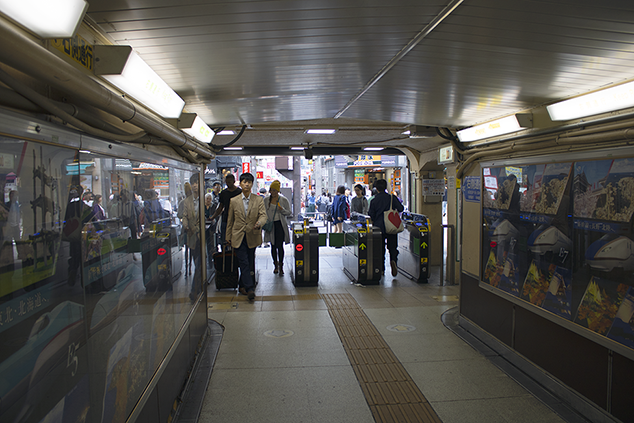 Old Harajuku JR Station exit. The new station is to the right. Takeshita Street is straight ahead. This exit is shown in the photo above under the clock. Far too small for today's tourist traffic load, the brand new station just to the southwest replaced it. The old station was demolished and is no more.
Newly completed Harajuku Station on the JR Line. The old station is just to the right, out of frame and is scheduled to be torn down soon.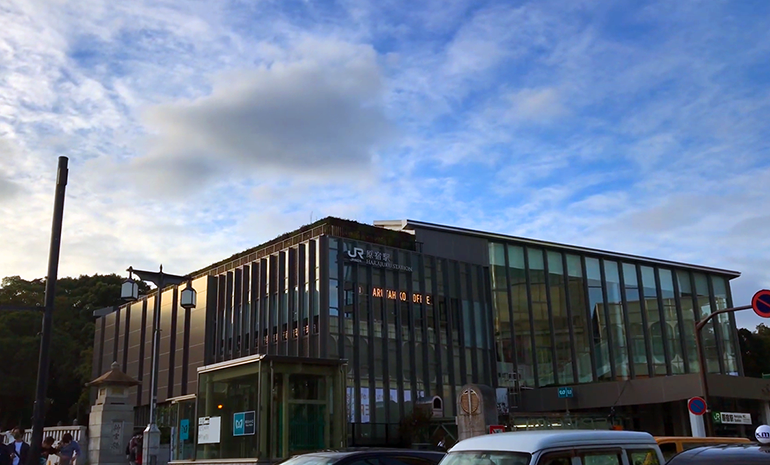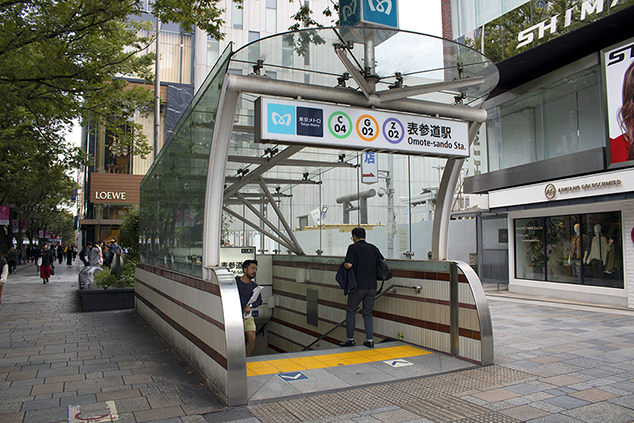 East side Omoto-sando Station exit @ east end of Omotesando Blvd. You can take the Chiyoda, Ginza, or Hanzomon Lines. The JR Station is straight ahead a few miles. An interesting footnote is you can get from one side of Omotesando Blvd to the other fast by taking the Chiyoda Line between this station and Meiji-jingumae <Harajuku> Station.
After you exit Harajuku Station, you can either turn left, and be at the entrance to Takeshita Street, or you can head right (south) and end up at a large intersection. If you head east from the intersection, you'll be heading down Omotesando Blvd – which is the main shopping and restaurant street in the area.
Takeshita Street is shorter and takes less time, but is also much more crowded since it is smaller and more popular. Takeshita Street is mainly known for its several Crepé shops – including the famous Marion Crepés which was founded in 1976. There is also another Marion Crepés in the backstreets of Akihabara. There are also lots of clothing stores, restaurants, other food places, oddity shops, a DAISO 100¥ shop, and a small Bic Camera annex.
There are also a few hidden gems if you're willing to venture down a few side streets for an off-the-beaten-path adventure. We'll cover a few of those later.
Takeshita Street
The entrance to Takeshita Street is located at 35°40'17.76″ N 139°42'10.93″ E right across from the entrance of the old Harajuku Station. Head east down the street.
It's usually pretty packed – especially on nights + weekends. You'll have to jostle with lots of other people. Just after the entrance on the right is a small alley with lots of T-shirt shops (see Totally Drew's video below). Just past that not too far down on the right is the very good NOA Coffee – well worth a stop. Marion Crepés is about 1/2 way down on the left. Oddly, NOA Coffee is run by the NOAH Company which also runs sound + dance studios and boxing gyms all over Tokyo.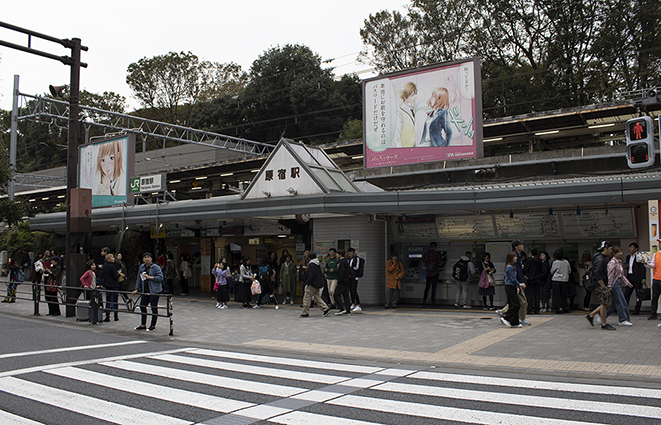 The old harajuku Station exit just across from the entrance to Takeshita Street, which was demolished in 2021 after the new station opened.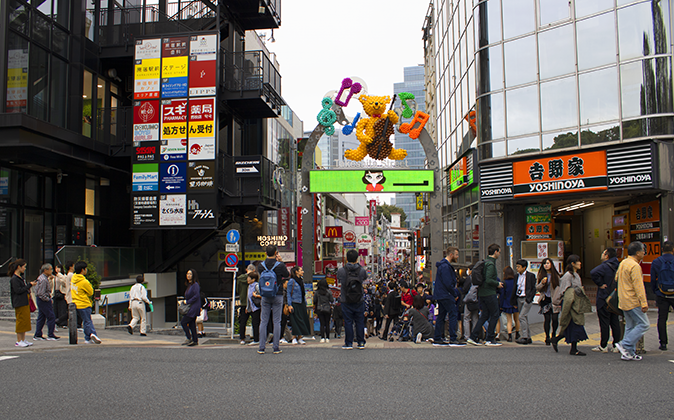 Entrance to Takeshita Street. There is an excellent Hoshino's Coffee just to the left under the sign over the entrance. There is also a Family Mart.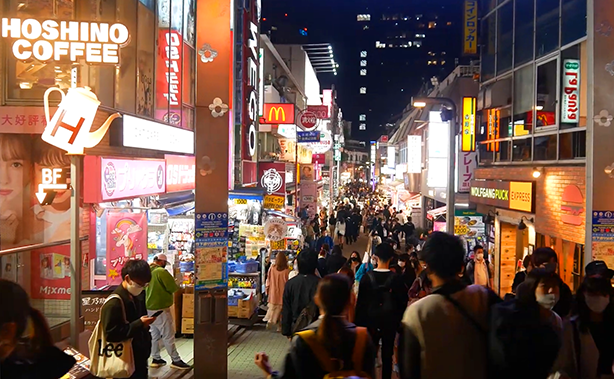 Entrance to Takeshita Street at night.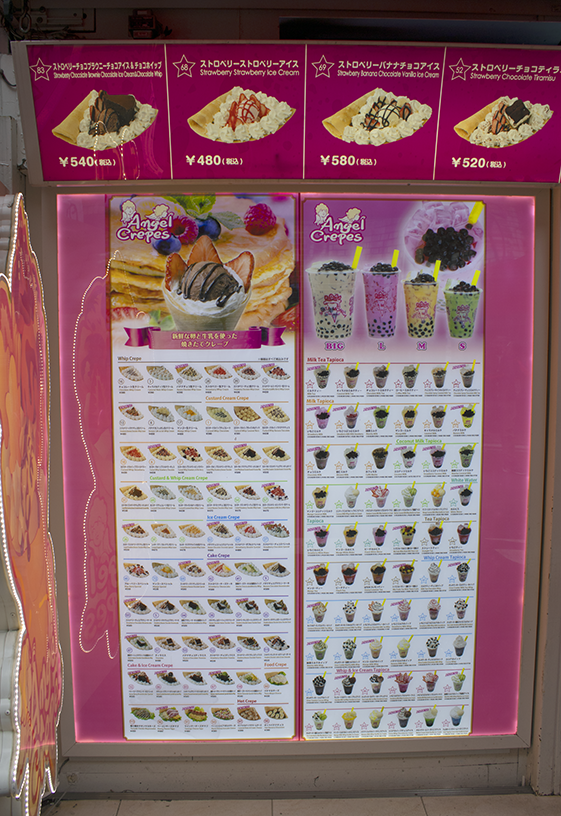 Giant crepé menu on Takeshita Street. Around $5-$7 each.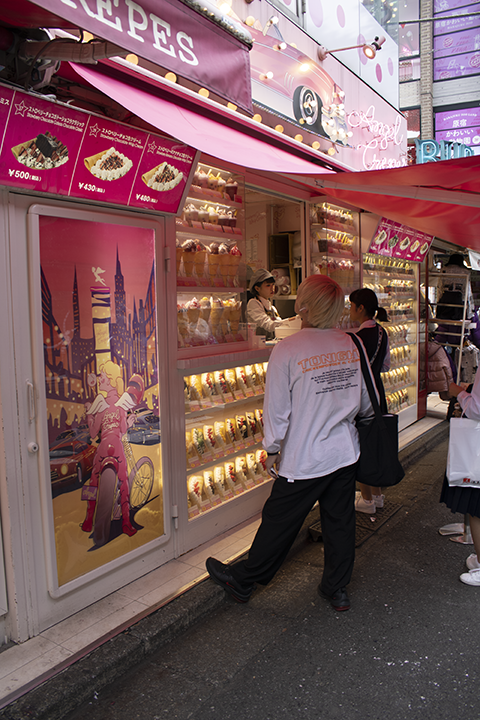 Angel Crepés shop.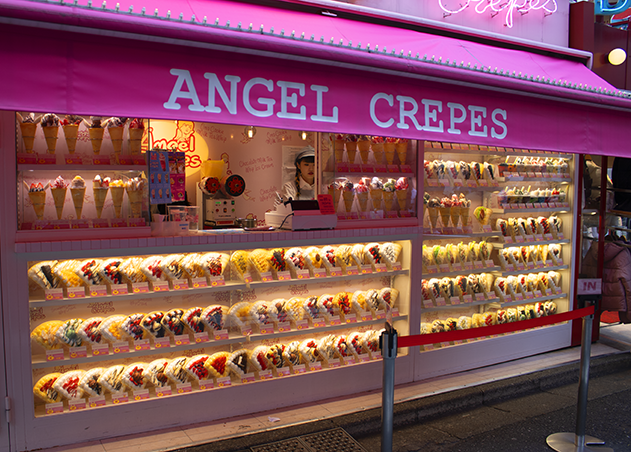 Angel Crepés. You can eat yourself silly at these places. But after walking 10-15 miles a day, you'll want to.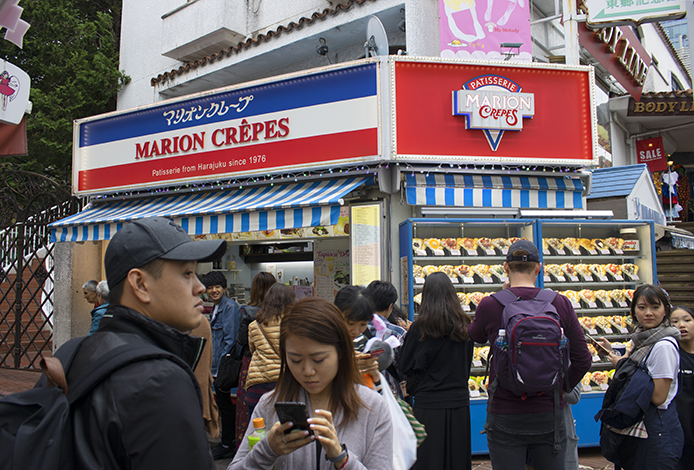 World-famous Marion Crepés.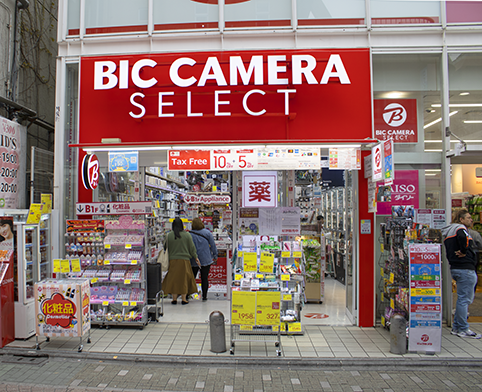 Bic Camera Select annex on Takeshita Street. Just to the right is a Daiso 100¥ store.
About 1/2 way down Takeshita Street on the right, you'll find a small side street that heads up a hill. Head up this street to the end – past several shops and boutiques, and then head left as the street curves around. Wander down a bit futher and at the end you'll find the Depla Pol Chocolatier. This fabulous place has all kinds of goodies and waffles to boot. It's only open from 10:00 AM to 8PM but well worth it. Its located at approximately 35°40'15.61″ N 139°42'14.89″ E. But because it's off the beaten path, there is almost never a line and you can usually get right in.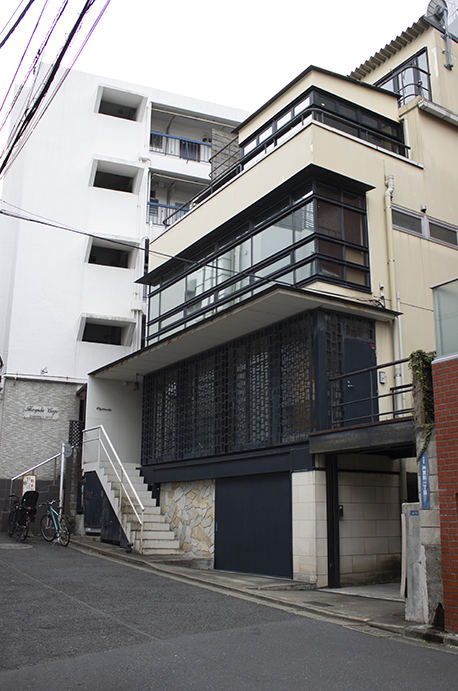 Head left at this bldg.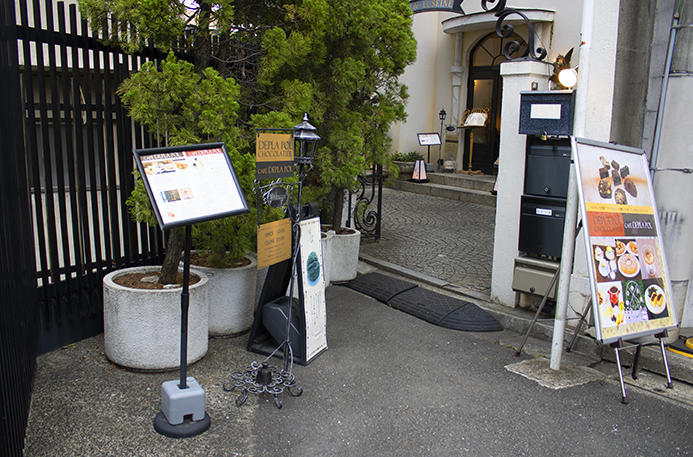 Entrance to Depla Pol Chocolatier.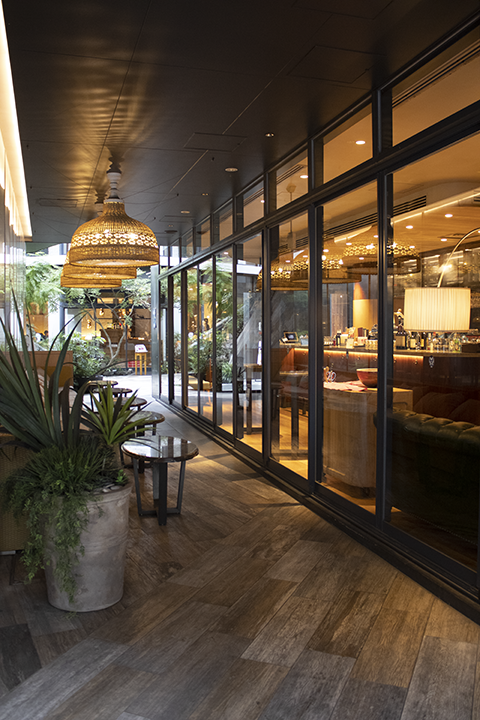 There is also an excellent bar/restaurant hidden back on this street.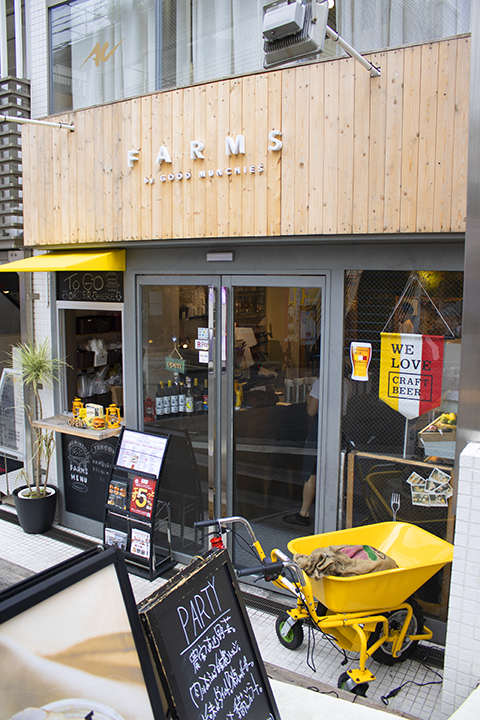 Along this street is an amusingly named beer/coffee shop called Farms – by Good Munchies.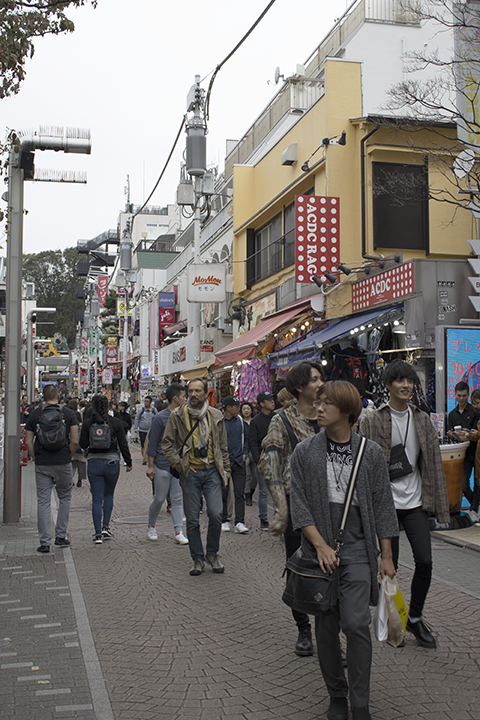 A stroll down Takeshita St. This is facing back towards the street entrance to the west.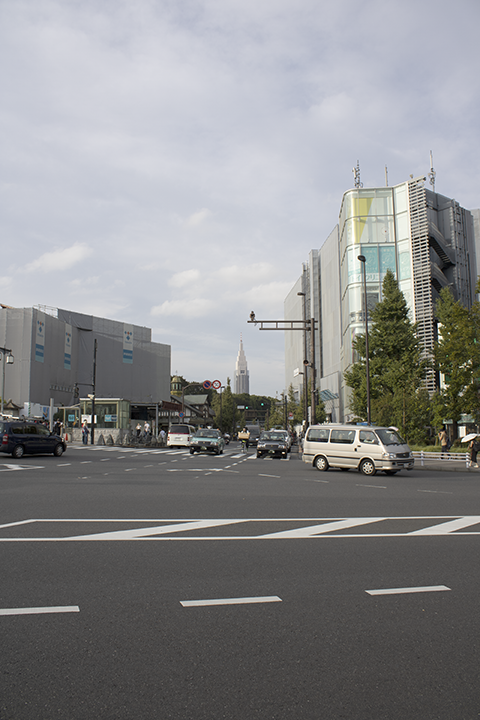 Just south of JR Harajuku Station. The new station bldg. is on the left. The tall NTT HQ bldg. (also known as the "bubble building") is in the center off in the distance in Shinjuku to the north. To the right is Omotesando Blvd.
Coin Lockers
Just down on the right past the entrance to Takeshita St is a small luggage storage locker shop. If you need to store your luggage for the day, you can drop your stuff here, and retrieve them on your way out. Rates range from 400¥-800¥ and you can store items for up to 4 days. The shop has 24/7 video surveillance of all lockers so your stuff is secure. Oddly, this shop is run by the NOAH Company, which also runs the NOA Coffee shop just down the street.
Omotesando Blvd.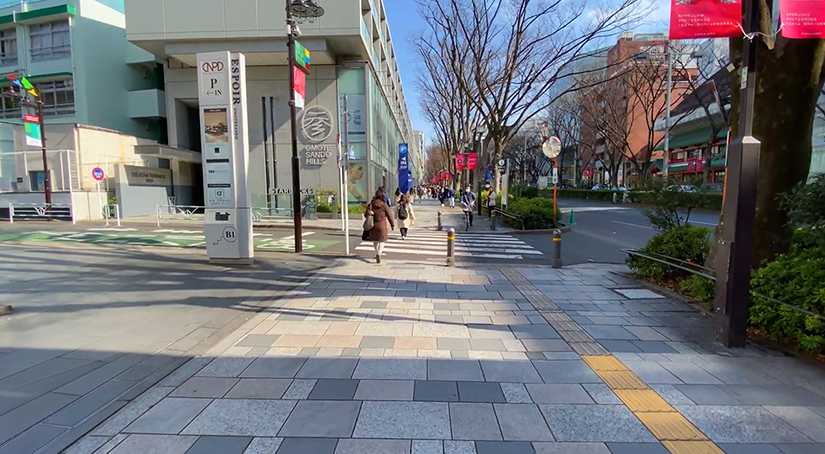 Omotesando Blvd. entrance east of Harajuku Station. The Omotesando Hills shopping center is on the left.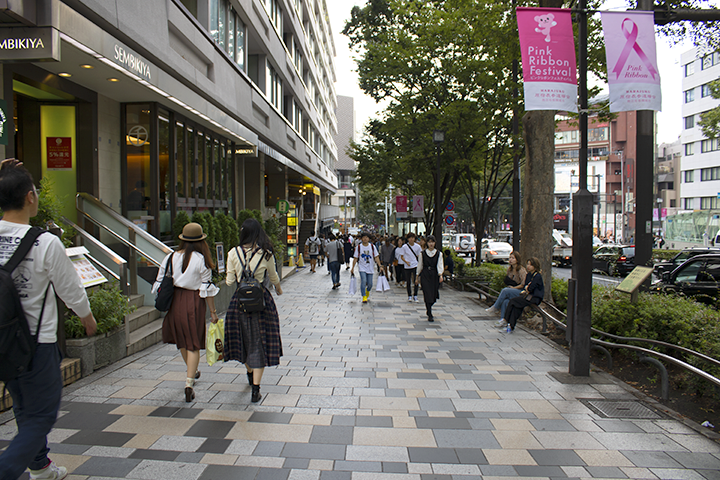 Heading east down Omotesando Blvd.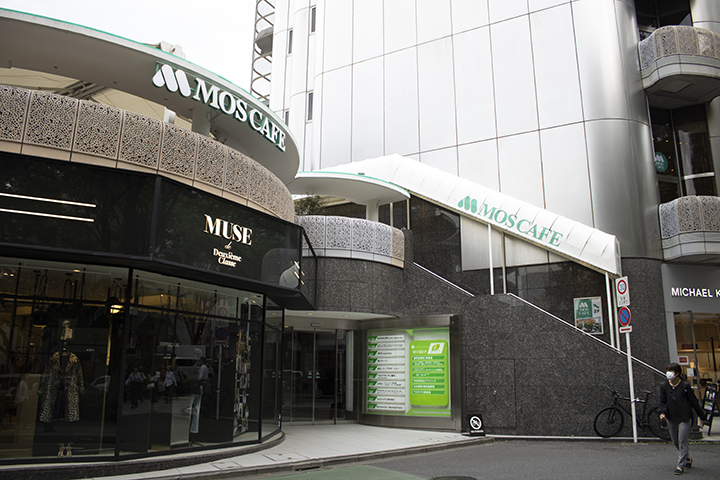 Further down Omotesando Blvd. on the left side is a MOS Burger Café.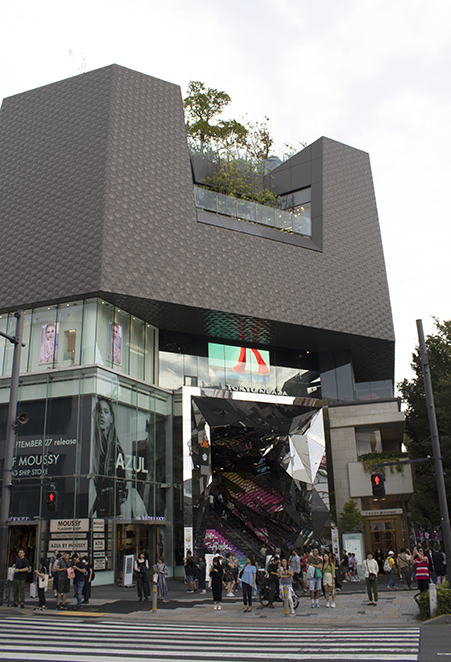 There is also a Tokyu Plaza with an open-air garden on top.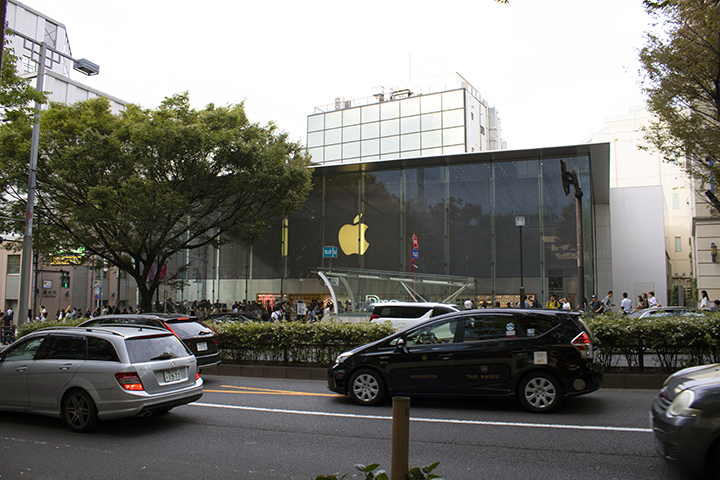 Apple Store on Omotesando Blvd.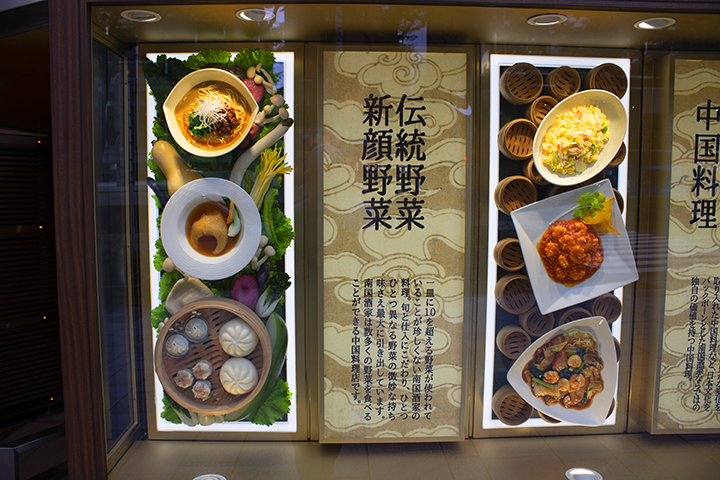 Plenty of nice restaurants along Omotesando Blvd.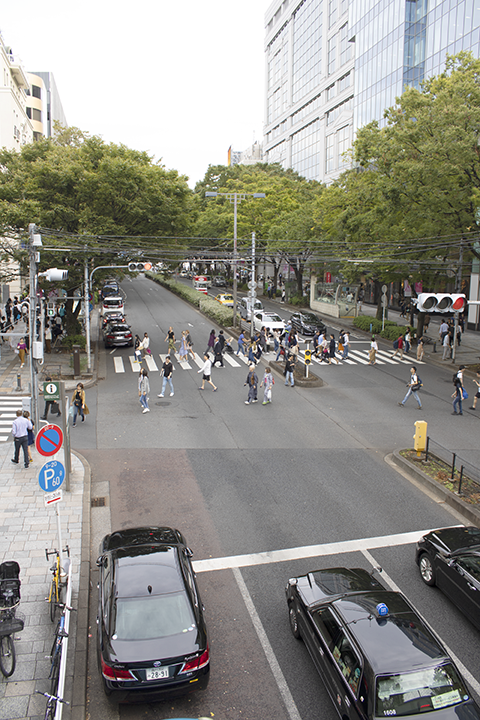 Omotesando Blvd. facing east.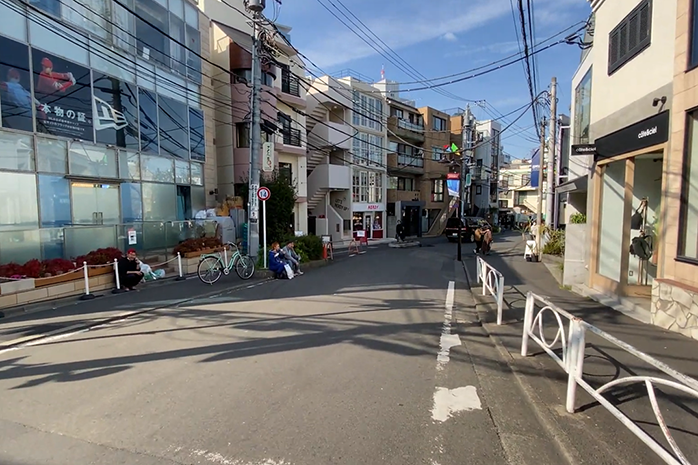 A side street off Omotesando Blvd.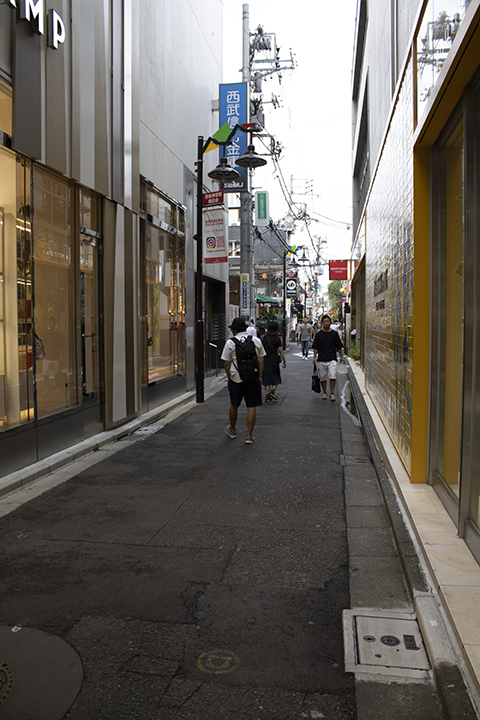 Another side street.
If you head down Omotesando Blvd, past the first major intersection, at around 35°40'04.35″ N 139°42'24.64″ E on the right across from the Ralph Lauren Flagship Store, you'll see a side street. If you turn right here and head up the street, just on your right you'll come to the best pancake shop in Harajuku: Flippers. This place is so good there is usually a line. The pancake craze has hit Tokyo and this is one of the best pancake shops in the city. Be prepared to wait and pay a few dollars to pig out on pancakes + fruit. But be careful – you can eat yourself sick in this place if you overdo it.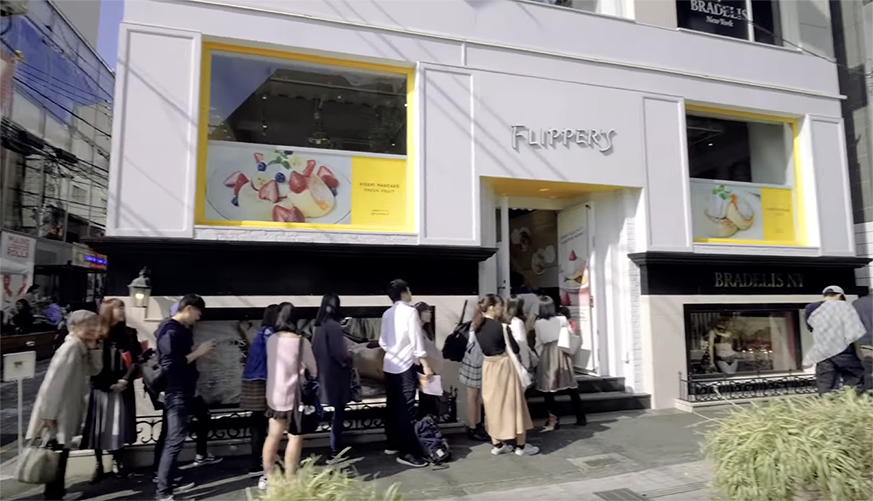 Flipper's pancake shop in Omotesando.
There is another, competing pancake shop called A Happy Pancake (Shiawase no Pancake – literally Pancake Happiness) in Omotesando worth checking out. See our review of the one in Ikebukuro for links + more info.
There are all kinds of additional shops down side streets. It's well worth it to wander down some of these streets to see what's there. There is even a TinTin store tucked back on the south side of Omotesando Blvd. If you arrive early enough, you can easily walk all of Harajuku + Omotesando in a day. Try to avoid weekends and nights because that is when the area is packed with crowds of tourists.
If you walk all the way down Omotesando Blvd. about .7 miles, you'll come to Rt. 413. If you head left (north) here, you'll find all kinds of interesting stuff. There's a great upscale noodle restaurant called Miyota. There's also an Olympic bicycle shop which has some really nice bikes at reasonable prices. There's an elegant upscale furniture store called Modern Works, and a few small drink spots: Beer Brain in a small wood shack on a trailer, and Stockholm – a small café with a tiny rooftop porch. All worth checking out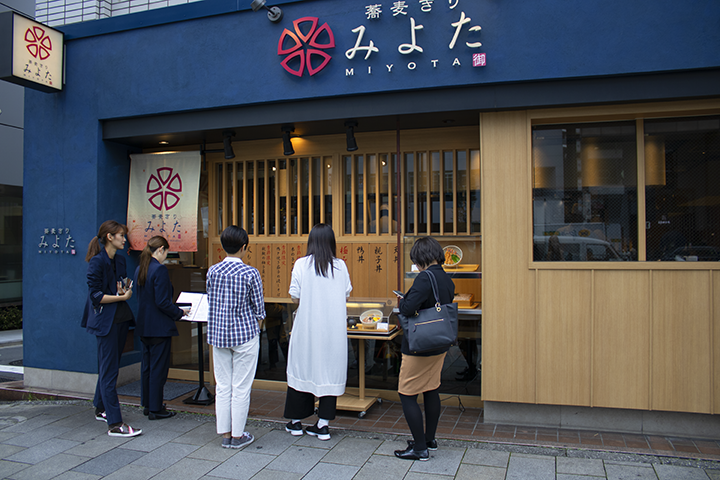 Miyota in Omotesando.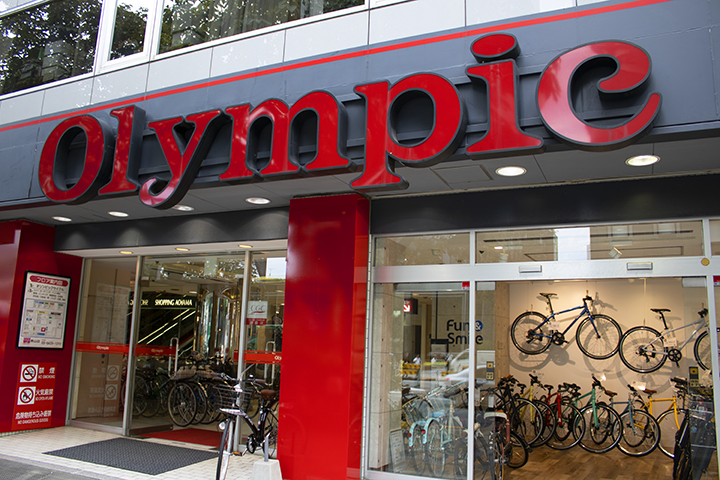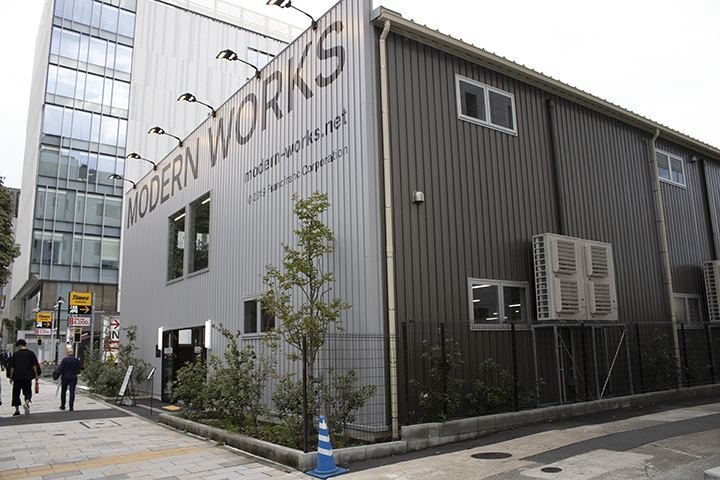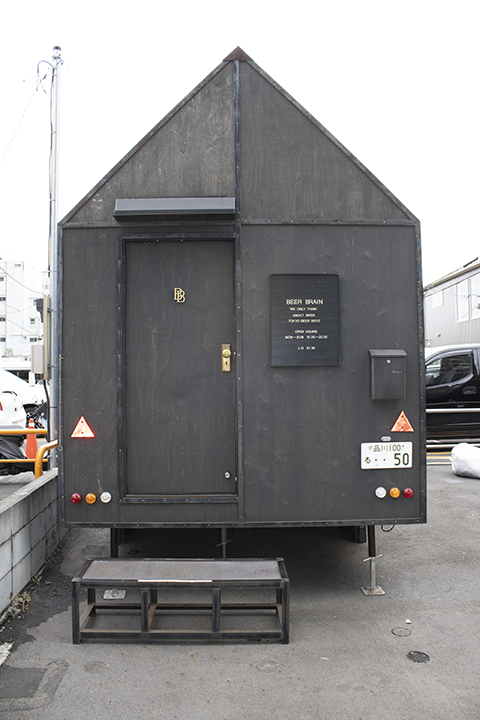 Beer Brain in east Omotesando.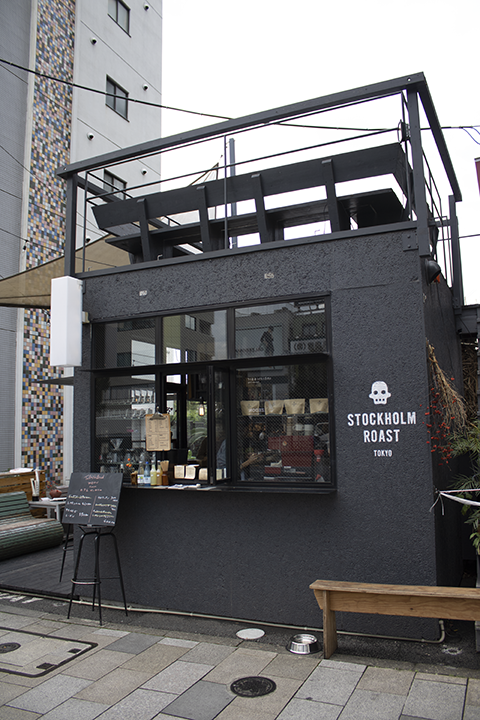 Stockholm Roast in east Omotesando.
Meiji Jingu Shrine
Back behind the new Harajuku Station to the west is Meiji Jingu Shrine. This is one of the most famous and popular shrines in all of Tokyo. It's surrounded by a huge park with spectacular gardens. Well worth a look. To reach the entrance, just exit the station, then head over the small bridge behind it and to the right.
Just to the southwest of Meiji Jingu Shrine is Yoyogi Park – also well worth a visit – and it's free. There 's a small pond inside, lots of walking paths, and large grass areas to sit in. It's a popular spot for picnics among locals in spring and fall. To reach it, head south (left) from the entrance to Meiji Jingu Shrine just for a few steps, then turn right under the pedestrian overpass. It's just a few yards down on the right.
In fact, you can walk the entire road encircling both parks in under an hour or two. Both are well worth a look.
A Few More Notables
There are a few other interesting spots to check out: Watari-um Museum, Nezu Museum, and The Awesome Store. See links below for more.
Cat Street
Back behind the main drag in Omotesando is a small quiet side street lined with shops called Cat Street. Well-lit and very interesting for a stroll. If you walk all the way north on this street you will eventually come out in Shibuya (See photos below).
Well, that's it for Harajuku/Omotesando. Enjoy your trip – both are easy to access, and compact enough to see everything in a day. It's one of Tokyo's most intersting spots and well worth a look.
Additional Photos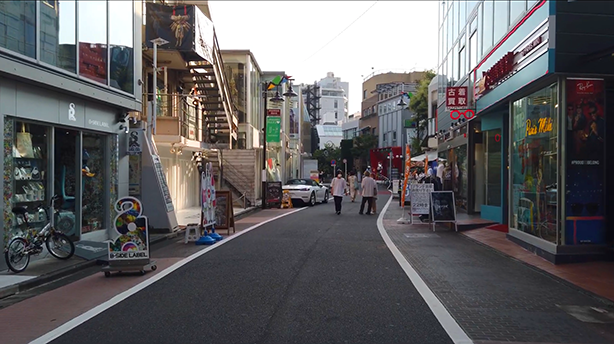 Cat Street in Harajuku leading to Omotesando Blvd.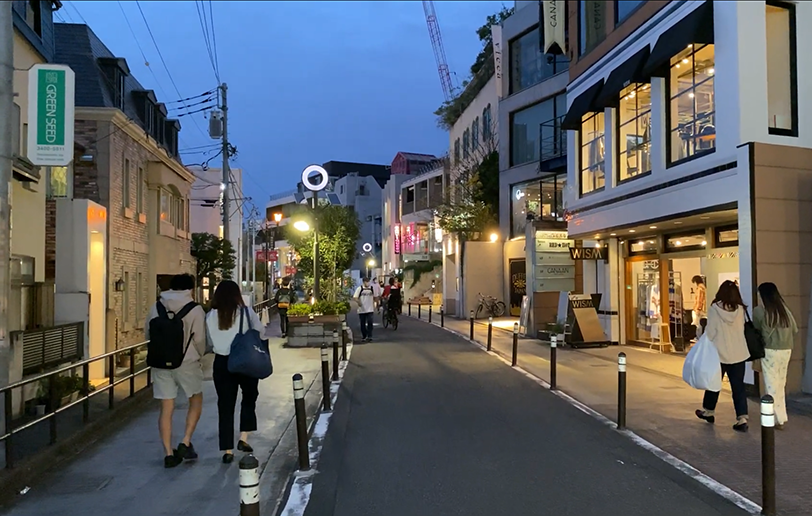 Cat Street in Harajuku leading to Omotesando Blvd. If you head back the other way and turn right where the street lights end, the road to the right will take you north to Shibuya eventually.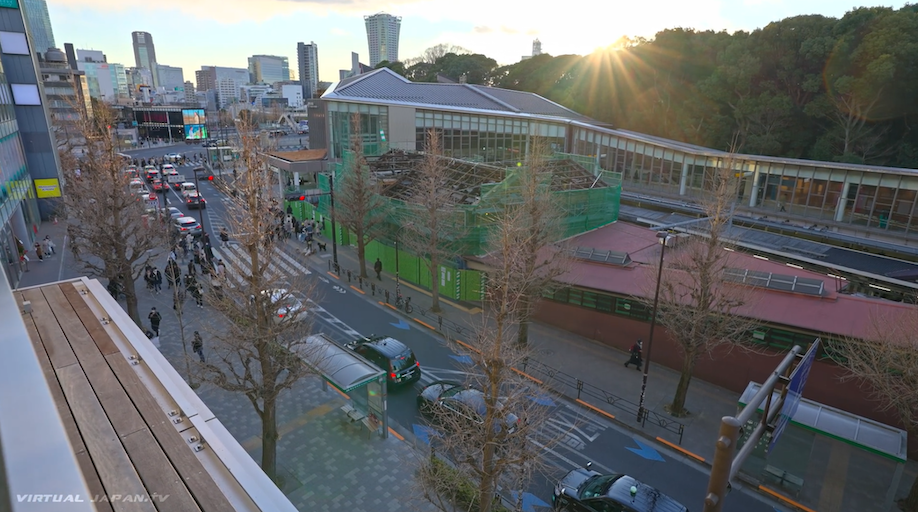 The old wood station being torn down in late 2020.
Co-working Spaces
In the new shopping complex across from the new Harajuku Station is a LIFORK shared work space. This space is brand new and excellent. It's on the top floor next to the new IKEA. If you're looking for cool shared office space, check it out. There is also a LIFORK in Akihabara.
Additional Photos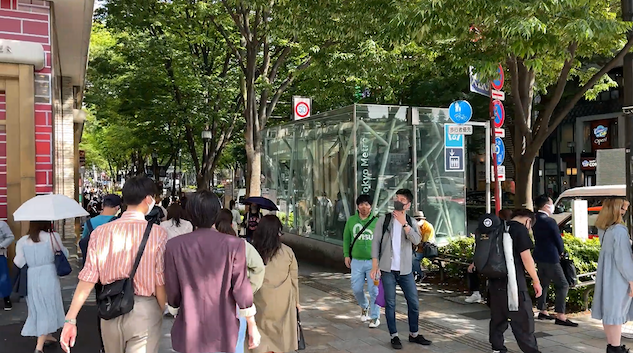 Entrance to Omotosano Blvd. across from the new JR Harajuku Station.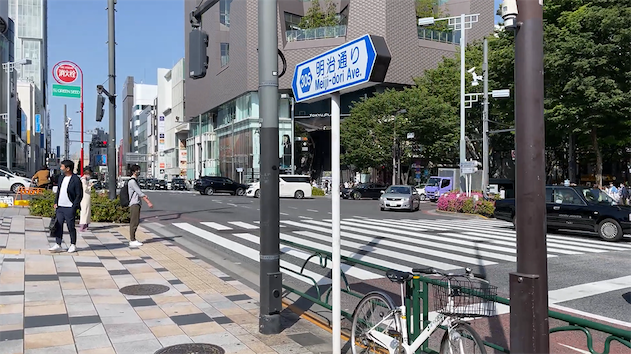 Meiji-Dori intersects Omotosando Blvd. near the new Q plaza bldg.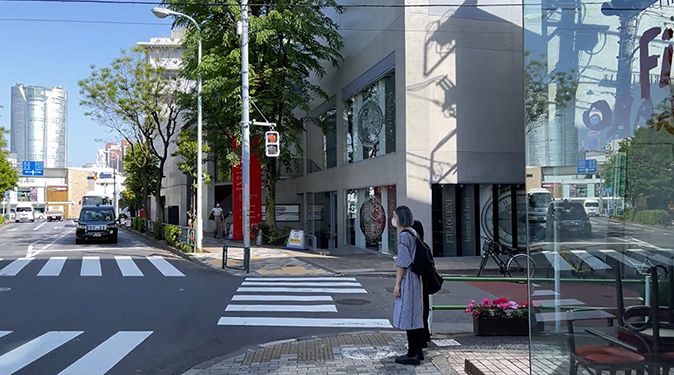 Looking north into Roppongi.
LINKS
https://www.jreast.co.jp/e/destinations/tokyo/index.html?src=gnavi
https://en.wikipedia.org/wiki/Harajuku_Station
https://www.japantimes.co.jp/news/2020/01/29/national/new-harajuku-station-building-unveiled-march-opening/
https://en.wikipedia.org/wiki/Harajuku
https://en.wikipedia.org/wiki/Omotesand%C5%8D
http://omotesando.or.jp/en/shop_category
https://thosewhowandr.com/blog/things-to-do-harajuku
https://www.timeout.com/tokyo/things-to-do/50-things-to-do-in-harajuku
https://whereintokyo.com/venues/25094.html
https://whenin.tokyo/Omotesando-Aoyama-Area-Guide
https://whenin.tokyo/Gyre-Omotesando
https://trulytokyo.com/omotesando/
https://trulytokyo.com/harajuku-and-aoyama/
Tokyo Travel Guide: Omotesando
https://whereintokyo.com/venues/25094.html
https://favy-jp.com/topics/2559
https://t5pg.jp/shops/a009-011-003/
https://www.tripadvisor.com/Restaurant_Review-g1066451-d8612608-Reviews-Sobakiri_Miyota-Minato_Tokyo_Tokyo_Prefecture_Kanto.html
http://tokyobelly.blogspot.com/2017/02/omotesando-soba-kiri-miyota-delicious.html
The jewel of the 1964 Olympics: Yoyogi National Stadium
http://www.poldepla.be/index.php?c=about&id=42
https://beertengoku.com/2016/07/20/beer-brain-in-omotesando-tokyo/
IKEA Harajuku – Shopping And Vegan-Friendly Swedish Delights
https://www.japanvisitor.com/japan-temples-shrines/meiji-shrine
https://www.japan-guide.com/e/e3002.html
Harajuku Guide @ The Best Japan
Workingholiday Connection | Harajuku
Coconut Glen's Coconut Ice Cream is a Must-Try in Omotesando
VIDS
https://www.youtube.com/watch?v=vsOBBA-hvfM
https://www.youtube.com/watch?v=VAc8tM9Gz5I
Even murals in Japan are done with class.