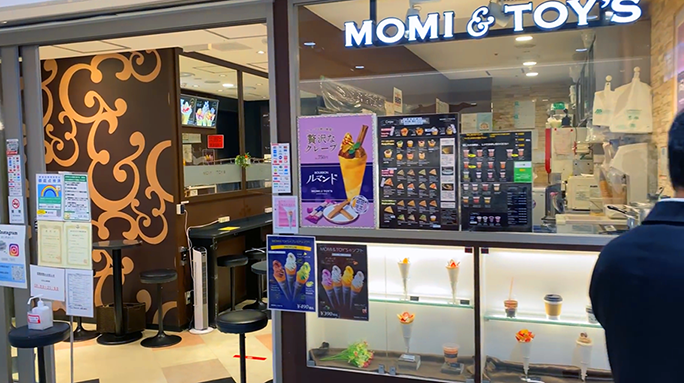 Name: MOMI & TOY'S Creperie
Kind: Crepe Shop
Station: Tokyo Teleport, Yurikamome Line
Location: Around 35°38'35.76″ N 139°45'36.65″ E
Address: 1-6-1 Decks Tokyo Beach 4F, Daiba, Minato 135-0091 Tokyo Prefecture
Phone: +81 3-3599-2764
Free WiFi: Yes.
Worth it? If you're in the area.
Our Rating: ⭑⭑⭑
Last updated 9/24/2022
©2022 tenmintokyo.com
MOMI & TOY'S is a crepe shop on Odaiba island but also has other delights such as bubble tea, ice cream, and drinks.
It's located in the Odaiba Decks Tokyo Beach complex on the north side of the island and is accessible from Tokyo Teleport Station on the Yurikamome Line from central Tokyo.
From the station head north 3 blocks and then head left (west) 2 blocks. The complex is huge so you can't miss it.
Also of note just to the north of the complex are 2 more interesting attractions: Odaiba Seaside Park, which includes a spectacular + spotless beach and a boardwalk with great night views of Tokyo Bay, and just next to it, Odaiba Marine Park Pier. Also just next to it to the west is Aqua City Odaiba and Fuji TV HQ. All are worth a look. For info on the other complexes, see our main Odaiba post below.
There is also a Kua'aina hamburger shop inside Decks, just like the one at Sky Tree.
Enjoy!
LINKS
とろけるクレープ | MOMI&TOY'S モミアンドトイズ
https://www.tokyo-odaiba.net/en/genre/odaiba_marine_park/