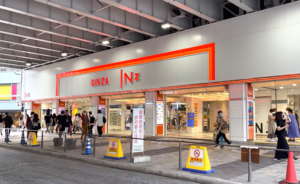 Name: Moomin Shop Ginza
Station: Yurakucho Station
Location: Around 35°40'25.72″ N 139°45'54.62″ E
Kind: Shop
Phone: 03-6263-2190
WiFi: Unknown.
Worth it? If you're in the area.
Our Rating: ⭑⭑⭑⭑
Last updated 12/17/2022
©2022 tenmintokyo.com
If you're near Yurakucho Station in central Tokyo, be sure to head just around the corner to the north to Ginza Inz and check out the new Moomin Shop Ginza.
It's located on the 1st floor of Ginza Inz 1.
japannews.yomiuri.co.jp/features/travel-spots/20221216-77640/
LINKS
https://www.ginza-inz.co.jp/?shopinfo=moomin-shop
Yurakucho Station Blue | Flickr