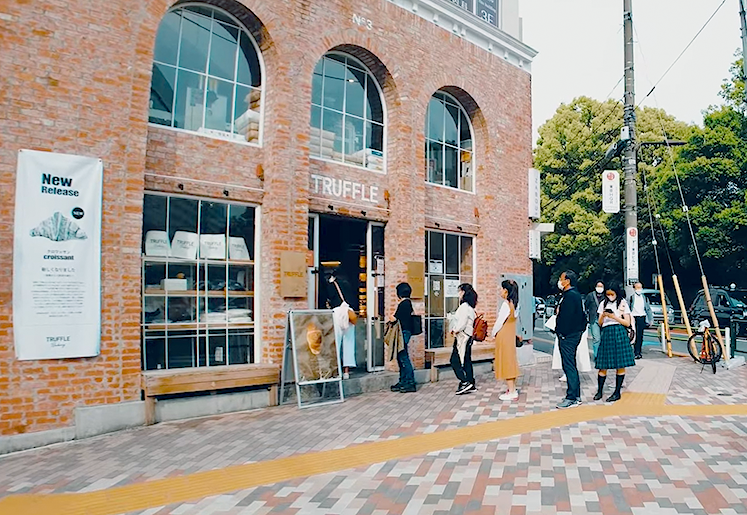 Name: TRUFFLE
Kind: Bakery
Where: 35°39'04.00″ N 139°43'20.48″ E
Stations: Hiroo Station, Hibiya Line
Free Wifi: Yes
Our Rating: ⭑⭑⭑⭑
Address: 5-15-16 Minami Azabu, Minato 106-0047 Tokyo Prefecture
Map: https://www.google.com/maps/dir//35.65089,139.72249/@35.6509884,139.652574,12z
Site: truffle-bakery.com
Phone: 03 6277 4894
Worth it? Absolutely.
Updated 12/17/22
©2022 tenmintokyo.com
The popular TRUFFLE bakery is the brainchild of chef Naoka Kamota, and is located on a corner in the popular center of Hiroo called Hiroobashi. Just across the street are the well-known MEDIA-YA and Vinos Yamazaki. The Metro station is just across the street also.
If you head north a few miles on the main street, you will arrive in Akasaka.
The large 2-story bakery makes all food fresh on-premise on the 2nd floor of its large brick building. It's good enough that there is usually a long line.
If you're in the area, you won't want to miss it.
TRUFFLE closes at 8PM nightly.
LINKS
https://en.wikipedia.org/wiki/Hiroo_Station
TRUFFLE BAKERY HIROO Tripadvisor
Love truffles? This Tokyo bakery makes luxurious bread with truffles