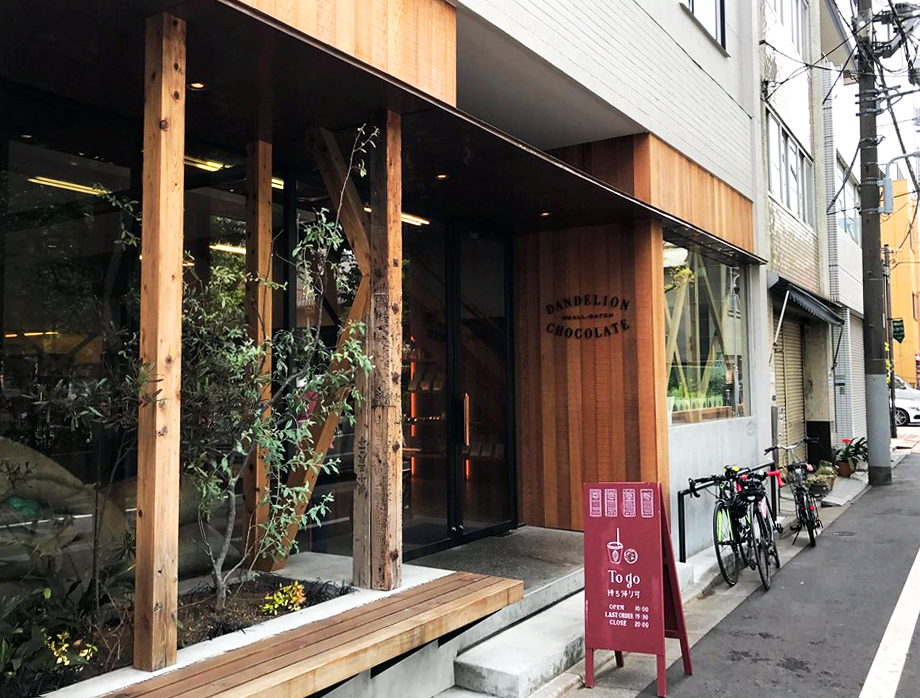 Name: Dandelion Chocolate
Kind: Chocolatier
Where: 35°42'13.18″ N 139°47'22.44″ E
Station: Kuramae Station, Toei Asakusa Line
Free Wifi: Yes
Our Rating: ⭑⭑⭑⭑
Address: 4 Chome-14-6 Kuramae, Taito City, Tokyo 111-0051, Japan (〒111-0051 東京都台東区蔵前4-14-6)
Map: https://tinyurl.com/2p9crm6x
Site: Dandelion Chocolate
Phone: 03-5833-7270
Hours: 11AM – 6PM
Worth it? Don't miss it.
©2023 tenmintokyo.com
Dandelion Chocolate in the popular tourist area of Asakusa is a delight to see. Not only can you buy and try samples of some of the best chocolate delicacies in Tokyo, but you can also watch the treats being made live.
The chocolatier is actually headquartered in San Francisco, CA, with 2 SF locations, but this satellite shop across the Pacific is a must-see if you're in Asakusa.
Housed in a nice wood and concrete building with seating, and large windows, you can sit and enjoy a treat and a coffee or gourmet hot chocolate. Prices are reasonable – around $7-$8 US.
Some of their specialties are out of this world. Check out the sample menu.
To get here, take the Toei Asakusa Line to Kuramae Station, exit on the west side, then head west about 3 blocks, crossing the main street of Rt. 462. The shop is squirreled away on the back side of a large building just across from Taito Kuritsu Seika Park.
They also have a store in Ise, and in Las Vegas.
LINKS
https://dandelionchocolate.jp/
About Us – Dandelion Chocolate
Tokyo & SF Collection – Dandelion Chocolate
ONLINE STORE – Dandelion Chocolate 公式サイト
Dandelion Chocolate | Restaurants in Asakusa, Tokyo
Dandelion Chocolate, Japan | Echochamber
【おとなの社会科見学・第1回(後編)】 ダンデライオン・チョコレート ファクトリー&カフェ蔵前 | 浅草橋を歩く
Dandelion Chocolate – Valencia St. – Chocolate by the Bay
machines Archives | Dandelion Chocolate