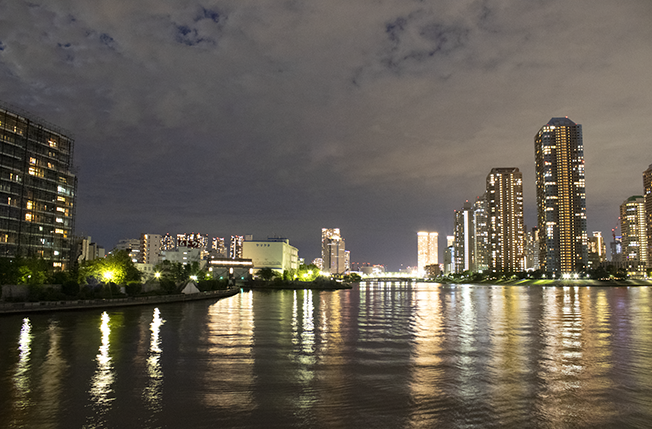 Name: Suitengumae
Kind: Town
Location: 35°41'02.66″ N 139°47'04.25″ E
Station: Suitengumae, Metro Hanzomon Line
Worth it? For a quick look.
Updated 9/25/2020
©2019-2020 tenmintokyo.com
Suitengumae
Suitengumae (or simply "Suitengu") is a small residential town just to the northeast of Tokyo Station. You can get here by taking the Metro Hanzomon subway line, or by walking or cycling. The walk is not far – about 2-ish miles. To walk or cycle from Tokyo Station, exit on the Yaesu (east) side of the station at the north exit, then head north until you hit Rt. 10 (Eitai Dori), then head east. About a mile down, you'll come to the Minato Bridge which crosses the Nihonbashi River. The coordinates for this turn are roughly at 35°40'44.68″ N 139°46'59.90″ E. Turn left (north) and cross the bridge. Head north a few blocks and you'll come to a massive 4-level freeway interchange above you. Turn left here. Keep this interchange in mind as it's an important landmark for several reasons explained below. Also under this overpass is an entrance to the Metro subway Suitengumae Station which also houses the Tokyo City Air Terminal (T-CAT) which is explained below.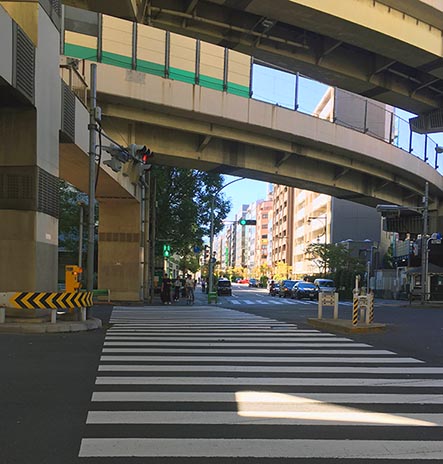 The huge freeway interchange north of Eitai Dori looking back west along Rt. 50. Suitengumae Station is behind the camera to the left.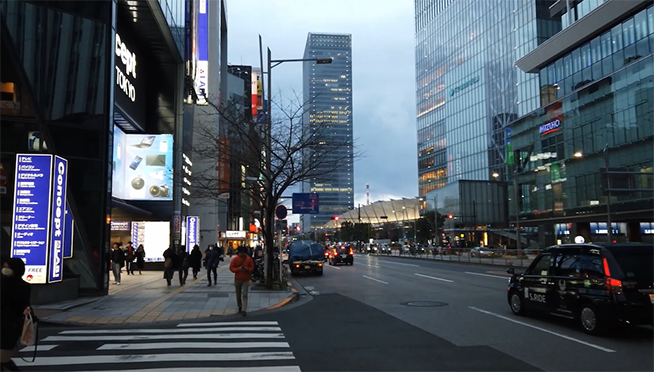 Yaesu (east) exit with Tokyo Station on the right. This is facing south. Eitai Dori is to the left (east).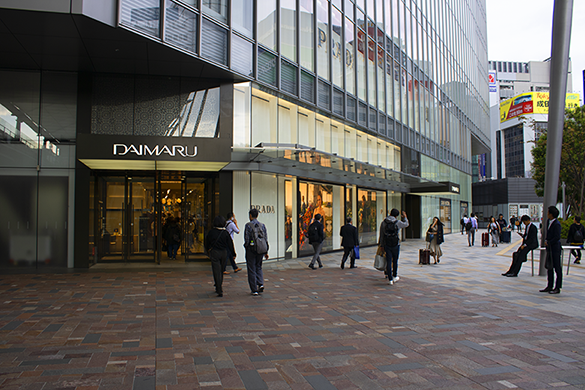 Just outside the Yaesu (east) side of Tokyo Station. Head north here to reach Eitai Dori, then head east (right).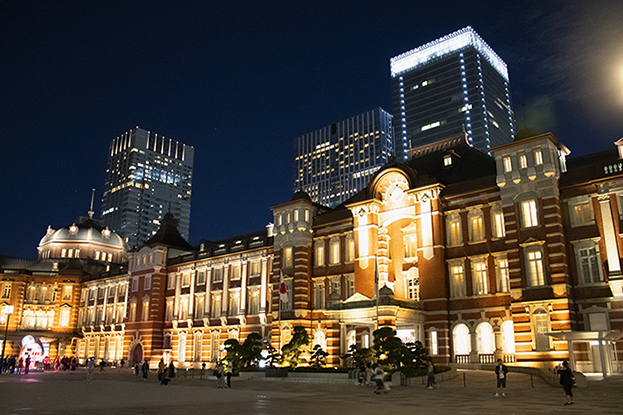 West (Marunouchi) side of Tokyo Station at night. Just to the left out of frame is an entrance to the Hanzonmon Line underground. Suitengumae is to the east of Tokyo Station down Eitai Dori (Rt. 10). This photo is facing northeast.
If you turn right at this interchange you'll come to the Sumida River a few blocks down. But instead turn left and a few blocks back east you'll pass the Royal Park Hotel on your right, and come to another Suitengumae Station entrance on your left. You're now in the heart of Suitengumae. In fact, there are several Suitengumae Station entrance/exits scattered all around the area. You'll have to go inside the station to get familiar with all the exits and where they lead. The station itself is entirely underground and except for the large entrance where T-CAT is, the only evidence of the station you'll see are the small stairwells on the sidewalks.
An alternate walking route would be to cut down side streets east of Tokyo Station, then re-emerge onto Rt. 10 a few miles down.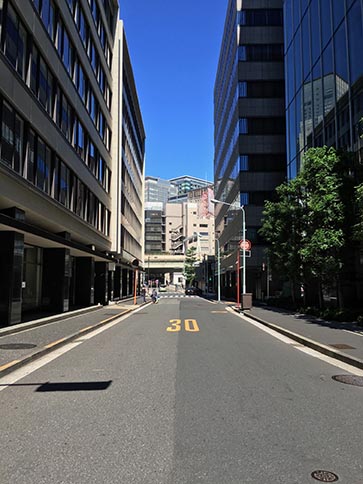 Cutting east down side streets in Tokyo on the way to Suitengumae.
Trains
If you want to take a train to Suitengumae you'll need to find the Hanzonmon Line on the Tokyo Metro. You can get it from Tokyo Station, or from Otemachi Station just to the north, but be warned that the tunnels + routes to Hanzomon Line are underground in Tokyo Station and are miles of labyrinths. You can easily get lost in them, and even if you don't it takes forever to get to the actual Hanzomon Line platform under Tokyo Station. An easier way is to find a Hanzomon Line entrance on the surface streets north of Tokyo Station and head down. You still may have to walk a bit so be prepared. The entire experience is generally known around Tokyo to expats as Hanzomon Hell (see videos below). Sometimes you have to walk through entire shopping centers + up and down multiple flights of stairs to get to where you want to go. You can literally spend hours walking around in the system under Tokyo Station – so be prepared.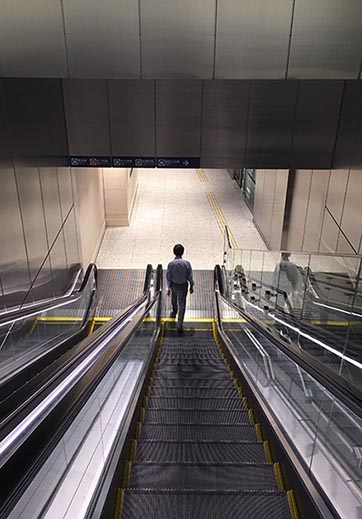 Abandon all hope of your feet not hurting all ye who enter here. Once you descend into Hanzomon Hell in search of a subway entrance, it may be quite some time until you find what you are looking for. Be prepared to walk. It may take hours.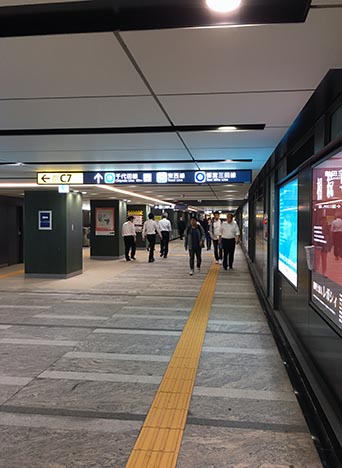 Another corridor in Hanzomon Hell. Be ready to walk (and walk, and walk, and walk).
You can also get on the Hanzomon Line at Otemachi Station (Z08) just to the north, or you can switch at Otemachi Station from the Tozai Line, Chiyoda Line, or Marunouchi Line. If you're coming from Ginza just to the south, you can take the JR Yamanote Line to Tokyo Station from Yurakucho Station or the Yurakucho Line from Yurakucho Station. You can also change directly to the Hanzomon Line from Nagatacho Station on the Yurakucho Line. If you're on the far west side of the city, you can get on the Tozai Line at Nakano Station, then change at Yurakucho Station. The Hanzomon Line stops at various other places all the way across the city, terminating at Shibuya.
Jump To Tokyo Sky Tree, Sumiyoshi, Kinshicho, and Shibuya
One other interesting footnote about the Hanzomon Line and Suitengumae is both make access to Tokyo Sky Tree easy. Oshiagé/SKYTREE is the western terminus of the Hanzomon Line. If you stay at lodgings near Suitengumae Station, it's mere minutes to Sky Tree to the northeast. Suitengumae Station is roughly at the middle 1/3 of the Hanzomon Line (Otemachi) which makes it a good spot for access to both the east + west sides of Tokyo. It's closer to Sky Tree than to Shibuya in the west, but both are still easily accessible. We'll discuss lodgings a bit more below.
2 stations to the west is Sumiyoshi, then Kinshicho, and then Oshiagé/SKYTREE.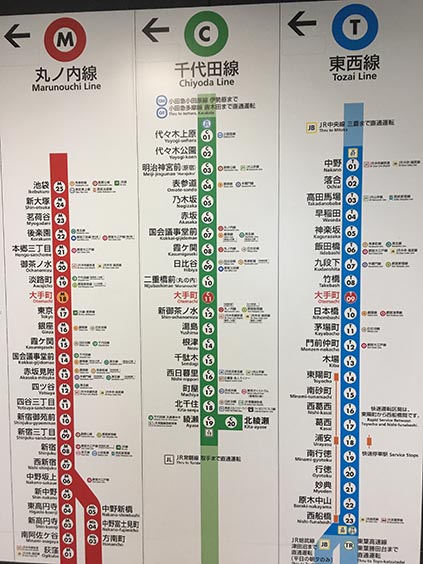 Station maps of Marunouchi, Chiyoda, and Tozai lines. Colored circles next to each station indicate line interchange stations. The station highlighted in red is the current station.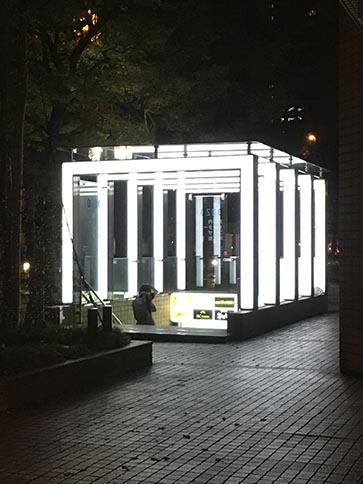 One of many surface street entrances to the Hanzomon Line in Otemachi.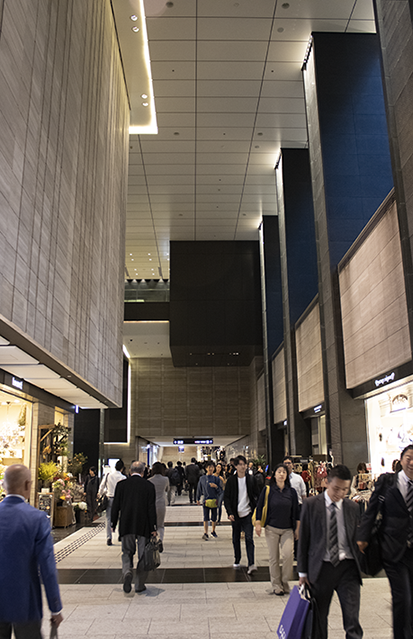 Approaching the Ootemori level of Hanzomon Hell under Tokyo Station – only one of many levels you will have to pass through to find the subway platform you want. The station levels themselves are quite nice – it's the miles of walking that makes it hell.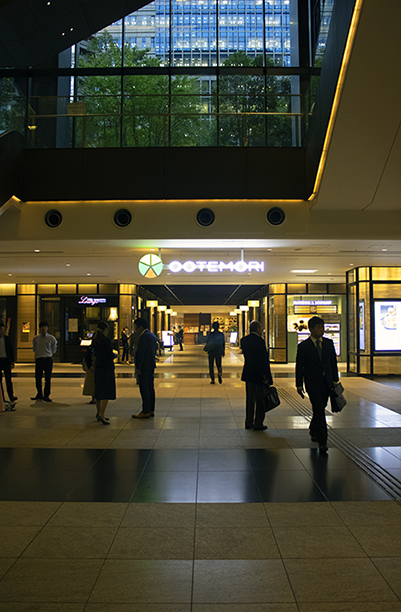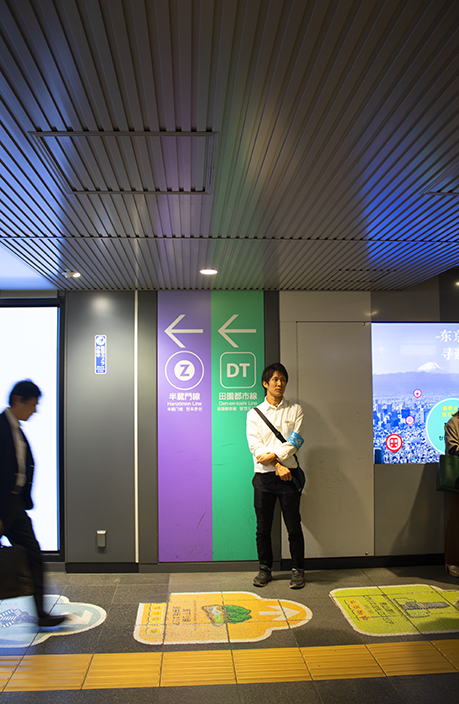 Deep inside Hanzomon Hell under Tokyo Station. As you come upon a Metro line sign in Hanzomon Hell, you may think your walk is over, but you're not even close. You'll often see signs like these color-coded with the line symbol and color, and a message of how much further (such as "Hanzomon Line 500m") with an arrow. You get duped into thinking it's just ahead but in reality you'll have to pass through many such signs to reach the desired platform. What these signs really mean is "X number of meters until the next corridor junction or stairwell or escalator. So it really ends up being many such paths of 500m + 700m + 300M + 200M…. Before you know it, you've been walking for 2 hours and have walked over 5 miles!
Suitengumae Station + Tokyo City Air Terminal (T-CAT)
One of the best-kept secrets in Tokyo is the Tokyo City Air Terminal (T-CAT). It's inside Suitengumae Station and it has buses that depart to both Narita International Airport and Haneda Airport. The buses are very cheap at around $9 per one-way ride. That's about 1/2 the cost of taking the NE'X or Keisei Skyliner from say, Ueno. It's a good idea to go a few days before your departure date and buy a ticket in advance.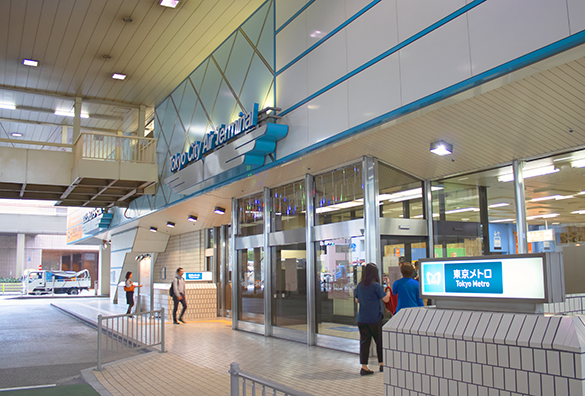 Tokyo City Air Terminal (T-CAT) just under the freeway overpass interchange. Suitengumae Station is also inside. There's also a small shopping mall. The pink bldg. visible ahead on the left side of the photo is the Royal Park Hotel. Just to the right behind the station next to the hotel is a huge paid bike parking lot. There is also a station entrance leading underground inside the hotel.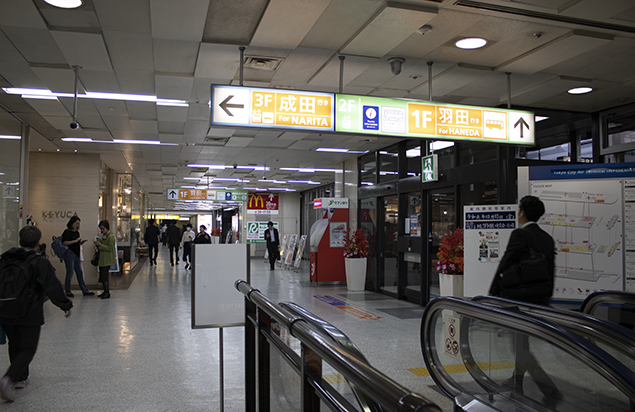 Inside Tokyo City Air Terminal (T-CAT).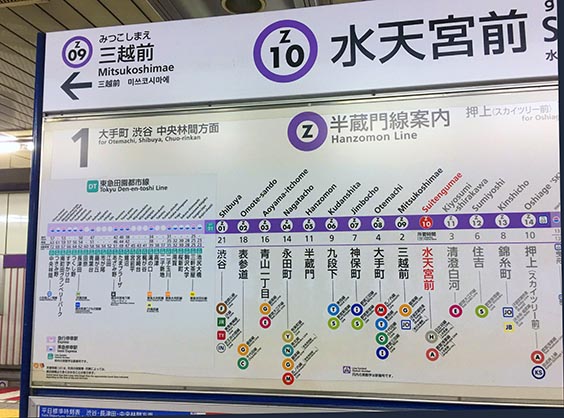 Station map inside Suitengumae Station.
Bike Parking + Royal Park Hotel
Just west of the station is the very luxurious Royal Park Hotel. It's very nice but a bit expensive. Expect to pay $200 or more per night. On the northeast corner of the hotel is a huge outdoor paid bike parking lot where you can lock your bike for the day if you need to. Cost is around 400¥ ($4) for 8 hours.
AEON Supermarket + Doutour
There's not a lot in the way of food around Sutengumae Station. There's a Family Mart conbini (convenience store) just across the street as well as a 7-11. Just to the east across the street is a Doutour café which is quite good. A few blocks to the east on the same side as the station is a nice AEON supermarket which has good organic vegetables very cheap. They also sell KAGOME bottled vegetable drinks + bottled coffee. Most of the real food in Suitengumae is back towards the west along Rt. 50 where Suitengu shrine is (see below). There is also a post office along this route.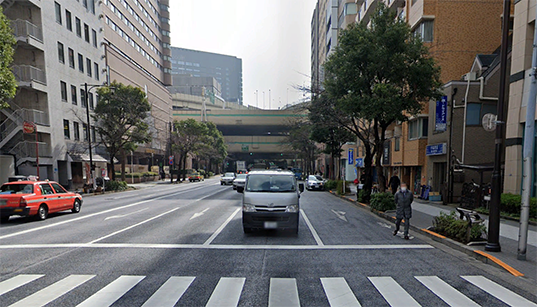 Looking back east along Rt. 50 towards the expressway interchange. The Royal Park Hotel is on the left.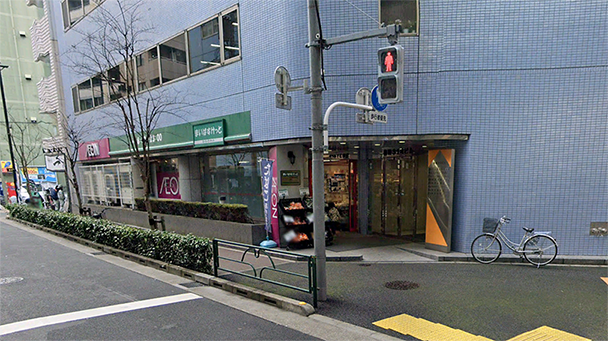 The AEON Supermarket a few blocks east of the station.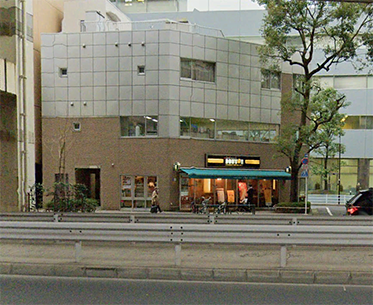 Doutour café also a few blocks east of the station, facing south.
Eitai Bridge + Ookawabata River City
If you walk back to where the IBM HQ bldg. is, you'll find a small bridge named Toyomi Bridge. You can cross back onto Eitai Dori by crossing this bridge. Once you're back on Eitai Dori, if you head further east you'll come to the world-famous Eitai Bridge with its iconic view of Ookawabata River City. You can walk or ride a bike across this bridge and stop mid-way to take photos. If you cross the bridge to the east and keep going, then turn south along Kiyosumi Dori, you'll find the Tokyo University Centennial Museum of Marine Science and Technology (TUMSAT), which also has a large wooden sailing ship, the Seimyo-maru outside to check out.
Ookawabata River City as seen from Eitai Bridge.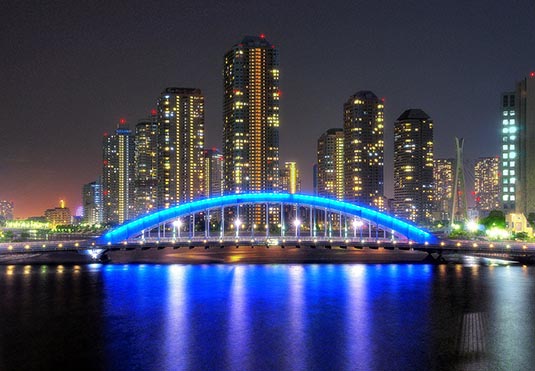 View of Ookawabata River City + Eitai Bridge from futher up the Sumida River.
Kiyosumi Park + Kiyosumi Teien Japanese Garden
A bit to the northeast of Suitengumae across the Sumida River is Kiyosumi Park and Kiyosumi Teien Japanese Garden/Ryōtei Tea House. The garden is spectacular, especially in the fall and is well worth a stop. You'll need to cross the river and then head north on side streets for a few blocks, but it's not too far and is well worth the trip.
Suiten-gū (水天宮) Shrine
Perhaps the biggest historical attraction in the area is Suitengu Shrine, established in 1881. It's just up Eitai Dori on the north side of the street to the west of Suitengumae Station. The shrine's wooden architecture is amazing. Worth a look.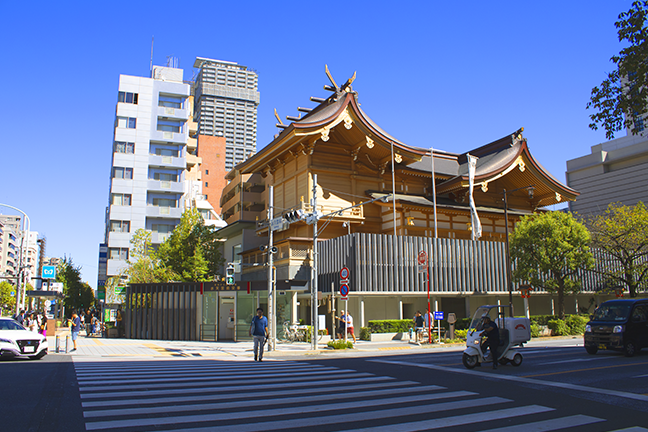 Suitengu Shrine, facing north. Suitengumae Station is to the right, out of frame.
Lodging
Aside from the Royal Park Hotel, there are a lot of guest houses and AirBnBs in the area, but the hidden gem to stay at is First Cabin Suitengumae. First Cabin provides luxury capsule lodgings for a reasonable price. Expect to pay $42/night or so. Hidden down a little side street just to the east of the interchange overpass, First Cabin Suitenguemae is worth a stay. The building has been fully remodeled and the facilities are spotless. There's also a small Lawson conbini a few blocks to the north. The staff is very helpful and there's a large lobby with tables + chairs to sit at where you can eat your brought-in food. The hotel also sells small breakfasts in the form of croissants, bagels, and pastries. There's also a coffee machine. Overall, very nice. To get to FCS, head back east on Rt. 50 through the overpass, past a small Koban (police box), past the AEON supermarket, then make the next left (north) down the next side street. Continue north past the bagel shop, then a few blocks up turn right. The building is a tall narrow white/gray bldg. with a First Cabin sign on the front.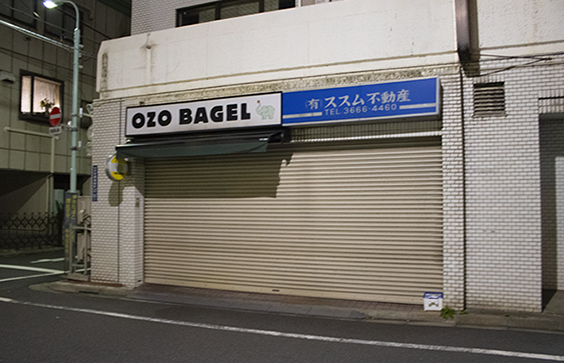 Head left (north) past Ozo Bagel.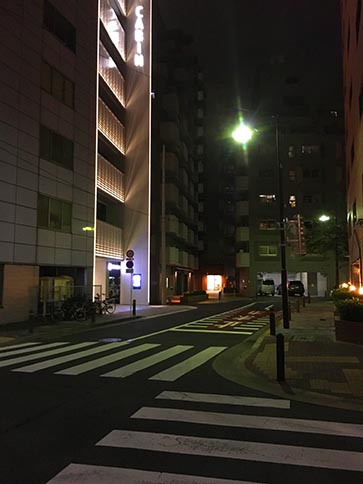 Look for First Cabin down a side street to the right.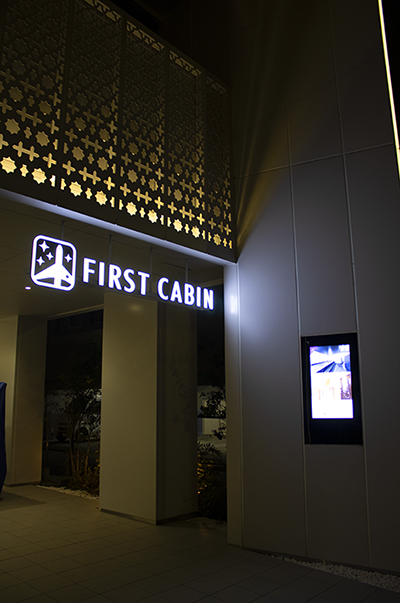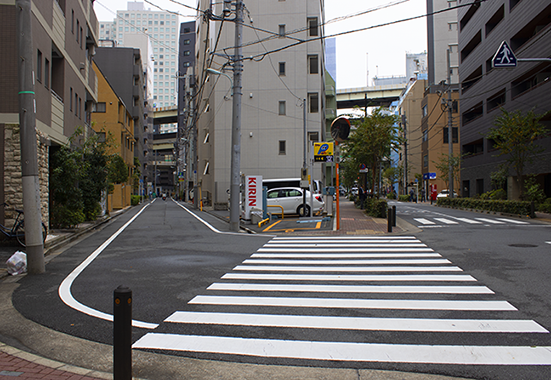 Looking south from the entrance to First Cabin. The overpass is straight ahead over Rt. 50. Turning right onto Rt. 50 here will lead you to Suitengumae Station a few blocks up.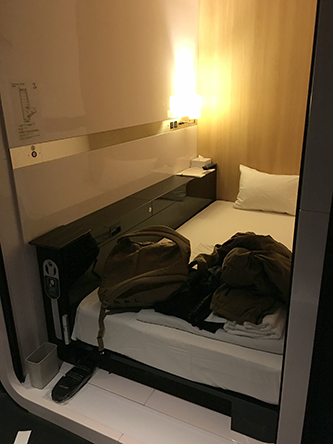 Inside First Cabin standard room. There is also a small lock box on the left for your belongings.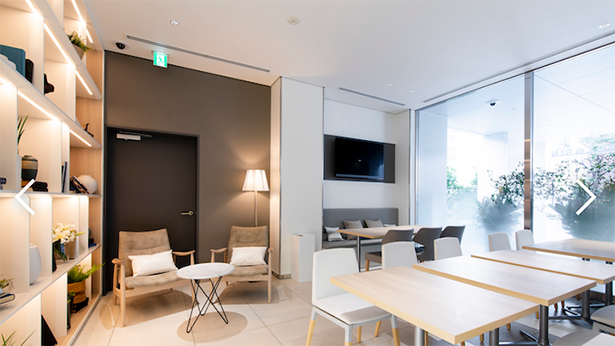 Lobby lounge inside First Cabin Suitengumae.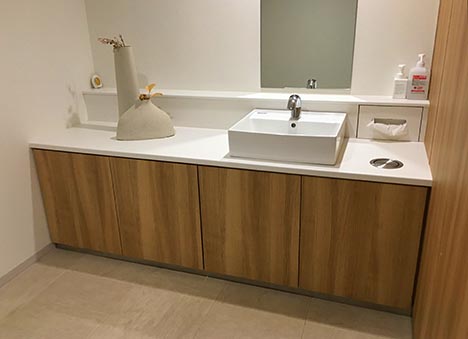 Restroom inside First Cabin Suitengumae.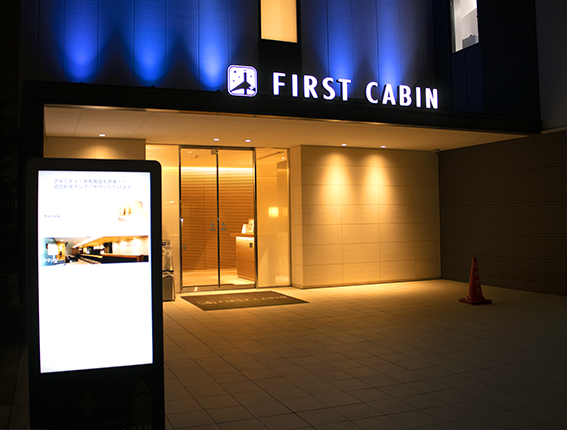 Another First Cabin – this one over in Toranomon.
https://first-cabin.jp/en/hotels/32
Additional Notes
From Asakusa you can take a world-famous boat cruise up the Sumida River past Suitengumae.
Just to the south of Suitenguemae on the banks of the Sumida River is the Japanese HQ for IBM Corporation. There's a walkway all along the Sumida River which runs for miles.
Additional Photos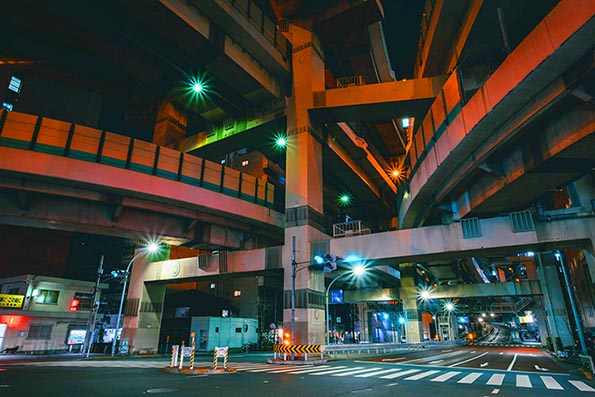 The massive 4-level Metropolitain Expressway interchange north of Eitai Dori. The T-CAT/Suitengumae Station are underneath this overpass on the north side. If you head far enough east on this road and turn left (north) you can hike to Sky Tree in about 9 miles.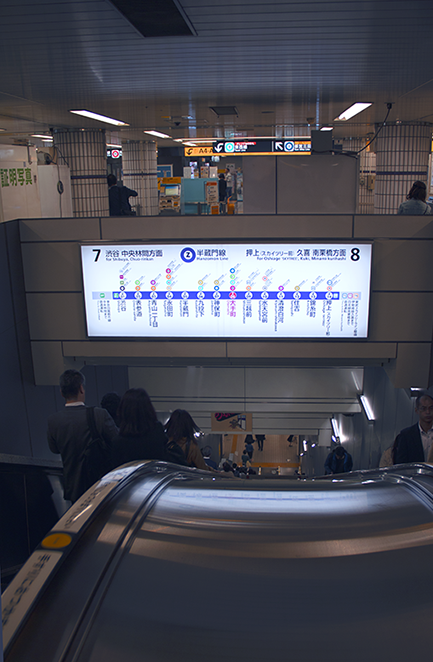 Hanzomon Line entrance in Tokyo Station. The line map is overhead with each station. Red indicates the current station.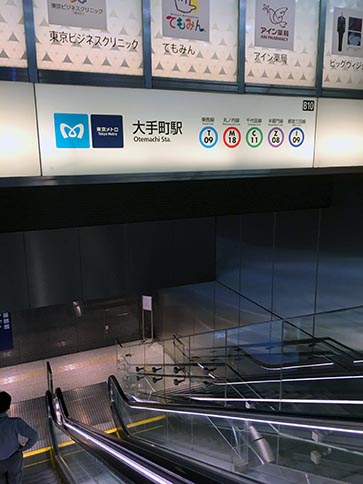 Line entrances @ Otemachi Station. Each line has a colored circle, and a letter. The current station number for this station on each line is inside each circle at the bottom. Some, but not all stations are interchanges for other lines.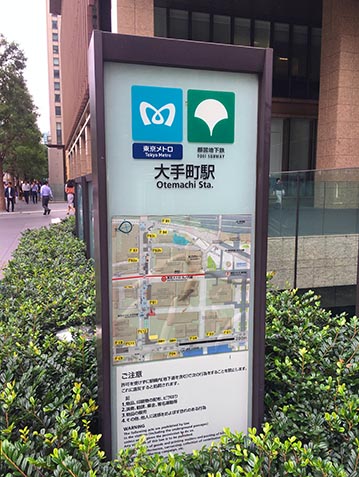 Another street entrance @ Otemachi Station. There's also an area map. The green symbol to the right is the Toei subway system symbol – an alternate system from the Metro but which uses many of the same stations.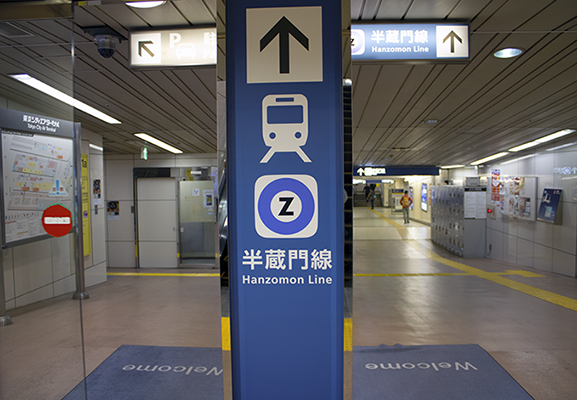 Inside the lower level of Suitengumae Station. Note the bank of coin lockers on the right.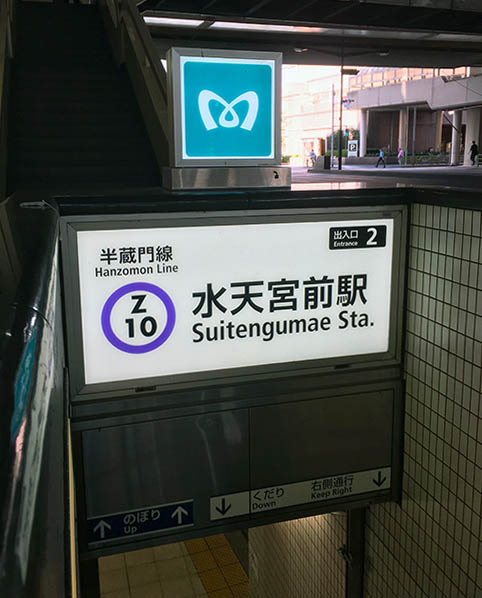 Street entrance to Suitengumae Station on Eitai Dori. Just to the right in the upper corner is the Royal Park Hotel. Just down the side street to the right is an outdoor paid bike locker. This is facing west towards Tokyo Station.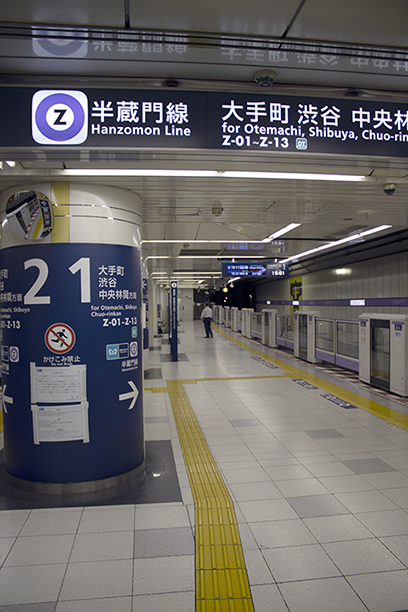 Hanzomon Line platform.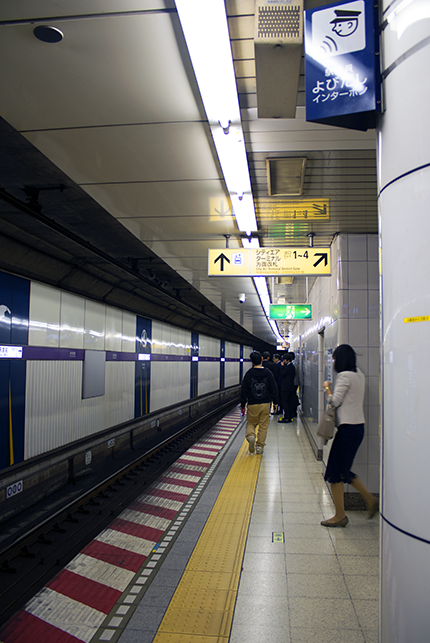 Hanzomon Line platform. The yellow rubber tracks are for sign-impaired people. The rubber tracks allow them to use their canes to find their way. Sort of like braille for walking.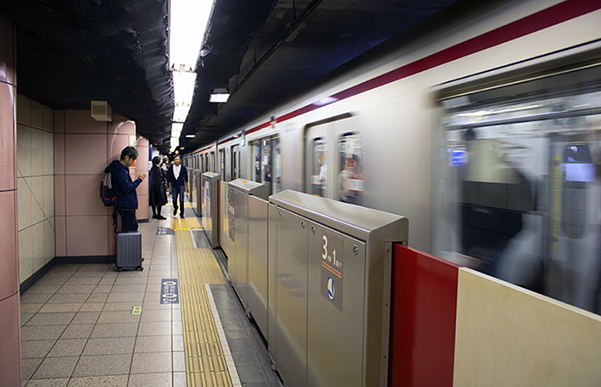 The Marunouchi Line whizzes by under Tokyo Station. "Marunouchi" literally means "Home Circle" in Japanese ( "Maru" (circle) "no" (of) "uchi" (home) ).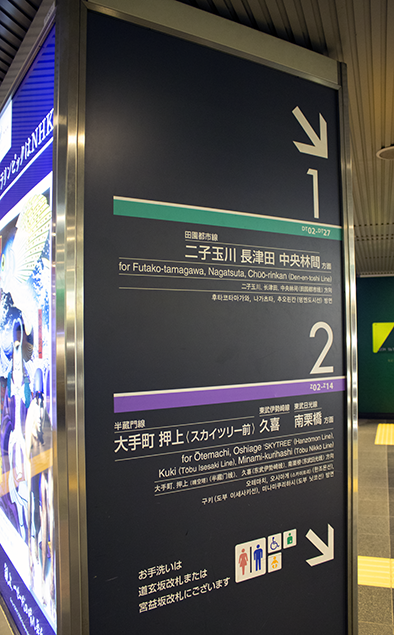 Entrance to Hanzomon and Chiyoda Lines in Tokyo Station. The numbers indicate which platform side, the colors indicate which line. Some recent renovations in some stations in Tokyo also include lighted color stripes on the walls to indicate which path to take.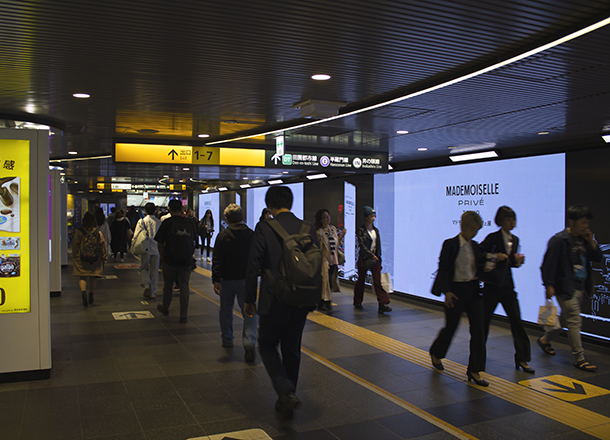 More levels inside Hanzomon Hell.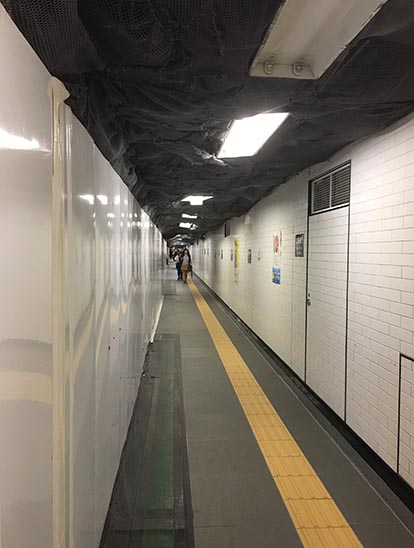 LINKS
https://www.tokyometro.jp/lang_en/station/otemachi/index.html
https://tokyo-tokyo.com/Suitengumae.htm
https://tokyocheapo.com/locations/central-tokyo/suitengumae/
https://tokyosharehouse.com/eng/
http://www.ootemori.jp/index.php
https://www.pokemoncenter-online.com/cafe/
https://first-cabin.jp/en/hotels/32
VIDS