©2019-2020 tenmintokyo.com
Name: Glitch Coffee
Kind: Café
Location: 35°41'37.16″ N 139°45'40.90″ E
Hours: 8 PM weekdays, 7 PM weekends
Email: brewed@glitchcoffee.com, press@glitchcoffee.com
Site: http://glitchcoffee.com/
Phone: 03-5244-5458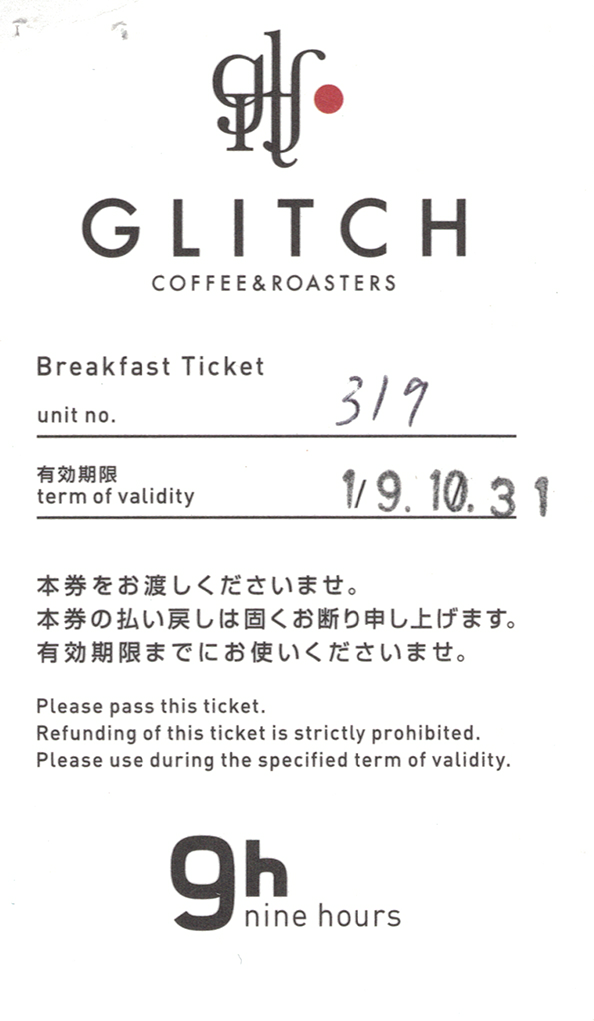 Just 2 blocks northeast of the Imperial Palace, in south Kanda/Jimbocho, in a bldg. without so much as a sign is the very cool Glitch Cofee & Roasters. This is a very hip little hole-in-the-wall coffee shop with some premium varieties of coffee. Well worth a stop-in. To get here, take the Tozai line to Takebashi Station (T08 – 35°41'21.44″ N 139°45'40.89″ E), and walk north on Rt. 301 for a few blocks. You will pass a small street on the left with a 7-11 on the corner. Just down this street to the left happens to be 9 Hours Otemachi – a small modern capsule hotel, which is quite inexpensive.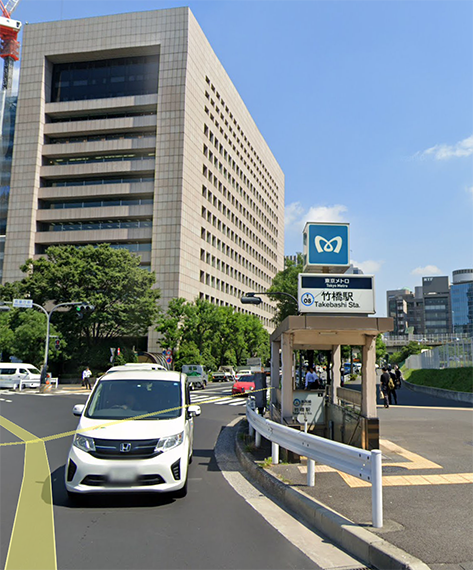 Tozai Line Takebashi Sta. (T08), Exit 4. Head north from here and stay on the right side of the street.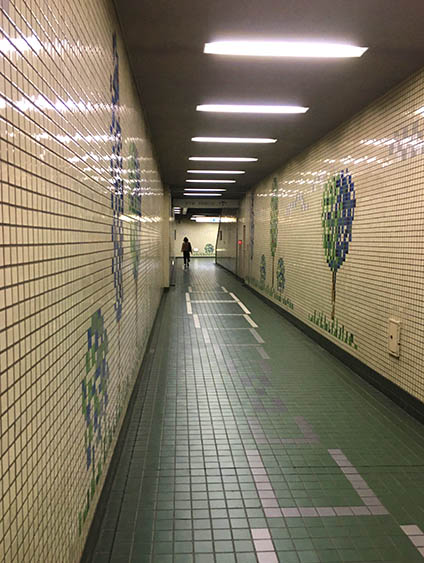 Inside the somewhat Soviet-feeling Takebashi Sta.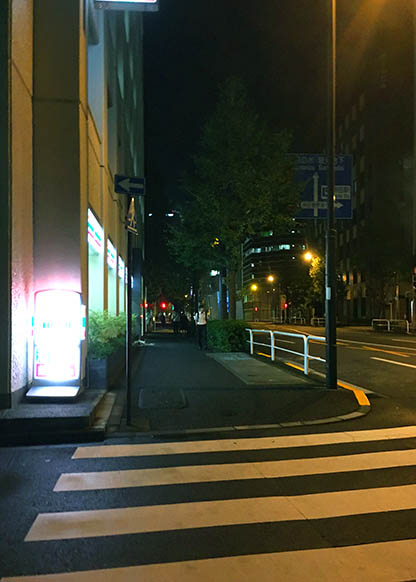 Rt. 301 facing north on the left side of the street. 9 Hours Otemachi is to the left, Glitch Coffee is up on the right 2 blocks. Further up on the left side of the street is a Yamato Transport luggage delivery service.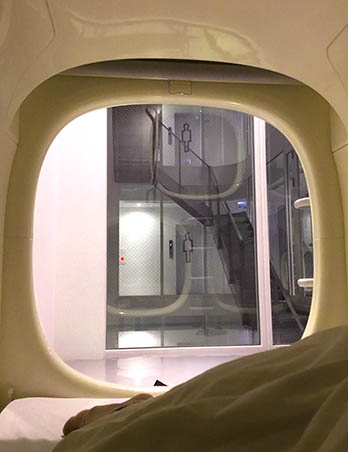 Inside 9 Hours Otemachi.
You can also get there by getting off at Jimbocho Station (Z07) which is about 10 mins to the northwest if you take the Hanzomon Line instead, although it's a bit of a longer walk than from Takebashi Sta. The Hanzomon Line also has the advantage of being 1 stop from Otemachi Sta. which shoots you right in near Maronuchi and Tokyo Station. Hanzomon can also take you out to Sky Tree/Oshiagé to the east quickly as well.
If you continue up 301, 2 more blocks on the right is Glitch Coffee. This is just before the main cross-street of Rt. 401, which if you head west (left) leads to Tokyo Dome, and if you turn right (east), leads to the WATERAAS complex, and beyond that, Akihabara.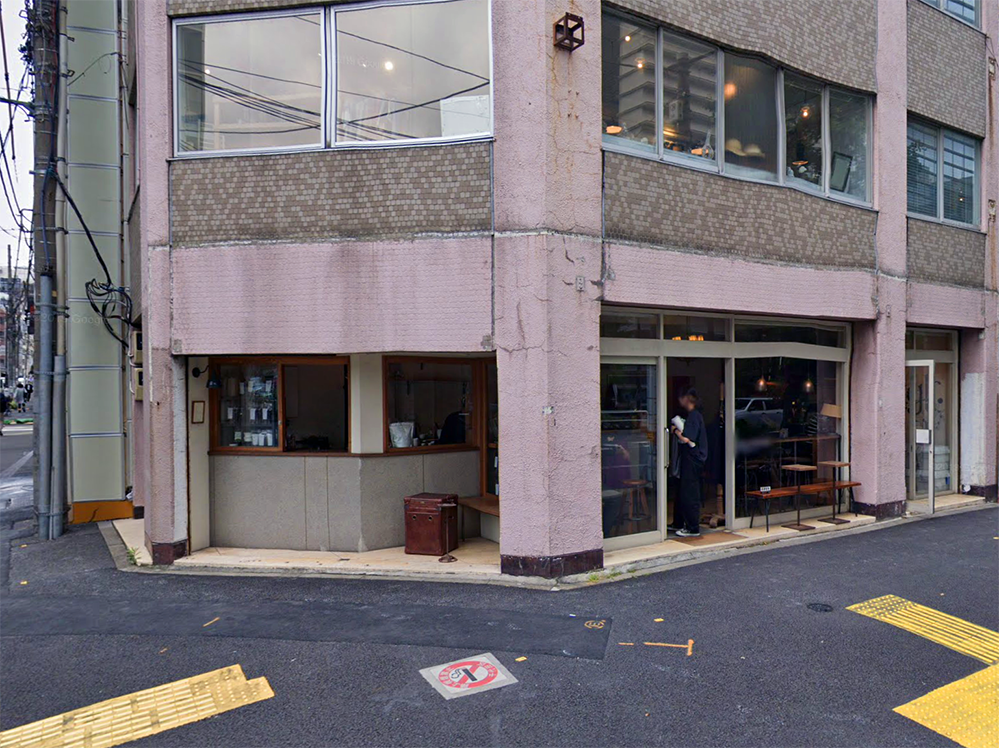 Glitch Coffee, in south Kanda/Jimbocho – 2 blocks northeast of the Imperial Palace. The shop is on the east side of the street. This is facing southeast towards Tokyo Sta. There is no sign, except on the doors.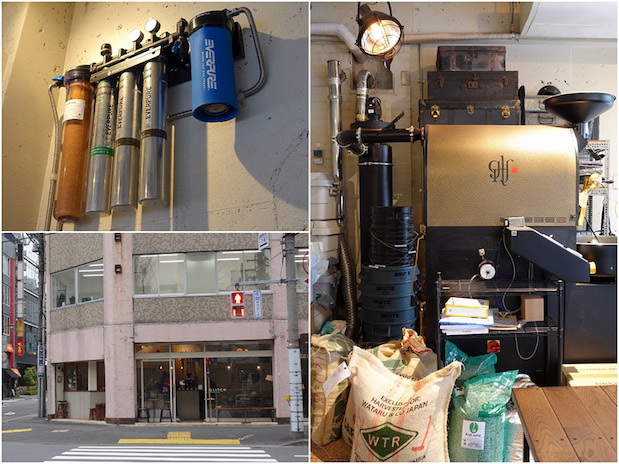 9 Hours Otemachi also has a deal with Glitch for a free breakfast every morning you stay there. Glitch has a nice pastry selection as well.
There are also other Glitches in Akasaka and Nagoya.
Of interesting note is the the fact that if you continue north past Glitch, in a block or two you'll come to Rt. 302 (Yasukuni Dori), which runs east to west. This is a major street which has lots of sporting goods stores. There is a SuperSports Xebio store right across the street, as well as lots of ski + snowboard shops along the street. If you continue east on 302 for several blocks, you'll come to Rt. 405 (Sotobori Dori), which, if you turn north (left) onto, will take you the WATERRAS complex, which is worth checking out, and which has a very nice Olympic Grocery store + Mister Donut in it. You can enjoy a nice stroll up and down these streets for all kinds of shops and cafés.
Less than a mile east of that is Akihabara.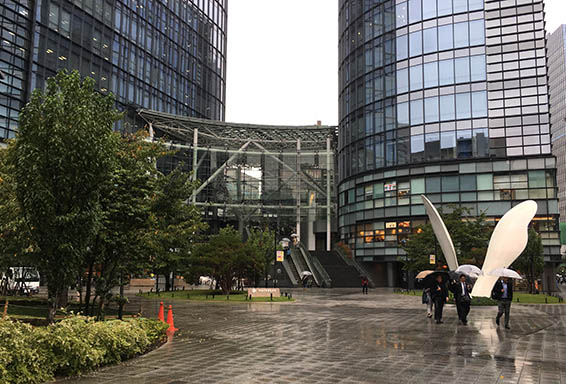 WATERRAS Complex northeast of Glitch.
As a footnote, Meiji University is nearby and has an excellent museum. John Daub of Only in Japan on YouTube has a video walk from Akihabara to Meiji below.
LINKS
5 MIN WALK FROM JINBOCHO STATION EXIT 7, 2 MIN WALK FROM JINBOCHO STATION EXIT 9
https://coffeemecca.jp/coffeeshop/210
https://ninehours.co.jp/akasaka/
35°41'21.44″ N 139°45'40.89″ E
https://www.waterras-mall.com/shop/ex/en/#googtrans(en)
VIDS