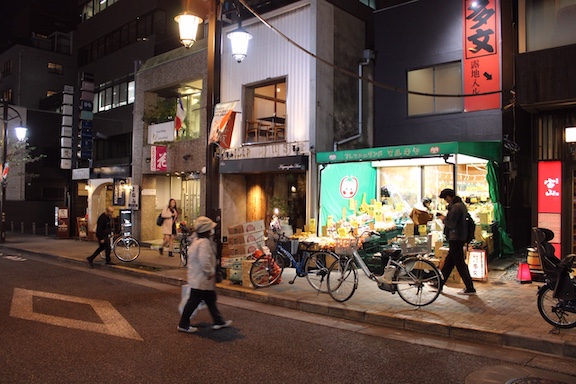 Name: Kagurazaka
Kind: Town
Location: 35°42'05.34″ N 139°44'25.41″ E
Station: Kagurazaka, Tozai 05
Free WiFi: Yes
Worth it? Yep.
Our Rating: ★★★★
Last updated 6/4/2021
©2019-2021 tenmintokyo.com
Kagurazaka is a small town in northwest Tokyo. It's near Waseda University. The main street through the town is called Waseda Dori.
Kaguraza is stop T05 on the Tozai Metro Subway Line. In fact, you can make a day trip of 4 stops on Tozai near each other: Nakano (T01), Waseda (T04), Kagurazaka (T05), and Iidabashii (T06). If you feel adventurous + have more time, you can also stop at Takadanobaba (T03). But hitting all 5 in a day would be a full day as there is a lot to see at each.
Kagurazaka is northwest of the next small city on the Tozai Line – Iidabashi – and is also southwest of Tokyo Dome City to the northeast. You can also change to the Maronuchi Line @ Iidabashi Station to get to Tokyo Dome.
Kagurazaka has a small-town charm all its own. The main attractions are a wide variety of small food, restaurant, wine and shop establishments. The main station exit is off on a little side street. When you pop up out of the station turn right to get to Waseda Dori. Then turn left + head down the hill to walk the main street. You can also turn left from the station, then right again at the next right + walk all the way to Shinjuku. If you turn right for Waseda Dori + head down the hill, at the next major interesection there is a corner entrance to Iidabashi Station.
Kagurazaka is known for its large number of Kaiseki restaurants. Kaiseki is a refined form of dining considered a delicacy in Japan.
If you're into wine, there are a lot of wine shops on Waseda Dori. Check out the World Wine Bar. They also serve lunch for around $10. Also don't be afraid to check out the side streets and alleys which have a huge number of nice hidden shops as well.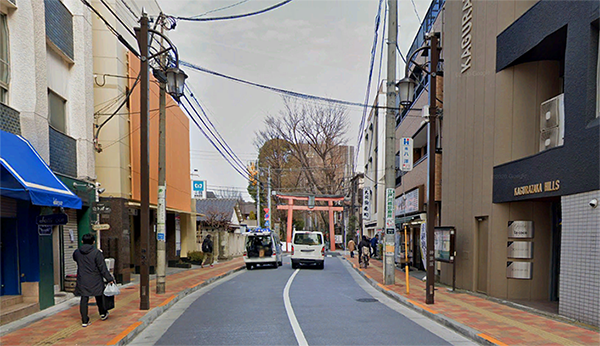 Kagurazaka Metro Station is the orange bldg. on the left. Turn right at the end of the street to walk to Shinjuku. You can also visit the shrine at the end of the street shown above.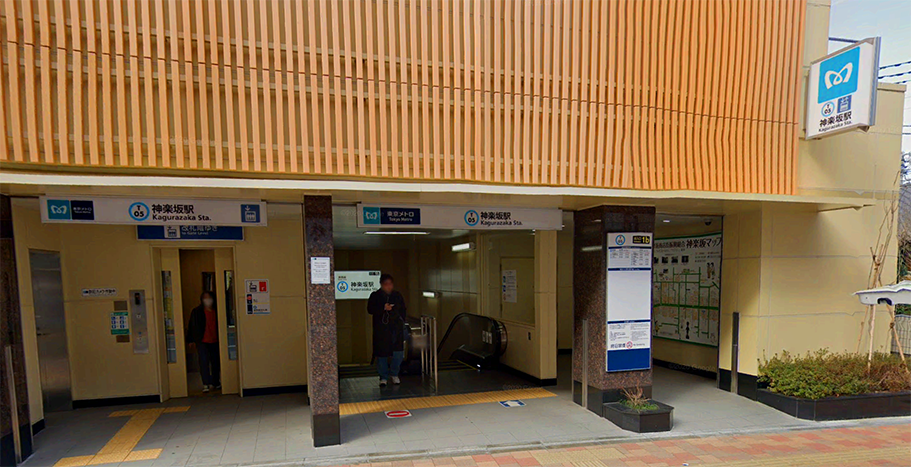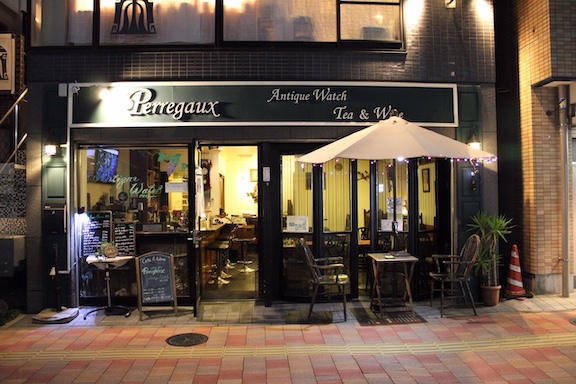 When you pop up out of Kagurazaka Metro Station, across the street you'll see this French wine shop. It turns out Kagurazaka has a lot of French expats living in it. Turn left here to head to the main street: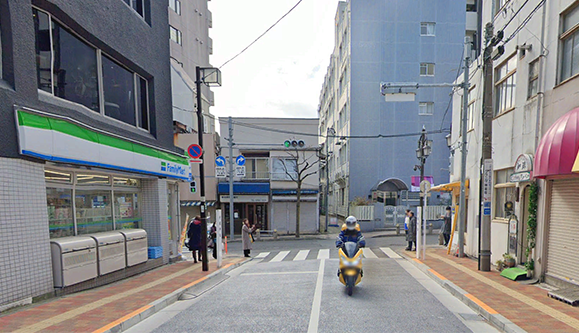 Looking right from the station. Turn left at this light for Waseda Dori. Head down the hill. There's a nice Family Mart on the corner if you want some food.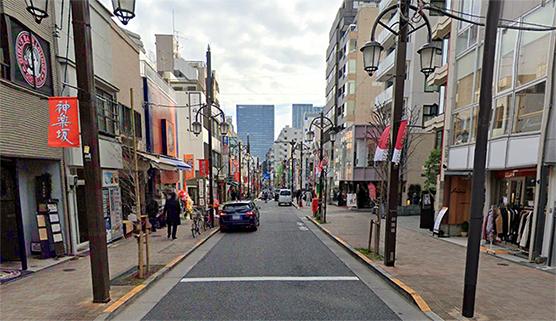 Waseda Dori facing east. Shinjuku is in the distance. This street is lined with all sorts of charming shops, restaurants, cafés, and bars. At night especially it's interesting.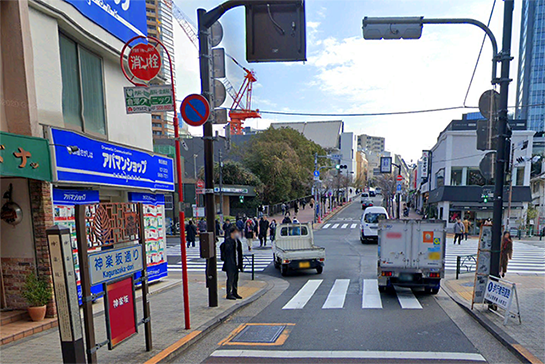 Waseda Dori facing east. The Iidabashi Metro Station is on the lefthand corner across the street. If you head straight ahead, eventually you'll end up in Shinjuku.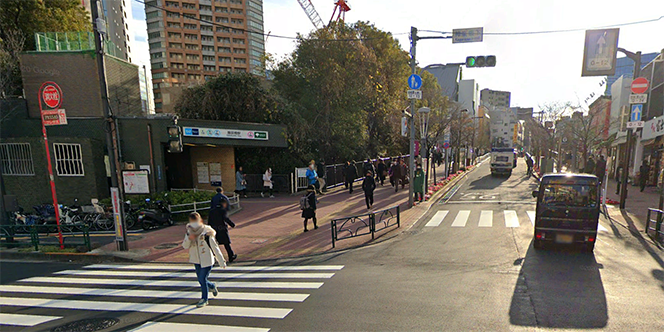 The Iidabashi Metro Station is on the left. Waseda Dori continues straight ahead.
Sakura Coin Laundry
If you need a good laundromat (as they say in the US), there's the Sakura Coin Laundry just north of the station shown in Rambalac's video below.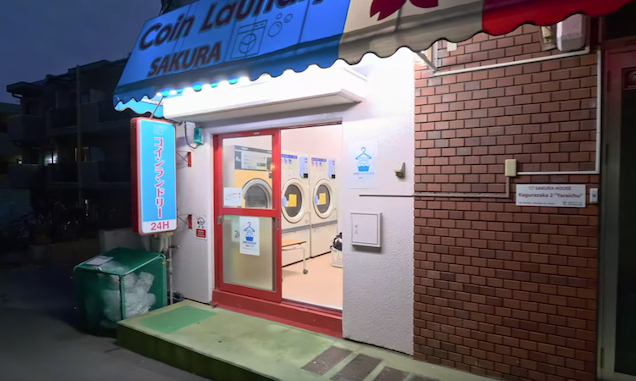 Conclusion
That's about it. While Kagurazaka isn't a big town, there's lots to see + do on its main street – so plan on a few hours at least if you want to visit some shops, or stop in at cafés + restaurants. All-in-all it's well worth the trip. Also see our post on Nakano 3 stops to the west.
Enjoy!
Additional Photos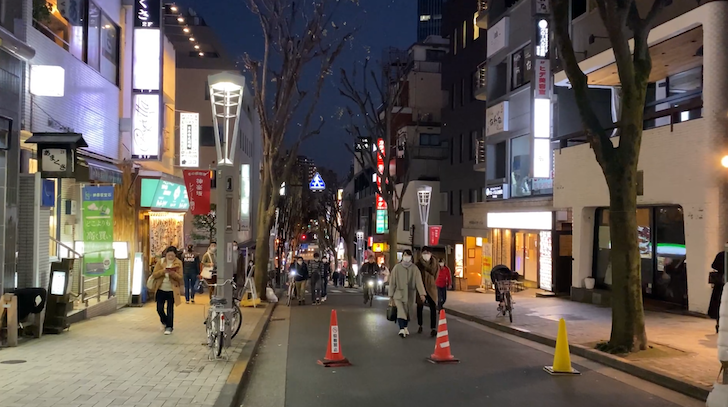 Another view down Waseda Dori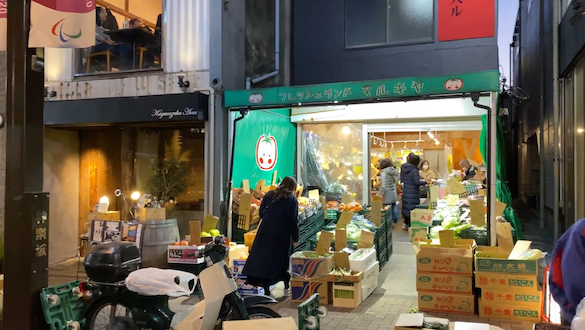 Organic vegetable grocery. Note the tiny café to the left. This is what makes Kagurazaka so awesome – lots of quaint little shops.
LINKS
https://en.wikipedia.org/wiki/Kagurazaka
https://www.tokyometro.jp/lang_en/station/kagurazaka/index.html
https://en.wikipedia.org/wiki/Kagurazaka_Station
https://en.wikipedia.org/wiki/Ushigome-kagurazaka_Station
https://www.japan-guide.com/e/e3071.html
https://en.wikipedia.org/wiki/Awa_Dance_Festival
VIDS
https://www.youtube.com/watch?v=48QeaX8PL-w