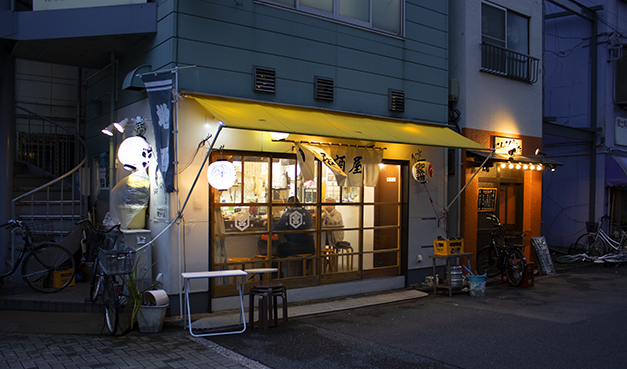 Name: Kameido
Kind: Town
Location: 35°41'51.07″ N 139°49'35.46″ E
Station: Kameido Station, Chūō-Sōbu Line or Tobu Kameido Line
Free Wifi: Yes
Our Rating: ⭑⭑⭑⭒⭒
Worth it? For a quick trip
Updated 10/1/2020
©2019-2020 tenmintokyo.com
Be sure to see our guide to Kameido's sister city – Kinshicho to the west.
Kameido (Ka-meh-ee-do) is a small town in east-central Tokyo. About a mile to the west is another popular town called Kinshicho. Kameido is smaller and there's less to do but it's still worth a quick stop + look.
Area Layout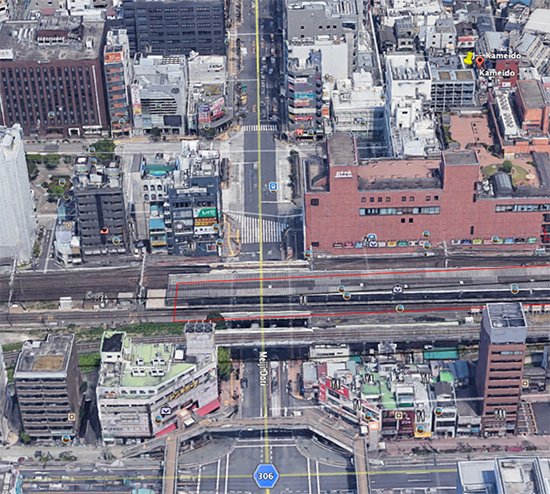 Kameido centers around its train station on the Chūō-Sōbu Line and Tobu Kameido Line. To the northeast is the atré shopping mall + center square, and a large Don Quijote and Mister Donut. On the south side of the station there is a huge square-shaped pedestrian walkway next to the Don Quijote. There are also a variety of shops + restaurants under the train tracks.
Attractions
There's not a lot to do in Kameido since it's a very small town, but it's still worth a look. It's a bit of an older slightly run-down town that could use a redevelopment, but it's so small the Tokyo Metro Gov't hasn't made that a priority. There's a big atré shopping mall with various shops right next to the station. There are also a lot of nice restuarants underneath the train tracks.
South of the tracks on one corner there's a huge Don Quijote 100¥ shop worth a stop. Right across to the east is a huge (and we mean huge) Mr. Donut with every kind of donut you can imagine. The Japanese have an abbreviation word for Mr. Donut: Misado.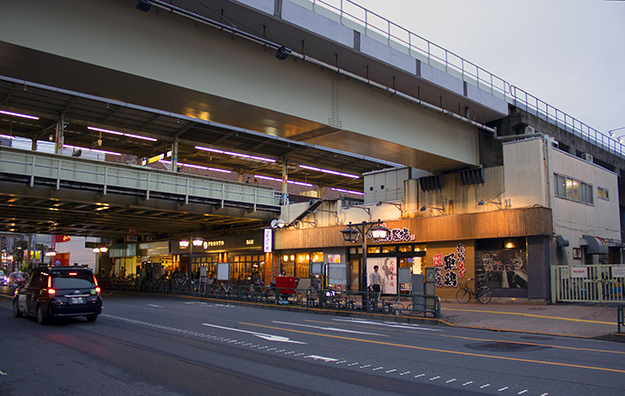 Restaurants underneath Kameido Station.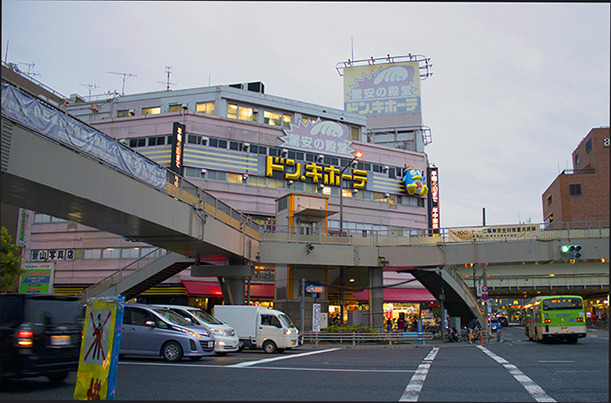 Don Quijote Kameido. Note the walkway.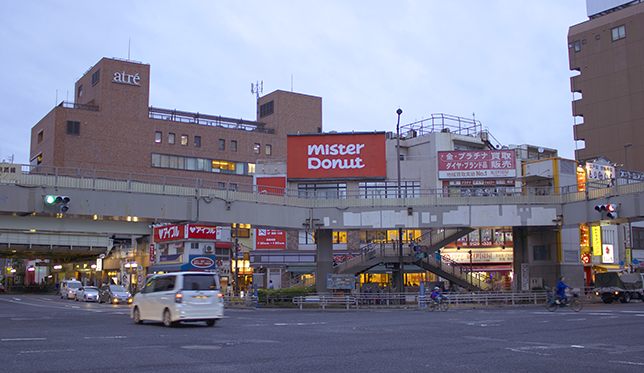 Mr. Donut: Misado.
Atré Kameido
To the northeast (right) of the station is a large atré shopping center worth a look. They also have a Tully's Coffee which has charge ports for your devices. There's also groceries here. There's a complete Atre Kameido Floor guide.
There are also a few bus stops in the center square, but their signs are only in Japanese so you'll need to know where you're going ahead of time.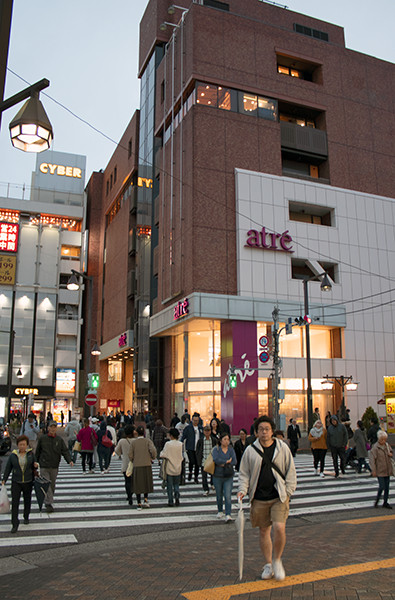 Large atré shopping center just north of the station.
Shopping Street
If you head north from the square where the atré is, there main street is lined with lots of shops – worth a quick walk up + down for a look.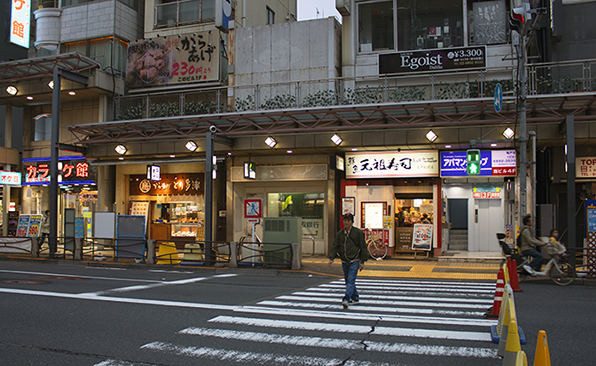 Cultural Center + Museum
If you head west of the atré, there's a small cultural center called the Kameido Cultural Center. Right next to that is a bldg. housing a small museum. Both are worth a quick look, although the museum is quite limited.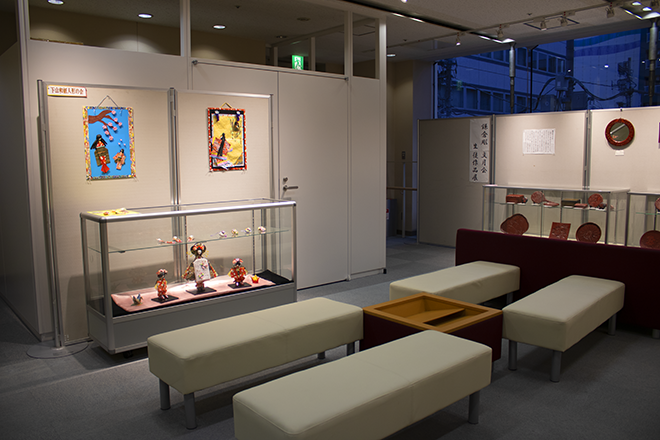 Small museum.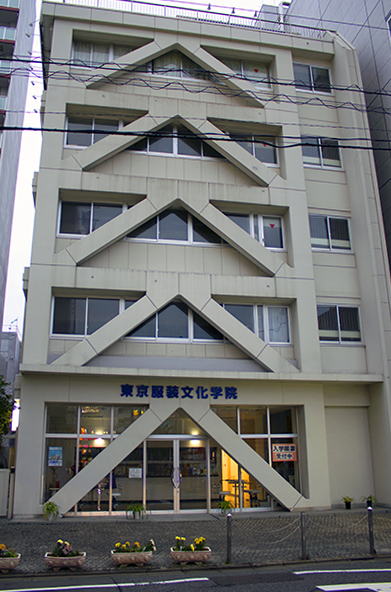 The museum is in this bldg.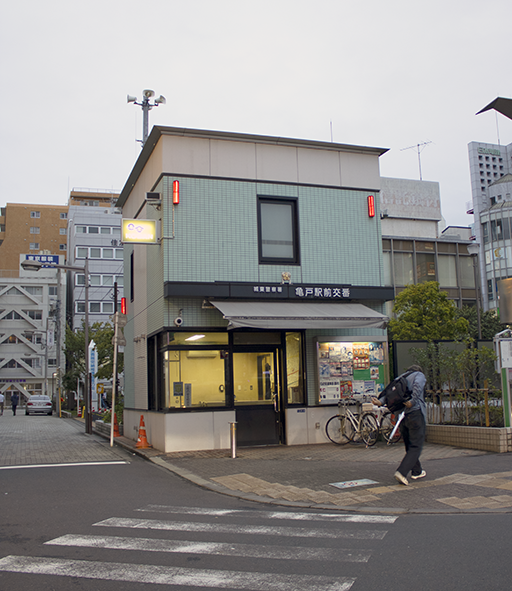 To get to the museum cross the square from atré west past this Koban (police box) and head to the building with the triangular earthquake reinforcements on the front shown on the left above.
Well that's it for Kameido – it's a small town. So just wander around a bit and have fun exploring.
LINKS
https://en.wikipedia.org/wiki/Kameido_Station
https://en.wikipedia.org/wiki/Tobu_Kameido_Line
https://www.kcf.or.jp/kameido/
https://www.donki.com/en/store/shop_detail.php?shop_id=67
https://en.wikipedia.org/wiki/Mister_Donut
VIDS