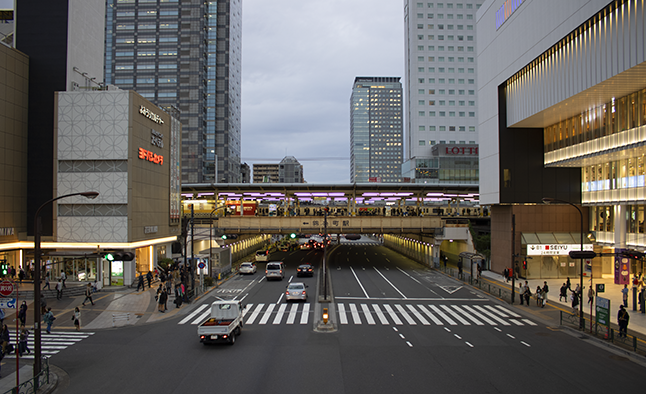 Name: Kinshicho
Kind: Town
Location: 35°41'48.26″ N 139°48'52.14″ E
Station: Kinshicho Station (Z13), Hanzomon Line, JR Chuo Line or Sobu-Chuo Line
Free Wifi: Yes
Our Rating: ⭑⭑⭑⭑⭒
Worth it? Well worth a short trip
Updated 8/30/2021
©2019-2020 tenmintokyo.com
About a mile south of Tokyo Sky Tree in east central Tokyo is the town of Kinshicho. A small town centered around the JR Kinshicho rail station, Kinshicho offers a variety of department stores, movie theaters, grocery stores, a large outdoor park, and various other restaurants and shops. The town is compact enough to see in less than a day, and is worth a short day trip. It's also close enough to walk to from Sky Tree to the north.
Getting there
Take the Hanzomon Metro line to Kinshicho Station (Z13), or take the JR Chuo Line or Sobu-Chuo Line to Kinshicho Station and exit. There are exits on the street on the northwest side and in the basements of some of the large department stores. There is also a street-level exit on the west side of Kinshi Park at the northeast end of the town. The main JR Station sits below and underground beneath the TERMINA department store.
Area Layout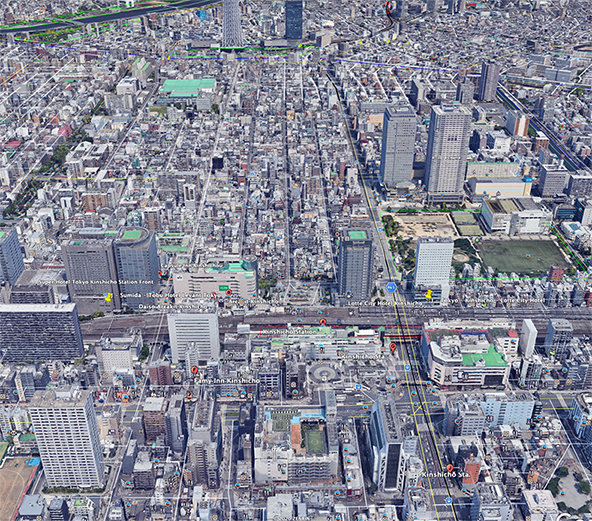 The town is roughly laid out in a grid or square less than .5 miles across. The station is in the center, with the TERMINA department store to the southwest, PARCO store complex to the southeast, AraK!T complex to the northwest and Kinshi Park to the north east (center right in this photo). To the east about a mile is the sister city of Kameido also with a JR station. On this map, Sky Tree is vivisble just a the top of the photo. The JR line tracks are visible in the lower center of the photo – just north of the main square.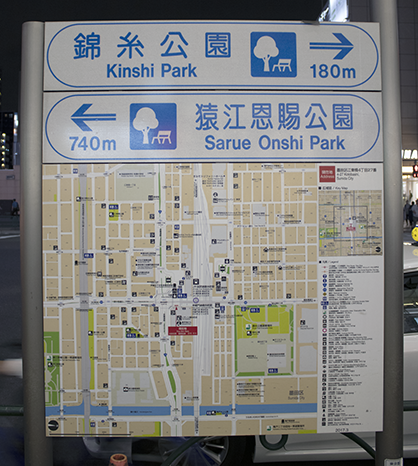 TERMINA, PARCO, OIOI Department Stores
The central town area contains 3 main complexes as well as other side streets and shops. The main complexes are TERMINA, PARCO, and OIOI (pronounced "Marui") department stores (depato in Japanese). The main east-west route at this intersection is Rt. 465. If you head west down Rt. 465, you'll come to the fabulous Edo-Tokyo Museum, and the Hokusai Museum, both of which are located in the Ryogoku area, which also has a huge Sumo stadium.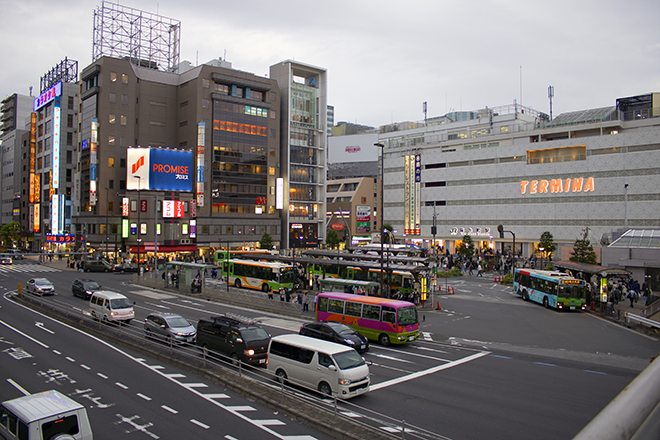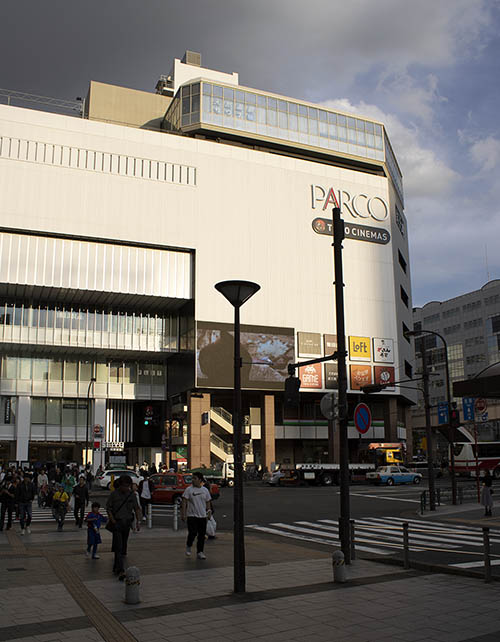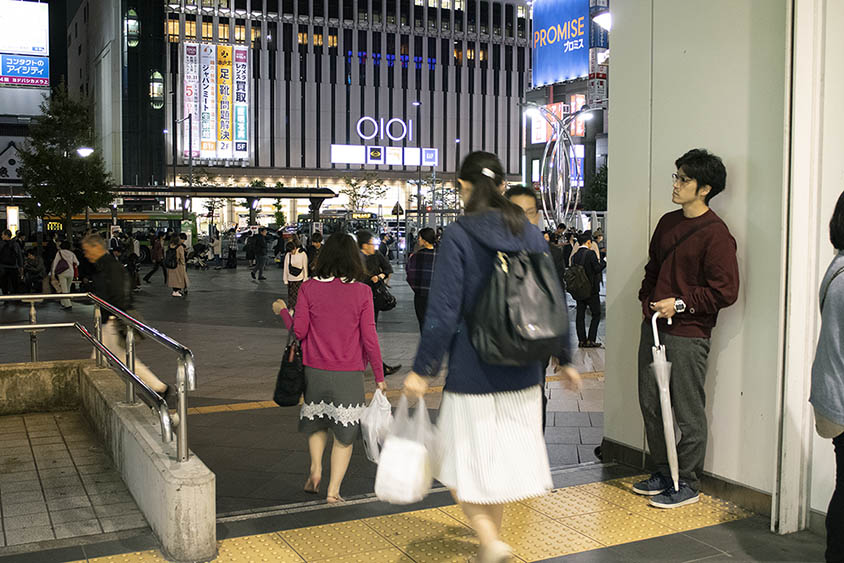 OIOI (Marui) across the street from the JR Kinshicho Station.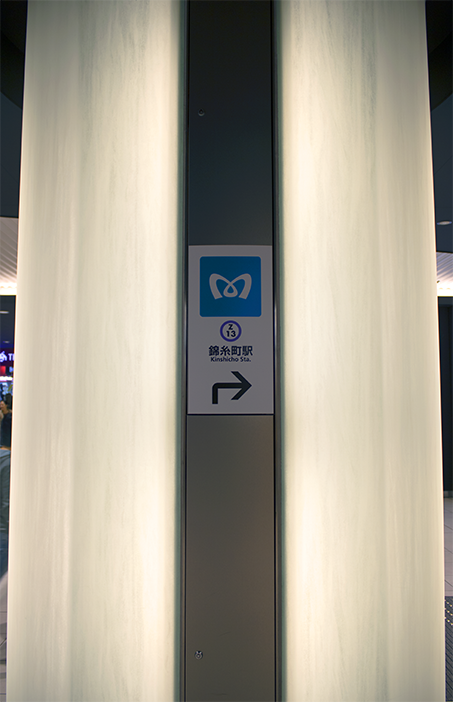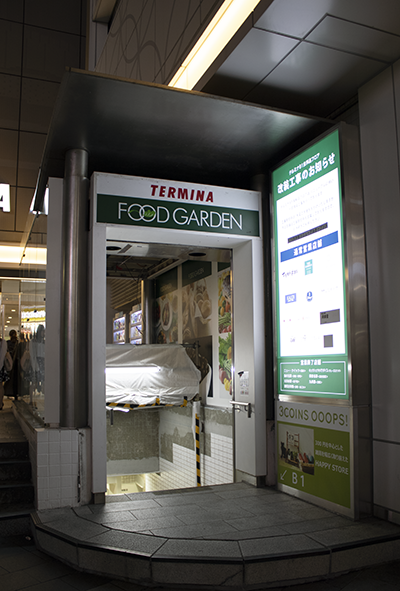 TERMINA also has a nice food court basement called FOOD GARDEN.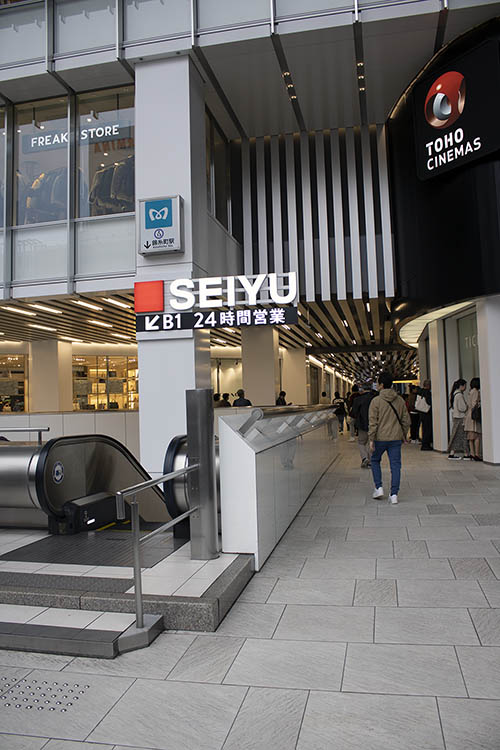 In the basement of the PARCO is a SEIYU discount grocery store. There's also a Metro subway entrance here. SEIYU has some great midnight grocery sales where you can find food cheap.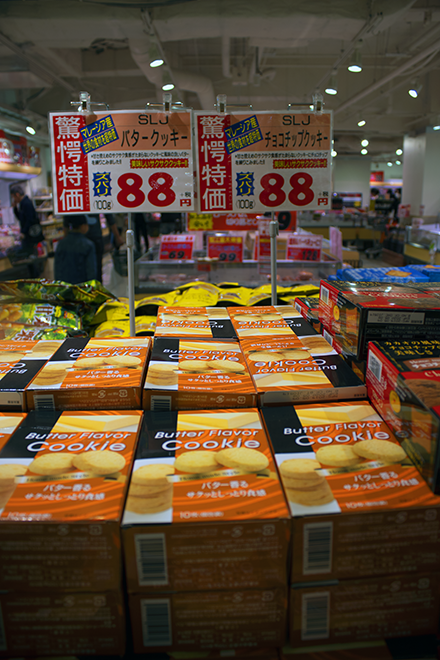 This box of butter cookies is only around $.80 cents.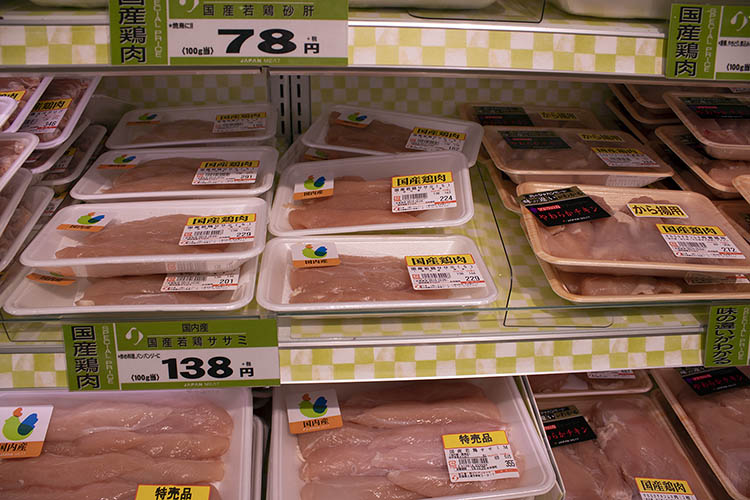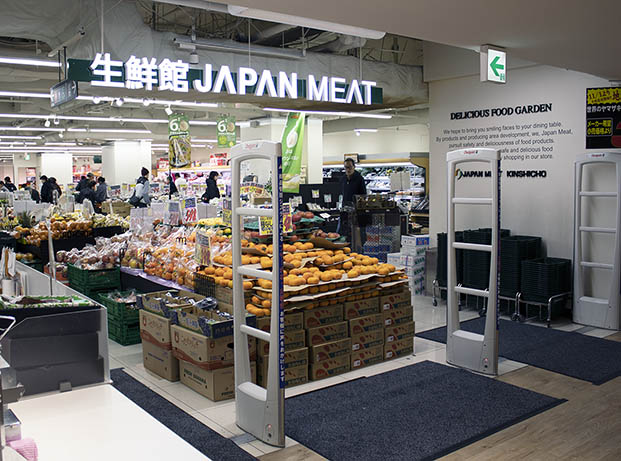 In the basement of OIOI is this great Japan Meat which also has midnight sales.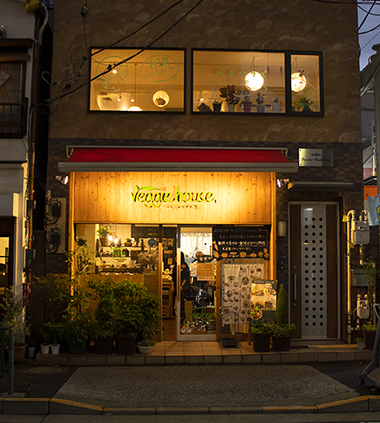 Just down the street is the Veggie House restaurant.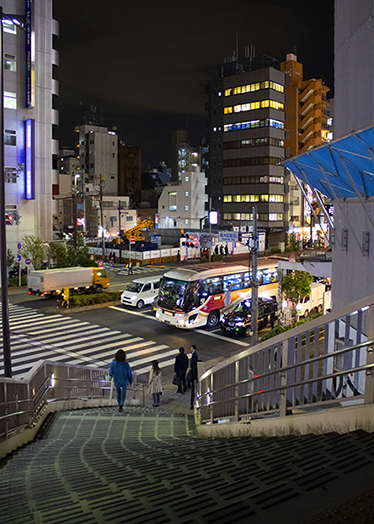 Just to the south of the main area.
Japan Post Office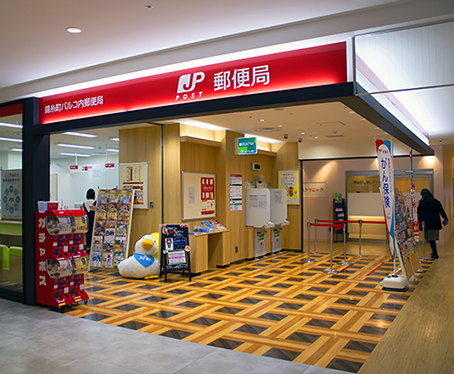 Also in the PARCO bldg. is a very nice Japan Post office.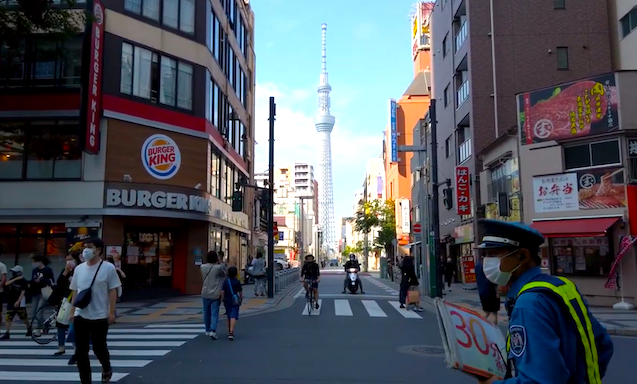 Tokyo Sky Tree visible from Kinshicho streets.
Kinshi Park + OLINAS Core
On the northeast part of the town is a large park called Kinshi Park, which is popular with families. The park features a spectacular view of Tokyo Sky Tree. Just to the north of the park is a large mixed-use center called OLINAS Core. There is also a free parking lot at OLINAS Core but only if you purchase over 15,00¥ worth of merch from any single shop. Interesting shops include a YAMADA Denki (electronics), a Seria 100¥ shop, a NITORI furniture shop, a Taito Game Station, and a TOHO Cinema. There is also a large baseball field, tennis courts, and gymnasium.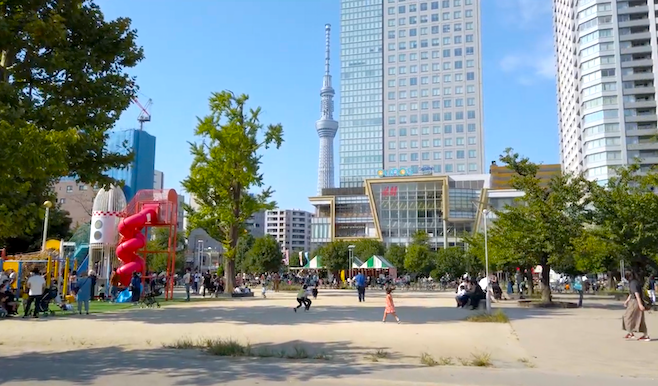 Kinshi Park. OLINAS Core is the glass bldg. shown here on the north end. Tokyo Sky Tree is about a mile to the north.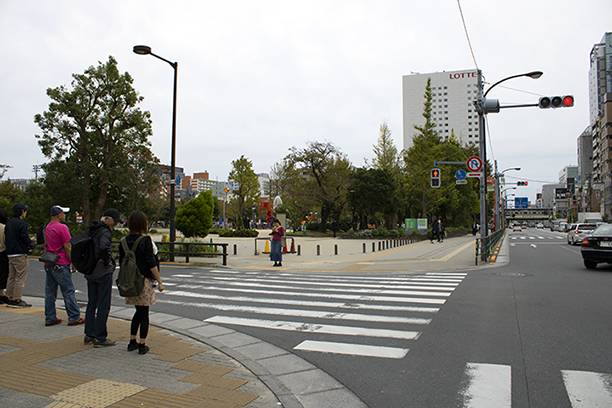 Kinshi Park looking south. OLINAS Core is on the left, out of view. The station is straight ahead.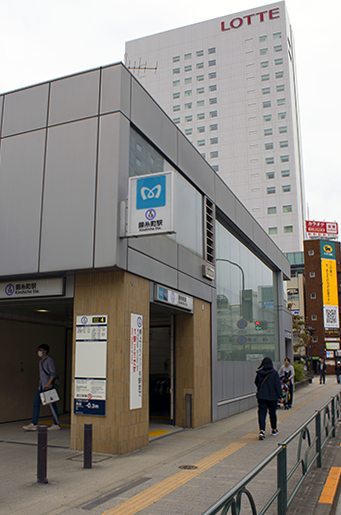 Kinshicho Station on the Hanzomon Line. Also note the Yamato Transport office with the yellow-green sign on the right. The tall bldg. is the LOTTE City Hotel, which has spectacular views of Tokyo Sky Tree.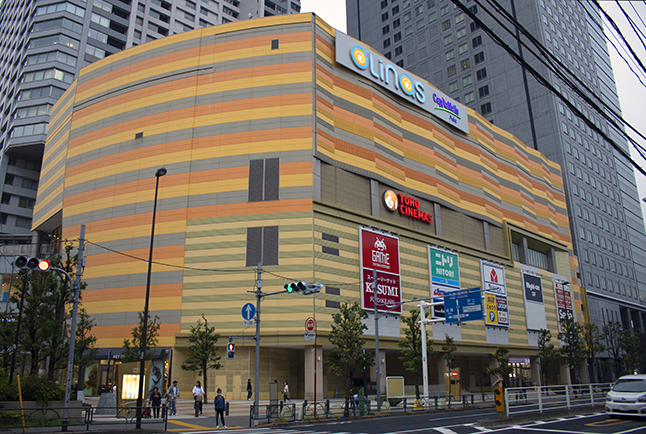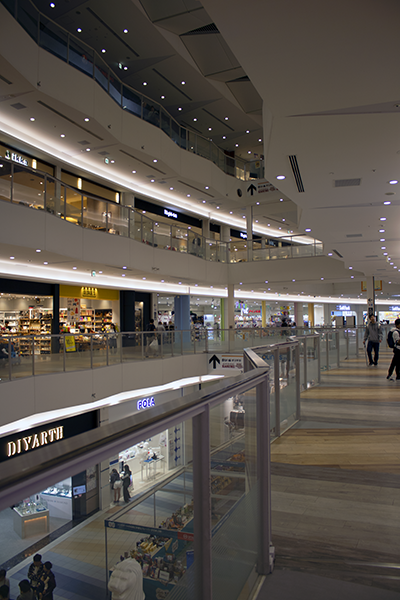 Inside OLINAS Core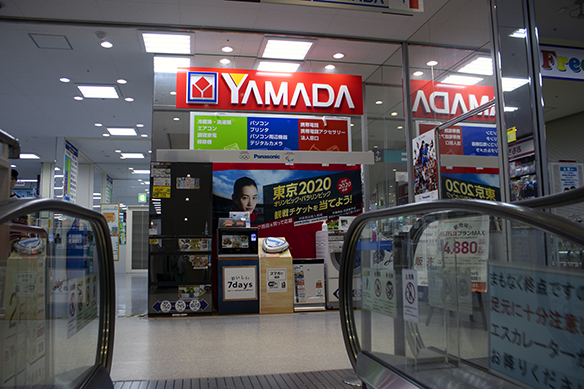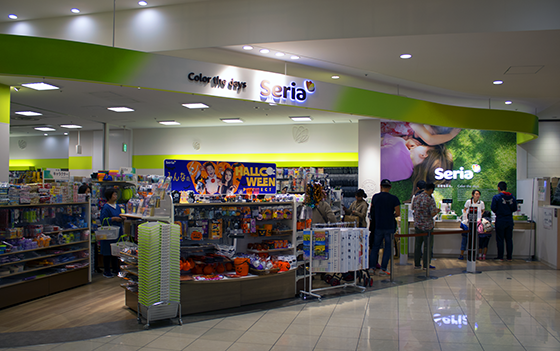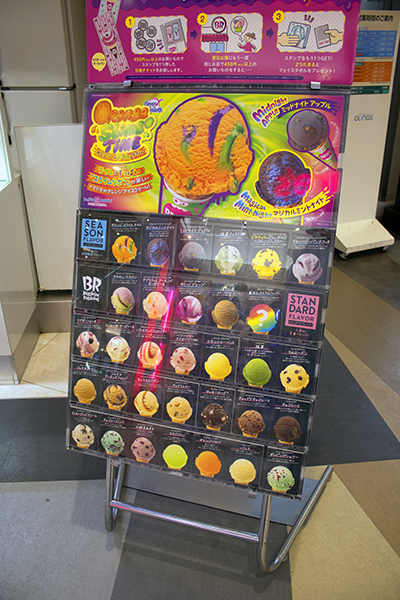 Also inside OLINAS Core is a Baskin Robbins (which is known in Japan simply as 31), featuring the one-of-a-kind Pikachu Thunderbolt Fruit Mix ice cream.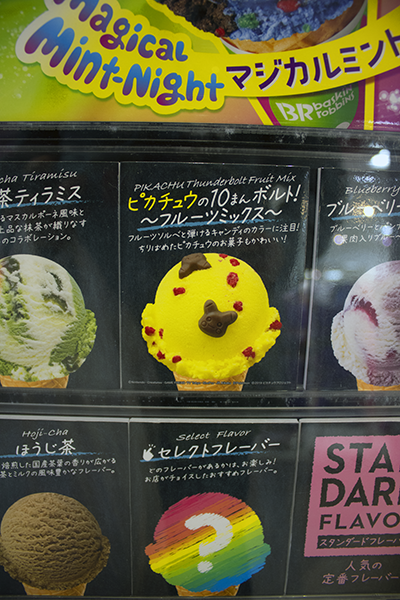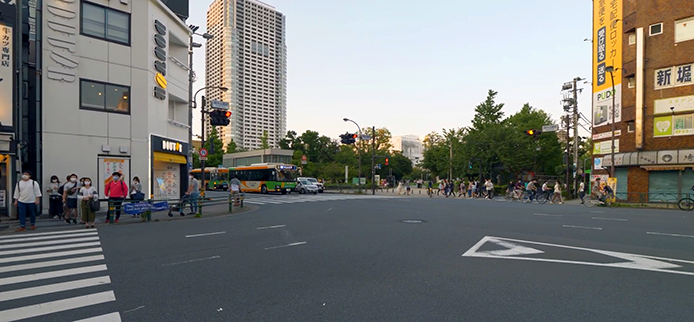 As a footnote, diagonally opposite Kinshi Park is a very nice multi-level Doutour coffee shop which has a variety of quick decent food cheap.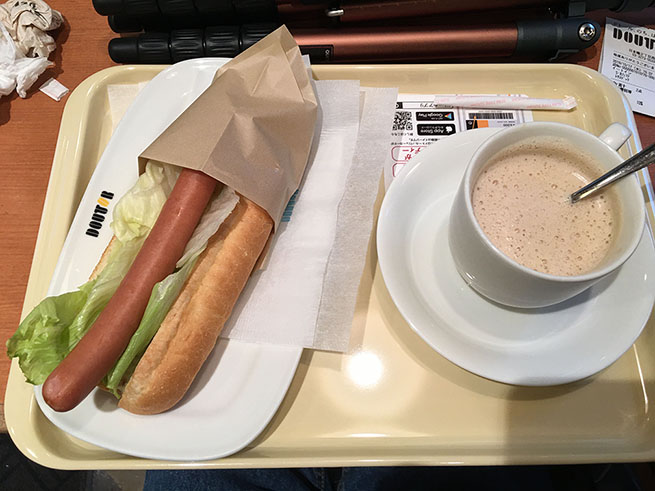 Doutour lettuce hotdog + coffee: less than $5.
ArcaK!T + Park
To the northwest of the station is another shopping complex called ArcaK!T which has a multitude of shops + cafés as well as a very nice organic Life Grocery. There's also a small concrete park here.
Food
There is plenty of food around Kinshicho. All the depatos have multiple floors of great restaurants, cafés, steak and noodle places – just about aything you want. Lots of great grocery stores too.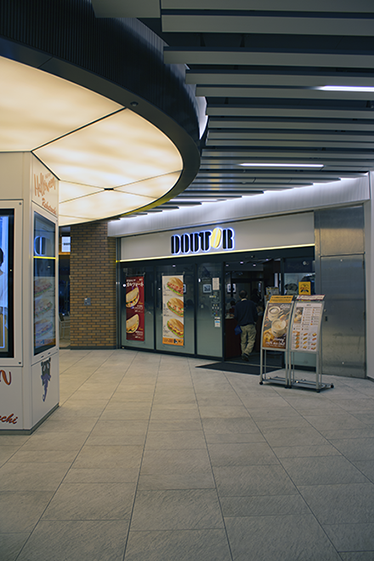 Another Doutour – in the basement of the PARCO.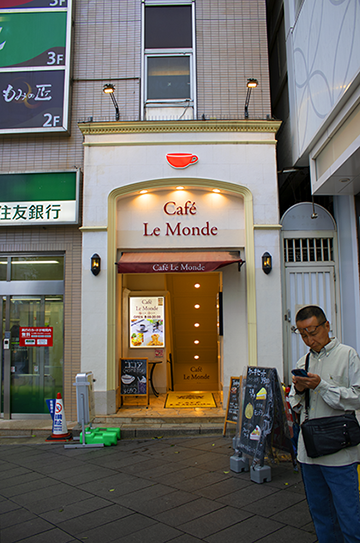 Just to the left of JR Kinshicho Station is Café Le Monde. Just to the left of the café is a long shopping street.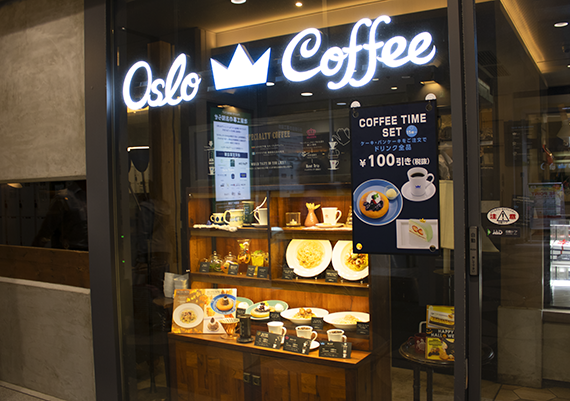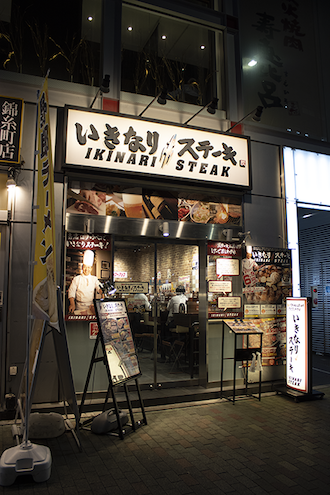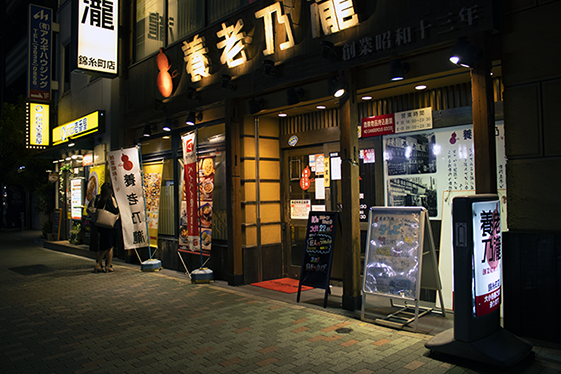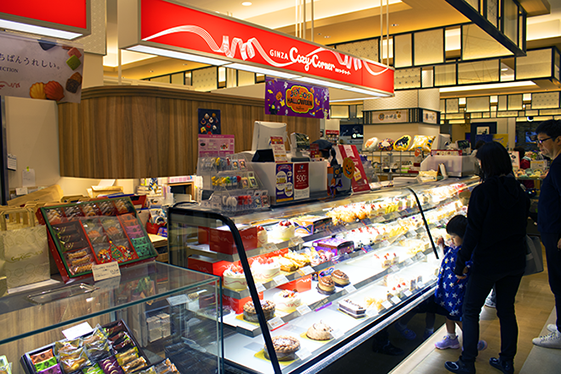 Most of the department stores have fabulous food basements (deepchika) where you can get all kinds of specialty foods, snacks, desserts, and gifts.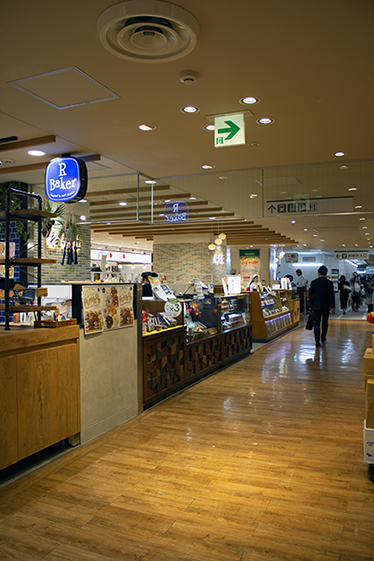 Butter Pancake @ PARCO
In the PARCO department store is a nice pancake shop called simply Butter which serves stacks of a dozen pancakes with fruit, whipped cream, and other goodies: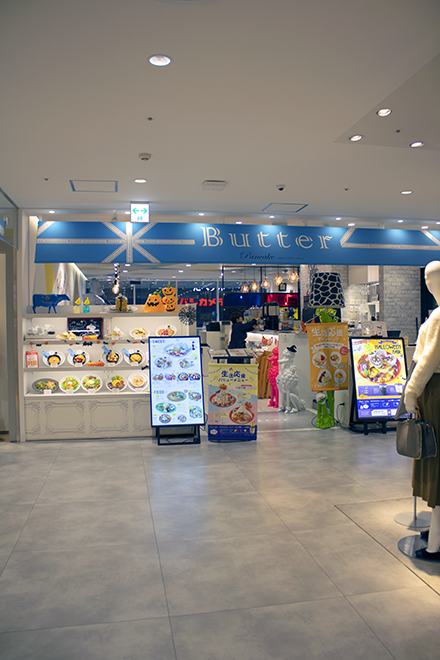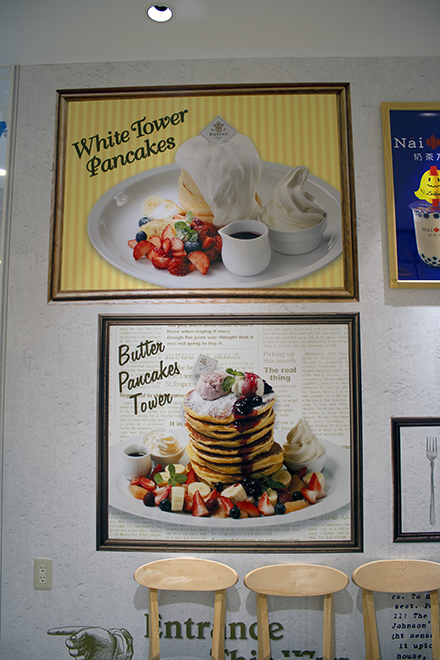 Crazy stacks of a dozen pancakes with fruit, butter, syrup, whipped cream, ice cream @ Butter in PARCO. Get ready to walk that 15 miles to walk it off.
Rakeru @ OIOI Kinshicho
Also in the OIOI bldg. is Rakeru. While not particularly high-end, this quaint western-style restaurant serves a variety of pancake plates with fruit, ice cream, whipped cream, and other toppings. Prices range from $6-$18. Not a bad little shop. There are loads of other nice restaurants on this floor also.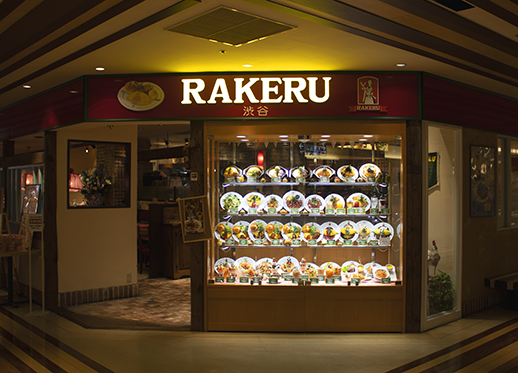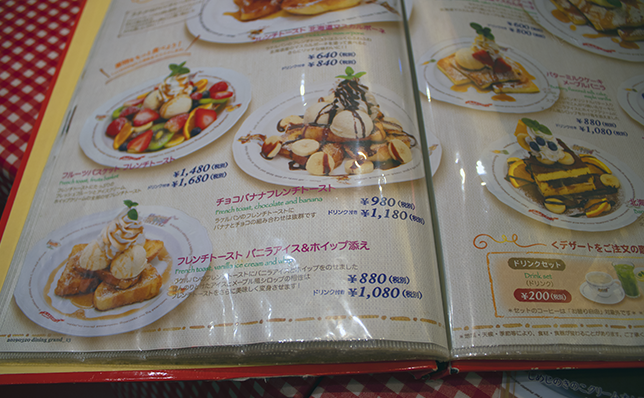 Thai Restaurant Keawjai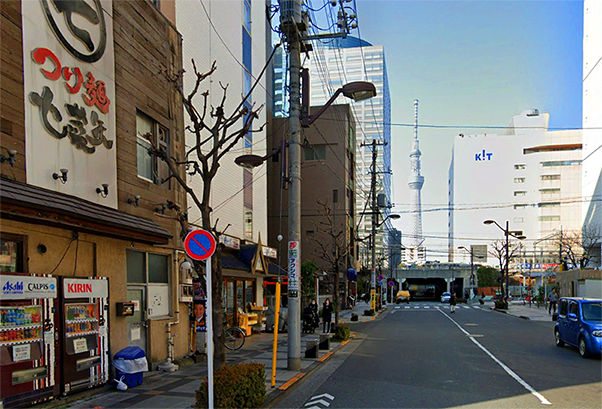 About 2 blocks west of the town center on Rt. 465 is the really awesome Thai Restaurant Keawjai. It's right down from the corner around 35°41'45.61″ N 139°48'42.56″ E. Head west on 465 then turn north (right) up a side street. It's on the left. It's 1 block south of the ArcaK!T complex. From the street you will have a clear view of Tokyo Sky Tree to the north.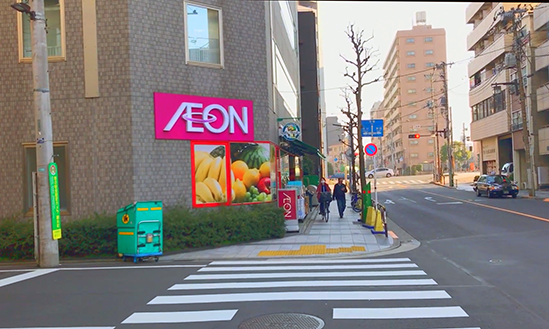 There is also a nice AEON supermarket in Kinshicho not too far away.
East to Kameido
If you head east down Rt. 465 and cross the Jokojikken River at the Matsushiro Bridge, you'll come to Kinshicho's sister city Kameido. We have another post on Kameido. It's a smaller town and there's not as much to do, but it's less than a mile from Kinshicho so if you have time it's worth a short hike. There is a station there but it's only served by the Tobu Kameido Line and Chūō-Sōbu Line. There is no Metro stop. The 3 biggest features of Kameido are the atré shopping plaza, the huge Don Quijote 100¥ shop, and huge Mister Donut right across from each other.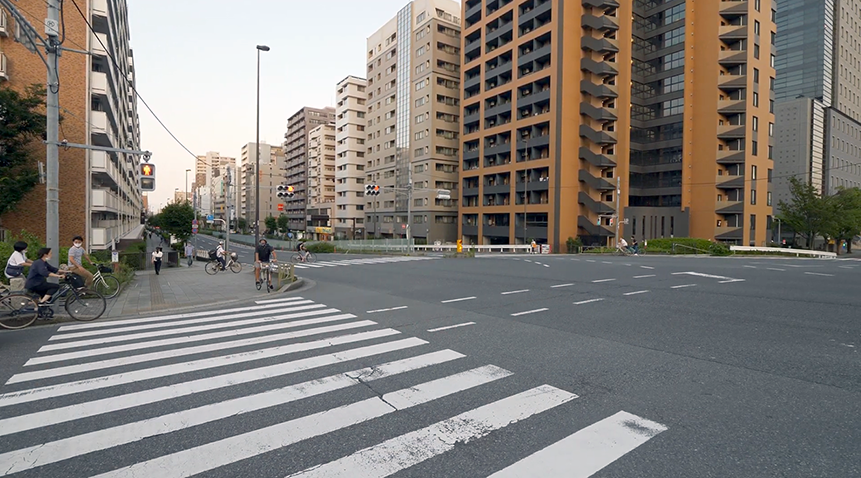 Heading west on Rt. 465. Kameido is just ahead.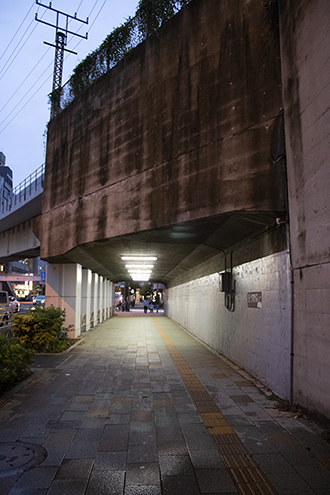 On the way you'll pass numerous apartment buildings, and pass through this tunnel. This photo is facing back west towards Kinshicho.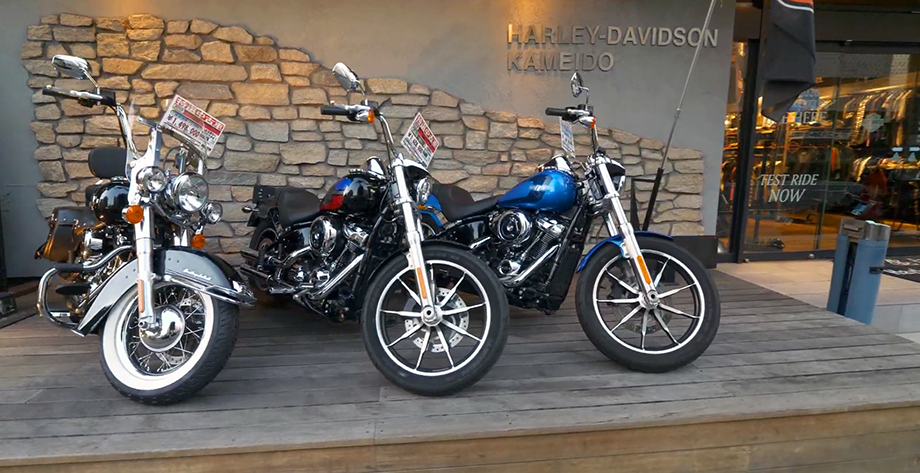 On the way you'll also pass a very nice Harley dealer.
That's it for now. Enjoy Kinshicho!
LINKS
https://en.wikipedia.org/wiki/Kinshich%C5%8D_Station
https://www.tokyometro.jp/lang_en/station/kinshicho/index.html
https://www.tokyometro.jp/lang_en/station/line_hanzomon/index.html
https://en.wikipedia.org/wiki/Tobu_Kameido_Line
https://www.japanvisitor.com/tokyo/tokyo-area-guides/kinshicho
https://tokyocheapo.com/locations/east-tokyo/kinshicho/
https://kinshicho.parco.jp/en/
https://www.termina.info.e.zi.hp.transer.com/
https://www.olinas.jp/english/
https://www.google.com/search?q=Kinshicho
https://www.timeout.com/tokyo/attractions/kinshi-park
https://www.tripadvisor.com/RestaurantsNear-g1066459-d7274865-oa120-Toho_Cinemas_Kinshicho_Rakutenchi-Sumida_Tokyo_Tokyo_Prefecture_Kanto.html
https://www15.j-server.com/LUCSUMIDA/ns/tl.cgi/https%3a//www.city.sumida.lg.jp/?SLANG=ja&TLANG=en&XMODE=0&XCHARSET=utf-8&XJSID=0
https://en.wikipedia.org/wiki/Kameido_Station
VIDS