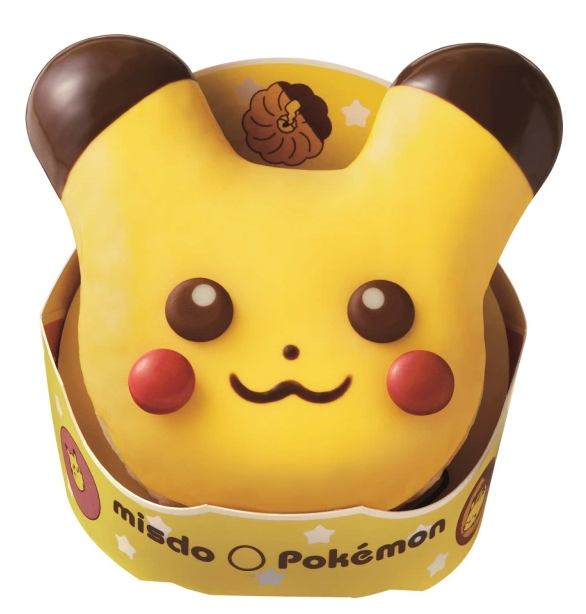 ©2020-21 tenmintokyo.com
Updated 3/12/21
Like the current pancake craze in Tokyo at the moment, Japan is crazy for donuts. There are so many cool donuts in Japan it's hard to know where to start.
The real donut crazes hit around Halloween + Christmas – 2 major holdays in Japan. Halloween especially is huge. Spring is also a big donut time in Japan – mostly with all kinds of Sakura donuts everywhere.
The biggest donut chain in Japan is Mr. Donut – a US chain that went bankrupt in the US, but was bought by a Japanese company. There are 1000s of Mr. Donut stores all over Tokyo and Japan. We have some more info on Mr. Donut on our other post Inside a Japanese Post Office.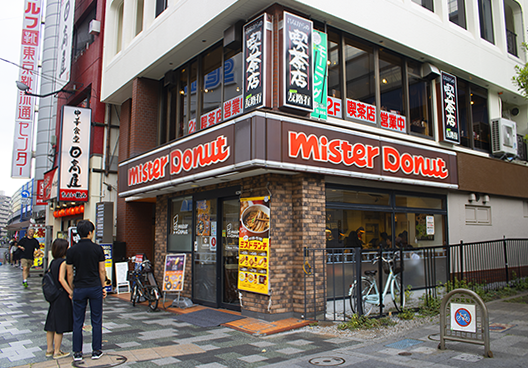 Mr. Donut right next to Akabane Station in Akabane.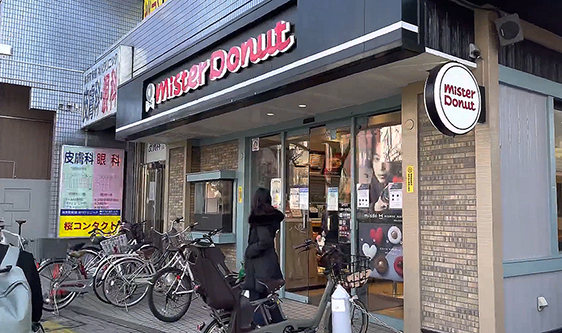 Another Mr. Donut.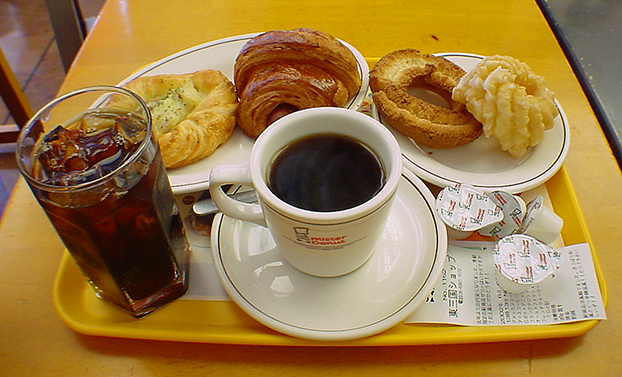 A Mister Donut "set" from back in 2001. Today's donuts are a bit more colorful + themed.
Donuts @ Tokyo Station
Tokyo Station and it's underground shopping area, Tokyo Station City are vast and there are lot of doughnut options here:
Dunkin
Siretoco Factory in Keiyo Street area
Yurakucho
The Doughnut Plant: There's a great little donut shop in Yurakucho called The Doughnut Plant. Well worth a stop. It's 1 block to the north and west of Yurakucho Station and 1 block west of the Tokyo International Forum around 35°40'35.99″ N 139°45'47.31″ E. They close nightly @ 7PM. Yurakucho is just south of Tokyo Station.
Krispy Kreme: Just to the south of Tokyo Station is Yurakucho Station and right next to its east exit is the ITOCIA dept. store. There's a Krispy Kreme shop inside.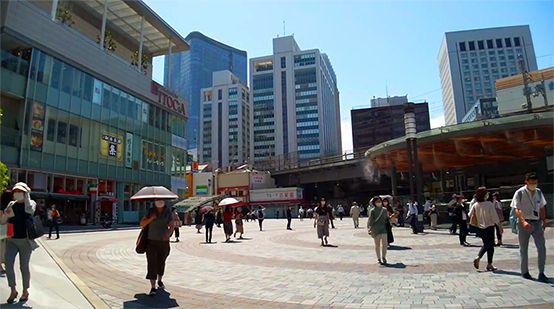 Yurakucho Station ahead, and ITOCIA dept. store, left.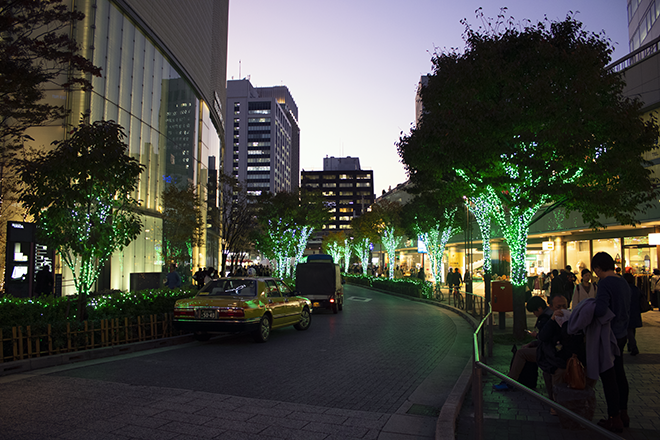 Another view of Yurakucho Station right, and ITOCIA dept. store, left, out of view.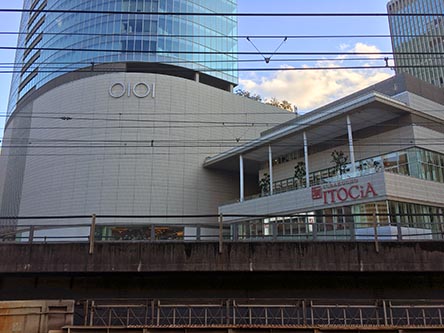 ITOCIA dept. store, right.
Akihabara – Jack In The Donuts, Mr. Donut + More
Jack In The Donuts: Just outside Yodobashi Akihabara is a small donut shop called Jack In The Donuts. You can watch workers prepare donuts live + they have a great variety of donuts including matcha donuts. The shop is hidden in a small shopping tunnel just on the south side of Yodobashi Camera. Well worth a stop.
There is also a Mr. Donut about 5 blocks northwest of the JR Akihabara Station.
Fukushima Tasting Market: 2 blocks to the east of the Mr. Donut here is the Fukushima Tasting Market which also has a pastry shop with lots of donuts. Well worth a stop and nearby.
Mont-Thabor Tōkyō: A little to the west just across the Kanda River is a shop called Mont-Thabor Tōkyō Waterras Mall Shop. It's actually in Ochinamizu in the Waterras complex. There is also a Mr. Donut on the north side of Waterras.
Akasaka/Nagatcho
To the east of Akasaka near Nagatcho is a small donut shop called Hocus Pocus which is well worth a stop.
Donuts in Ikebukuro
There are no less than three Mr. Donuts' in Ikebukuro in western Tokyo. All of them are great. There is also the Roasted Coffee Lab in the Esola complex just across from one of the Mr. Donuts.
There is also a Krispy Kreme shop 2 blocks west of Ikebukuro Station on Mizuki Dori.
Donuts @ Tokyo Sky Tree
At Tokyo Sky Tree there are lots of places to find great donuts. Head into the Solamachi Bldg. next to Sky Tree to discover its food arcade: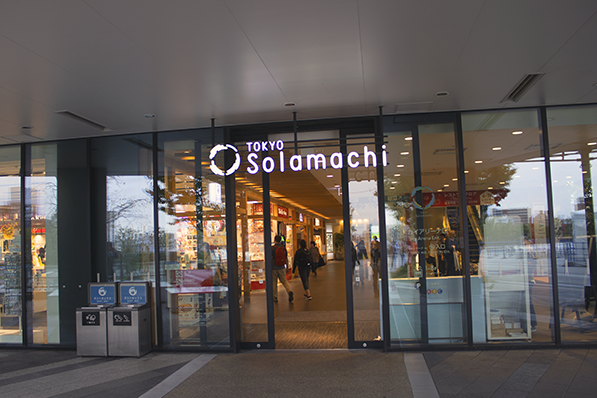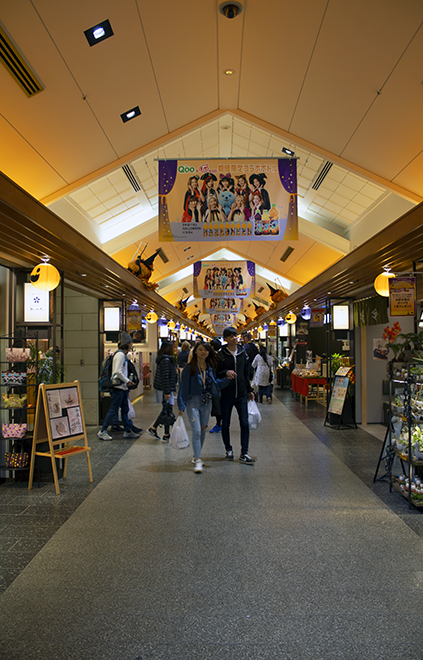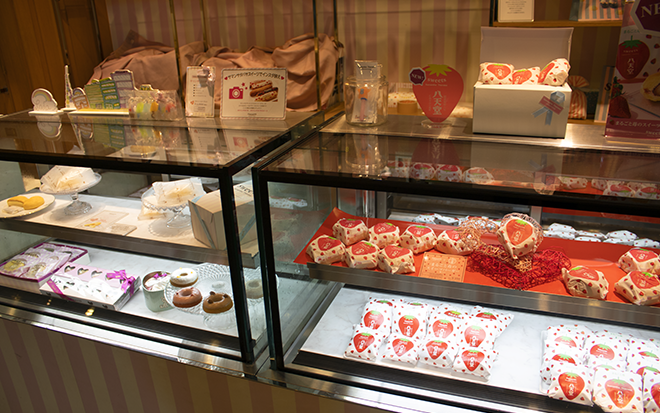 Right out front near the door is this pastry shop with donuts.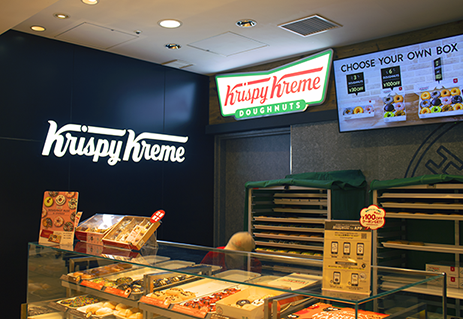 There is also a western-style Krispy Kreme on the Food Marché floor – as well as other donuteries.
Just to the south of Sky Tree is this Mister Donut. There are also a few more to the west on the way to Asakusa.
Halloween
Halloween is huge in Japan and most cafés go nuts trying to out-do each other in the madness of the Halloween donuts they can come up with. This selection is from Mr. Donut: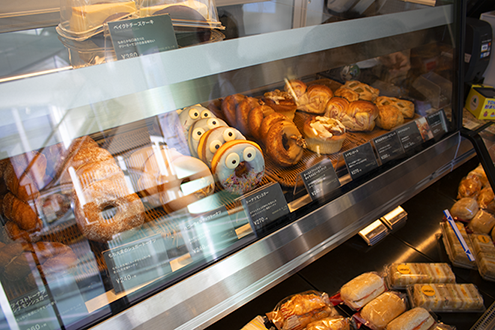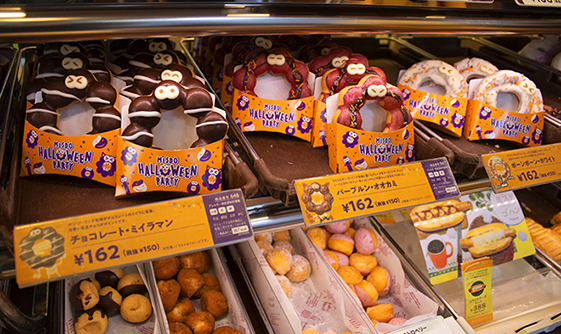 Halloween donuts @ Mr. Donut.
Even chain cafés such as Tully's gets into the act. There are others in smaller privately owned cafes and smaller places such as Peace and Lamb in Q Plaza in Ikebukuro. There is also a CAPCOM Café in Q Plaza.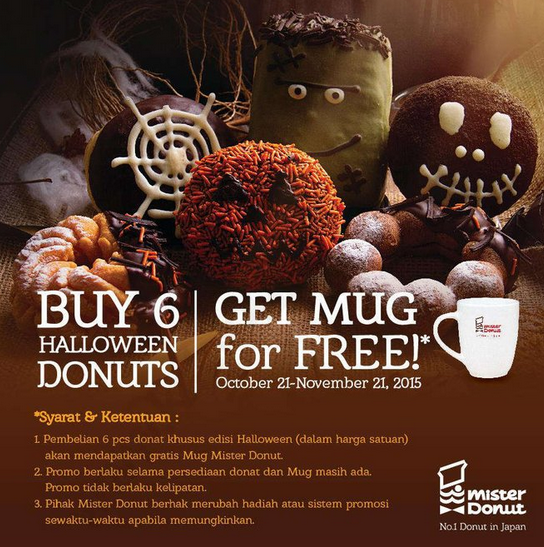 Arnold's
In Kichijoji is a nice donut shop called Arnold's. They have some very unusual and interesting doughnuts and it's worth a look.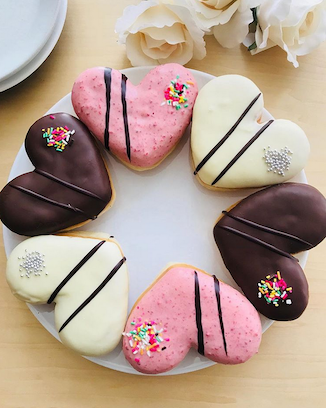 Floresta nature doughnuts
To the west in Koenji around is Floresta Nature Donuts. Well worth a stop.
Ginza
For a more upscale doughnut experience, try Antique Ginza 2 blocks east of Yurakucho Station. There's also a Mr. Donut in Ginza: Mister Donut Ginza Nine.
Dumbo Donuts + Coffee
In Azabujuban is a small donut shop called Dumbo's. Also worth a stop. Also in Azabujuban is Bryant Coffee.
Harajuku + Omotosando
Higuma Doughnuts + Coffee Wrights
There's a great little donute shop around 35°40'01.62″ N 139°42'35.34″ E in Omotosando called Higuma Doughnuts along with a coffee shop called Coffee Wrights.
Good Town Donuts Shibuya
In Shibuya there's a nice spot called Good Town Donuts. They have some very interesting low-sugar Vegan donuts. There's a good post on the place over at grapejapan.com
Yoyogi
If you're near Yoyogi Station, check out Harrits Donuts & Coffee just to the northeast a few blocks around 35°40'09.07″ N 139°40'56.20″ E. Unfortunately their site is in Japanese only.
Conclusion
Well that's about it for now. Tokyo is a donut-lover's paradise and there's no end to the funny + delicious donuts you can find here. Enjoy!
LINKS
All About Mr. Donut Japan + Its Awesome Menu
Sakura and matcha star in new Mister Donut collection
Mr. Donut preps more Pokémon donuts
Start summer early with these fruity donuts from Krispy Kreme
Mister Donut creates Uji matcha chocolat doughnut line with green tea specialists Gion Tsujiri
"Glossy green tea donuts" sound weird, look amazing in Mr. Donut team-up w/Kyoto matcha master
Japan Gourmet Guide: Recommended Doughnut shops in Tokyo
http://www.noacafe.jp/en/harajuku/
https://en.wikipedia.org/wiki/Mister_Donut
Ikumimama Comes up with Kawaii Animal Doughnuts for the Easter Season
Japan's Mister Donut revamps introduces new sweet potato doughnut lineup
Best doughnuts in Tokyo? Sweet floral creations cause a stir on social media
Savor some Sanrio chocolate costume cuteness with organic Halloween Cinnamoroll donuts
Mister Donut rolls out new collab sweets with Belgian chocolatier for Valentine's
Pokémon doughnuts from Mister Donut are bigger and better than ever this year
Gudetama makes doughnut debut at Floresta with adorable organic New Year greetings doughnuts
https://www.timeout.com/tokyo/restaurants/tokyos-best-doughnuts
Sakura Flavour Cherry Blossom Doughnuts from Japan's Mister Donut
Doughnuts in Tokyo – Floresta, Krispy Kreme and Mister Donut
Get A Bite Of Spring At Krispy Kreme Japan With New Doughnut Flavors Including Matcha, Sakura, And More
Krispy Kreme Japan's cherry blossom season 2021 creation is an adorable sakura rabbit doughnut
Krispy Kreme's new line of doughnuts offers plenty of Japanese tea goodness
https://www.tokyo-solamachi.jp/en/shop/887/
https://www.tokyo-solamachi.jp/en/shop/?m_category=27&page=7
https://gigazine.net/gsc_news/en/20130911-krispykreme-halloween/
Mister Donut Releases "Ronuts"–Doughnuts Served With A Slice Of Creamy Roll Cake On Top
Rainbow mille crepes brighten up the food scene in Tokyo
https://www.roadarch.com/sca/donutsmr.html
Cute bear doughnut from Hokkaido available at Tokyo station
https://siretoco23.com/free/shop
https://gigazine.net/gsc_news/en/20170925-misterdonut-halloween-my-melody
The Mister Donut Ice Bar: "When donuts become ice cream"
VIDS