Name: Sugamo
Kind: Town/City
Location: 35°44'31.93″ N 139°43'43.02″ E
Stations: Toei Sugamo Station, JR Sugamo Station Yamanote Line
Free Wifi: Yes
Our Rating: ⭑⭑⭑
Worth it? For a quick look, or on the way to Itabashi.
Updated 2/16/2021
©2019-2021 tenmintokyo.com
Sugamo is a small area in Tokyo north of Tokyo Dome City and south of Itabashi on Rt. 17 (Hakusan Dori). It's not a large area but still worth a look. The main attraction is Rikugien Gardens 2 blocks to the east (discussed below).
Access
Unfortunately there is no Metro subway stop at Sugamo Station. You'll have to either take the JR Yamanote Line or the Toei Mita Line. The closest main area to Sugamo is Ikebukuro to the west, or Tokyo Dome City (TDC) to the south, but on foot it's a bit of a hike. On bicycle it's a quick ride, and there are bike lanes part of the way, but you'll need to make a short right-turn jog on Hakusan Dori (see below) on bike or you'll get lost and end up on Old Hakusan Dori to the east which runs away from TDC. The other nearby area is Itabashi to the north several miles from Sugamo Station. Itabashi and Ikebukuro are only 2 miles apart and walkable. You can also get to both on the Yamanote Line or Saikyo Line. If you're on bike, the entire length of Rt. 17 is cruisable in non-rush hours. See our post on bike cruising from Itabashi all the way through Sugamo to TDC. You can also get to/from Itabashi on the Mita Line at stop I17 – Shin-Itabashi. There is also a Nishi-sugamo Station (I16) further north nearer to Itabashi than to Sugamo. At Nishi-sugamo Station you can also catch the Toden Arakawa Line Tram – better known to locals as the Sakura Tram.
Area Layout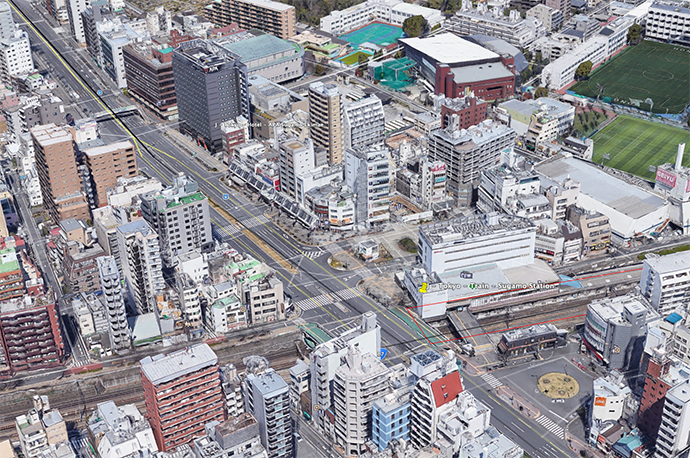 Central Sugamo facing northeast. The station + atré complex is the white square bldg. right of center. Rt. 17 or Hakusan Dori runs north-south. A Beck's Coffee is the tiny black bldg. next to the small concrete park in the lower right. The main outdoor covered shopping area is just off 17 in the upper center left. Just north of that on the east side of the street is the APA Hotel Sugamo Ekimae (Ekimae means "at the station"). Continuing to head north on 17 for a few miles leads to the small charming micro-town of Itabashi, which just renovated its train station in 2020. There are various other shops + food palaces around the station as shown above.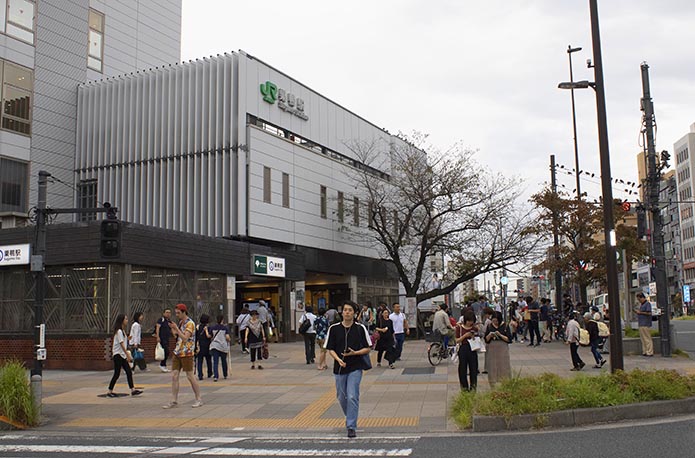 JR Sugamo Station facing south towards TDC. APA Sugamo Ekimae is just behind the camera to the left.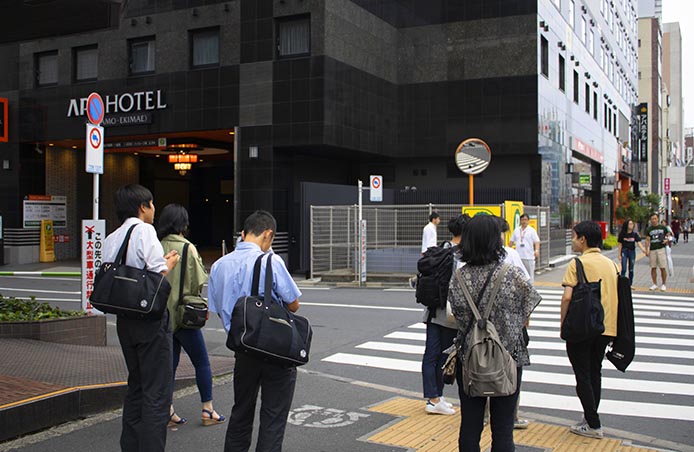 APA Sugamo Ekimae facing south. The station is just ahead 2 blocks.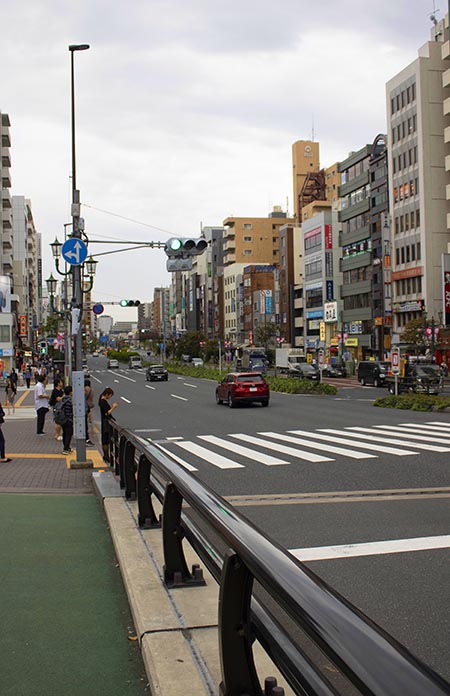 Facing south on Hakusan Dori just south of the station. TDC is straight ahead.
Features
Sugamo is not a huge area. But there's still a fair amount to do. The atré complex over the station is worth a look, and Sugamo Jizo-Dori Shopping Street (discussed next) is a must-see. You can also stroll the outdoor shops along the streets on both sides for miles. Rikugien Gardens (discusssed below) a few miles to the east is a must-see. It's one of the most well-known Japanese gardens in the world and in the spring + fall is spectacular. The town that Rikugien Gardens is in – Komagome – just to the northeast is also worth a quick look and isn't too far.
Sugamo Jizo-Dori Shopping Street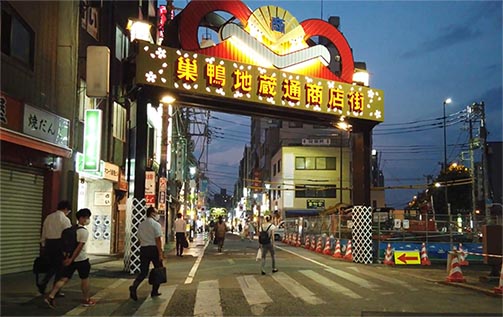 Entrance to Sugamo Jizo-Dori Shopping Street which veers off to the left west of Hakusan Dori. The street is lined with charming shops, and if you follow it far enough north you'll come to Itabashi. The entrance is just north of the APA Hotel on the left around 35°44'04.41″ N 139°44'12.70″ E.
Sugamo Jizo-Dori Shopping Street is a long narrow north-south street which parallels Hakusan Dori in Sugamo. The street is known as a hang-out spot for seniors, but it's definitely worth a stop for everyone. The street has some very nice food shops with traditional Japanese foods of all kinds. If you keep going north until the end of Sugamo, you'll come to the charming micro-town of Itabashi, which recently just built a brand new train station. Itabashi is just north of Ikebukuro and is a jumping off point for many other locations on the JR Saikyo Line such as Ikebukuro.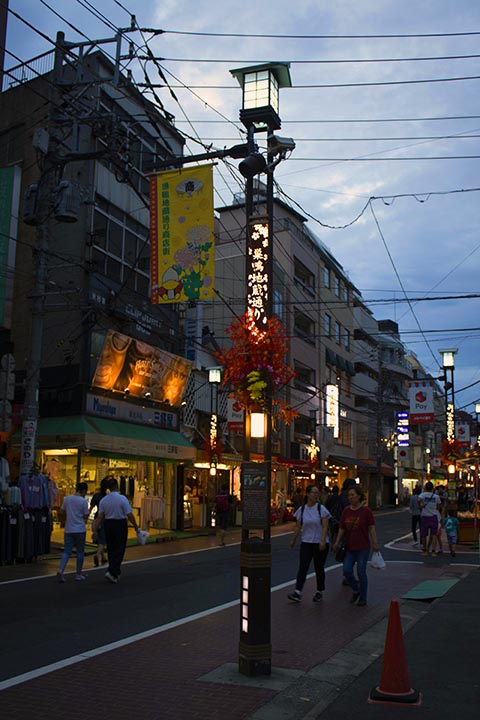 Sugamo Jizo-Dori Shopping Street with its charming shops facing north. Well worth a stroll.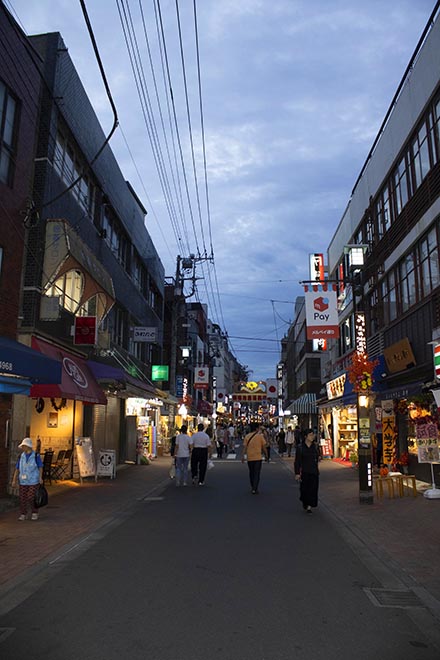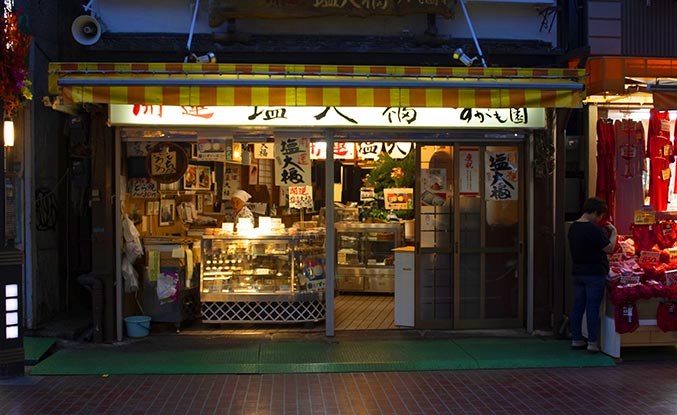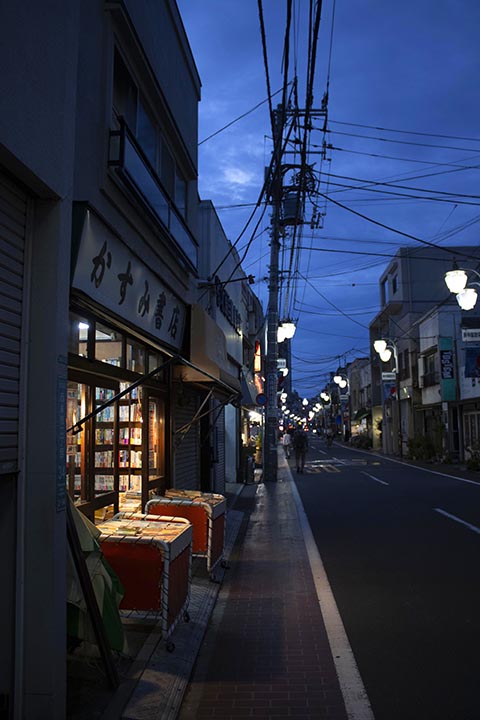 Sugamo Jizo-Dori Shopping Street approaching Itabashi.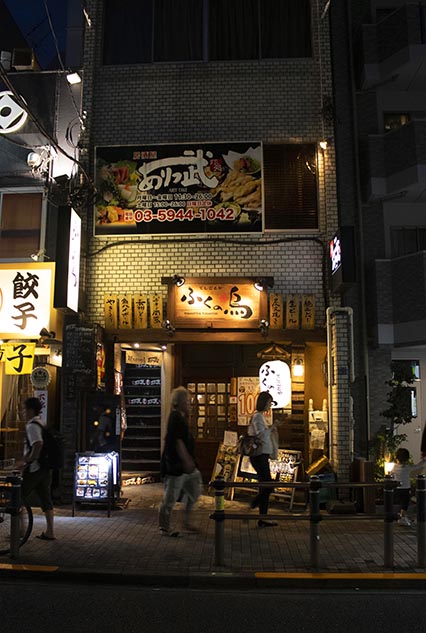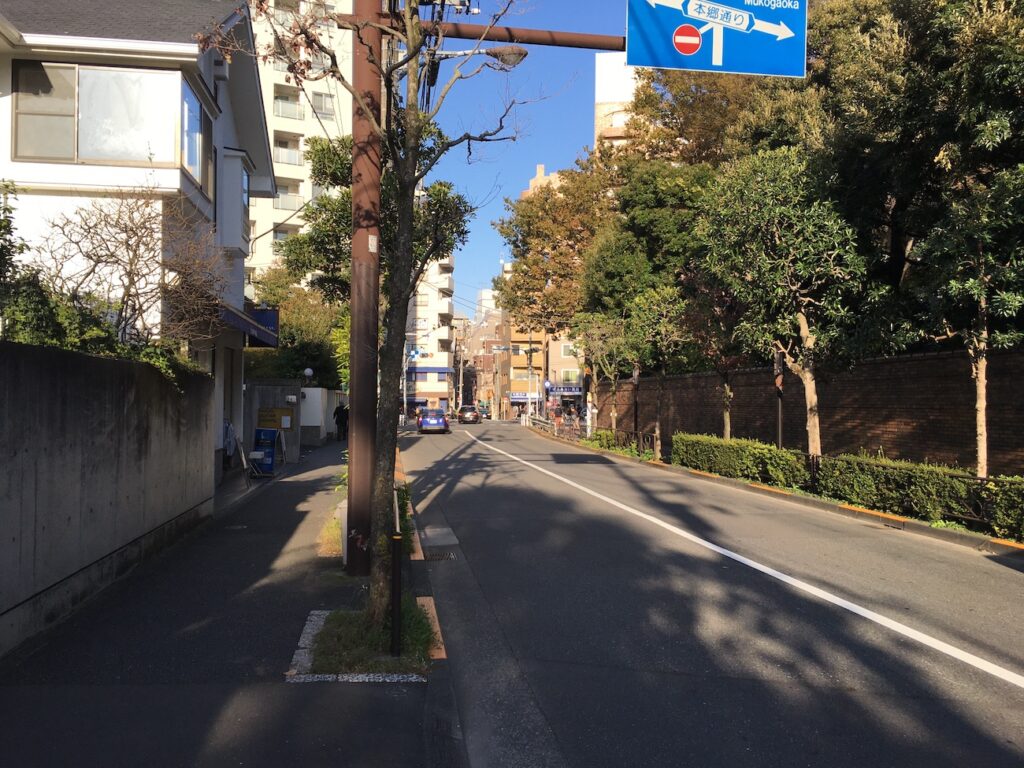 Approaching Rikugien Gardens, on the right. Just ahead is the small town of Komagome, just east of Sugamo.
If you head south on Hakusan Dori from the station for a few blocks, there's a side street around 35°43'52.63″ N 139°44'29.39″ E heading east just after the MOS Burger on the left. At the end of this street about a mile down is world-famous Rikugien Gardens – one of the most beautiful Japanese gardens in the country. It's a must see. Admission is 300-400¥ or so, but it's worth it for a couple bucks. While you're there you can stop and check out the town – Komagome – which has its own JR station. It's a small unremarkable town, but worth a quick walk. There's also a very large ancient temple there with spectacular architecture. It also has its own APA Hotel – APA Komagome. See our post on Komagome for more about the town. It's worth a quick look.
Hotels
The obvious choice in the area, as we mentioned, is APA Sugamo Ekimae 2 blocks north of the station. Clean, upscale, and relatively cheap at $70-$80/night in off-season, it's the best bet in Sugamo. There are others around in the area too. Check agoda.com for more choices.
North to Itabashi
Only about a mile north of Sugamo is the small charming town of Itabashi. Several rail lines including JR and the Toei Subway stop there. The JR station is on the Saikyo Line. It's only about a mile walk north on Hakusan Dori and is worth it if you have extra time. See our full multipart post on Itabashi for more info.
Additional Photos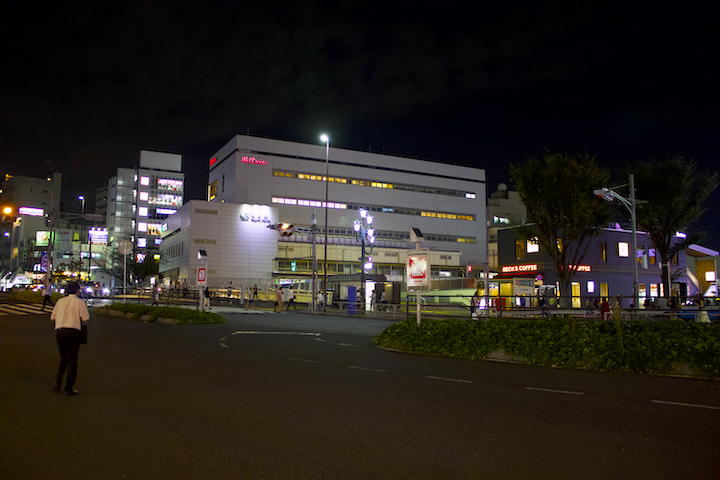 The station at night facing north.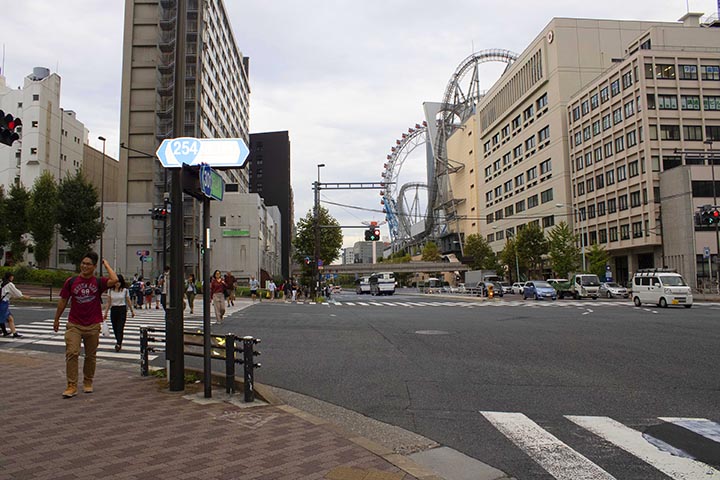 Arriving at TDC on Hakusan Dori from the north.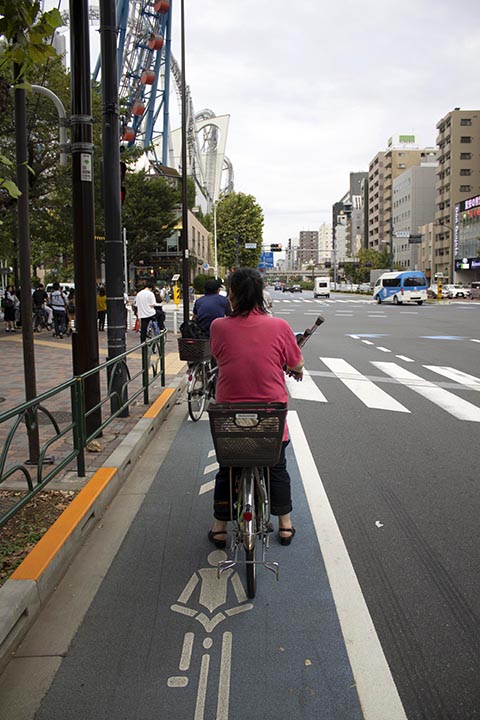 Hakusan Dori and the area around TDC actually have some nice bike lanes – if there are no delivery vehicles parked in them.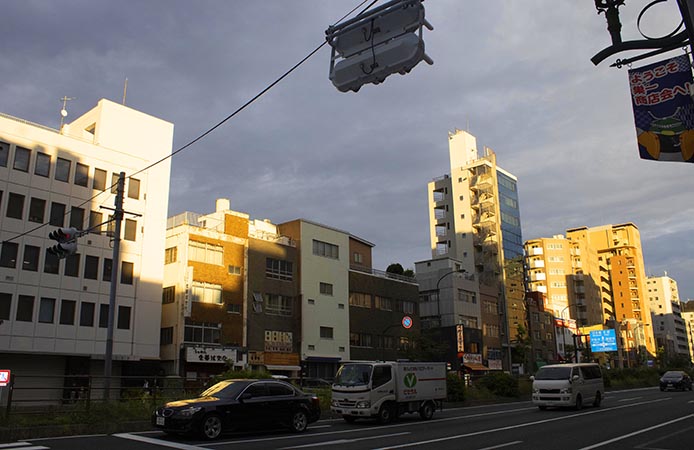 Cruising south on Hakusan Dori facing southwest at sunset.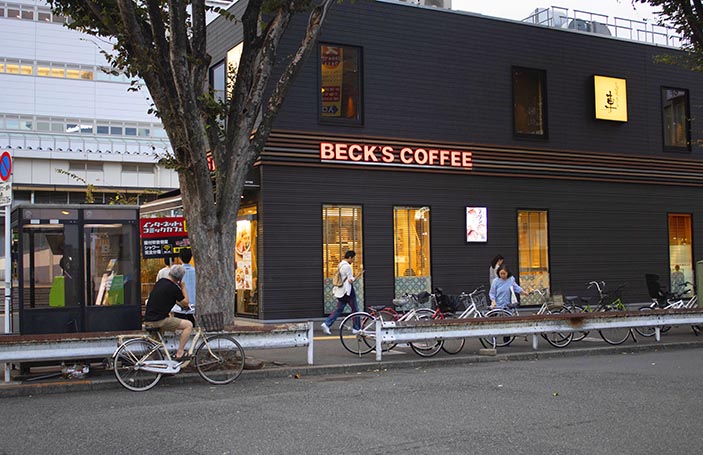 Beck's Coffee near the station. The Japanese word for coffee is coheé.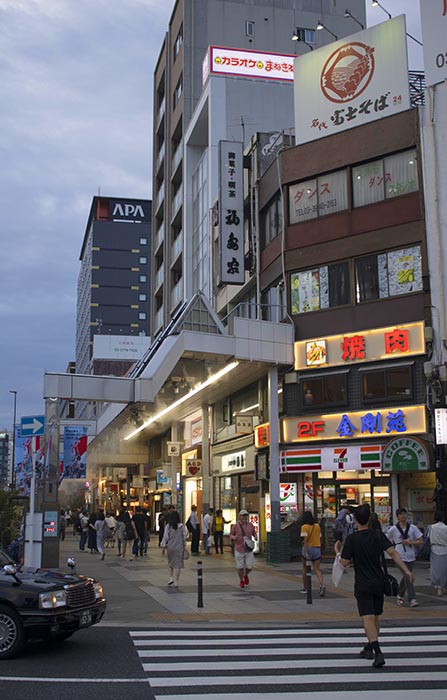 The covered shopping street just north of the station facing north. APA Sugamo Ekimae is just ahead. You can also hang a right here to explore some of the backstreets where a good 200¥ coin-locker is located.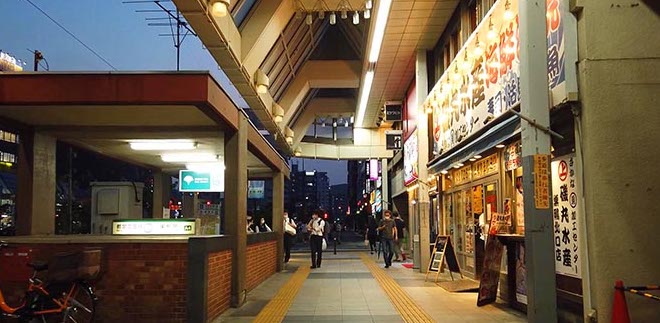 The covered shopping street on the west side of Hakusan Dori. Note the Toei Subway entrance on the left.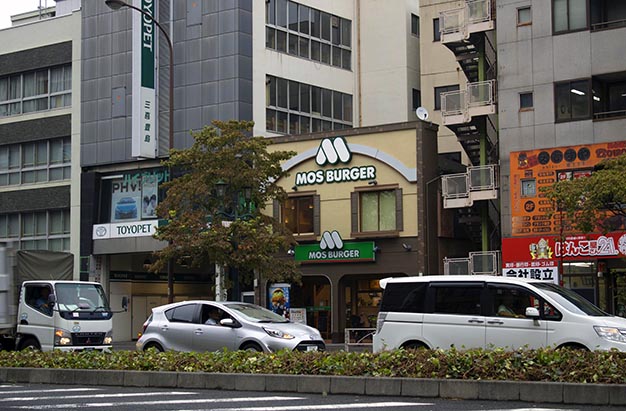 This MOS Burger is just down Hakusan Dori on the east side. If you turn left just after this shop when heading south on Hakusan Dori, you'll come to world-famous Rikugien Gardens on the right – and Komagome.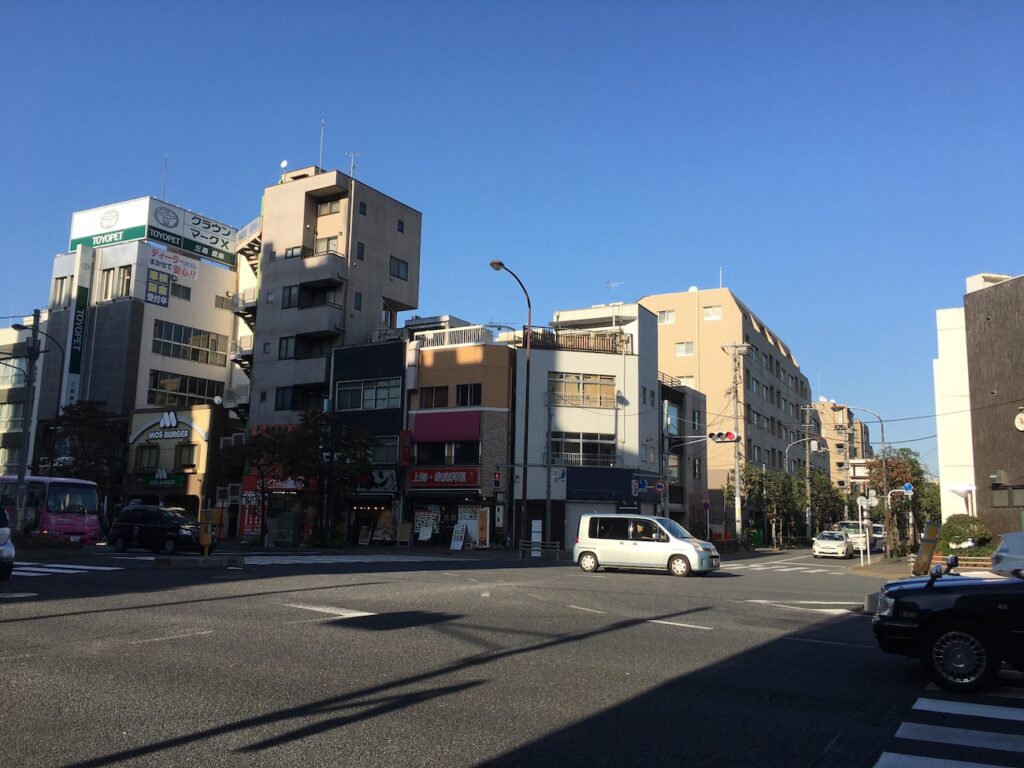 The street to the east just south of the MOS Burger leads to Rikugien Gardens.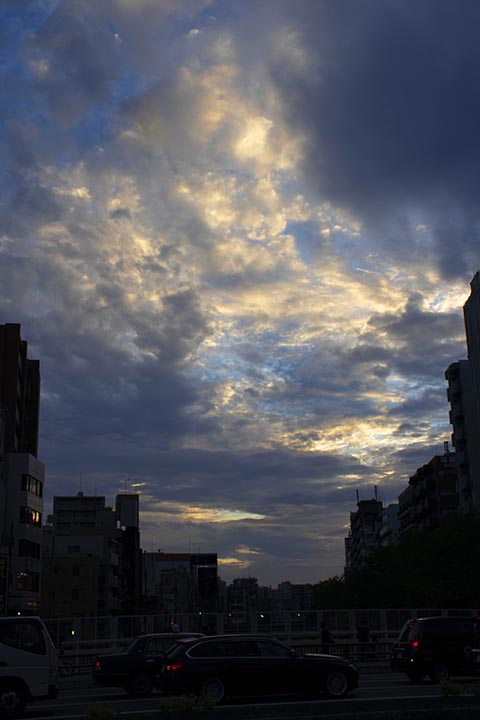 A beautiful fall sunset in Sugamo facing west.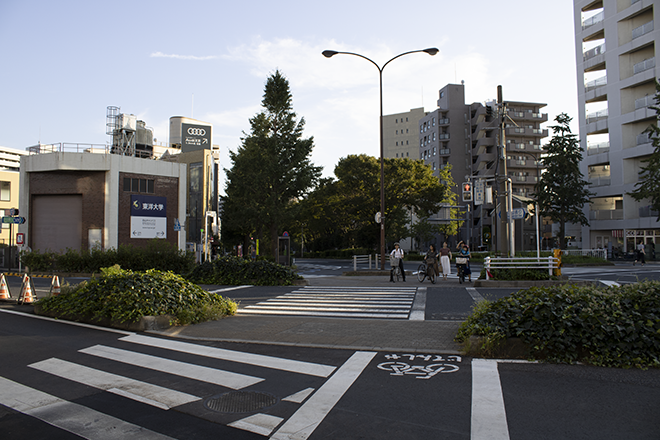 The right split at Old Hakusan Dori heading south from Itabashi. Don't miss this jump to the right side of the street or you'll end up way off course and miss TDC.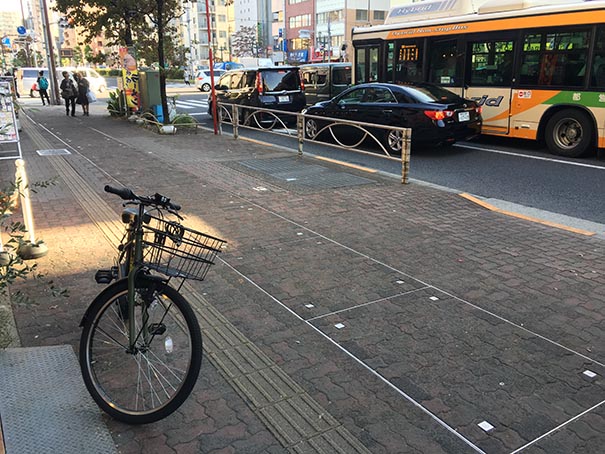 Waiting @ the MOS Burger on the way to Komagome. Turn left @ the next intersection for Rikugien Gardens.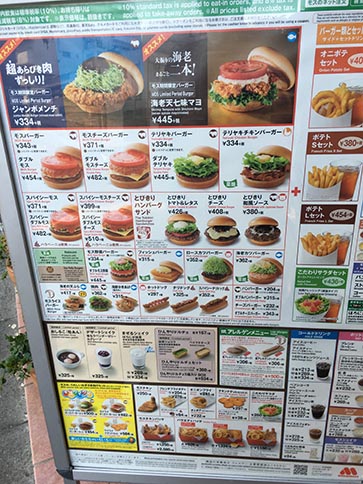 MOS Burger menu. You can actually eat fairly cheap in Japan – under 500¥ (around $5) for a good MOS Burger meal. The company prides itself on fresh ingredients. Our experiences at the chain are generally good.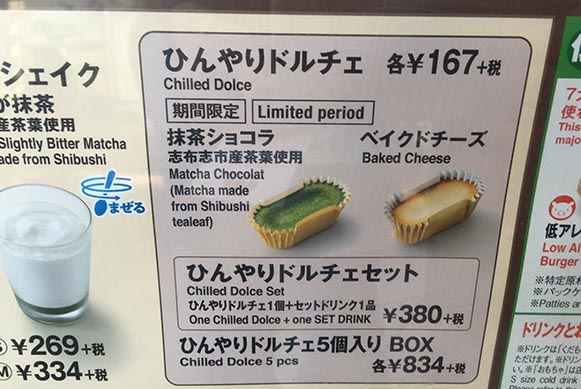 They even have some fun desserts.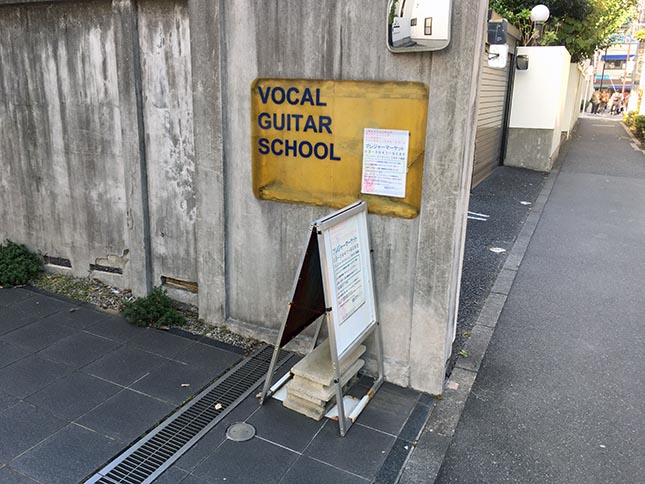 There is also this small guitar school just north of the gardens.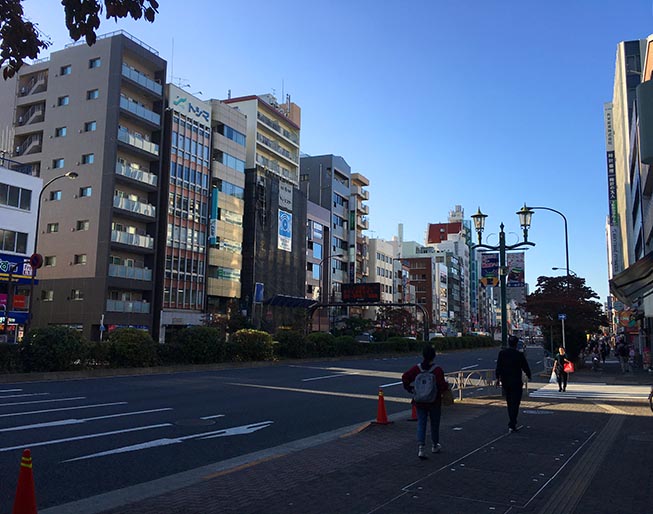 Heading north out of Sugamo on Hakusan Dori to Itabashi in late fall.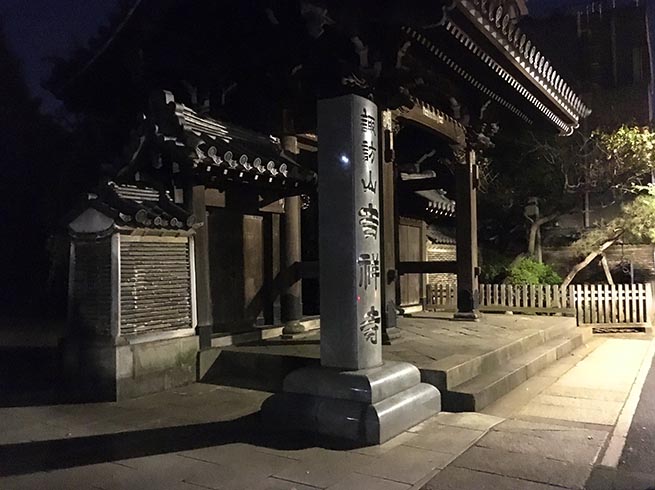 The huge temple north of Komagome – eerily silent near midnight.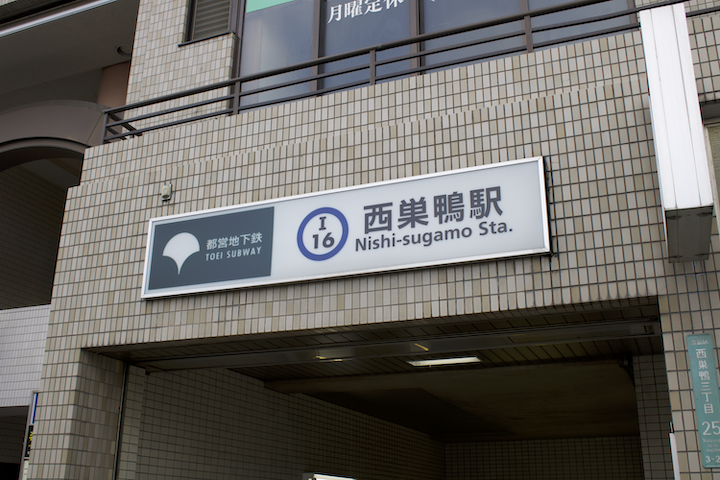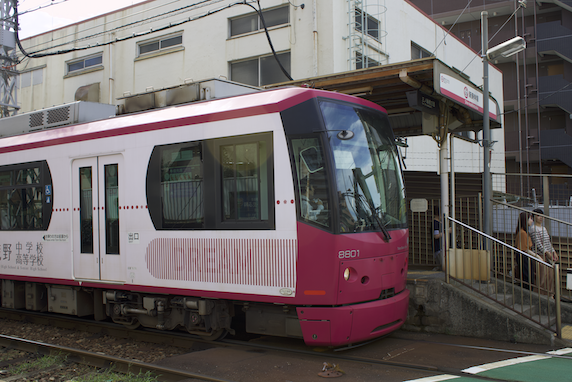 The Sakura Tram near Itabashi.
LINKS
https://en.wikipedia.org/wiki/Sugamo_Station
https://tokyo-tokyo.com/Sugamo.htm
Sugamo Station – GaijinPot Study
https://en.wikipedia.org/wiki/Nishi-sugamo_Station
Tokyo Dome City – Part 1: Itabashi->Tokyo Dome: on Bike
Sugamo | The Official Tokyo Travel Guide, GO TOKYO
Sugamo Area Guide | Tokyo Cheapo
Things to Do near Sugamo Station
Sugamo metro station – Metro Line Map
https://www.tokyo-park.or.jp/teien/en/rikugien/access.html
Itabashi | The Official Tokyo Travel Guide, GO TOKYO
VIDS
This vid also shows the APA Hotel towards the end.