Name: Hiroo
Kind: Town
Free Wifi: Yes
Location: 35°39'06.53″ N 139°43'20.30″ E
Station: Hiroo Station (H03), Metro Hibiya Line
Our Rating: ⭑⭑⭑
Worth it? For a quick stroll or some night dining.
Updated 4/24/2021
©2019-2021 tenmintokyo.com
Hiroo is a small town just southwest of Roppongi in Tokyo.
There's not a lot do to here because the town is mostly a high-end residential district. There are however many very cool restaurants and few large parks + complexes worth checking out. The area is known as one of the more upscale areas in Tokyo. It also has many high end car dealerships.
There are several large hospitals to the north, and a large Christian college. Roppongi is to the northeast, and Shibuya is to the northwest, both easily within walking distance.
Just to the east a few blocks is the Tokyo Metropolitan Central Library and gardens.
Access
Get the Metro Hibiya subway line and exit Hiroo Station – the 3rd stop on the line. When you exit to the street you'll be on Gaien Nishi-Dori which runs north-south.
If you head a bit further south on Gaien Nishi-Dori you'll come to Ebisu.
Area Layout
The town is pretty simple – one main street running north-south and a bunch of side-streets. Most of the interesting stuff is on the main street. There is also Hiroo Strolling Street (see below).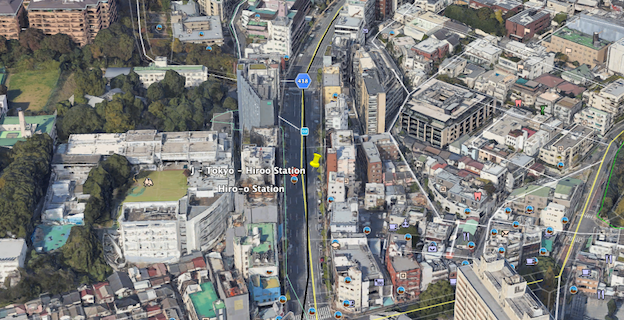 The biggest reason to visit Hiroo is for the nice restaurants. There are also a few multiuse complexes worth checking out. There's a wide range of food from Italian, pizza, cafés (there's a nice Blue Bottle Coffee), sushi and more.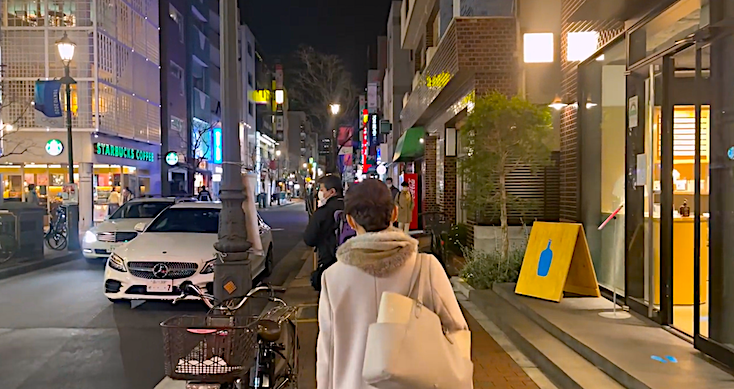 Blue Bottle Coffee which is right across from the station.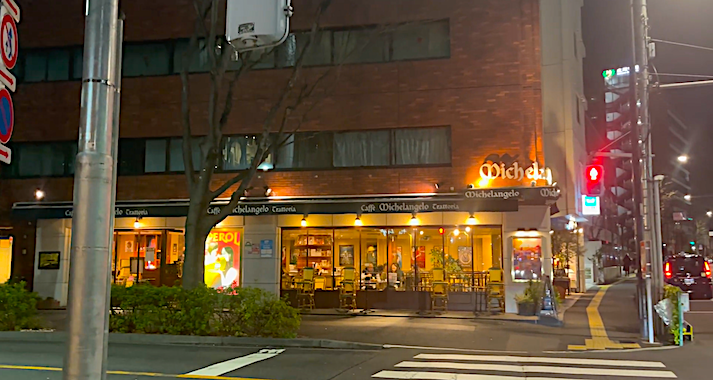 Café Michelangelo.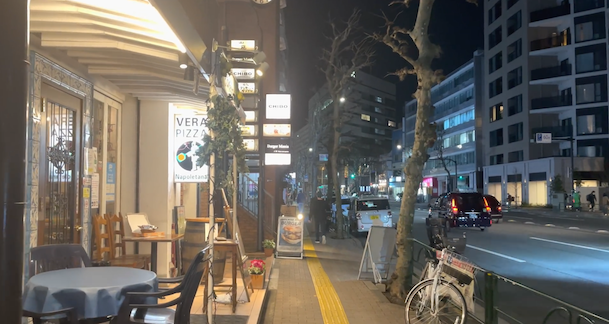 Hiroo Plaza, Hiroo Garden, National Azabu Supermarket
Around 35°39'00.19″ N 139°43'17.13″ E is a large multiuse complex called Hiroo Plaza worth checking out. Right across the street is Hiroo Garden – another small shopping complex. There is also a small free city shuttle bus stop right out front of Hiroo Garden. Both are worth a look.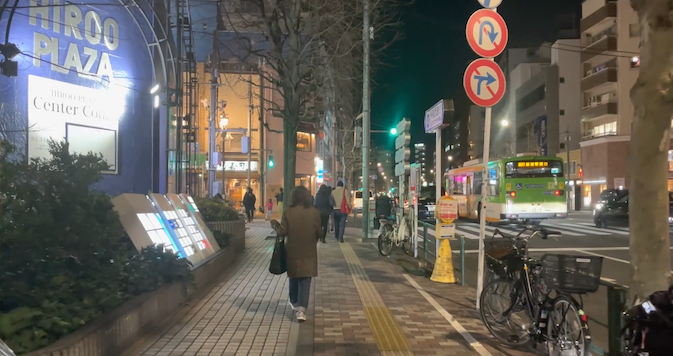 Around 35°39'02.42″ N 139°43'27.84″ E is a very nice large organic grocery called National Azabu Supermarket.
Hiroo Strolling Street
At 35°39'02.08″ N 139°43'16.63″ E to the west is Hiroo Strolling Street (aka Hiroo Shopping Street) – which comes alive after dark and makes a nice nighttime stroll. Right on the corner is a huge 2-story wine bar/shop called Vinos Yamazaki.
Just a few blocks east from the intersection of Gaien Nishi-Dori and Meiji Dori is the New Sanno Hotel. If you're looking for a nice hotel in the area, this is it. There are some others which aren't as expensive, but if you're looking for pure luxury and nice surroundings, New Sanno is the best in the town.
About 1/2 a mile to the west around 35°39'11.52″ N 139°42'49.09″ E is the very cool Yamatane Museum of Art. This museum has an excellent contemporary clean design inside and out and has a huge collection of ancient art. If you have a few extra minutes and don't mind the walk, it's worth checking out.
There are also quite a few ancient temples in Hiroo worth checking out.
Conclusion
Hiroo is a very hip quirky little town. If you're on the Metro Hibiya Line and have a few free minutes, pop in and take a walk to check it out – especially at night.
Enjoy!
Additional Photos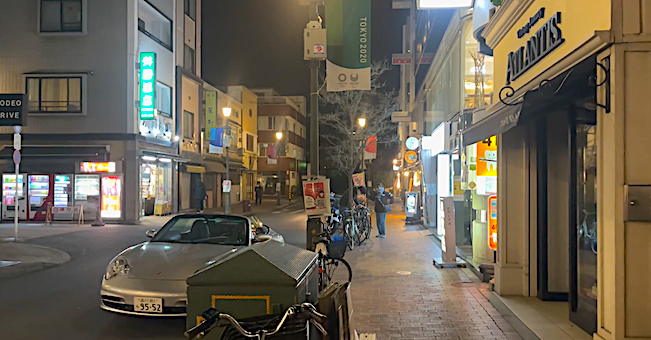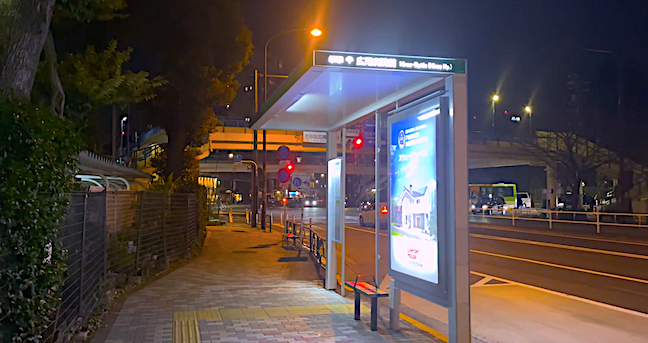 There are also several bus stops.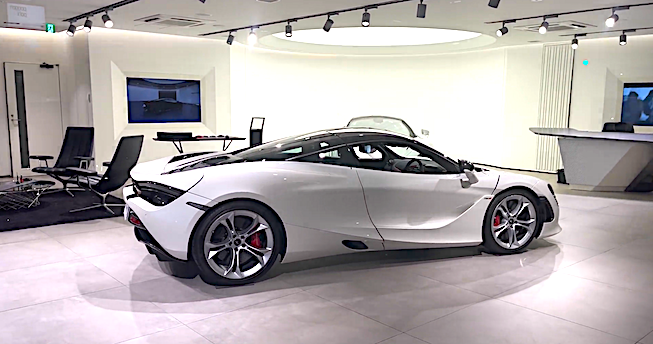 Lots of high-end car dealers abound.
LINKS
https://en.wikipedia.org/wiki/Hiroo_Station
Hibiya Line | Tokyo Metro Line
Hiro-o Station/H03 | Route/Station Information
https://www.library.metro.tokyo.lg.jp/english/central_library/
https://bluebottlecoffee.com/cafes/hiroo
Exploring around Hiroo Station: For Lunch and Dessert
Segafredo Zanetti Espresso Hiroo – Café in Hiroo
Finding New York Style Pizza at The Pizza in Hiroo – Japan Journeys
VIDS