Name: HOTEL GAJOEN TOKYO
Kind: Hotel/Museum
Free Wifi: Yes
Location: 35°37'53.35″ N 139°42'47.64″ E
Station: Meguro Station, Namboku Line
Our Rating: ⭑⭑⭑⭑⭑
Worth it? Yep.
Updated 6/16/2021
©2021 tenmintokyo.com
Access
Take the Metro Namboku Line and get off at Meguro Station.
You can also take the Keisei Skyliner directly from Narita International Airport to Meguro Station.
The hotel lies a bit out on the west side of southwest Tokyo – expect anywhere from 20-30 minutes on a normal train from central Tokyo, or around an hour from Narita.
If you need to exchange currency, there is the Smart Currency Exchange at 1 Chome-8-1 Shimomeguro, Meguro City, Tokyo 153-0064, although it is a bit south of the station.
Grounds + Museum
The hotel sits on the banks of the Meguro River and has lush green parks + Japanese gardens surrounding it. There is also a very large modern museum on the south side. The museum is in fact, one of the best in Tokyo and is a hidden gem.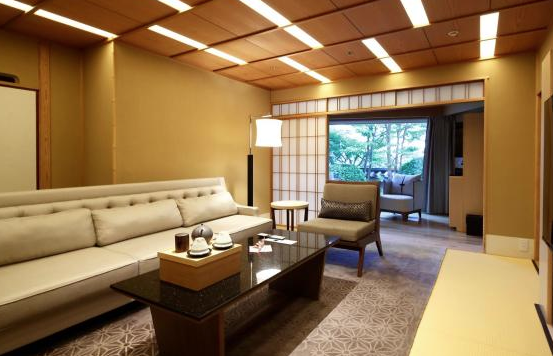 Rooms are elegant + understated.
Less than a mile to the northeast is the Tokyo Metropolitan Teien Art Museum, which was once the residence of Prince Asaka (who was allegedly involved in the Nanking Massacre), and of former Japanese prime ministers during and after World War 2. It became a museum in 1983. If you're up for a bit of a walk, pop over and check it out. There is also an Institute for Nature Study and park at the museum.
Kita Roppeita XIV Commemorative Nōgaku Theatre
Just to the south a few blocks is the excellent traditional Kita Roppeita XIV Commemorative Nōgaku Theatre where traditional Noh plays are performed – also worth a look.
Enjoy!
LINKS
https://www.hotelgajoen-tokyo.com/
https://www.hotelgajoen-tokyo.com/en/
https://www.keisei.co.jp/keisei/tetudou/skyliner/us/skyliner/index.php
https://en.wikipedia.org/wiki/Noh
VIDS