Name: Printing Museum, Tokyo
Kind: Museum
Free Wifi: Yes
Location: 35°42'30.89″ N 139°44'29.72″ E
Station: Iidabashi Station/T06/Y13/N10 | Tozai Line, Korakuen Station (M10) Marunouchi Line, Yurakucho Line, Namboku Line, Kasuga Station, Toei Mita Line
Our Rating: ⭑⭑⭑⭑⭑
Worth it? A must-see.
Updated 6/20/2021
©2021 tenmintokyo.com
Also see our Iidabashi Superguide for the surrounding area.
Access
The quickest way to the Printing Museum is to get to Korakuen Station on the Marunouchi or Namboku Line, then head west a few blocks. There is another portal to Korakuen Station a bit further to the east around 35°42'30.21″ N 139°45'14.27″ E. This portal also services Kasuga Station on the Toei Mita and Odeo Lines. But it's a bit more of a walk (but still under a mile).
If you're looking for a nice cheap hotel nearby, there's a nice Dormy Inn right across the street from Kasuga Station.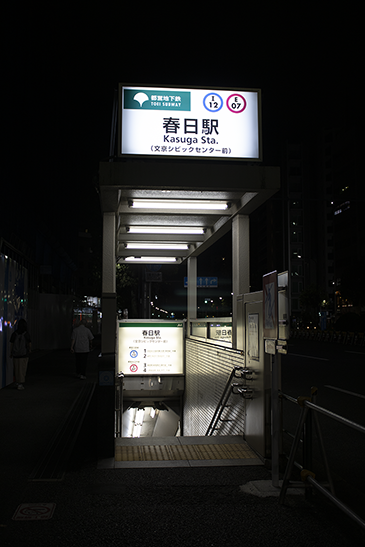 Kasuga Station portal at night.
If you're up for more of a walk, you can also get there from Suidobashi Station further to the south if you take a JR line.
Area Layout
From Tokyo Dome at Korakuen Station, you'll have to head west down side streets as there is no direct route. Be sure to bring a phone with a GPS-enabled map.
You can also follow Rt. 434 west, and then head north where it crosses Rt. 8. The museum is just to the north on Rt. 8.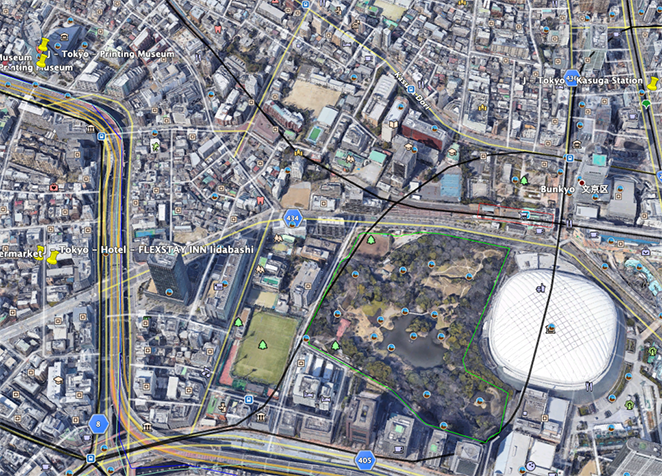 Tokyo Dome/Korakuen Station, lower right, and the Printing Museum, upper left.
The museum has an incredible display of the history of printing in Japan, all kinds of books and parchments, and other exhibits. The displays are top-notch and the entire place has an air of excellence about it.
It's a must-see when you're in Tokyo.
Enjoy!
Toppan Koishikawa Head Office Building
1-3-3 Suido, Bunkyo-ku, Tokyo 112-8531
TEL +81 3-5840-2300
FAX +81 3-5840-1567
Hours 10:00 – 18:00 (last admissions 17:30)
Closed Mondays (unless Monday is a holiday).
Korakuen Gardens
If you have time, also pop into Korakuen Gardens just west of Tokyo Dome and check it out. It's worth a stop.
LINKS
https://www.printing-museum.org/en/
https://foursquare.com/v/%E6%98%A5%E6%97%A5%E9%A7%85-kasuga-sta-i12e07/4b22109df964a520944324e3
https://en.wikipedia.org/wiki/Toei_Mita_Line
https://kyohotel.jp/en/hotel/mshotel-kasuga-en/
https://www.kotsu.metro.tokyo.jp/eng/