Name: Cream of the Crop Coffee
Kind: Café
Location: 35°40'57.36″ N 139°48'36.32″ E
Station: Sumiyoshi Station (Z12), Metro Hanzomon Line,
Free Wifi: Unknown
Our Rating: ⭑⭑⭑
Worth it? Yep.
Updated 12/19/21
©2021 tenmintokyo.com
Just south of Sumiyoshi in east Tokyo is a nice little café called Cream of the Crop Coffee. Actually the shop is fairly large – and has lots of seating with a high ceiling giving the place a feel of airiness – somewhat like a small warehouse with a light industrial vibe.
The café serves hand-poured + drip coffee, and grinds beans fresh before serving. If you're in the area check it out.
Access
To get here, get to Sumiyoshi Station, then head south on Rt. 465 and cross the Onagi River, then west on Rt. 474, then head south at 35°40'56.47″ N 139°48'34.94″ E (about .9 mile total).
Kiba Park
If you have a few extra minutes + are feeling adventurous, the vast and fabulous Kiba Park is just a few blocks to the south.
Enjoy!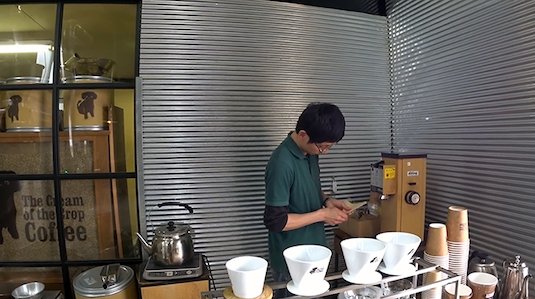 LINKS
https://www.tokyometro.jp/lang_en/station/sumiyoshi/accessibility/index.html