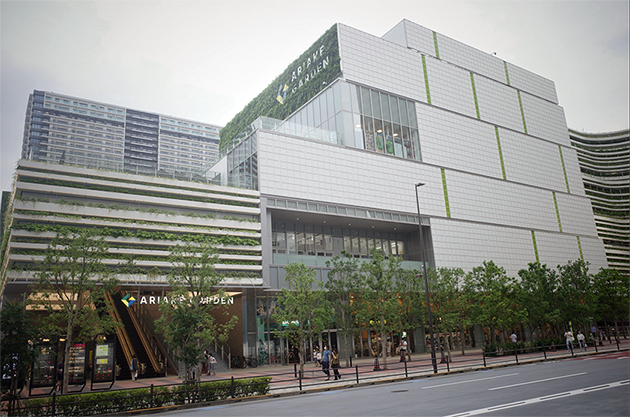 Name: Ariake Garden
Kind: Multi-use
Location: Ariake @ 35°38'19.45″ N 139°47'31.62″ E
Stations: Ariake Station (Yurikamome), Kokusai-tenjijō Station, Tokyo Teleport Station (Rinkai Line).
Free WiFi: Yes.
Worth it? Do not miss it.
Our Rating: ⭑⭑⭑⭑
Last updated 4/9/2022
©2022 tenmintokyo.com
Ariake Garden is a huge new multi-use complex on the island of Ariake just east of Odaiba in Tokyo Bay.
The complex includes a mall, theater, large garden, a coliseum, and lots of brand new manshons (high-rise apartments).
To get here, take either Yurikamome to Ariake Station or the Rinkai Line to either of the 2 stations mentioned above.
Of course there are many other things to do in the area: Diver City on Odaiba to the west, Tokyo Big Sight to the south, and the Wanza Ariake Bay Mall to the south. In fact, you can take Yurikamome to Tokyo Big Sight Station instead, then walk the few blocks north to Ariake Garden, if you like. There is also a nice large green park one island to the north: Toyosu Roku-chome Park.
Enjoy!
…
"Ariake (有明、ありあけ) is an area in Tokyo, Japan.
It is a part of Tokyo Waterfront Secondary City Center, adjacent to Odaiba.
In Japanese, the word "Ariake" means "Daybreak", "Dawn", "Cockcrow", which is the symbol of "the expectation of a new day".
LINKS
Ariake Garden, a newly opened shopping complex in Tokyo
Ariake Garden – Where to Shop, Access, Hours & Price
https://en.wikipedia.org/wiki/Rinkai_Line#Operating_company