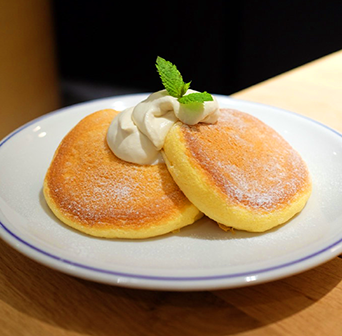 ©2019-2020 tenmintokyo.com
A pancake craze has hit Tokyo.
There are awesome pancake shops all over the city. Many of them are quite good – must visits. Some of these places are pretty crazy – offering stacks of 8-12 pancakes with scoops of ice cream, chocolate, honey, fruit, eggs, and whipped cream.
In the battle for king of the Tokyo pancake houses, there are two top contenders: Flipper's and A Happy Pancake. Both are out of this world. Flipper's seems to be the obvious winner – with a huge place in Harajuku (shown below), and one in Shibuya as well. There are others. A Happy Pancake also has one in Harajuku, as well as a slightly smaller one in Ikebukuro. (There are 5 A Happy Pancake's total – Omotosando, Shibuya, Ginza, Ikebukuro, Kichijoji).
See our post on A Happy Pancake Ikebukuro for a full review.
There is also a Flipper's in S. Korea + a new one in New York City now. Flipper's also has a small stand shop at Newoman @ Shinjuku Station.
After those 2 reigning kings, next on the list are j.s. Pancake Café (several all over Tokyo), and Rainbow Pancake in Ikebukuro.
Other's include Bank's Cafe Shibuya, bill's Omotosando, and gram Harajuku (see below). All are excellent.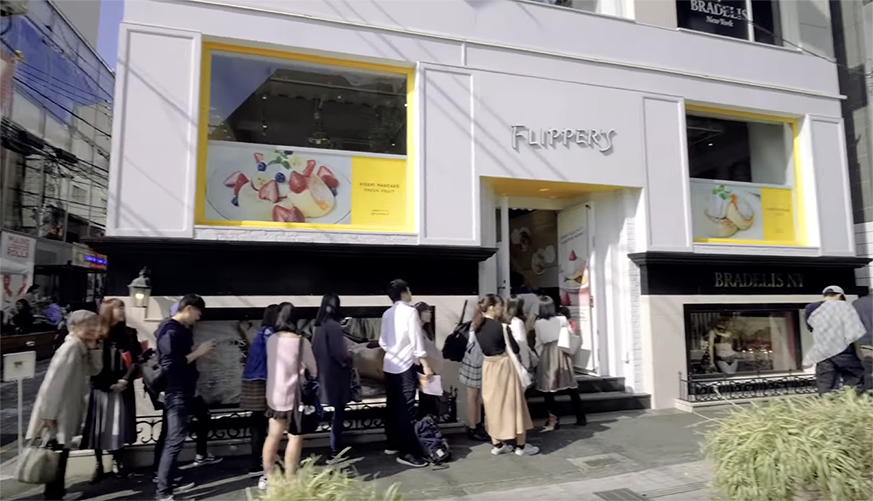 Flipper's Harajuku/Omotosando. There is also one in Ebisu/Daikanyama. Expect a line most times. It's that good.
Gomaya Kuki Harajuku
Another popular pancake shop in Harajuku is Gomaya Kuki. This shop is world-famous for its pancakes served with ice-cream and sesame + matcha parfait. Along with Flipper's a must try if you are in Harajuku. If you plan to hit both shops at the same time, you may want to walk 15 miles or so first sightseeing so you'll be really hungry.
gram Harajuku
gram Harajuku is a smaller out-of-the-way pancake shop in Harajuku. A very nice shop with seating for about 30, they serve fluffy pancakes with fruit and syrup. Very nice. There are, in fact, several of them all over Tokyo and Japan as well as overseas. See their website for a complete list.
NOA Coffee Harajuku
NOA Coffee in Harajuku has a nice selection of waffles which are well worth a try. The cafe is just inside Takeshita St. on the right as you enter the street. Take the JR Yamanote Line or Chiyoda Line on Fukutoshin Line on the Tokyo Metro to the Meiji-jingumae <Harajuku> Station and exit to the north to find the entrance to Takeshita St.
Cafe Plant's Odakyu @ Shinjuku Station
In the Odakyu department store (i.e. depato) next to Shinjuku Station there's a cafe called Cafe Plant's which serves great pancakes. Worth a look. To get here, get off at JR Shinjuku Station and head up to Odakyu on the northwest side.
Clover Ebisu
Also in Ebisu is Clover's – a definite must-see. Northwest of Ebisu Station, Clover's has a wide menu with lots of luxurious choices. You can't go wrong here – but come ready to eat. And we mean eat.
R.L. Waffle Café @ Tokyo Station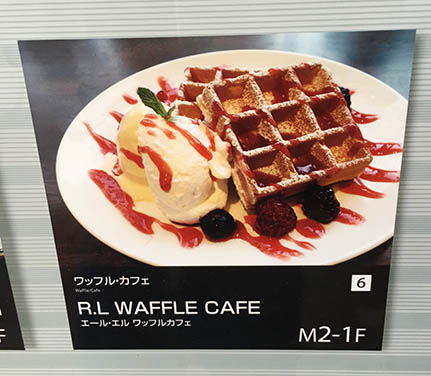 At the east side of Tokyo Station is the R.L. Waffle Café – well worth a visit. The blackberry ice cream variant shown above is out of this world. Head out the Yaesu Central Exit, head south along the sidewalk, and it's the last shop on the right. There is also one in Akihabara. They even have matcha waffles.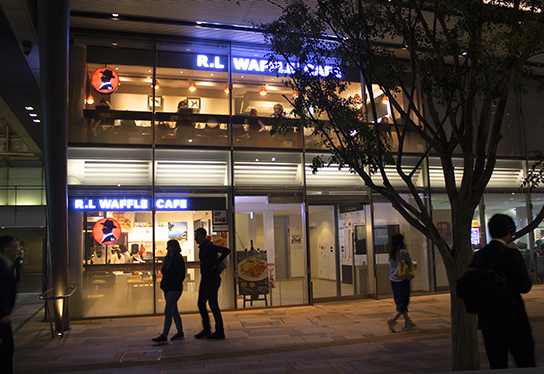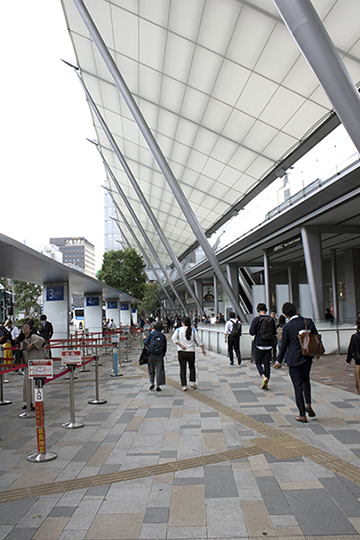 Head south along the Yaesu (east) side of Tokyo Station. Both R.L. Waffle Café and Volputas are down on the right.
N2 Brunch Club
N2 Brunch Club is a great little restaurant just east of Tokyo Station a few blocks. They serve pancakes + a variety of other food including ice cream + gelato. See our other article on how to get there.
Volputas @ Tokyo Station
Also at Tokyo Station – on the outdoor east floor just above R.L. Waffe Café is Volputas Pancake Dessert Café. Serving mostly stacks of pancakes with heaping piles of fruit, it's well worth a stop. Prices are fairly reaonable. Expect to pay 1200¥ ($12-17). They also have smaller plain stacks for around $8.
Sarabeth's @ Tokyo Station
At the opposite end of Tokyo Station on the east side is Sarabeth's. It's just to the north of the massive Daimaru department store and south of the $400/night Shangri-La Hotel. The menu is excellent, but be prepared to spend a bit more – up to $30/person. Well worth it, however, once in a while.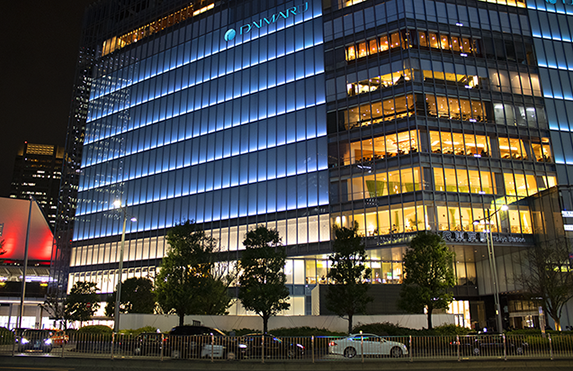 The massive Daimaru food palace at the northeast end of Tokyo Station. Sarabeth's is just out of frame to the right. Daimaru also has an awesome depachika (food basement).
KYOBASHI SEMBIKIYA fruit parlor @ Daimaru
On the 3rd floor of the Daimaru food palace next to Tokyo Station is the KYOBASHI SEMBIKIYA fruit parlor. While mostly fruits and sundaes, they also have waffles. Worth a look.
CAFE EIKOKUYA @ Daimaru
Also @ Daimaru on the 7th floor is the CAFE EIKOKUYA.
Rainbow Pancake Ikebukuro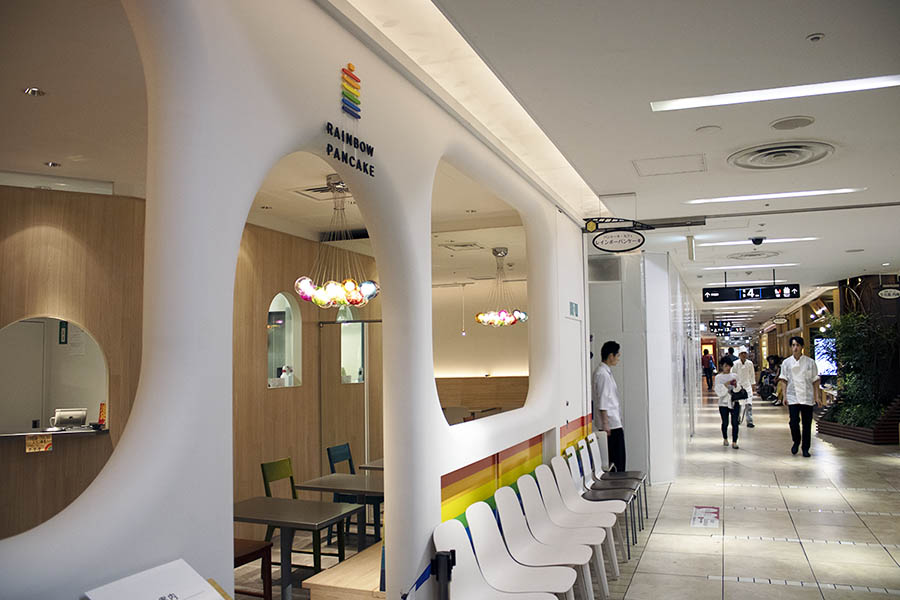 Rainbow Pancake in a mall in Ikebukuro. Well worth a stop. There is also one in Shibuya. To get to Rainbow Pancake, get to Ikebukuro Station, enter the SEIBU department store from inside the station, or the street, and head up to the top floor. There is also one in Omotosando.
Sanrio Cafe @ Sunshine City
In the basement of Sunshine City is the newly opened Sanrio Cafe where "You can enjoy pancake sets for 1,000¥ decorated in themes based on Hello Kitty, My Melody, Cinnamoroll and Pompompurin" as well as hamburgers, donuts, and a slew of other delights.
Leis' Hawaiian Pancake + Coffee Ueno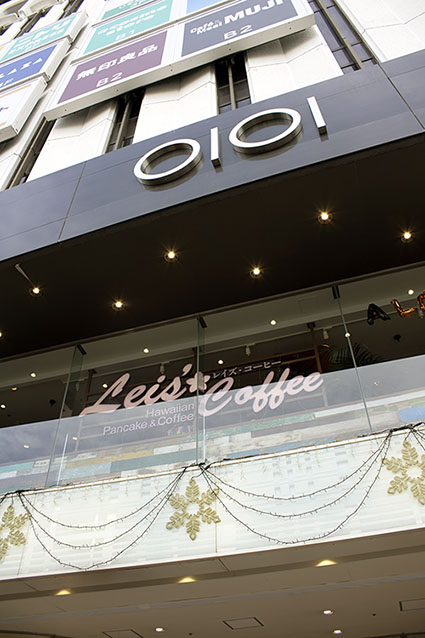 Just across from Ueno Station to the west is Leis' Hawaiian Pancake + Coffee – a must-see. It's on the 2nd floor of the Marui Bldg. (OIOI). As a footnote, there is also a Seria 100¥ store and a Ueno Tourist Info office in this bldg. also.
Kirby Cafe @ Tokyo Sky Tree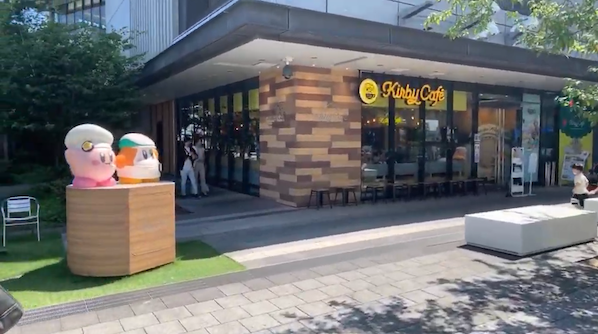 In the small town of Oshiagé is Tokyo Sky Tree and on the upper deck in the "East Yard" of the Solamachi complex is the Kirby Café. This shop sells delightful themed pancakes and is well worth a stop.
j.s. Pancake Café Nakano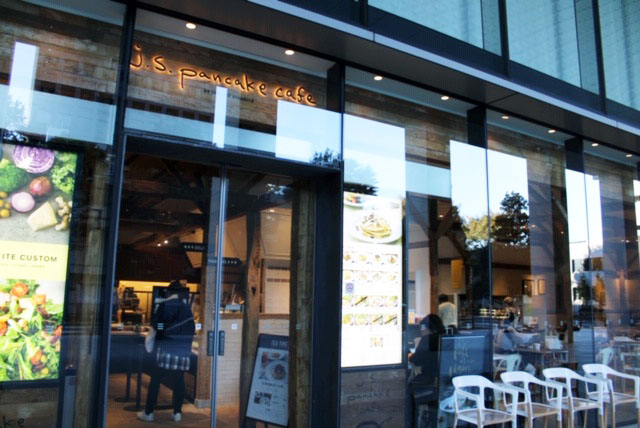 Over in Nakano west of Shinjuku is the j.s. Pancake Café – a bit out of the way, but huge + well worth it. There are 12 of these all over Japan.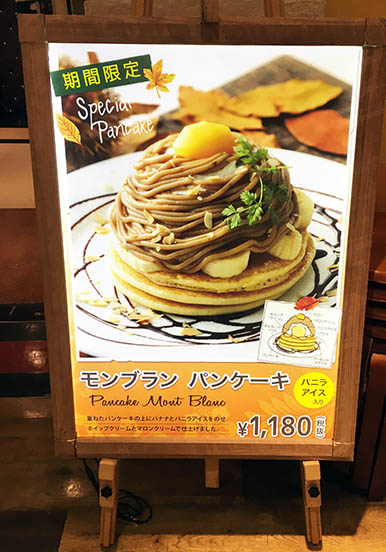 MOKUOLA Dexee Diner, Ikebukuro LUMINE
On the top floor of the LUMINE department store in Ikebukuro is a great pancake place called Mokuola Dexee Diner. They also have great hamburgers. You can get a variety of pancake plates for around $8-$10. The chcolate ones are fabulous. Other options include fruit, whipped cream, and matcha.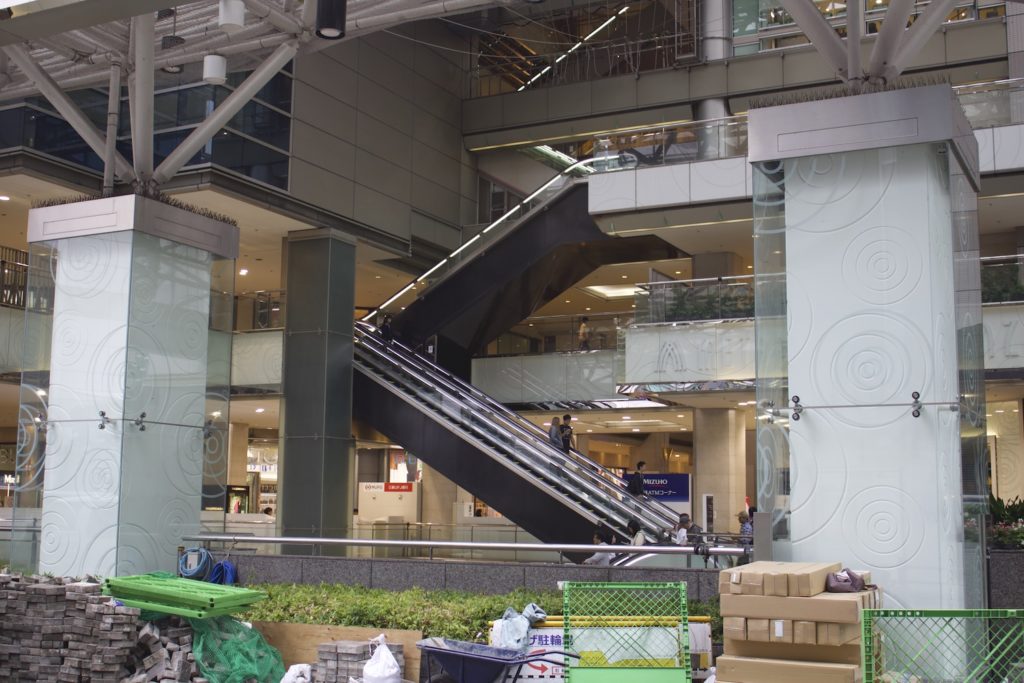 LUMINE Ikebukuro just south of the station on the West Gate Park side. Head to the top floor.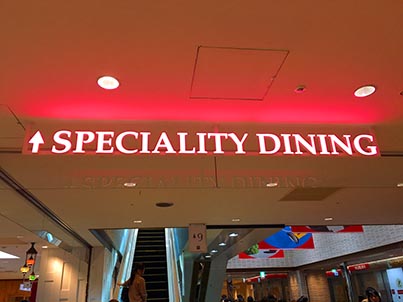 Head up to the Specialty Dining Floor.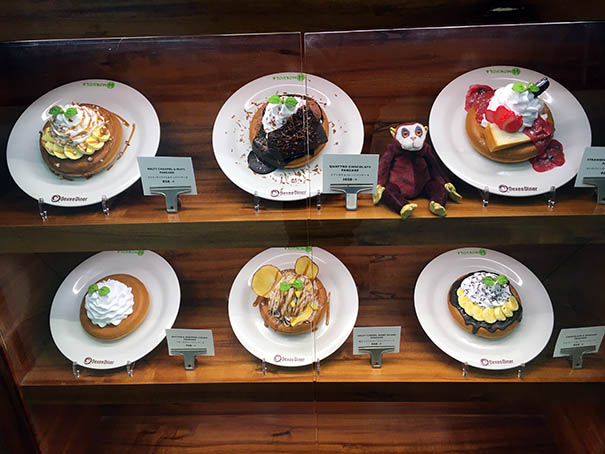 MOKUOLA Dexee Diner Get ready for some unbelievable pancake plates.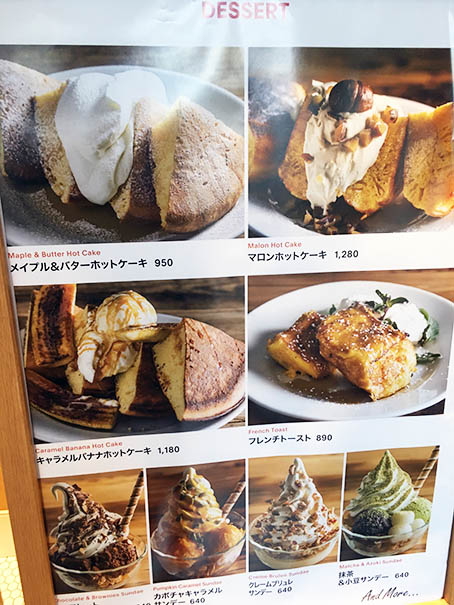 They also have souffle + ice cream desserts.
Milky Way Café Ikebukuro
On the other (east) side of Ikebukuro Station to the southwest is the Milky Way Café. It's on the 1st floor in the bldg. shown below just across from a major intersection. While Milky Way is mostly an ice cream parlour, they also have pancakes.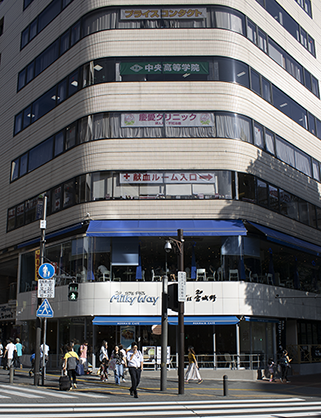 Milky Way, Ikebukuro.
Shibuya
In Shibuya are Micasadeco & Cafe and Burn Side Café. Both are excellent. Micasadeco are known for their big stack of Ricotta chese pancakes served with whipped cream. Burn Side Cafe has a wide menu with chocolate pancakes, fruit, and pancakes served with ice cream. Come hungry.
Benitsuru (formerly "Flamingo Café")
In Shibuya is a great new cafe called Benitsuru (Pink Crane). Formerly known as Flamingo Café, the place has been remodeled + updated. Reservations are required. You need to go to the shop, make a reservation + deposit 2000¥ ($20) for a reservation. Seating is limited. They serve a huge stack of fluffy pancakes with egss and bacon. Not to be missed. Paolo From Tokyo has a video about the place (see below). There is also a Benitsuru in Ueno.
Also in Shibuya is the Jimmy Monkey Café. Serving pancakes + light French Toast, they also serve ice cream, burgers, and coffee. Worth looking in.
IVY PLACE
Also in Shibuya is Ivy Place, with a nice upscale atmosphere, and plenty of seating. You can see their menu here.
Milk
Milk "Craft Cream" is a small shop specializing in fluffy pancakes and pastries in Shibuya. Worth a look.
Cafe Asan, Ueno
In Ueno, in Tokyo's northeast is Cafe Asan. It's in a little art space called 2K540 hidden under the freeway north of Akihabara Station. Well worth a trip on foot – it's only a mile or so. They are closed Tuesdays. Cafe Asan has unusal hammock-style seating which makes it more interesting, if not a little unusual for a restaurant. Still worth a look. They have giant fluffy pancakes and souffles with heaping servings of fruit + a mountain of whipped cream. 2k540 is roughly located at 35°42'10.66″ N 139°46'25.45″ E.
Ginza
A small shop on a side street in Ginza, Yukinoshita is well worth a stop. Featuring smaller, refined plates of fluffy pancakes + french toast, it's worth a look.
bill's Ginza
Also in Ginza is the great bill's – a must-see. They have a nice modern environment, and a wide menu with lots to chose from. They also serve a variety of wine + coffee. There's a review of bill's @ the Pancake Club Blog.
eggs n' things Ginza
eggs n. things "Breakfast from Hawaii" in Ginza is also worth a look – with a Hawaiian theme it's an enjoyable experience. They serve big plates of pancakes with heaping piles of whipped cream + fruit. They also serve burgers and a variety of drinks. Worth a stop. There's also a review over @ the Pancake Club Blog in Japanese only.
French Toast Factory, Akihabara
In Yodobashii Akihabara, on the food floor, you'll find the French Toast Factory. Well worth a visit for the light yet thick French Toast served here. To get there, take a train to JR Akihabara Station, and exit northeast.
Flying Scotsman, Akihabara (フライング・スコッツマン 秋葉原)
Just to the northwest of the Akihabara UDX Bldg. down a little side street is Flying Scotsman pancake shop. It's a small shop with limited seating but is well worth the trip. To get there exit the JR Akihabara Station Electric Town (North) Exit and head northwest up the next side street north to the west of the UDX Bldg. It's down a side street on the left roughly around 35°41'59.81″ N 139°46'19.92″ E.
Café Hudson @ Shinjuku Mylord
In the Shinjuku Mylord bldg. next to Shinjuku Station is Café Hudson – a nice indoor pancake and coffee shop. There is lots of seating and a vast menu of variety to chose from. And it's really easy to get to – take a JR or subway line to Shinjuku Station, and exit the new remodeled north entrance and head west. The Mylord bldg. is just at the west end of the station. You can also get to it from the Southern Terrace. The cafe is smoke-free, but note they don't have free WiFi. Still worth a look however – a very nice place to eat. It's on the 9th floor.
French Toast LONCAFE Meguro
French Toast LONCAFE in Meguro is a small shop that serves great French Toast and champaign. There is a shop in Meguro and one in Shinjuku as well. Both worth a look.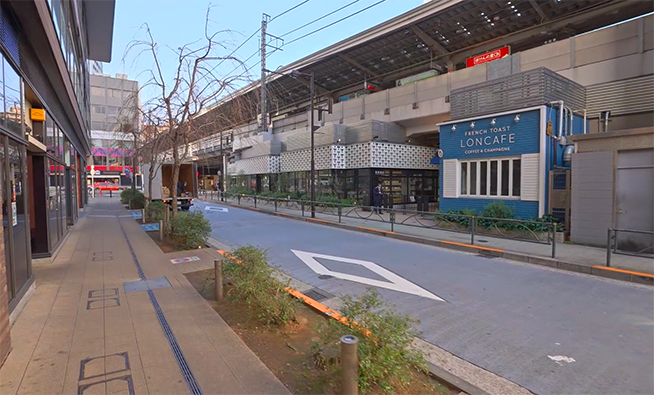 Just under Meguro Station sneak up on the LONCAFE and you won't be disappointed.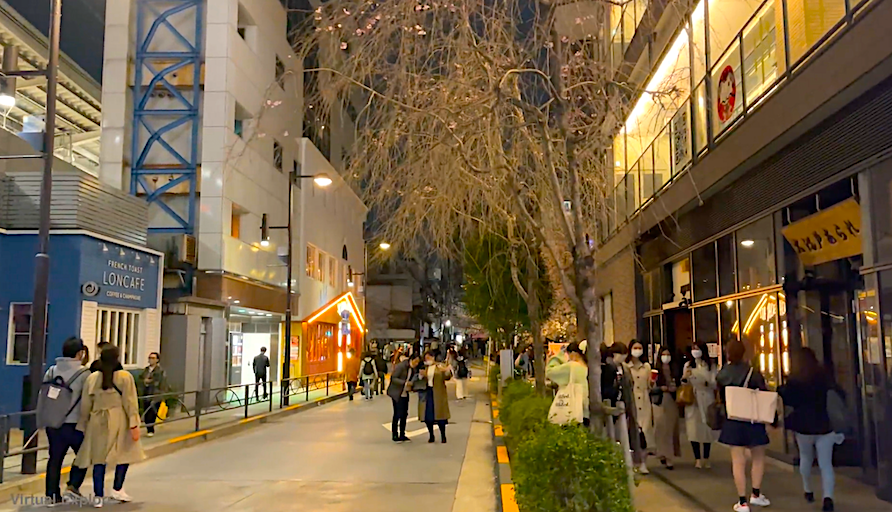 Butter Pancake @ PARCO Kinshicho
In the town of Kinshicho in the PARCO department store is a nice pancake shop called simply Butter which serves stacks of a dozen pancakes with fruit, whipped cream, and other goodies: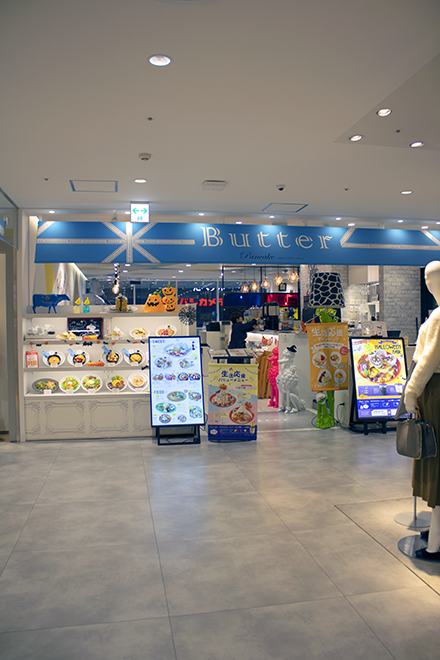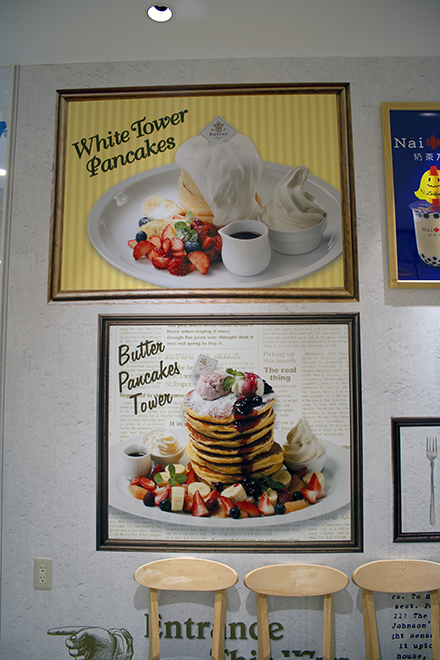 Rakeru @ OIOI Kinshicho
Also in the OIOI bldg. is Rakeru. While not particularly high-end, this quaint western-style restaurant serves a variety of pancake plates with fruit, ice cream, whipped cream, and other toppings. Prices range from $6-$18. Not a bad little shop.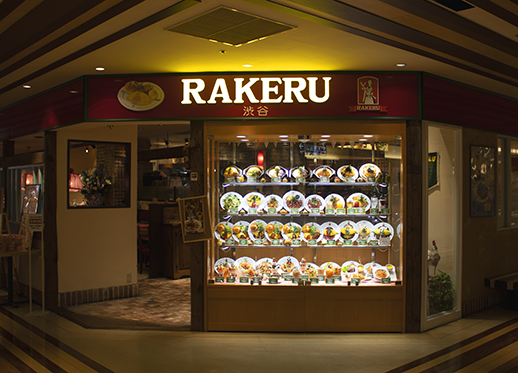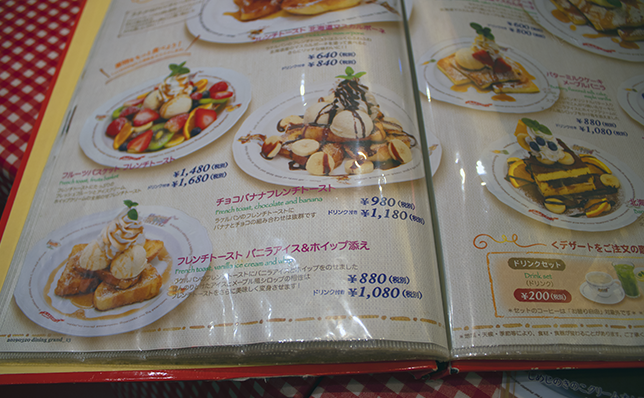 Pinnochio Itabashi
Just north of Ikebukuro in the small town of Itabashi is the Pinnochio Coffee Shop. This shop is well-known in the area for its great pancakes. To get there, walk northwest of Ikebukuro on the Central Circular Route, on the west side of the street, and hang a left around 35°44'41.50″ N 139°42'28.77″ E down a side street. To get to Central Circular Route from Ikebukuro Station, you'll have to wander northwest on side streets for .65 miles. The east way is to get onto Rt. 315 west + head northwest, then turn right. The entire walk from the station is only a few miles and isn't that hard.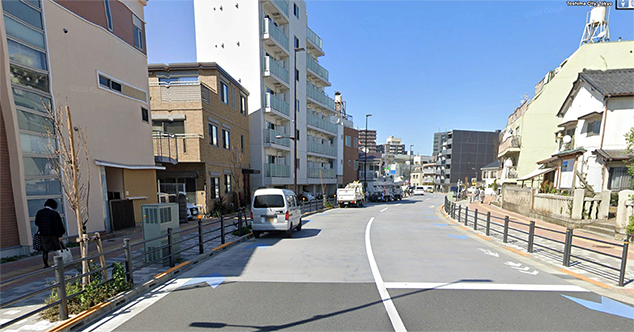 Rt. 315 NW out of Ikebukuro heading towards Pinnochio. Take a right at the next major intersection to get to the Central Circular Route.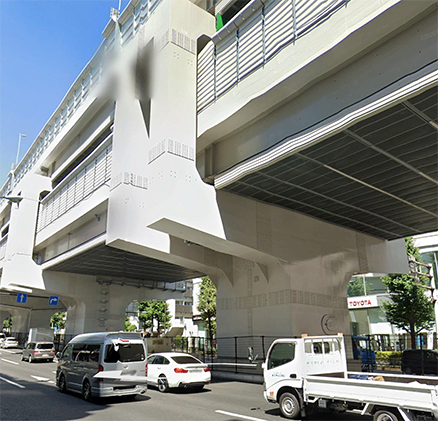 The massive Central Circular Route in Itabashi. Hang a left here.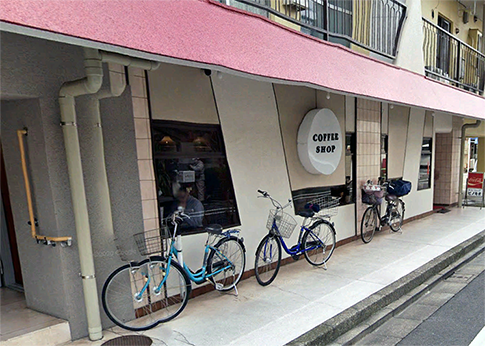 Pinnochio Coffee Shop, Itabashi.
Roppongi
Incredibly, the Snoopy Museum of Tokyo also has a Snoopy Pancake Breakfast – if you're in Roppongi, be sure to check it out.
egg Café Kokubunji
About 14 miles to the west of central Tokyo is egg Café Kokubunji. While their menu selection is a bit limited, their pancake meals are out of sight + are well worth a trip if you have time. It's located on a little side street at 35°42'08.60″ N 139°28'51.85″ E.
Chaka @ Kita-Sensju Station
In the far north part of Tokyo, near Kita-Sensju Station is Chaka, a small pancake shop which serves fluffy pancakes + fruit as well as bacon + eggs pancakes. To get here take the Hibiya or Chiyoda Metro Subway line to Kita-Sensju Station. Chaka is near the station on Kyu Nikko Kaido St. Chaka requires a reservation from their site.
3 Stars Pancake Kawasaki
To the southwest of Tokyo in Kawasaki is 3 Stars Pancake. A bit of a hike just for a pancake shop but if you're in the area, worth a stop.
VERY FANCY loves ANNTEANA Daikanyama
A very slick shop in Daikanyama is VERY FANCY loves ANNTEANA. Just south of Shinjuku on a little side street in a small residential neighboorhood, this shop is worth a stop. They also have a cookbook and special Halloween Menu.
〒064-0808 北海道札幌市中央区南8条西3-1-4 HOTEL RELIEF 札幌すすきの 1F
TEL : 011-520-6560
BREAKFAST 07:00-10:00
CAFE TIME 11:00-19:00(L.O.18:30)
不定休
Denny's
Oddly, unlike their counterparts in the US, most Denny's in Japan are lacking in the breakfast area. Most Japan Denny's are more lunch-oriented. They do have breakfast, but they are much less impressive + generally smaller than in the US – for pancakes in Japan, really not worth it.
Walk It Off
Don't worry about gaining weight when you pig out on pancakes in Tokyo. You'll most likely walk 10-15 miles a day as a tourist when there so you won't gain weight. In fact, it's not uncommon to see tiny Japanese women in pancake palaces in Tokyo wolfing down huge plates of pancakes with ice cream. The daily walking routine in Tokyo means most of the calories are burned off in less than a day. Which means you can enjoy eating even more.
Conclusion
Well, that's it for now. We've only scratched the surface here. There are many more pancake shops in Tokyo worth checking out. We'll keep this page updated if we come across any new cool pancake houses in Tokyo.
Finally, for the most insane comprehensive OTT catalog of pancake places in Tokyo check out the TCS Pancake Club website. This unbelievable site has a review of literally 1000's of Tokyo pancake shops. It's so comprehensive it's hard to imagine how the 2 ladies who run it found the time to compile the list (with photos and descriptions in Japanese only, unfortunately – they've been at it for 10 years). Quite an impressive list.
Enjoy!
LINKS
http://blog.livedoor.com/10th/history/tcspancake
https://www.rl-waffle.co.jp/en/
https://www.gotokyo.org/en/spot/240/index.html
http://tacchans.blog.jp/archives/83433992.html
Flying Scottsman Akihabara/Okachimachi
https://www.odakyu-sc.com/shinjuku-mylord/shop/list/?id=960
https://www.eggg.jp/cafe_kbj_about.html
http://www.french-toast-factory.jp/
https://monkeycafe.jp/main/cafe/index.html
http://japanshopping.org/archives/shop/34
https://veryfancy.me/daikanyama
https://snoopymuseum.tokyo/s/smt/page/english?ima=0000
Best Places To Try The Famous Japanese Fluffy Pancakes In Tokyo!
Steamed bun pancakes are this year's must-try sweet
5 Cafes with the Fluffiest Japanese Pancakes in Tokyo
https://www.tsunagujapan.com/12-best-pancakes-in-tokyo/
Where to Eat Fluffy Japanese Pancakes in Tokyo
Japanese Chain Flipper's Pillowy Pancakes Delight
Why Is Tokyo Crazy About Pancakes?!
We visit a Japanese cafe famous for John Lennon and epic pancakes
https://www.insider.com/fluffy-japanese-pancakes-new-york-worth-wait-2019-10
https://www.japan-experience.com/to-know/chopsticks-at-the-ready/japanese-pancakes
https://cafegeekjpn.blogspot.com/2016/12/jingumae-rainbow-pancake.html
https://japantoday.com/category/features/food/pancake-cafe-from-fukuoka-comes-to-tokyo
https://gurunavi.com/en/g135126/rst/?ngt=TT11010bb51005ac1e4ae6a0EnpUUWcEUMgS_9L054xGTD
https://gigazine.net/gsc_news/en/20201015-komeda-shironoir-kumamoto-mont-blanc/
https://favy-jp.com/topics/2525
https://www.timeout.com/tokyo/restaurants/pinocchio
https://sharing-kyoto.com/Blog/b_pancakes-in-kyoto
my Cafe & Foodie Journey in Japan
Encyclopedia of Pancakes: Tokyo Edition
http://tacchans.blog.jp/ (Japanese Only)
https://www.seria-group.com/shop/detail.html?code=000002195
VIDS
https://www.youtube.com/watch?v=Pmbh_FqmNHc