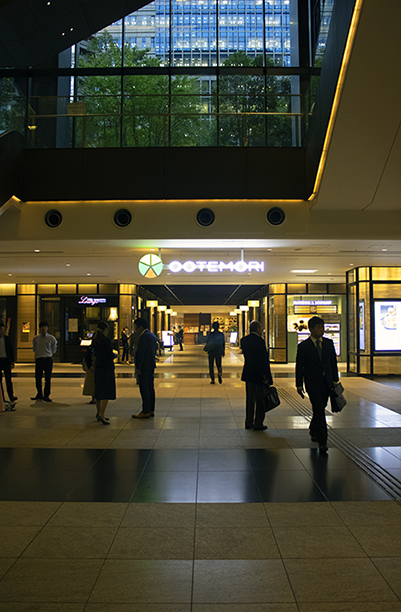 ©2019-2020 tenmintokyo.com
Name: Ootemori
Kind: Shopping/Mixed Use
Location: 35°41'06.13″ N 139°45'56.04″ E
Station: Tokyo Station, Otemachi Station (C11) on Metro Chiyoda Line
Free Wifi: Yes
Our Rating: ⭑⭑⭑⭑⭑
Worth it? Do not miss it.
Updated 10/24/2020
Just 2 blocks east of the Imperial Palace in Tokyo is a fabulous mixed-used shopping/food complex called Ootemori. The complex is embedded in the Tokyo Metro's Otemachi Station. It's also reachable from Tokyo Station via a long labyrnth of underground tunnels, stairs, and escalators inside the station. For those not familiar with the area, the central part of Tokyo has 4 small sub-areas: Marunouchi where Tokyo Station and the financial district are, Otemachi, just to the northeast a few blocks, the Imperial Palace area just to the west, and Yurakucho just to the south. Underground, Tokyo Station and Otemachi Station are linked with vast levels of buildings, tunnels, escalators, and walkways.
Getting Here
The easiest way to Ootemori is to take the Metro Chiyoda, Hanzomon, Marunouchi, or Tozai Line and get off at Otemachi Station. You can exit above ground and walk to the building, or you can brave the long tunnels underground to get to it. You can also get here from Tokyo Station by following the underground signs to the Hanzomon Line, but that approach is quite a hike – several miles. You can also exit Tokyo Station to the street, and head northwest on surface sidewalks to reach Ootemori.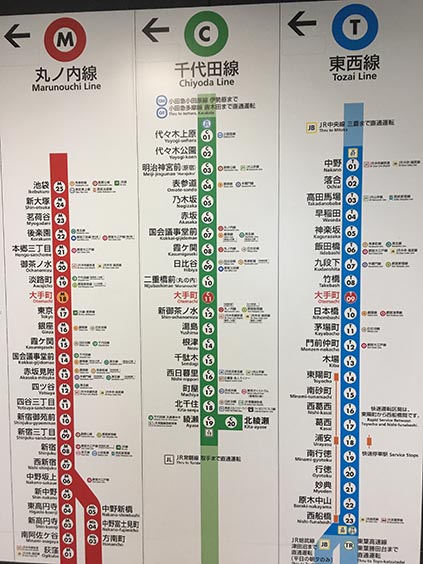 Metro line map for 3 of the 4 lines. Otemachi Station is roughly mid-way on each line, shown here in red on each line map.
The complex + station is a vast 6-level labyrinth that overwhelms any first-time traveler to the area. It will take several trips through the complex before you become thoroughly familiar with all its intricacies. All 4 Metro lines are on different levels. The Marunouchi platform was recently renovated for the 2020 Olympic Games. There are over 100 exits in the station.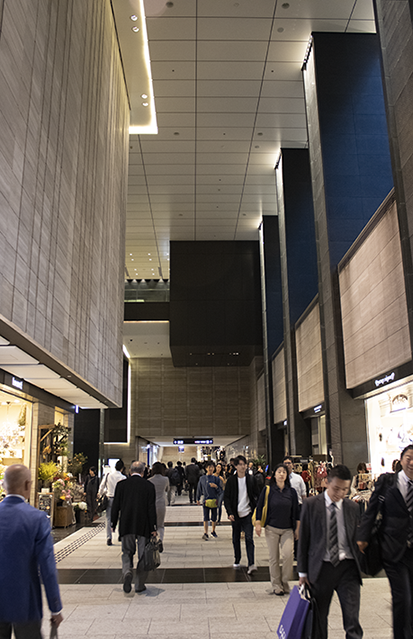 Entering Ootemori complex underground from Tokyo Station. Ootemori features spectacular soaring ceilings, and food/shopping galore. Do not miss it.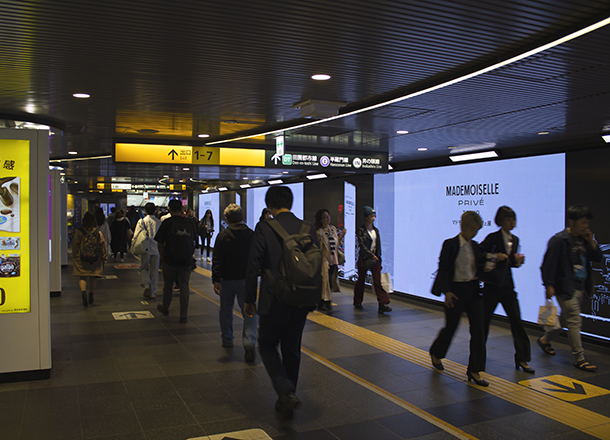 One of many long underground passages from Tokyo Station to Otemachi Station.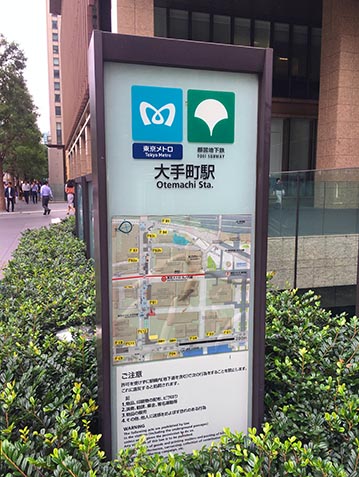 Otemachi Station street-level entry/exit. There are several such exits at street level around the Otemachi area.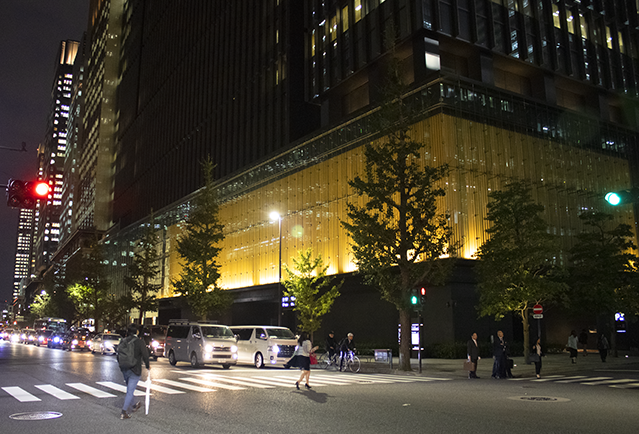 Ootemori is housed in the B1 level of this bldg. in central Tokyo. But the complex and station levels span miles below the surface streets.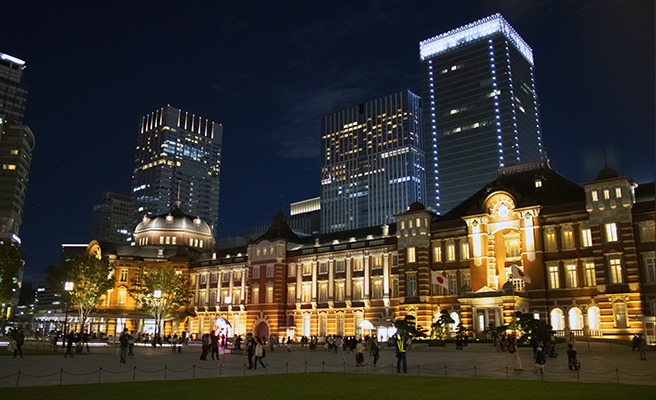 The Marunouchi side of Tokyo Station at night, facing northeast. Otemachi is to the northwest (left) of this photo. There are vast underground tunnels connecting the two areas beneath the station. To the south (right) is Yurakucho, and beyond that, Ginza to the east.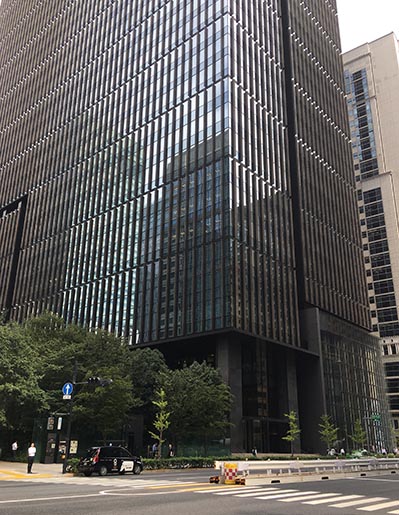 Ootemori is beneath this bldg. in Otemachi.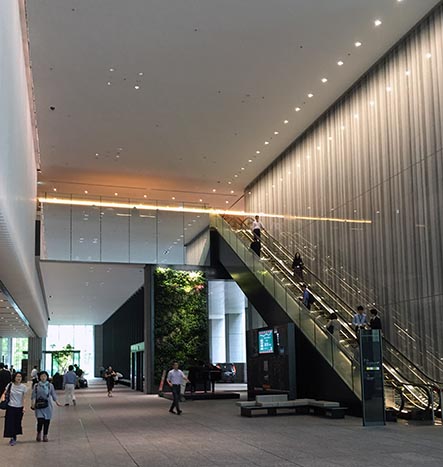 Inside one of many soaring office bldgs. in Otemachi.
Otemachi 1st Square
Just 1 block back to the west from Ootemori is Otemachi 1st Square – another large mixed use complex filled with great shopping + food. There is also a small outdoor park between the two bldgs. If you're at Ootemori, it's worth a stop too. Around Halloween time there's a huge outdoor Halloween festival @ Otemachi 1st Square, so if you're in the area around that time, be sure to stop by.
Marunouchi OAZO
1 block diagonally to the southeast of Ootemori is another nice mixed use complex called Marunouchi OAZO. It's also worth a look, although there's not as much to do @ Marunouchi OAZO as at the other 2 complexes. Marunouchi OAZO is mostly a mixed use corporate office park so the focus is more on work, but there are some things here worth a quick look.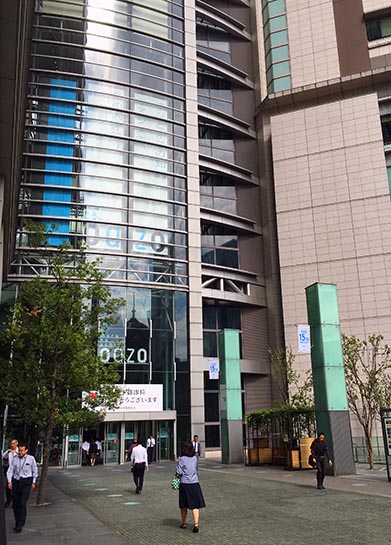 Marunouchi OAZO complex. There are interesting shops on the 1st floor and a restaurant level on the top floor. There's also a hotel here.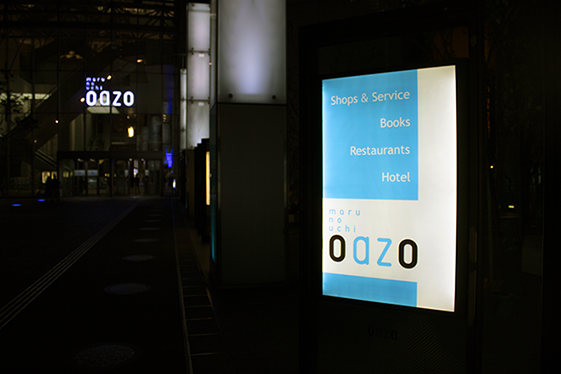 Otemachi One
2 blocks to the northeast of Ootemori is the new Otemachi One mixed-use complex which is a great new attraction in the Maronuchi area. Built in 2017, this new complex is definitely worth a stop. The new complex features a new 2-block park + water park for visitors to relax around, a Four Seasons Hotel, and a host of other shops, cafés, and amenities.
You can spend hours or even days wandering around the subterranean levels in Ootemori exploring all it has to offer. Dozens of great restaurants, cafés, and shops abound.
Additional Photos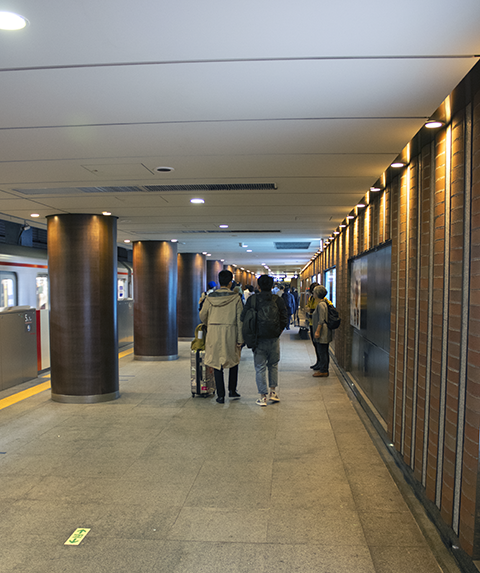 Newly renovated Marunouchi Line platform. This level is one of many connected together inside Otemachi Station and, if you walk far enough, all the way to Tokyo Station.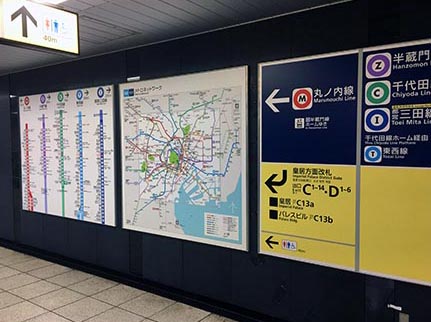 Massive Metro lines map inside Tokyo Station.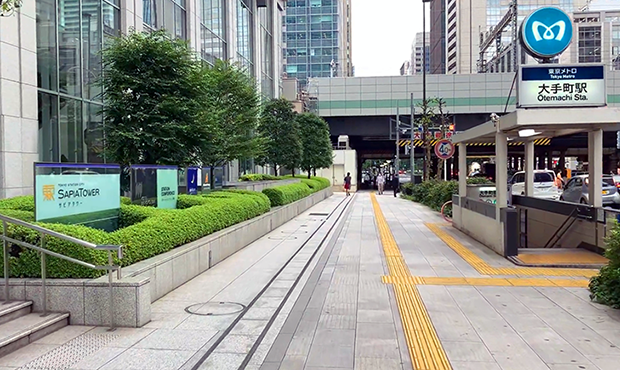 One of many Otemachi Sta. Metro street entrances in Otemachi – this one right next to Sapia Tower.
Well, that's it for now. Ootemori is definitely worth a look/trip. It's easy to get to on the Metro lines and can keep you interested for an entire day or night.
Enjoy!
LINKS
http://www.ootemori.jp/index.php
https://www.marunouchi-hotel.co.jp/
https://www.tokyometro.jp/lang_en/station/line_chiyoda/index.html
https://www.tokyometro.jp/lang_en/station/otemachi/index.html
https://www.tripadvisor.com/Attraction_Review-g14129477-d7711565-Reviews-Ootemori-Otemachi_Chiyoda_Tokyo_Tokyo_Prefecture_Kanto.html
VIDS