Name: Kanda
Kind: Town/City
Location: 35°41'40.88″ N 139°45'53.80″ E
Stations: Kanda Tokyo Metro Station, JR Kanda Station, Ogawamachi Station Toei Shinjuku Line
Free Wifi: Yes
Our Rating: ⭑⭑⭑
Worth it? For a quick look, or enroute to Akihabara
Updated 2/2/2021
©2019-2021 tenmintokyo.com
Sandwiched in between Akihabara to the northeast and Tokyo Station to the south is a part of Tokyo called Kanda. It's centered on Rt. 405 (Sotobori Dori) just north of the financial district Marunouchi. Also just to the northwest is Ochinomizu. Akihabara is just a few minutes' walk up Rt. 302 to the east. Jimbocho, Tokyo's used book town is just 1/4 mile to the west. All 4 areas are within walking distance of each other.
Access
To get to Kanda take the Tokyo Metro Ginza Line to Kanda Station or the JR Yamanote Line and exit Kanda Station. It's also quite easy to walk from either Tokyo Station to the south or Akihabara Station to the north. Note however that the main JR Kanda Station is actually about 4 blocks to the southeast. There is also plenty to do around the station itself. If you walk south on Rt. 17 from JR Kanda Station it will take you directly into Nihonbashi which is one of the nicest areas of Tokyo, although it is in the opposite direction from central Kanda.
A quicker + closer way is to go to Ogawamachi Station on the Toei Shinjuku Line, around 35°41'42.88″ N 139°45'59.85″ E and head west one block, or take the Metro to Awajicho Station on the Marunouchi Line.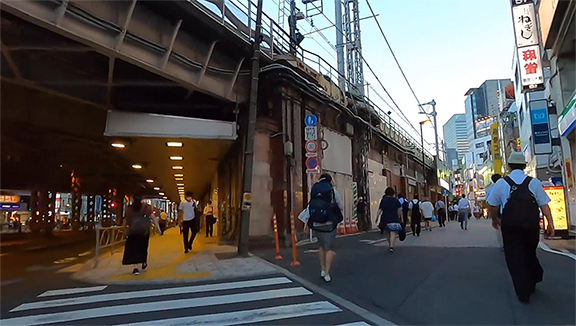 Heading south from JR Kanda Station.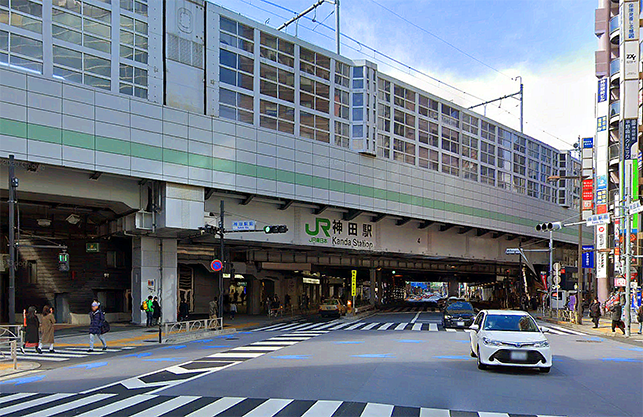 JR Kanda Station facing north on Chuo Dori. Continuing north will take you right into Akihabara, which is the next JR stop north on the Yamanote Line. The area under the station to the north side is known as Kanda Crossing. There's a small side street shown here on the right worth a stroll.
Area Layout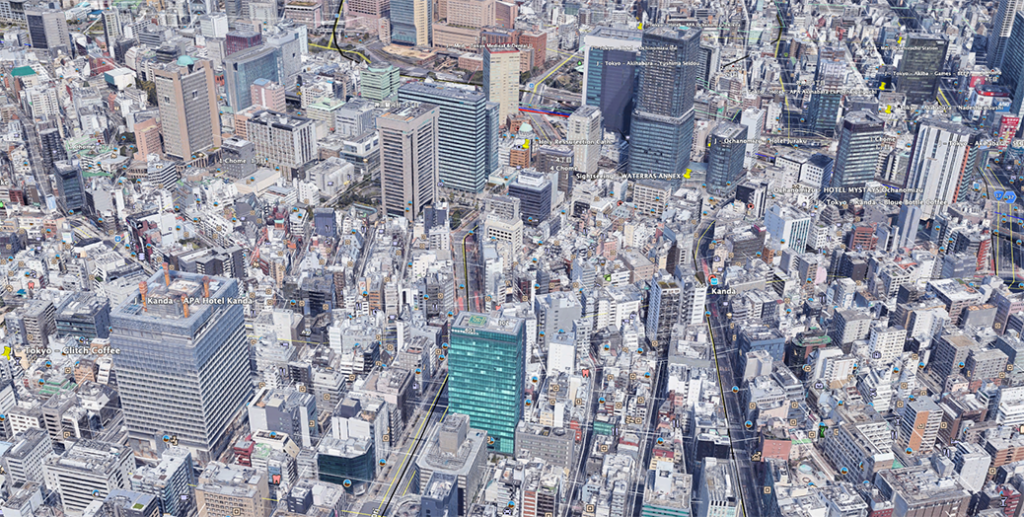 Central Kanda. Akihabara is on the right side of the frame, Jimbocho on the left. The WATERRAS complex is the large black building to the upper right. Sotobori Dori is the main street running north-south center right.
Central Intersection
The central area in Kanda is on the intersection of Yasukuni-Dori (Rt. 302) and Hongo-Dori (Rt. 403). You can walk west or east on 302 for miles and there is a lot to see. On the very west end is Jimbocho, known as Tokyo's used book town (as well as an area with lots of sports shops).
At the intersection there are lots of cafés and restaurants including a Doutor and an Excelsior Café. In fact, there are 2 Doutours 1 block apart. There are also a variety of noodle and yakiniku (steak) places around. And several conbini (convenience stores).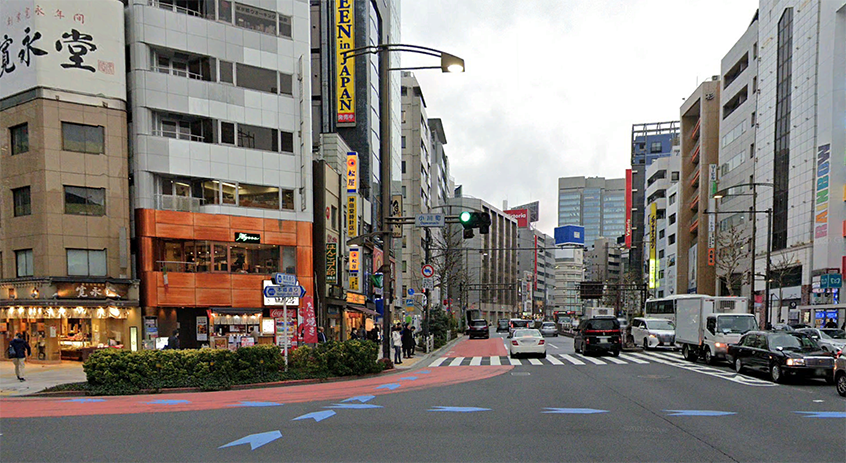 Facing west on 302 towards Jimbocho.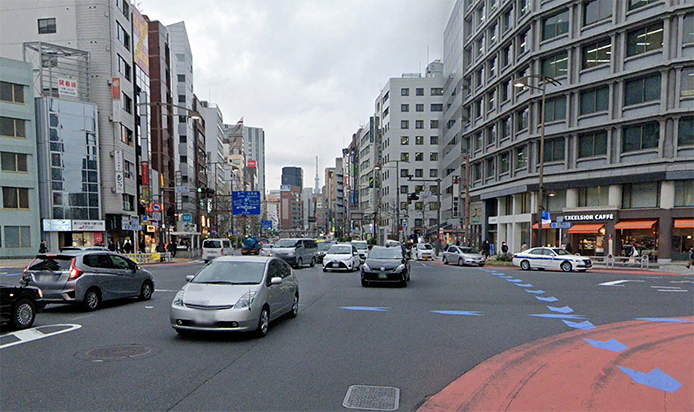 Facing east on 302 towards Akihabara. Excelsior Café is on the right. The block from here east is the central area. WATERRAS (see below) is one block up to the left. You can also just barely see Tokyo Sky Tree in Suitengumae in the distance.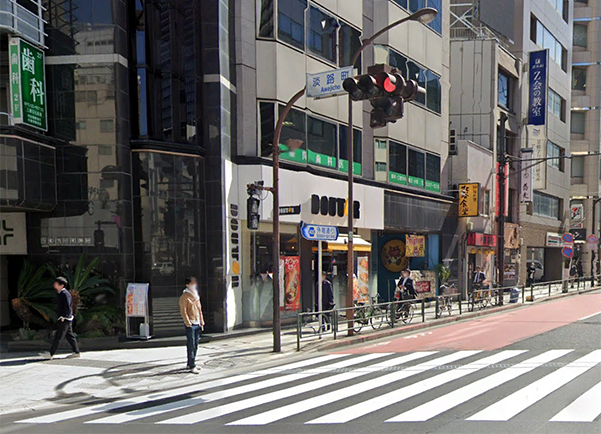 The Doutour one block to the west.
Kanda Nishiguchi Shopping Street
Several blocks to the southeast around 35°41'28.24″ N 139°46'07.97″ E is the entrance to a narrow little street full of shops called Kanda Nishiguchi Shopping Street. It's just a few blocks, but worth a stroll if you're willing to walk the 8 blocks or so down Rt. 403 to get to it.
WATERRAS + Sola City
Just to the north a few blocks up Rt. 305 is an office/shopping complex called WATERRAS. WATERRAS has some cafés at the ground level, a Mr. Donut on the northeast corner, and a large upscale shopping complex called Sola City across the street to the north. It's worth a quick walk around. The main area of interest is up the front WATERRAS escalator and stairs, then around to the left. There is also a large garden terrace on the southwest corner of the building.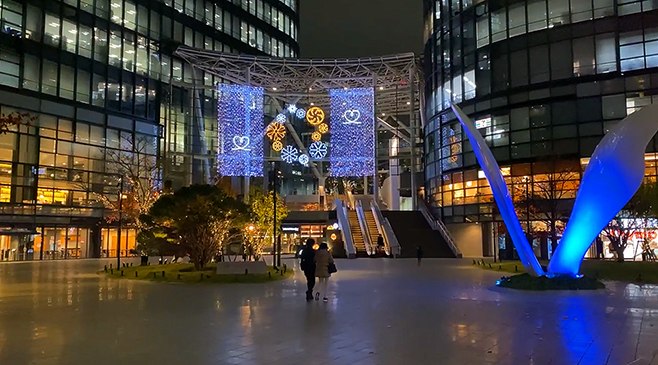 WATERRAS 2 blocks to the north.
Sports Shops
Further west on 302 the street is lined with sports shops on both sides – mostly ski + snowboard shops. There is also a Xebio and Victoria sport shop near each other a few blocks down to the west.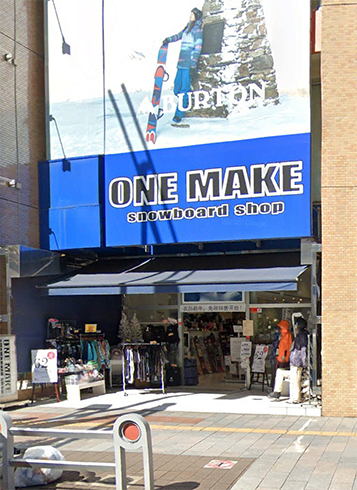 glitch Coffee Jimbocho
Just at the west edge of Kanda and into Jimbocho around 35°41'37.53″ N 139°45'40.15″ E is the hipster café glitch Coffee. It's in an old run down dump of a building and has no sign other than on the front window, but the inside is very nice and the coffee + food is awesome. If you want to venture just a bit west of Kanda into Jimbocho, it's worth a stop.
Believe it or not, in this dilapidated building is the hipster café glitch Coffee. The shop also has a small walk-up window on the left.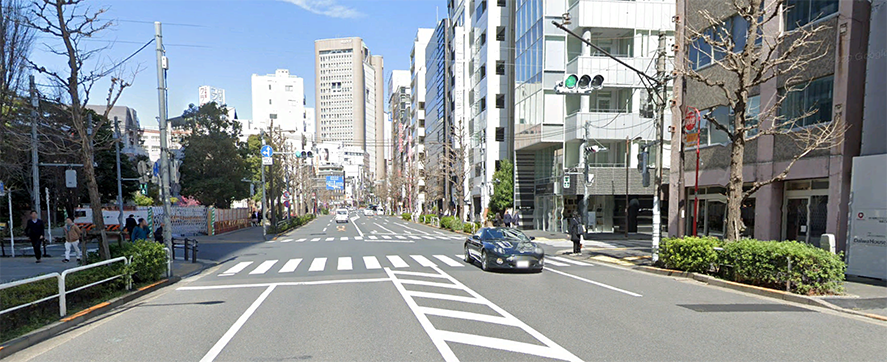 Facing north in Jimbocho. glitch Coffee is in the small pink bldg. on the right. Kanda is just up the street to the right east of Jimbocho.
The HUB @ Kanda Station
For a foreigner-friendly stop with food + drinks check out The HUB just south of JR Kanda Station.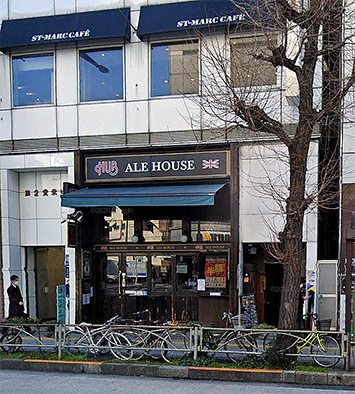 The HUB @ Kanda Station. Also note there are 3 cafés right next door.
TAP x TAP Kanda Craft Beer
If you're in the mood for craft beer, there's TAP X TAP Kanda around 35°41'34.09″ N 139°46'20.90″ E. To get there, exit JR Kanda Station, head to the northeast side street known as Kanda Crossing shown above, go through the side street entrance on the right, then turn right again at the 1st block. It's just down on the left side 2 blocks.
Kanda Myojin Shrine
A bit of a hike north on Rt. 452 around 35°42'06.62″ N 139°46'03.28″ E is Kanda Shrine. It's a large complex with spectacular architecture but it's closer to Akihabara than it is to Kanda. If you're up for a bit of a walk and have time, it's worth checking out. There are a few other shrines in the area.
Kanda River + Rt 405
The Kanda River, which cuts through the center of Tokyo east-west runs approximately from the Sumida River to the east all the way to Tokyo Dome City to the west. In fact, you can walk the entire distance on Rt. 405 which parallels it. Just head north on any one of the major north-south streets in Kanda or Jimbocho to get to 405. You can also head east (right) on 405 to get to Akihabara. The distance from central Jimbocho to Tokyo Dome City is only about 1 mile.
Hotels
There are a variety of hotels in Kanda, but perhaps the best value once again is APA Hotel. In fact there are 3 APA Hotels in the area, but one of them, APA Hotel Kanda-Eki-Higashi is far to the southeast. Just south of Akihabara Station is APA Hotel Kanda Ekimae around 35°41'36.66″ N 139°46'17.15″ E (Ekimae means "at the station"). The closest one is APA Hotel Kanda Jimbocho Eki-Higashi just to the west. There are also 2 APAs in Akihabara. APA has some of the best deals in hotels in Japan – with hundreds of them all over the country and many all over Tokyo. Off-season rates are usually very good and depending on occupancy can run from $65-$90/night. At some APA's off-season you can even get rates as low as $40 depending on how centrally located the hotel is. All are clean, and slightly upscale depending on location.
There is also HOTEL MYSTAYS Ochanomizu CC just to the north.
Jazz Clubs
There are a surprising number of good jazz clubs near Kanda. Just south of Awajicho Station is JAZZ LIVE Lydian. Just north in Ochinomizu is Naru. Jazz spot Step is just a little northwest of JR Kanda Station. There's also a Tokyo Jazz Festival site and YouTube Channel.
Conclusion
Well that's it. Kanda/Jimbocho is a great place to visit. It's 1/2 way between Tokyo Station and Akihabara so you can access both those areas too. In fact, assuming you want to spend all day in the area, you can see all 3 in a long day, although Akihabara is really a full day in itself. The walk along Rt. 403 from Jimbocho to Akihabara with Kanda in the middle is only about 1.5 miles, so it's easy. There is plenty to do and see along the way. Enjoy!
Additional Photos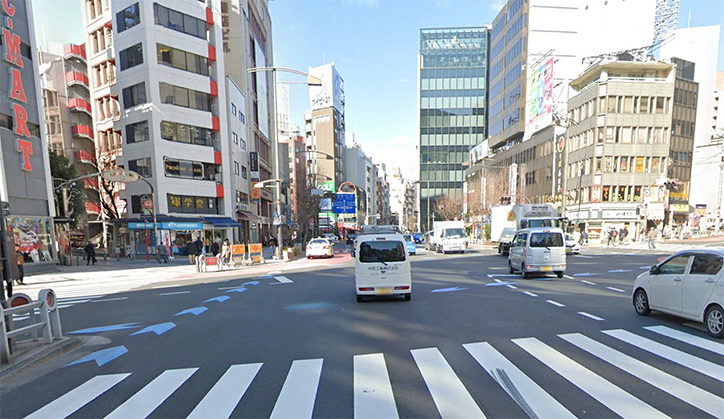 Heading into central Jimbocho.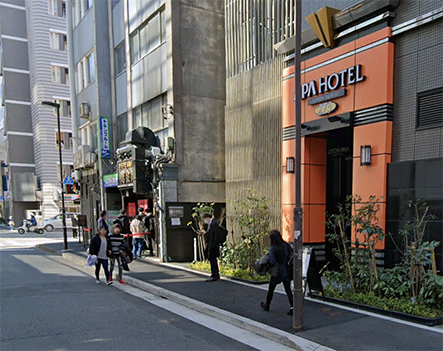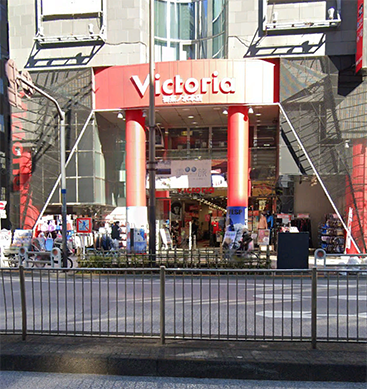 LINKS
https://en.wikipedia.org/wiki/Kanda,_Tokyo
https://en.wikipedia.org/wiki/Kanda_Station_(Tokyo)
Kanda Area Guide | Tokyo Cheapo
https://japantravel.navitime.com/en/area/jp/spot/06123-5375/
Make stained glass works with the gift 'Marine Glass' from the sea!
Tokyo Metro Kanda Station – Japan Travel
Kanda Station Tokyo | JapanVisitor Japan Travel Guide
Kanda Station Area Management Association
Kanda Area Guide | Tokyo Cheapo
Craft Beer in Kanda | Metropolis Japan
https://www.agoda.com/apa-hotel-kanda-eki-higashi/hotel/tokyo-jp.html?cid=1720055
GLITCH COFFEE & ROASTERS グリッチコーヒー&ロースターズ
Walking The Path To Glitch Coffee In Jimbocho, Tokyo
VIDS