Name: Jimbocho
Kind: Town
Free Wifi: Yes
Location: 35°41'45.95″ N 139°45'41.43″ E
Station: Jimbocho Station, Tokyo Metro Hanzomon Line
Worth it? For a nice stroll, books, music, or sports.
Our Rating: ⭑⭑⭑⭑
Updated 3/12/2021
©2019-2021 tenmintokyo.com
Jimbocho is a small town in north central Tokyo about 1/2 a mile to the north of the Imperial Palace and the Otemachi area. It's known as Tokyo's book town. But it also has a wide variety of sports + music shops – especially for skiing and snowboarding. You can spend a whole day strolling east-west on Yasukuni-Dori Ave (Rt. 403). checking out the shops. There are endless bookstores in the area with every kind of book imaginable.
Access
To get to Jimbocho, take the Tokyo Metro Hanzomon Line and get off at Jimbocho Station. You can also easily walk/bike from Akihabara/Otemachi/Tokyo Dome City.
Area Layout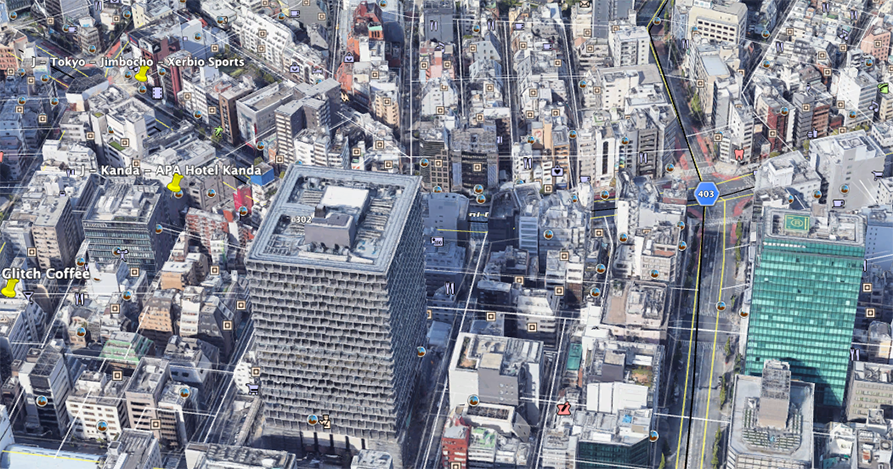 Central Jimbocho facing north. Yasukuni-Dori runs east-west in sort of an inverted arc shown here running throught the center of town. This street is lined with endless sports/book/music shops, cafés, and restaurants. To the north is Ochanomizu, to the east (right) is Akihabara and Kanda, and to the south is Otemachi and the Imperial Palace. Tokyo Dome City is to the northwest, out of frame.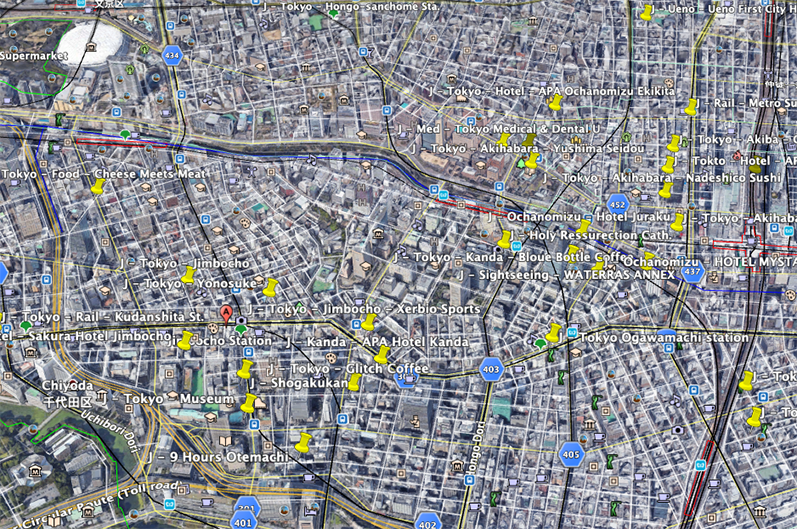 Extended view facing north. Jimbocho is in the center, Akihabara on the right, TDC at the upper-left, and Imperial Palace to the south, just out of view.
The central + west side of Jimbocho is better described in our Kanda Superguide. We'll detail just the basic area here. Essentially Yasukuni-Dori (Rt. 403) runs east-west in an arc through the center of town.
There are endless backstreets + streets full of book stores. Most of the major sporting + music shops are along Yasukuni-Dori. There are dozens of interesting guitar shops along the way.
The Hidden Pedestrian Side Street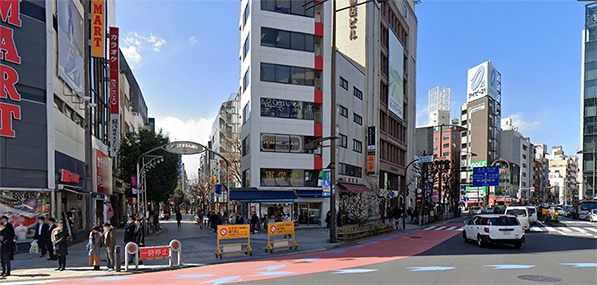 At around 35°41'43.31″ N 139°45'39.23″ E – just across from a Xerbio Sports store and right next to an ABC-Mart shoe store is the entrance to a charming little side street off-limits to vehicle traffic. There are dozens of nice restaurants + cafés and other shops up + down this street. If you walk this street a few blocks to the west and then turn right on Rt. 301 (Hakusan-Dori) it will take you right into TDC. Turning left on the main street next to ABC instead of taking the side street will lead you to glitch Coffee (discussed next). If you continue walking far enough south past glitch Coffee it will take you to the Imperial Palace and Otemachi.
This street is shown in the 1st video below by NIPPON WANDERING TV.
At around 35°41'37.52″ N 139°45'40.50″ E just to the south of Yasukuni Dori is glitch Coffee. The shop is excellent, but's in a run-down non-descript old office bldg. with only a sign in the window. Don't let the appearance fool you – it's worth a trip. See our full review.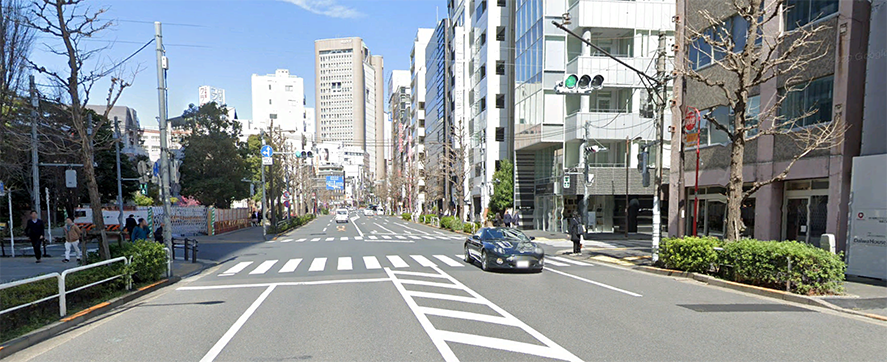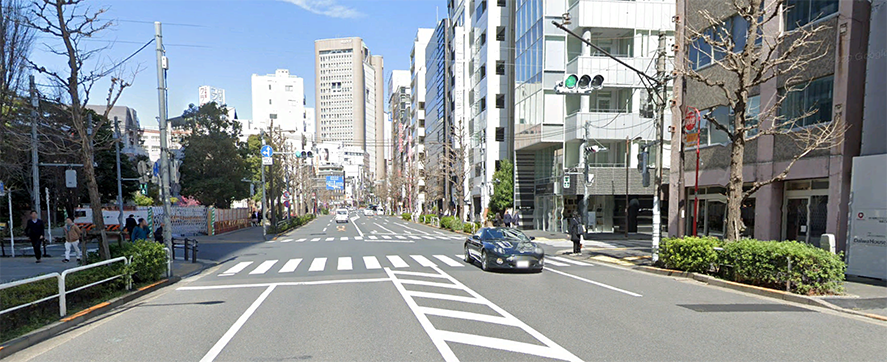 Facing north into Jimbocho from Otemachi. glitch Coffee is the small pink bldg. on the right. Yasukuni-Dori is just a few blocks straight ahead.
Yonemoto Coffee Shop
At around 35°41'32.82″ N 139°45'48.60″ E just to the south a few blocks off Yasukuni-Dori and several blocks east of glitch is the Yonemoto Coffee Shop – it's on a corner and a very nice place to rest + get a brew. It's popular with early-morning local workers. There is a larger main shop by the same company east of Ginza near Tsukiji.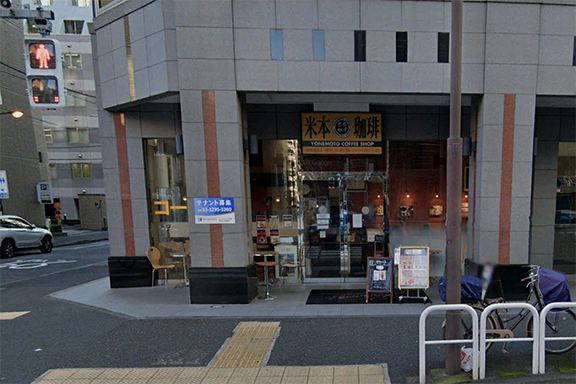 Yonemoto Coffee Shop – just a few blocks east of glitch.
4-11-1, Tsukiji, Chuo 104-0045 Tokyo Prefecture+81 3-3541-6473
WATERRAS + Ochanomizu
If you walk a mile or so west on Yasukuni-Dori, then turn north (left) onto Rt. 405 (Sotobori-Dori), you'll come to the sister city of Ochanomizu where there is a spectacular complex called WATERRAS around 35°41'50.39″ N 139°46'03.98″ E. There is also a very nice organic Olympic grocery in the basement of WATERRAS. If you're up for a bit of a walk, WATERRAS is worth the quick tirp.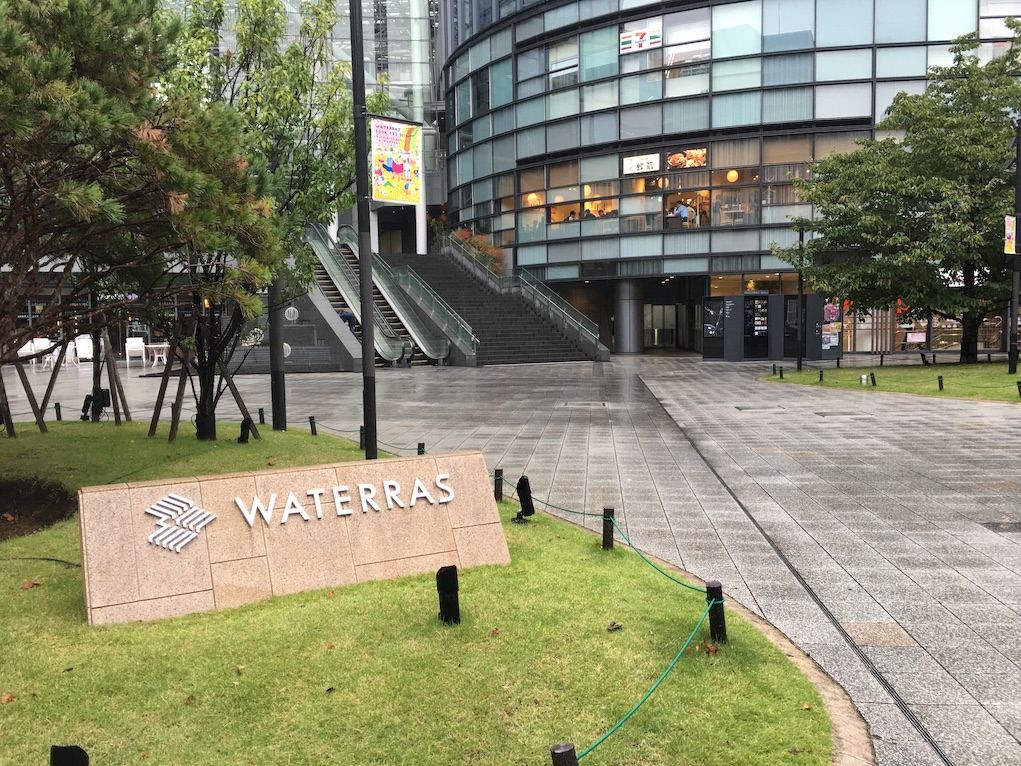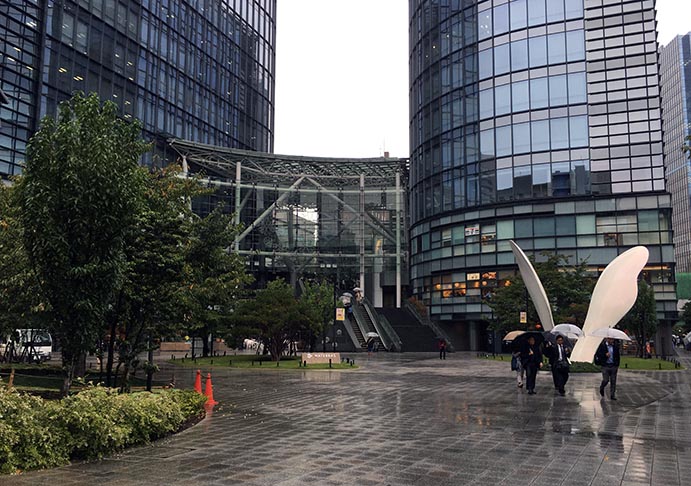 Just to the west of WATERRAS 2 blocks is a Greek Orthodox church with spectacular Russian architecture called Holy Ressurection Cathedral.
North to Ueno, east to Akihabara.
If you head north of WATERRAS and cross the Kanda River, then head onto Rt. 452 north for about 1 mile you will come to the famous Tokyo district of Ueno.
You can also cross the Kanda River, then head east a few blocks, then north a few blocks again to Akihabara which is only a few miles to the northeast.
Additional Photos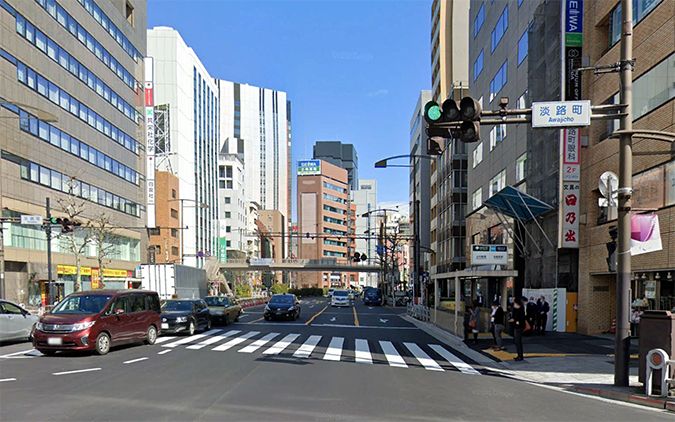 Facing west on Yasukuni-Dori. Note the sidewalk Metro portal on the right.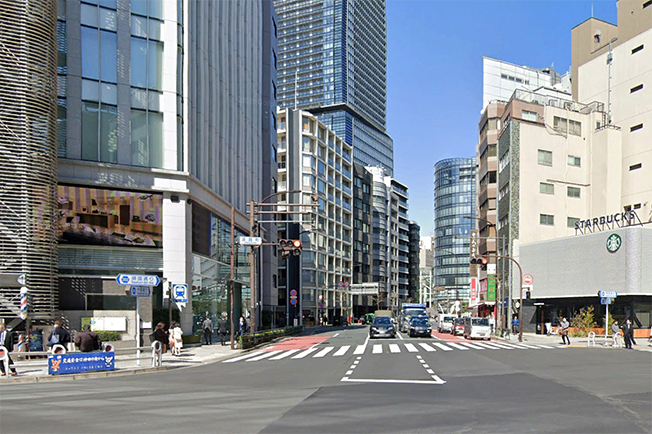 Head north off Yasukuni-Dori here for WATERRAS.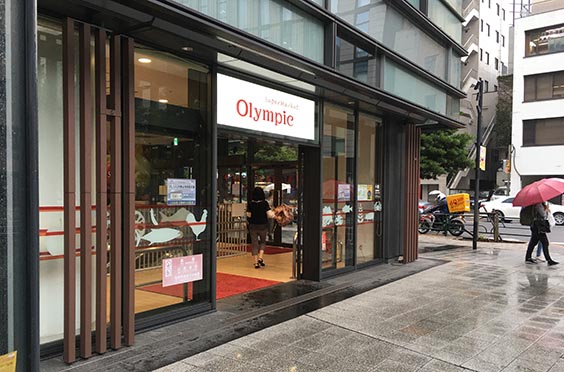 Conclusion
Jimbocho is a nice little town worth a stroll. It's usually low-tourist, and low-crowd, which makes it easy. It's well worth a quick trip or day trip from any of the other local major areas such as Otemachi, Akihabara, or TDC. Check it out.
LINKS
Hanzomon Line Posts | Ten Minute Tokyo
Ōtemachi Superguide | Ten Minute Tokyo
Kanda Superguide | Ten Minute Tokyo
Glitch Coffee, Kanda-Jimbocho | Ten Minute Tokyo
Kanda & Jimbocho | The Official Tokyo Travel Guide, GO TOKYO
Jimbocho Book Town Things to Do
Jimbocho Area Guide | Tokyo Cheapo
10 Great Things to Do in Jimbocho | Tokyo Creative Travel
Jimbocho: Spending A Day In Tokyo's Book District – Savvy Tokyo
Jimbocho Winter Sports Shop Street – Japan Travel
Jimbocho: Tokyo's Used Bookstore District
Japan Trip 2009: Jinbocho – Comics212.net
VIDS