Name: Museum of Modern Art Tokyo (MOMAT)
Kind: Museum
Free Wifi: Yes
Location: 35°41'25.15″ N 139°45'16.30″ E
Station: Takebashi Station – Metro Tozai Line
Our Rating: ⭑⭑⭑⭑⭑
Worth it? A must-see.
Updated 6/14/2021
©2021 tenmintokyo.com
Just north of the Imperial Palace in central Tokyo is the Museum of Modern Art Tokyo (not to be confused with the Museum of Contermporary Art, Tokyo further to the east). This excellent and modern museum lies just west of the Parkside Bldg., just north of the moat north of the Imperial Palace, and also just west of Hibiya. Just beyond Hibiya to the east lies central Tokyo and the Marunouchi district.
Further to the west around the moat to the south lies the fabulous Akasaka.
Just northeast lies Otemachi.
The complex also houses the National Craft Museum. For the craft museum you must make a reservation online in advance.
Just northwest of the museum is Kitanomaru (North Circle) Park – so named because it is on the circular route that rings the Imperial Palace. The park has other stuff to do – such as a large science museum, walking paths, and Nippon Budokan (built for the 1964 Tokyo Summer Olympics). Budokan is now used for various sporting events and concerts.
Access
To get to the museum, take the Metro Tozai Line and exit Takebashi Station to the street. At street level, head west down the sidewalk, pass the Parkside Bldg. on your right, and the museum will be up a block on your right – across from the Imperial Palace. Note that for Takebashi Station there is no above-ground station – the entire thing is under street-level.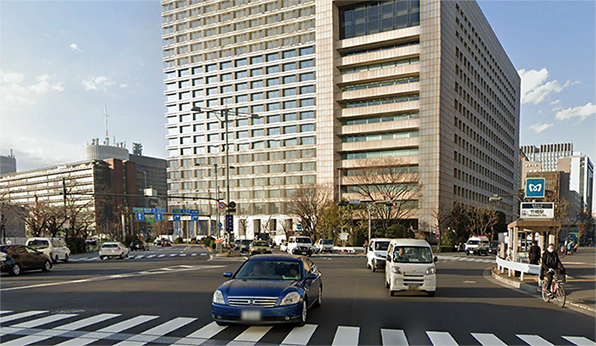 Takebashi Station exit, right, Parkside Bldg., left. One block left of that is the museum.
Area Layout

Takebashi Station exit, far right, Parkside Bldg., upper center. One block left of that is the museum. South of the museum is the Imperial Palace. You can also walk all the way around the palace by walking the sidewalk along the moat. The science museum is in the upper left corner of the frame. To the very upper right of the frame is Otemachi. Way off to the right out of frame is Hibiya.
There's lots to do here, although the museum isn't terribly large. The building itself is impressive, as is its collection of art. Most of the art is from Japan but it's impressive nonetheless and worth a look. If you have time, stop in and look around.
Enjoy!
LINKS
National Museum of Modern Art, Tokyo
Takebashi Station – Metro Tozai Line
National Museum of Modern Art | JNTO
Museum of Modern Art, Tokyo, Chiyoda